Gentleman Jack & Majlis
En hyldest til et af verdens mest succesfulde showlommetyvepar
Gentleman Jack & Majlis
"The Fastest Hands In The World"
A tribute to one of the world's most successful Pickpocket Entertainer couples:
Gentleman Jack & Majlis

"The Fastest Hands in the World"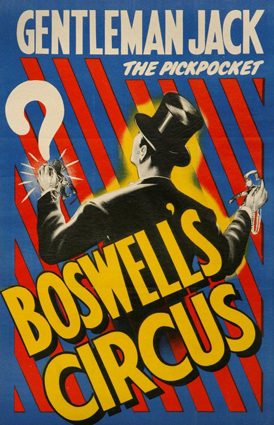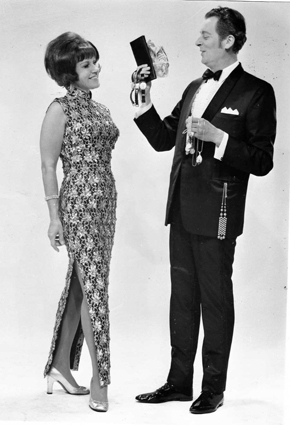 | | |
| --- | --- |
| Cirkusplakat fra Sydafrika / Circus poster from South-Africa | Velkendt og populært reklamefoto af Gentleman Jack & Majlis / Famous photo shot of Gentleman Jack & Majlis |

Klik på det foretrukne sprog. Click at the language version you prefer.
Dansk udgave. Click here for English version

Født til artistlivet

Tommy "Gentleman Jack" Iversen (30.04.1921 – 18.11.1984) blev født i Randers, Danmark.
Han voksede op i en artistfamilie, der var tilknyttet et omrejsende tivoli, hvor faderen kørte dødsdrom, og hans mor optrådte som slangetæmmer. Tommys tidlige karriere i showbusiness startede lige her i dette tivolimiljø, midt i 1930'erne, hvor han som ung mand fik tilbudt et job hos "Rubinis Variete" af direktør Rubini. Her gik han de følgende år igennem en hård skole, hvor han lærte sig de mest elementære ting fra tivoli- og markedsgøglernes verden. Han blev lidt af en tusindkunster og optrådte i en alder af bare 18 år som både jonglør, klovn, bugtaler, akrobat og manipulator. Det var netop her i årene ved "Rubinis Variete", at Tommy for første gang stiftede kontakt med magiens verden, og hvor hans interesse for manipulationer blev skabt.
Men inden Tommy slog igennem og blev til "Gentlemantyven Jack Atkins", måtte han endnu en årrække ernære sig som manipulator og jonglør. I de første år af karrieren i showbusiness var det jonglørnummeret, der var Tommys hovednummer. Under et engagement som jonglør på Liseberg i Sverige i 1943 traf Tommy Majlis, da han bogstaveligt talt kom til at ramme hende med en jonglørbold – og det slog straks "klik" imellem den elegante mannequin Majlis og Tommy. Tommy stjal Majlis hjerte ved første blik helt uden at hun mærkede det …
Kort tid efter mødet med Tommy begyndte svenskfødte Majlis Iversen (28.06.1919 - 13.10.1990, Oprindeligt født Maja-lisa Karlsson) fra Döderhult i Småland, at arbejde som assistent i Tommys jonglørnummer. Tommys stil som jonglør var dog alt for hurtig for Majlis, og det kneb for hende at følge hans tempo i nummeret. En aften blev Tommy hevet til siden af en artistkollega, som gav ham rådet: - enten skaffer du dig en anden partner, eller også slutter du som jonglør. Nu var gode råde
dyre for Tommy, der fulgte ordsproget "Nød lærer nøgen kvinde at spinde - og manden at stjæle"! I Tommys tilfælde blev det kærligheden, der sejrede, og som lærte ham at stjæle.
Lommetyv ved et tilfælde

Det var faktisk Majlis´ skyld, at Tommy ved et tilfælde gik hen og blev "Show-Lommetyv". En dag, han var i byen, fik de uventet besøg af deres artistagent, som spurgte Majlis: "Er det muligt, I kan lave noget nyt? For jonglører og tryllekunstnere findes der masser af!". Hertil svarede Majlis prompte: "Det kan vi da sagtens", hvorefter hun og artistagenten hurtigt blev enig om, at Tommy fra nu af, og allerede fra deres næste engagement, skulle optræde som Lommetyven Atkins.
Da Tommy kom hjem igen, var artistagenten gået, og Majlis fortalte straks, at hun sammen med deres artistagent havde taget en beslutning om et karriereskift for dem, hvilket betød, at de om kort tid skulle optræde med Lommetyveri. Tommys svar var: "Og hvordan har du tænkt dig, jeg skulle kunne klare det? Jeg har aldrig set nogen optræde som lommetyv."
Hertil svarede Majlis ganske enkelt: "Du har jo tidligere optrådt med manipulationer og korttricks, hvor du hver aften stod og lavede forskellige tricks – bl.a. det med et kortspil, som en publikumshjælper blandede, hvorefter du på mystisk vis fik kortene over i hans lommer, hvorfra du senere tog dem op. Du må jo have stukket kortene ned i hans lommer, før du kunne tage dem op igen. Hvorfor så ikke bare tage tegnebogen med op på samme måde?"
Som sagt så gjort, og således blev denne metode til Tommy og Majlis allerførste grundprincip i rækken af lommetyvetricks. I bogen "How to Pick Pockets" af Eddie Joseph fandt Tommy yderligere en del tips og ideer, der hjalp ham til at udvikle det helt nye nummer i en positiv retning til et komplet nummer.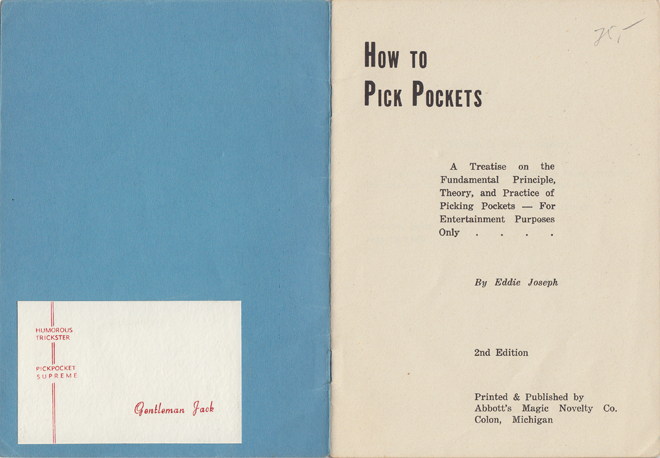 Gentleman Jacks originaleksemplar af Eddie Joseph bogen fra 1940
Succes i hele verden
I 1948 havde Tommy og Majlis indstuderet og var klar til at optræde med deres nye nummer "Den ærlige Lommetyv". Allerede året efter, i 1949, fik de deres første rigtige lange engagement med lommetyveakten som hovednummer hos det svenske "Cirkus Astoria", hvor de optrådte under navnet "Jack and May Atkins". Herefter gik det stærkt med at få nye engagementer i datidens førende cirkusser, varietéer, tivoliparker og natklubber i hele Norden og Europa.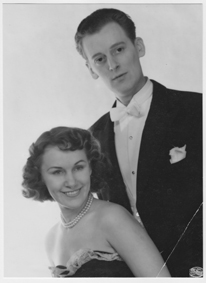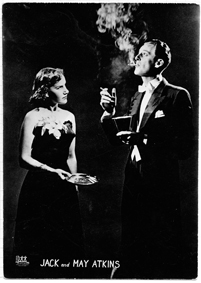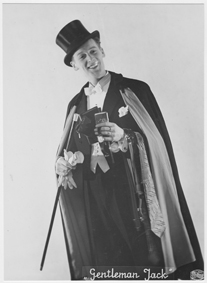 Reklamefotos af Gentleman Jack & Majlis; fra først i 1950'erne

I 1950 blev det til endnu nyt langt engagement for det unge lommetyvepar. For Tommys vedkommende blev et job på hjemmebane med Majlis og hans nye nummer, hvor de for første gang skulle vise deres nye lommetyveakt i Danmark. Jobbet var ved "Cirkus Moreno & Reinch", som var inde i en formidabel udvikling og blev anset som et af datidens førende cirkus i Danmark, hvor Tommy og Majlis blev præsenteret under navnet "Lommetyvens Konge – Den ærlige lommetyv Gentleman Jack".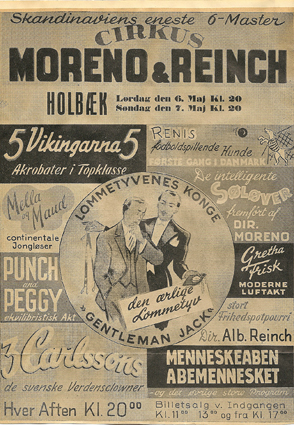 Avisannonce og plakat fra 1950 i Danmark

Efter sommersæsonen med Cirkus Moreno & Reinch fulgte en lang periode med engagementer på
restauranter, varietéer, i folkeparker og tivolier i hele Skandinavien og Europa. Parret rejste bl.a. i 1952 på turne med den legendariske Malmstentruppen og var også hovedattraktionen i et uendeligt
antal af nationale og internationale shows i Lorry, København - Valencia, København - Århushallen, Aarhus - Kitkat, Horsens - Club de L'Étoile, Den Haag Holland - Jaarbeurs, Utrecht Holland - Variete Prater, København - Scala Theater, Gent Belgien - Casino Amsterdam, Holland - Caramella Amsterdam, Holland - Cabaret Parisianna, Bruxelles Belgien - Ambassadeur, Aalborg Danmark m.fl.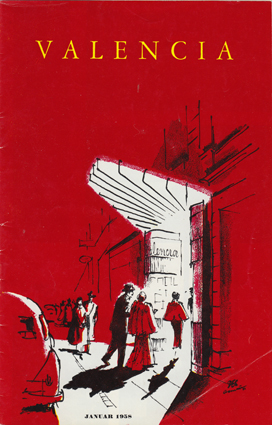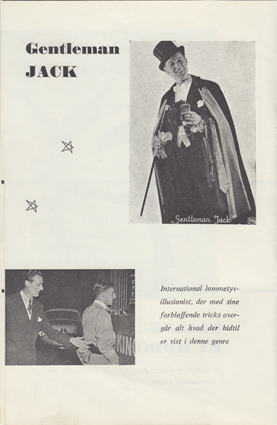 VALENCIA programhæfte fra januar 1958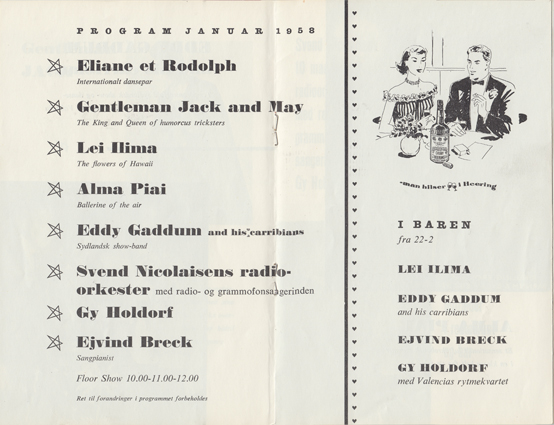 Gentleman Jack annonce i artistbladet ECHO 1953. ECHO Ltd. independent international professional Circus and Variety Journal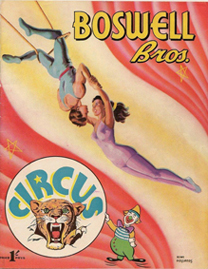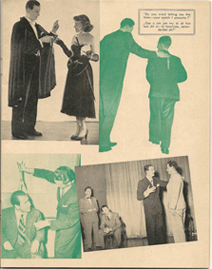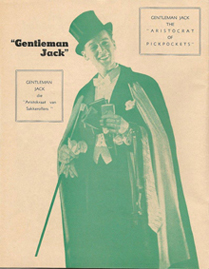 Sydafrikansk cirkusprogram fra 1953
I 1954 fik Tommy og Majlis igen et engagement i cirkus - denne gang i Irland ved John Duffy & Sons Circus. Her bliver Tommy "Gentleman Jack" og Majlis de første, der optræder med lommetyveri i Irland.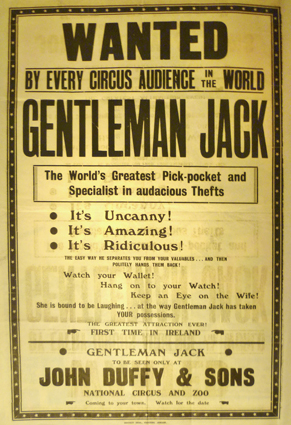 Cirkusplakat fra 1954 i Irland
I de efterfølgende år fulgte årslange engagementer ved alverdens cirkusser og i internationale showproduktioner, der bragte dem verden rundt til lande som Argentina, Australien, Japan, Mexico, New Zealand og Sydafrika. I Sydafrika blev til ikke mindre end 5 års engagement hos Boswell Bros. Circus.

Efter de mange år på det afrikanske kontinent forsatte deres fantastiske artistkarriere til Fjernøsten for at medvirken i turnerende showproduktioner og for at optræde på fashionable hoteller. Det blev til hele 5 forskellige turneer i Asien for det elegante entertainerpar over en længere årrække.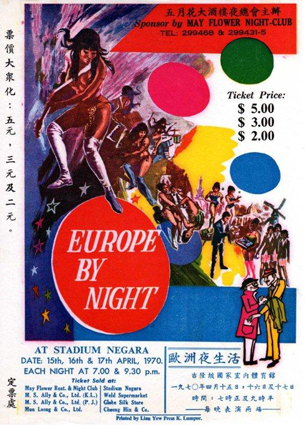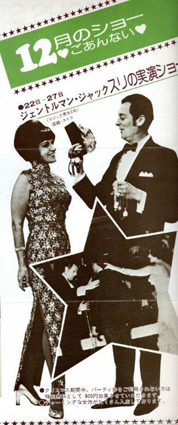 Plakat og flyer fra 1970'erne i Asien

I pauserne mellem turneerne i Asien opholdt Tommy og Majlis sig hovedsageligt i Skandinavien og i Europa, hvor man kunne opleve dem i tv-shows, cirkus, tivoli og i danske sommerrevyer - bl.a. på Kronprinsen i Malmø, i Tivoli Friheden i Århus, Sans Souci i Kolding, i Cirkus Revyen på Dyrehavsbakken og i Nykøbing F. Revyen. De to sidste steder med Volmer Sørensen i spidsen som revydirektør. Herudover blev det til yderligere to sommerrevysæsoner i Holstebro Revyen, hvor det den gang var Ernst Trillingsgaard, der sat revydirektørstolen.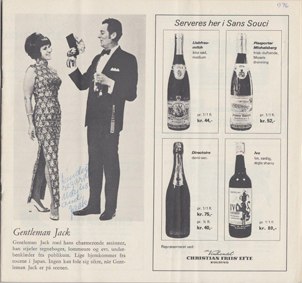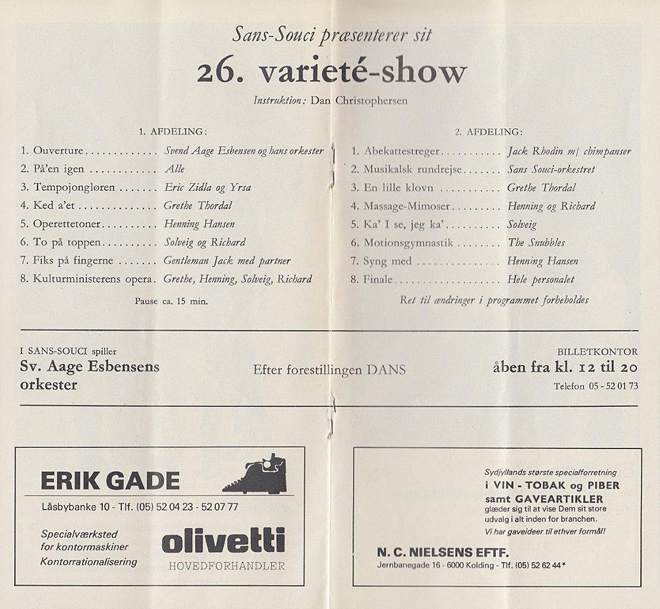 Programhæftet fra Sans Souci - Kolding 26. varieté-show 1976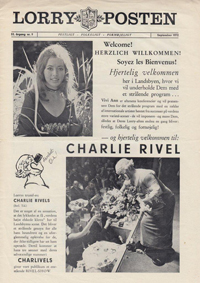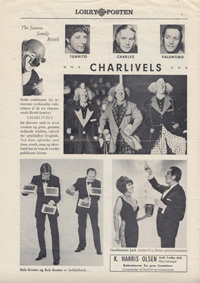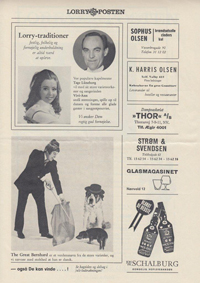 Varieté Lorry program "LORRY-POSTEN" fra September 1972

Når de ikke optrådte på de 7 verdenshave på Holland-Amerika Lijn's S.S. "STATENDAM", et krydstogtskib imellem Europa og Amerika, optådte Tommy og Majlis i en lang række af cirkusser. Her kan nævnes: Chipperfield's Circus, Hippodrome Circus, Belle Vue Circus, Circo Price de Madrid, De Jonghe Music-Hall, Cirkus Berny, Sirkus Sariola, Cirkus Ray Miller, Robert Bros. Circus, Circus Royale Australia og Circus van Bever i Holland, hvor de var hovedattraktionen i hele to sæsoner.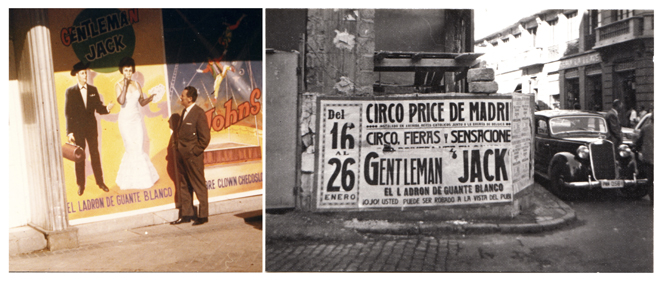 Gentleman Jack foran "Circo Price de Madrid" plakat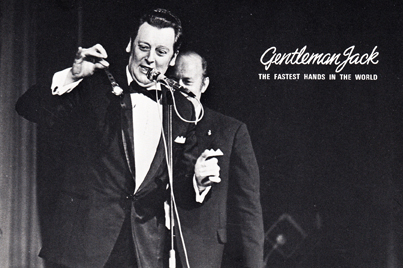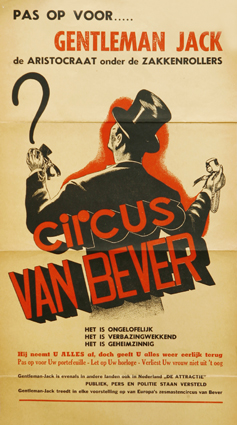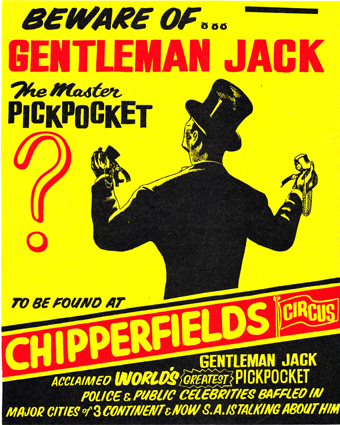 | | |
| --- | --- |
| Cirkusplakat fra 1956 | Cirkusplakat fra 1969 |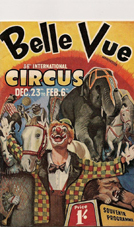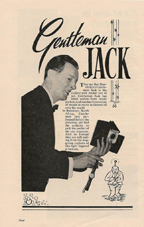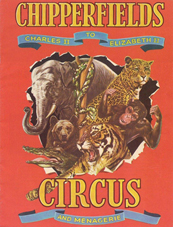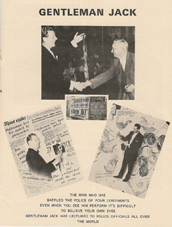 | | |
| --- | --- |
| Cirkusprogram fra 1964/65 | Cirkusprogram fra 1969 |


Gennembruddet i England
Den prestigemæssigt største og mest opsigtsvækkende optræden for Tommy "Gentleman Jack" og Majlis var nok, da de medvirkede i et engelsk tv-show om kriminalitet med den berømte tv-vært David Frost.
David Frost havde bedt Tommy om ubemærket at stjæle så meget som muligt fra de ca. 150 publikummere, der var inviteret til at overvære udsendelsen i studiet. Tommy stjal fra publikummerne, da de kom ind for at tage plads i studiet - han stjal ure, tegnebøger, id-kort,
cigaretpakker, briller og andre personlige genstande i et væk. Helt som han plejede at gøre.
Et stykke tid efter udsendelsens start spurgte David Frost publikum: "Hvor mange her har været offer for en lommetyv?" Kun få blandt publikum rakte hånden op. David Frost spurgte en mand, der sad tæt på Tommy: "Kan De sige mig, hvad klokken er?". Det kunne han naturligvis ikke, og manden blev noget overrasket over at se, at hans ur var væk.
En anden, som også blev meget overrasket, var Tommy selv, da han fik at vide, at alle blandt publikum i studiet var politifolk og detektiver fra Scotland Yard med deres koner. David Frost havde inviteret Tommy i studiet med den hensigt at afsløre ham på tv, hvilket ikke lykkedes. Deres optræden i det populære tv-show blev en kæmpesucces, hvorefter Tommy og Maj-lis med et trylleslag var berømte i hele England.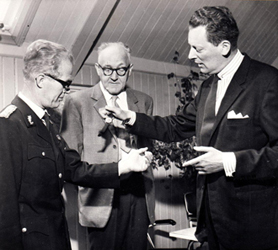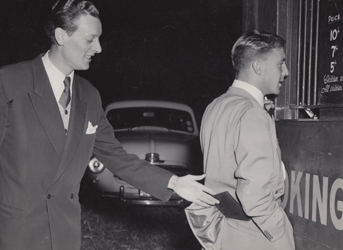 Advarede mod rigtige lommetyve
En af Tommys specialiteter i hele hans lange karriere var at afholde seminar for politi og kriminalbetjente i de forskellige lande, som de besøgte. Her viste og demonstrerede Tommy, hvilke trick og metoder de kriminelle lommetyve benytter sig af.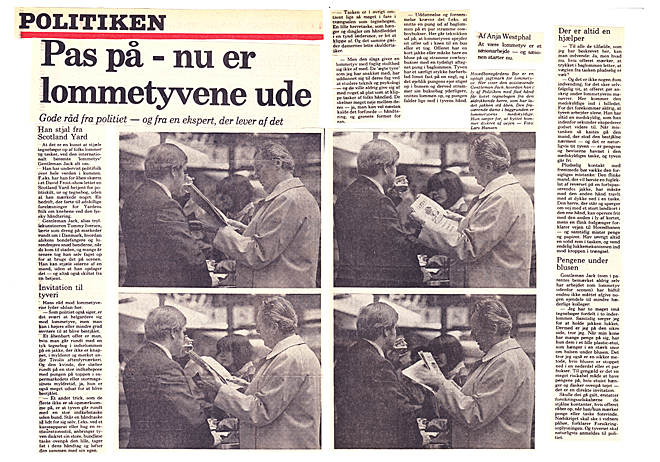 I alle de storbyer verden over, hvor Tommy gav sit seminar, stjal han samtidig også stor spalteplads i alle trykte aviser. Det gav ham masser af omtale og overskrifter som: "Smarteste lommetyv nogensinde set", "Fineste lommetyv ude af fængsel", "Verdens bedste lommetyv", "Tommy er jordens ærligste lommetyv", "En Gentleman kommer til byen", "Tommy Iversen er en aristokrat blandt lommetyve", "Lommetyven, der narrede detektiver" osv.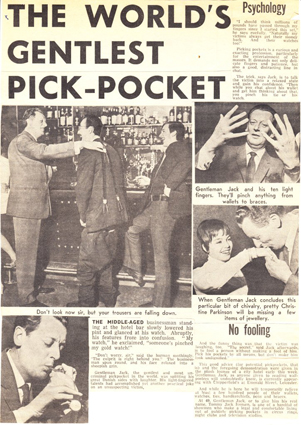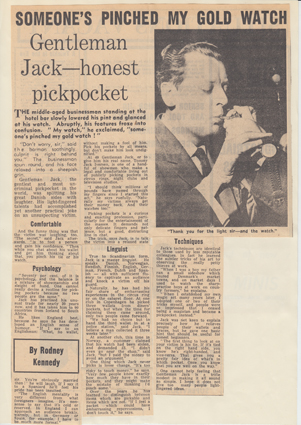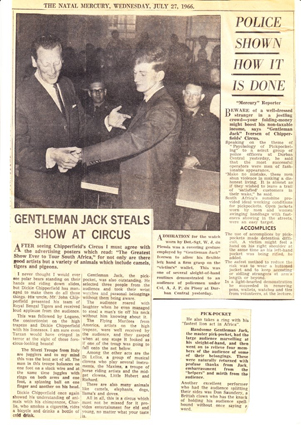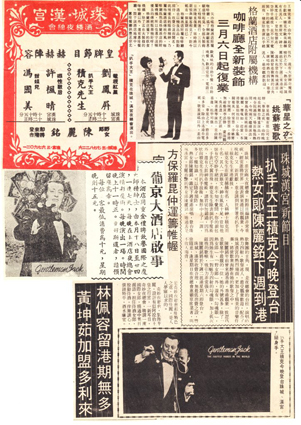 En sand gentleman
Tommy inspirerede mange af sine venner og kollegaer med sin klassiske engelske gentleman-stil, som han udviklede gennem årene og blev verdenskendt for. Hans nummer var et forbillede for mange nye artister i branchen.
Man plejer at sige, at en artist har 10-15 sekunder til at vinde publikums sympati, når hun eller han gør sin entré. Tommy klarede det på bare 5 sekunder med sin humoristiske, hyggelige, varme og venlige udstråling fra scenen. Han var en sand mester til at få sit nummer til at se ud som, om det hele var en leg. Han havde også en enestående evne til at få sine publikumshjælpere på scenen til at
føle sig godt tilpas og trygge i hans selskab, hvor de morede sig lige så meget som publikum, der så på - velvidende om at de var en del af Tommys succes.
Tommy havde også den "Guds gave", at han havde let til fremmedsprog. Han var udstyret med et eminent sprogøre, hvilket gjorde at han mentalt kunne manipulere med sine publikumshjælpere på mere end 8 sprog, her i blandt finsk, hollandsk, japansk og portugisisk.
Tommy levede bogstaveligt talt op til navnet "Gentleman Jack" på scenen, hvor han altid på en behagelig og elskværdig facon sørgede for, at de publikumshjælpere (som aldrig var stooges / hemmelige hjælpere), han "stjal" fra, blev behandlet med ydmyghed og respekt og ikke gjort til grin. De publikummere, som var på scenen eller i manegen hos Tommy, kaldte han altid for sine kunder. Han var altid 100 % bevist om, at uden hjælp fra publikum og deres villighed til at komme med op på scenen, ville han aldrig have haft et nummer.
Den gavmilde tyv
Tommy, der hørte til blandt verdens første scene-lommetyve, var en af få, der med glæde delte ud af sin store viden og hemmeligheder til andre i den magiske verden. Det skete blandt andet ved flere seminarer i hele Norden og i England, hvor han havde elever.
Han var også mentor/læremester for danske Kenny Quinn, som han oplærte og underviste i lommetyveriets ædle kunst over en længere periode frem til efteråret 1984. Tommy var virkelig en lommetyv af format og samtidigt et generøst menneske, der altid var parat til at hjælpe andre. Faktisk var han i virkeligheden tyven, der hellere gav end tog.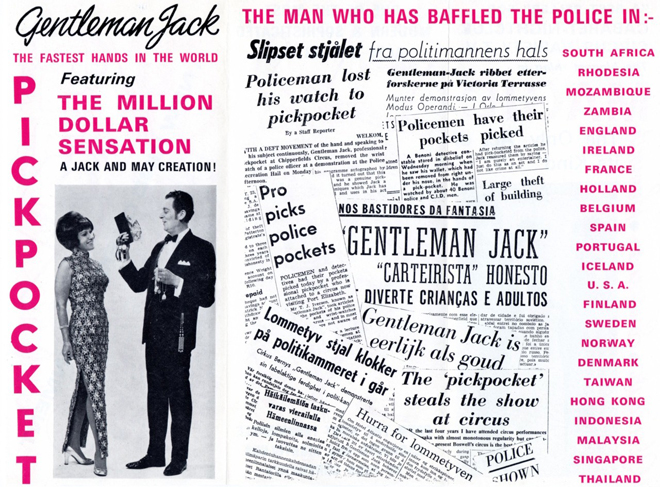 Nogle af Majlis & Gentleman Jacks mange reklame gimmicks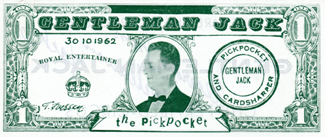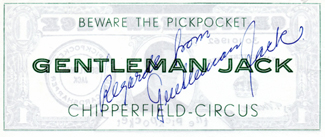 Et lykkeligt par
Efter et langt liv i showbusiness, heraf 36 år sammen med Majlis som partner såvel på scenen som privat, sluttede Tommy "Gentleman Jack" & Majlis deres professionelle artistkarriere som lommetyvs-entertainere i efteråret 1979.
Det elegante dansk/svenske entertainerpar havde på dette tidspunkt optrådt i mere end 40 lande over hele verden. Næsten overalt havde de været "Top of Bill" op igennem 50'erne, 60'erne og 70'erne på datidens førende nationale og internationale varietéer, kabaretter, natklubber, cirkusser og Revue-Shows, hvor de var kendt som de nobleste lommetyve med tilnavnene "The Fastest Hands in the World", "The Aristocrat of Pickpockets" og "Lommetyvenes Danske Konge".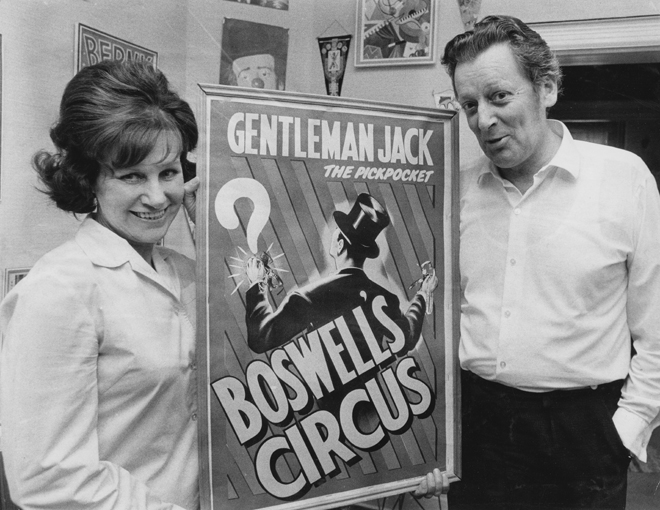 Majlis & Tommy "Gentleman Jack" Iversen med cirkusplakaten fra årene i Syd-Afrika.
Grunden til at Tommy og Majlis stoppede deres meget aktive og lange karriere med de fantastiske engagementer over hele verden, var Tommys hjertesygdom. Den faste base for parret blev nu deres hjem på "Von Lingensväg" i Malmø - et sted hvor både Majlis og Tommy var faldet godt til og hvor de var lykkelige for at bo efter et langt rejseliv over hele verden. Overalt, hvor Tommy kom, lyste han op med sit meget positive livssyn og yndlingssloganet: "Har vi det ikke dejligt!"
I tiden efter 1979 blev det til et antal gæsteoptrædener i tv-shows og ved tryllekongresser frem til d. 18. november 1984, hvor Tommy i en alder af bare 63 år måtte bukke under for den hjertesygdom, han havde kæmpet med i en længere årrække. Både hans omgivelser – og mest af alt ham selv – var klar over, at han havde levet på lånt tid.
Blot få år efter Tommys død sluttede også Majlis liv d. 13 oktober 1990 efter en periode med sygdom. I de mange år, de nåede at levede sammen 24 timer i døgnet, var de et lykkeligt par, som oplevede så utroligt meget sammen på deres mange rejser rundt i verden. Uden Majlis havde Tommy været ilde stedt både med hensyn til deres professionelle samspil på scenen og i privat livet.
Gentleman Jacks popularitet
Tommys popularitet nåede langt omkring selv efter hans alt for tidlige død. Den folkekære sanger Kim Larsen skrev sangen "Gentleman Jack" som en hyldest til Tommy Gentleman Jack. Kim Larsen kendte ikke Gentleman Jack personligt, men blev inspireret til sangen "Gentleman Jack" af den nekrolog, der var at læse i Dansk Artist Forbunds medlemsblad "Artisten" i februar 1985.
Så Kim Larsen tillod sig blot at "trylle" lidt med virkeligheden – lidt på samme måde, som Gentleman Jack havde gjort et helt artistliv - hvilket han gjorde med respekt og fascination af artistbranchen og dens originale personligheder.
Sangen "Gentleman Jack" var et nummer i "Cirkus Himmelblå"-forestillingen og blev sunget af Kim Larsen selv under hele sommerkoncertturneen i cirkusteltet i 1985. Hans to gøglervenner Leif Sylvester & Erik Clausen lavede flere tryllenumre på scenen under hans fremførelse af sangen.
I 2006 skulle det igen vise sig at Gentleman Jack & Majlis, havde været to meget markante personligheder. Da udkom forfatter Ulf Mörlings første roman "Godmother", som er den første roman, han har skrevet på engelsk (bogen findes også på dansk).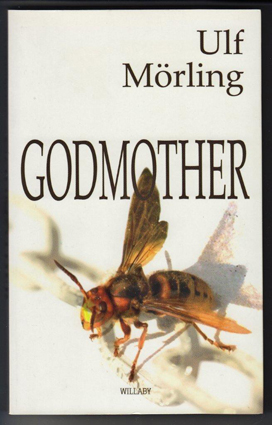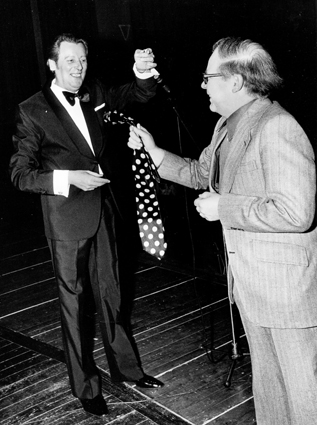 | | |
| --- | --- |
| Forsiden på U. Mörlings roman | Foto af: Christer Robertsson, Sverige 1974 |
Ulf Mörling har tidligere været Mellemøstenkorrespondent og chefredaktør ved ledende europæiske aviser og arbejdede bl.a. i 1980'erne ved et Svensk Dagblad. Bogen "Godmother" er et skønlitterært værk, hvor alt er fiktivt - dog med den lille forskel, at både Gentleman Jack og hans kone Majlis har eksisteret i virkeligheden.
Ikke opkaldt efter whiskyen
Har Gentleman Jack opkaldt sig efter whiskyen af samme navn? Nej, det er snarere omvendt! Tommy "Gentleman Jack" Iversen turnerede verden rundt i årene 1949-79. Jack Daniel's Destilleriet i Tennessee, USA, introducerede først deres produkt "Gentleman Jack" på det amerikanske marked d. 30. september 1988 for 1000 specielt inviterede gæster. Gæsterne kunne alle konstatere at "Gentleman Jack Whisky" var en luksus Jack Daniel's Whisky, der havde en blid og elegant stil – præcis som den verdensberømte lommetyv Gentleman Jack havde.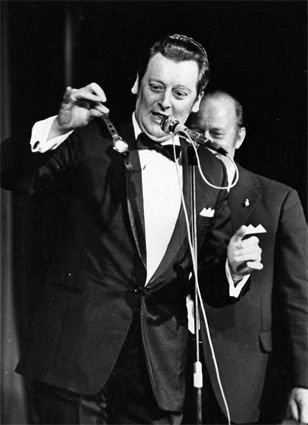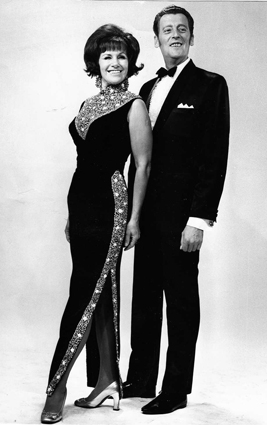 | | |
| --- | --- |
| Genteleman Jack i aktion | Velkendt reklame foto af: Gentleman Jack & Majlis |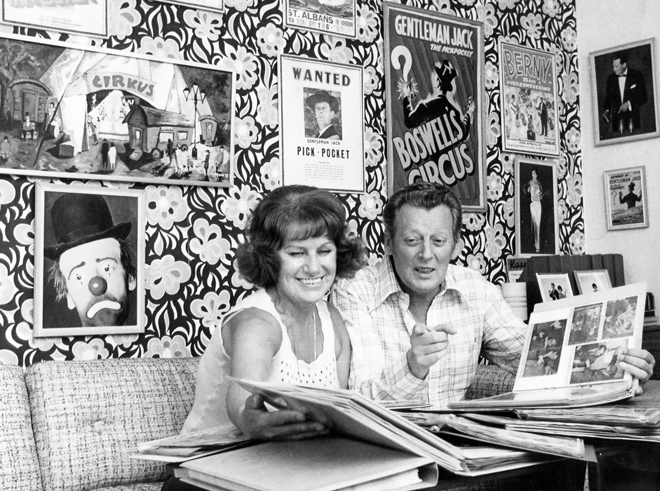 Majlis og Gentleman Jack kigger i scrapbøger i lejligheden i Malmø


Til ære for min lærermester & mentor Tommy "Gentleman Jack" Iversen og hans stilige, elegante og glamourøse kone Majlis.
-

K. Quinn, 2012
Tak til følgende for bistand med foto, plakater, avisklip m.m.:
Gertrud & Christer Nilsson, Sveriges Magi-Arkiv www.magiarkivet.se
Joakim Berglund, Bilder i syd AB, Sverige www.bilderisyd.se
Jörgen Börsch, Danmark
Henrik Christensen, Danmark
Björn "Henriko" Gammals, Finland
Henk van der Berg, Holland
Cirkusmuseet i Hvidovre www.cirkusmuseum.dk



Kenny Quinn er som sin lærermester Gentleman Jack gentlemantyv. Han havde sin debut i Cirkus Arena i 1985 og har siden sammen med fru Joan med stor succes optrådt i cirkus, på varieteer og i natklubber over det meste af Europa.

Du kan læse mere om Kenny Quinn på www.kennyquinn.dk



Klik

her

for at se nogle yderligere fotos af Gentleman Jack og Maylis




English version
.
Click here to read the Danish version

Born into an artistic life
Tommy "Gentleman Jack" Iversen (30.04.1921 – 18.11.1984) was born in Randers, Denmark.
He grew up in an artistic family, who were part of a travelling funfair, where his father rode the wall of death and his mother was a snake charmer. Tommy's early career in show business began right here in this funfair environment in the middle of the 1930s, when as a young man he was offered a job with "Rubini's Variety Show" (a travelling Danish Variety Show) by the owner Mr. Rubini. Here he went through some hard schooling over the next few years, where he learned the most basic things from the world of funfair and being a performer. He became a jack of all trades, performing at the age of just 18 as a juggler, clown, ventriloquist, acrobat and manipulator. It was here during his years with "Rubini's Variety Show" that for the first time Tommy made contact with the realm of magic and where his interest in manipulation began.
However, before Tommy got his big break and became "The Gentleman Thief Jack Atkins", he had a number of years making a living as a manipulator and juggler. In the early years of his career in show business, juggling was Tommy's main act. During a show as a juggler at Liseberg in Sweden in 1943, Tommy met Majlis, who he, quite literally, hit with a juggling ball, and the elegant mannequin Majlis and Tommy immediately "clicked". Tommy stole Majlis' heart at first sight without her noticing it …
Shortly after the meeting with Tommy, the Swedish-born Majlis Iversen (28.06.1919 - 13.10.1990, whose maiden name was Maja-lisa Karlsson born in Döderhult/Sweden), began to work as an assistant in Tommy's juggling act. However, Tommy's style as a juggler was too fast for Majlis and it was difficult for her to follow his pace in the act. One evening Tommy was pulled to one side by
an artist colleague who advised him either to get a new assistant or to stop as a juggler. The good advice was expensive for Tommy, who followed the proverb "Necessity taught women to spin - and men to steal!" In Tommy's case, it was love that conquered and which taught him to steal.
A pickpocket by chance
It was actually due to Majlis that Tommy accidentally became a "Pickpocket Entertainer". One day when he was in town they had an unexpected visit from their artist agent, who asked Majlis: "Is it possible that you can do something new? There are plenty of jugglers and magicians". Majlis promptly replied: "We certainly can", after which she and the artist agent quickly agreed that from now on, and already at their next job, Tommy would perform as the Pickpocket Jack Atkins.
When Tommy came home again, the agent had gone and straight away Majlis told him that she, along with their agent had made a decision about a career change for them, which meant that they would soon perform pickpocketing. Tommy's response was: "And have you thought about how I'm going to do that? I've never seen anyone perform as a pickpocket".
Majlis simply replied: "You've previously performed using manipulations and card tricks, where you stood and did various tricks all evening - including that card trick where a member of the audience shuffled the pack and then you mysteriously placed the cards in his pocket and took them out later. You must have put the cards into his pocket before you could take them out again. Why not just take their wallet in the same way?"
What's said is done, and so this method became Tommy and Majlis' very first basic principle in numerous pickpockets tricks. In the book "How to Pick Pockets" by Eddie Joseph, Tommy found further tips and ideas that helped him to develop the brand new act in a positive direction to make a complete act.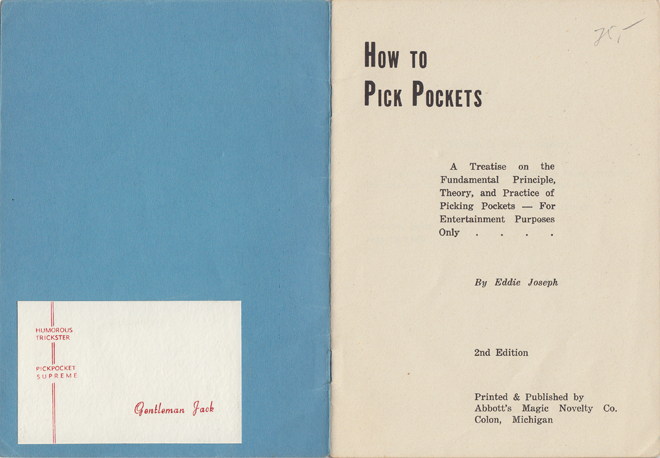 Gentleman Jack's original Eddie Joseph book from 1940
Success all over the world
In 1948 Tommy and Majlis had rehearsed and were ready to perform their new act "The Honest Pickpocket". The following year, in 1949, they had their first real long contract as a pickpocket act as the main act at the Swedish "Circus Astoria", where they performed under the name "Jack and May Atkins". Then very quickly they received new contracts in the leading circuses, variety shows, amusement parks and nightclubs throughout Scandinavia and Europe.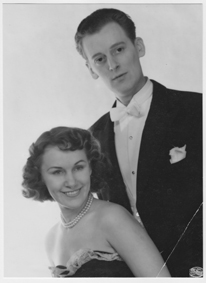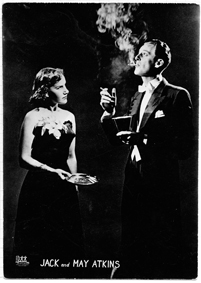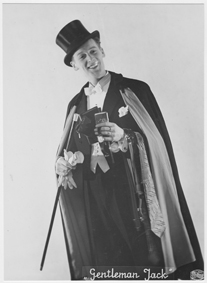 Early Publicity photos of Gentleman Jack & Majlis from the 1950's

In 1950, there was another new long contract for the young pickpocket couple. In Tommy's case, it was a job at home with Majlis and his new act, where for the first time they would perform their new pickpocket act in Denmark. The job was with "Circus Moreno & Reinsch", which was
undergoing a formidable development and was regarded as one of the leading circuses of the time in Denmark, where Tommy and Majlis performed under the name "King of Pickpockets - The Honest Pickpocket Gentleman Jack".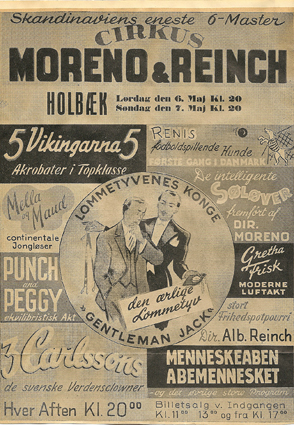 Newspaper add & poster from season in Denmark 1950
After the summer season with Circus Moreno & Reinsch, there was a long period of performing in restaurants, variety shows, public parks and funfairs throughout Scandinavia and Europe. In 1952, the couple went on tour with the legendary Malmstentruppen (The Malmsten troupe) and were also the main attraction in an infinite number of national and international shows in Lorry, Copenhagen - Valencia, Copenhagen - Aarhus Hall, Aarhus - Kitkat, Horsens - Club de L'Etoile, The Hague, the Netherlands - Jaarbeurs, Utrecht, the Netherlands – Prater Variety Show, Copenhagen - Scala Theatre, Ghent, Belgium - Casino Amsterdam, the Netherlands - Caramella Amsterdam, the Netherlands - Cabaret Parisianna, Brussels, Belgium - Ambassadeur, Aalborg, Denmark and others.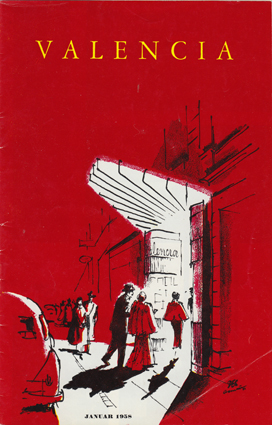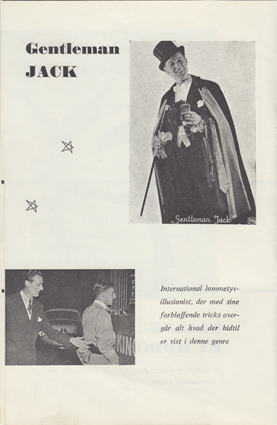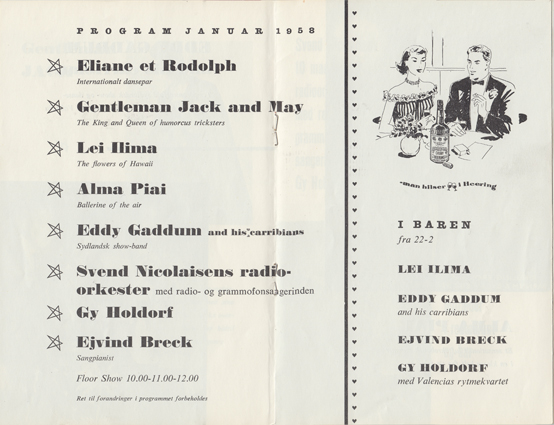 Program from the nightclub VALENCIA in Copenhagen. January 1958

Add from the Artist Magazine – ECHO 1953. ECHO ltd. Independent international professional Circus and Variety Journal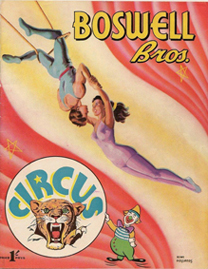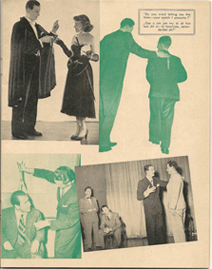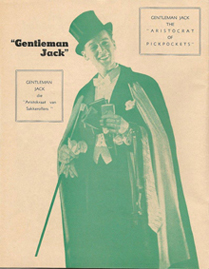 Pgrogram from 953 from South Africa

In 1955, Tommy and Majlis again had a job in the circus - this time in Ireland with John Duffy & Sons Circus. Here Tommy "Gentleman Jack" and Majlis became the first to perform pickpocketing in Ireland.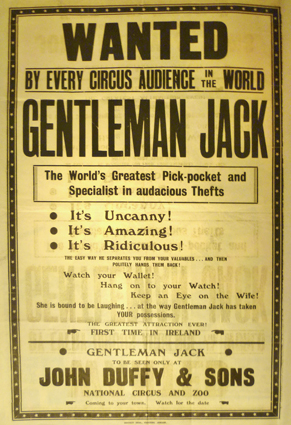 Circus poster from season 1954 in Ireland

In subsequent years, longstanding contracts followed with all sorts of circuses and in international show productions that brought them around the world to countries such as Argentina, Australia, Japan, Mexico, New Zealand and South Africa. In South Africa, they were employed for 5 years with the Boswell Circus.


After all those years on the African continent, they continued their amazing artistic career to the Far East to take part in touring show productions and to perform in fashionable hotels. The elegant entertainer couple had 5 different tours in Asia over a number of years.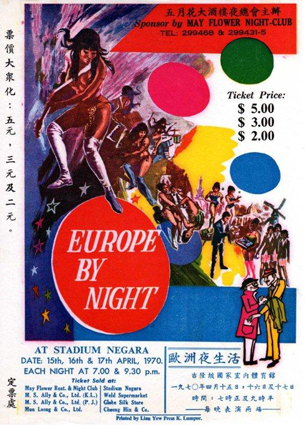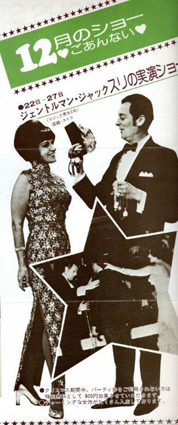 Poster and program flyer from 1970's in Asia

In the breaks between touring in Asia, Tommy and Majlis stayed mainly in Scandinavia and Europe, where you could see them in TV shows, circuses, Tivoli and the Danish summer revues - including the Crown Prince in Malmö, Tivoli Friheden in Aarhus, Sans Souci in Kolding, in the Circus Revue in Dyrehavsbakken and in the Nykøbing Falster Revue. Volmer Sørensen headed the
last two places as revue director. In addition, they had two further summer revue seasons in Holstebro Revue, where Ernst Trillingsgaard was owner and manager.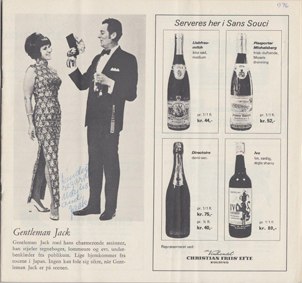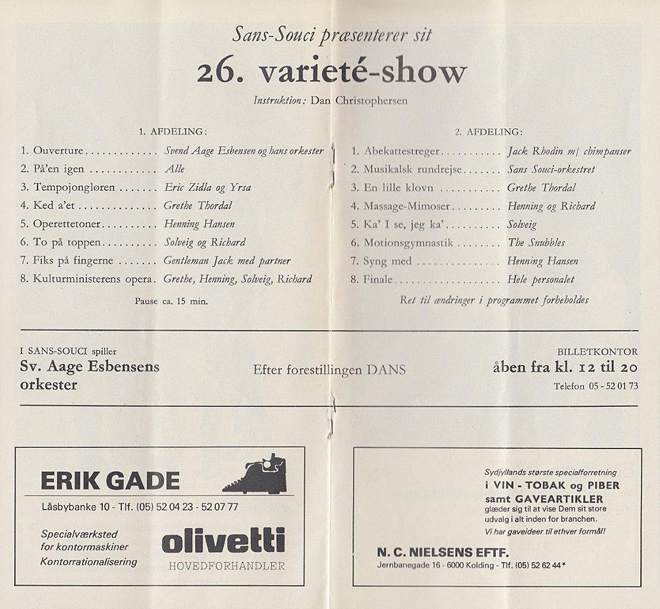 Program booklet from Sans Souci – Kolding, Denmark 26th Variety-show 1976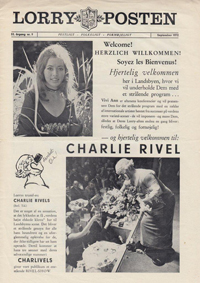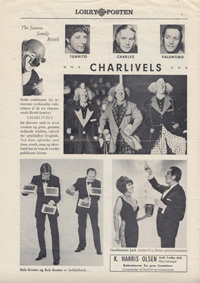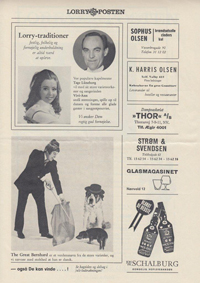 Variety Lorry program "LORRY-POST" from September 1972 Copenhagen, Denmark

When they were not performing on the 7 seas of the world on the Netherlands-America Line's SS
"Statendam", a cruise ship between Europe and America, Tommy and Majlis performed in different circuses. To name a few: Chipperfield's Circus, Hippodrome Circus, Belle Vue Circus, Circo Price de Madrid, Circus Berny, Sirkus Sariola, Circus Ray Miller Robert Bros. Circus and Circus van Bever in the Netherlands, where they were the main attraction for two seasons.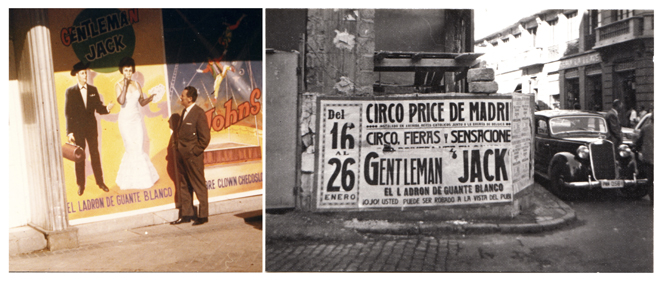 Gentleman Jack in front of "Circo Price de Madrid"poster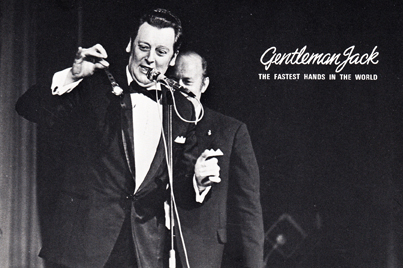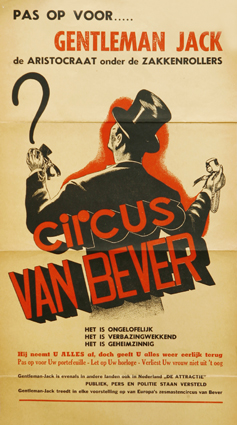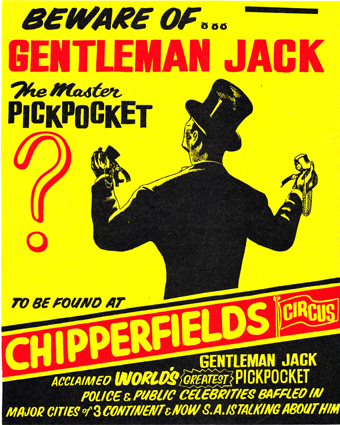 | | |
| --- | --- |
| Circus poster from1969 | Circus poster from 1956 |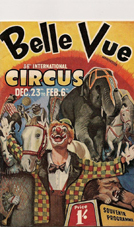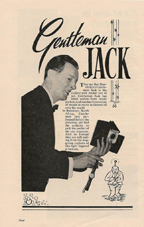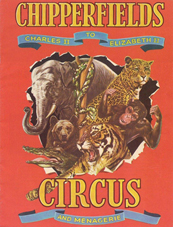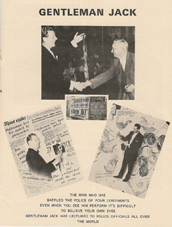 | | |
| --- | --- |
| Circus Program from 1964/65 | Circus program from 1969 |


Breakthrough in Great Britain
The most prestigious and spectacular performance by Tommy "Gentleman Jack" and Majlis was when they starred in a British TV show about crime with the famous TV host David Frost.
David Frost had asked Tommy to steal as much as possible without being noticed from the approx. 150 members of the audience, who were invited to attend the broadcast. Tommy stole from the
audience when they came in to take their seats in the studio - he stole watches, wallets, ID cards, packs of cigarettes, glasses and other personal items - just like he usually did.
Some time after the program started David Frost asked the audience: "How many here have been the victim of a pickpocket?" Only a few people in the audience raised their hands. David Frost asked a man sitting close to Tommy: "Can you please tell me what time it is?" Of course he couldn't and the man was somewhat surprised to see that his watch had gone.
Another person who was also very surprised was Tommy himself when he was told that everyone in the audience were policemen and detectives from Scotland Yard with their wives. David Frost had invited Tommy to the studio with the intention of exposing him on TV, which failed. Their appearance in the popular TV show was a huge success, and like a wave from a magic wand, Tommy and Majlis were famous throughout Great Britain.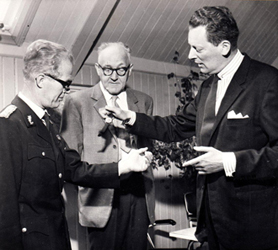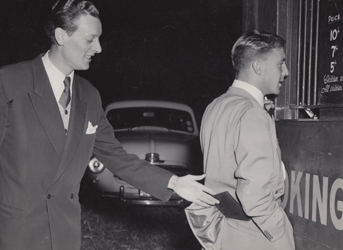 Warned against real pickpockets


One of Tommy's specialties throughout his long career was to hold seminars for the police and detectives in the different countries they visited. Tommy demonstrated what tricks and methods a criminal pickpocket uses.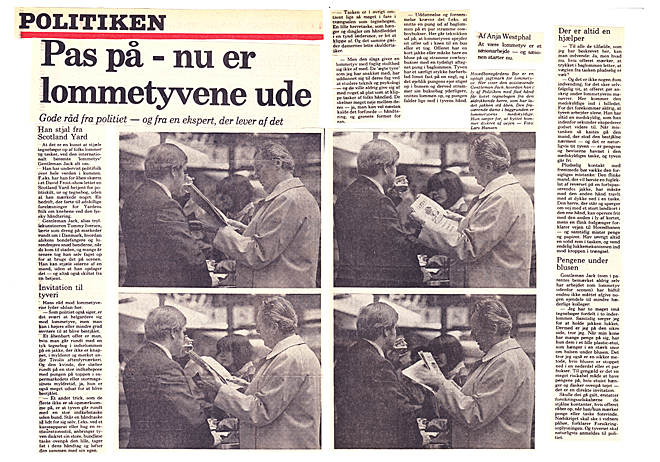 From a leading Danish newspaper Politiken
In all the cities around the world where Tommy gave his seminars, he also stole large columns in all printed newspapers. It gave him plenty of publicity and headlines like: "The cleverest Pickpocket ever seen", "The finest Pickpocket out of jail", "The world's best Pickpocket", "Tommy is the world's most honest Pickpocket", "A Gentleman is coming to town", "Tommy Iversen is an aristocrat among Pickpockets", "The Pickpocket who tricked detectives", and so on.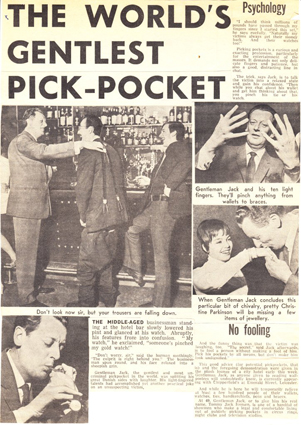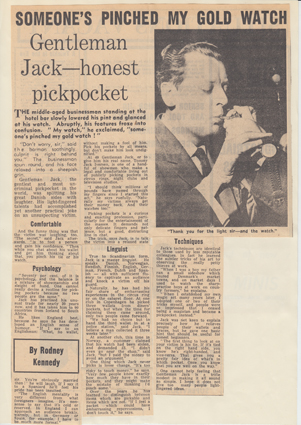 Gentleman Jack in the News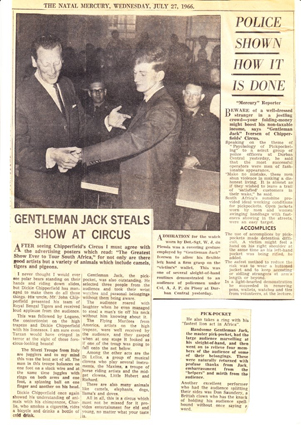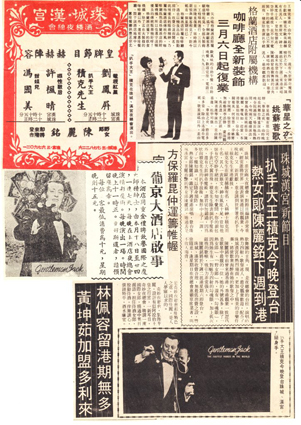 A true gentleman
Tommy inspired many of his friends and colleagues with his classic English gentleman's style, which he developed over the years and made him world famous. His act was a model for many new artists in the business.
It is often said that an artist has 10-15 seconds to win the audience over when he or she makes their entrance. Tommy managed it in just 5 seconds with his humorous, cosy, warm and friendly
charisma. He was a true master at making his act look as if it was all just a game. He also had a unique ability to make his helpers from the audience feel comfortable and confident on stage in his company, where they enjoyed themselves just as much as the audience watching - knowing that they were part of Tommy's success.
Tommy also had the "God's gift" in that he had found foreign languages easy. He had an incredible ear for languages, which made him mentally able to manipulate his audience helpers in more than 8 languages, among them Finnish, Dutch, Japanese and Portuguese.
On stage, Tommy literally lived up to the name of "Gentleman Jack", where in a pleasant and gracious manner he always made sure that the audience helpers (who were never stooges/secret helpers), who he "stole" from were treated with humility and respect and not ridiculed. Tommy always called the audience who were on stage or in the circus ring with him his customers. He was always 100% aware that he would never have had an act without help from the audience and their willingness to get up on stage.
The generous thief
Tommy, who was among the world's first stage pickpockets, was one of the few who gladly shared his vast knowledge and secrets with others in the world of magic. This was done by, among other things, a number of seminars throughout the Nordic countries and in England, where he had students.
He was also a mentor/teacher for the Dane Kenny Quinn, whom he trained in and taught to the pickpocket's noble art over a long period until the autumn of 1984.Tommy really was a pickpocket of standing, while at the same time a generous man, who was always ready to help others. In fact he was in reality the thief who would rather give than take.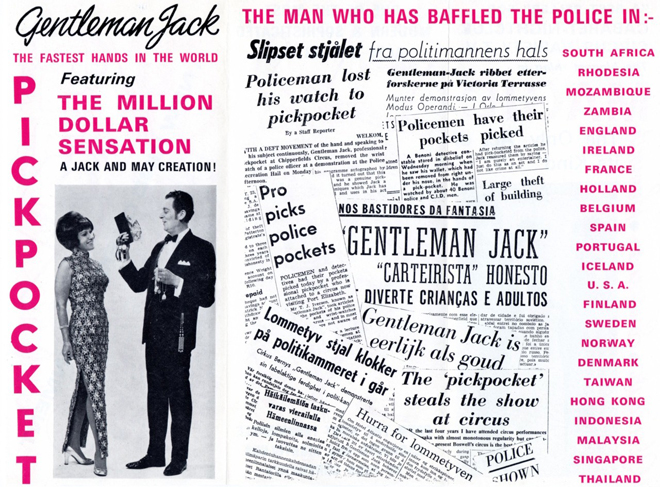 Some of "Gentleman Jack & Majlis" many advertising gimmicks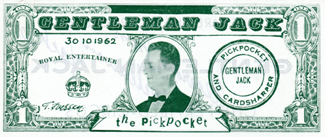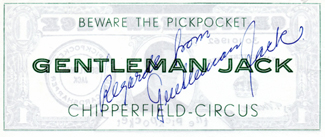 A happy couple
After a lifetime in show business, including 36 years with Majlis as a partner both on stage as well as privately, Tommy "Gentleman Jack" & Majlis ended their professional artistic careers as pickpocket entertainers in the autumn of 1979. By that time, the elegant Danish/Swedish entertainer couple had performed in more than 40 countries worldwide.
Almost everywhere they had been "Top of Bill" through the 50s, 60s and 70s in the leading national and international variety shows, cabarets, nightclubs, circuses and Revue Shows, where they were known as the noblest pickpockets with the nicknames "The Fastest Hands in the World", "The Aristocrat of Pickpockets" and "The Danish King of Pickpockets".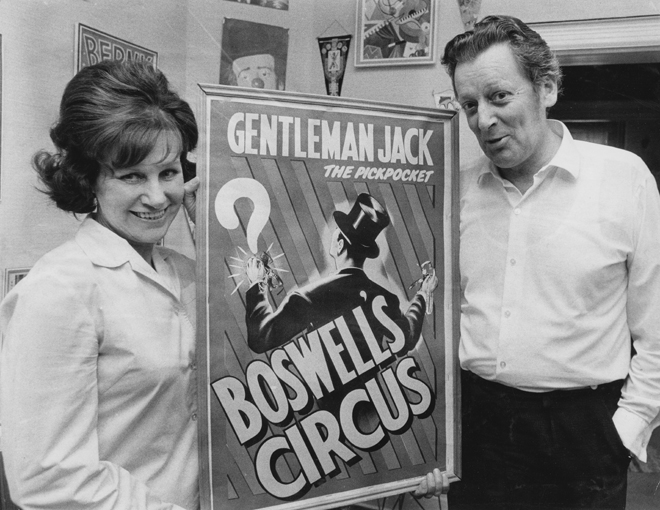 Majlis & Tommy "Gentleman Jack" Iversen with the poster from the years in South Africa

The reason Tommy and Majlis stopped their very active and long career with amazing worldwide shows was Tommy's bad heart. The permanent base for the couple was now their home at "Von Lingensväg" in Malmö, Sweden - a place where both Majlis and Tommy had settled down well and where they were happy to stay after a long time travelling all over the world. Wherever Tommy went he lit up with his very positive outlook on life and favourite slogan: "Haven't we got it good!"
After 1979, there was a number of guest appearances in television shows and magic congresses up until 18 November 1984, when Tommy, at the age of just 63, succumbed to the heart disease he had struggled with for many years. Both his surroundings - and most of all himself - were aware that he had been living on borrowed time.
Just a few years after Tommy's death, Majlis also passed away on October 13 1990, after a period of illness. In the many years where they managed to live together 24 hours a day, they were a happy couple, who experienced so much together on their many travels around the world. Without Majlis, Tommy would have been worse off both in terms of their professional interaction on stage and in his private life.
Gentleman Jack's popularity
Tommy's popularity reached far and wide even after his untimely death. The popular Danish singer Kim Larsen wrote the song "Gentleman Jack" as a tribute to Tommy Gentleman Jack. Kim Larsen didn't know Gentleman Jack personally, but he was inspired to write the song "Gentleman Jack" by the obituary that was in the Danish Artist Federations magazine "Artisten" in February 1985. So Kim Larsen allowed himself to simply "conjure up" a bit of reality - in much the same way as Gentleman Jack had done throughout a whole performer's life, which he did with respect for and fascination of the art of performing artists and its original personalities.
The song "Gentleman Jack" was a number in "Circus Himmelblå" and was sung by Kim Larsen himself throughout the summer concert tour in the circus tent in 1985. His two entertainer and street performer friends, Leif Sylvester and Erik Clausen, performed several magic tricks on stage during his performance of the song.
In 2006, it was again proved that Gentleman Jack & Majlis had been two very distinctive personalities, when author Ulf Mörling's published his first novel "Godmother", which is the first novel he has written in English (the book is also available in Danish)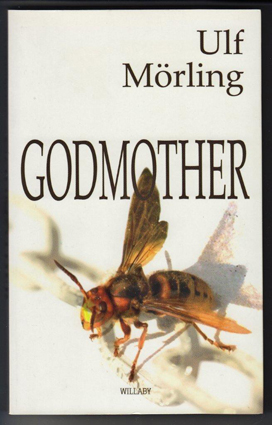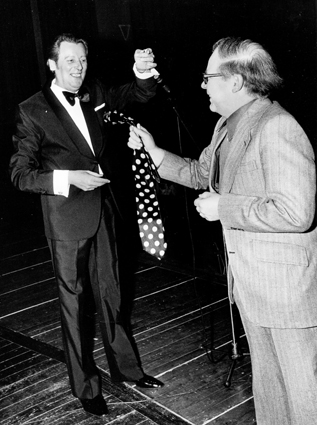 | | |
| --- | --- |
| The Book Cover | Photo by: Christer Robertsson, Sweden 1974 |

Ulf Mörling was previously a Middle East correspondent and editor in chief with leading European newspapers and in the 1980s worked, among other places, at a Swedish daily paper. The book "Godmother" is a work of fiction, where everything is fiction, but with the slight difference that both Gentleman Jack and his wife Majlis existed in reality.
Not named after the whisky
Did Gentleman Jack name himself after the whisky of the same name? No, it's more the other way around! Tommy "Gentleman Jack" Iversen toured around the world from 1949-1979.
Jack Daniel's Distillery in Tennessee, USA, first introduced its product "Gentleman Jack" into the U.S. market on 30 September 1988 for 1000 specially invited guests. All the guests could all see that "Gentleman Jack Whisky" was a luxury Jack Daniel's whisky, which had a fine and gentle style - just like the world famous pickpocket Gentleman Jack had.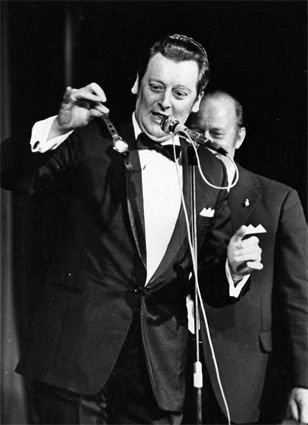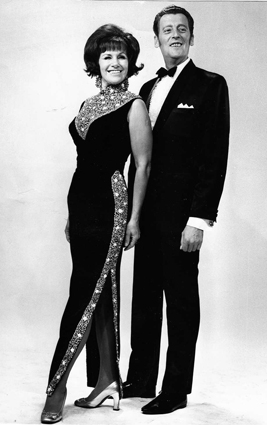 | | |
| --- | --- |
| Gentleman Jack in action | Famous Photos shot of Gentleman Jack & Majlis |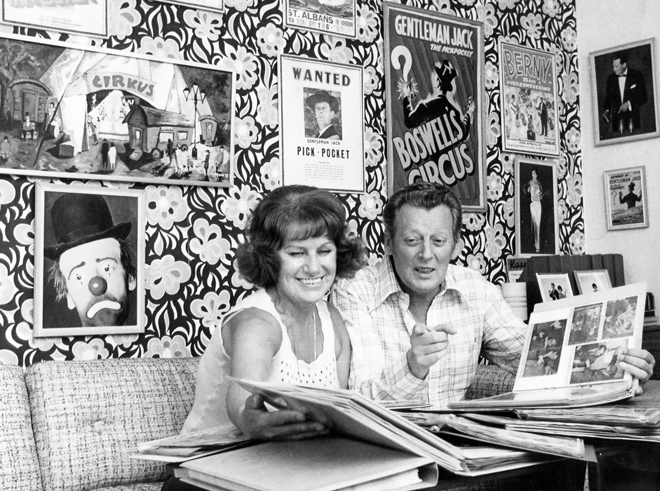 Majlis and Gentleman Jack looking at scrapbooks in their apartment in Malmö, Sweden


In honour of my teacher & mentor Tommy "Gentleman Jack" Iversen and his stylish, elegant and glamorous wife Majlis.
-

K. Quinn, 2012
Thanks to the following for their assistance with photos, posters, newspaper clippings etc.:
Gertrud & Christer Nilsson, Sweden's Magic Archive (Sveriges Magi-Arkiv) www.magiarkivet.se
Joakim Berglund, Bilder i syd AB, Sverige www.bilderisyd.se
Jörgen Börsch, Denmark
Henrik Christensen, Denmark
Björn "Henriko" Gammals, Finland
Henk van der Berg, The Netherlands
The Danish Circus Museum at Hvidovre, Copenhagen (Cirkusmuseet) www.cirkusmuseum.dk
Kenny Quinn is as his mentor Gentleman Jack gentleman pickpocket entertainer. He had his debut in Danish Circus Arena in 1985 and have since then together with mrs. Joan with great succes performed in circuses, variety theatres, nightclubs etc. over most of Europe. Read more about Kenny Quinn at
www.kennyquinn.dk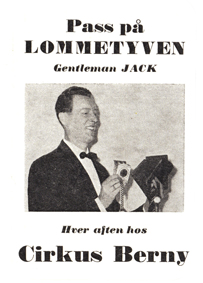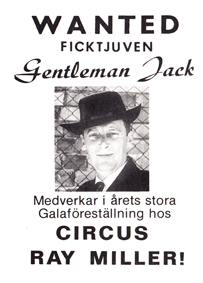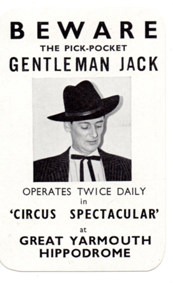 Et af gentleman Jacks reklamegimmicks: spillekort med reklame på bagsiden
One of Gentleman Jacks advertising gimmicks: playing cards with an add o the reverse side

Et af Gentlemans Jacks postkort / Gentleman Jack Postcard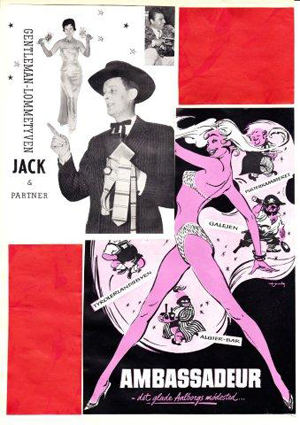 Plakat fra Ambassadeur i Aalborg / Poster from the nightclub Ambassadeur in Aalborg, Denmark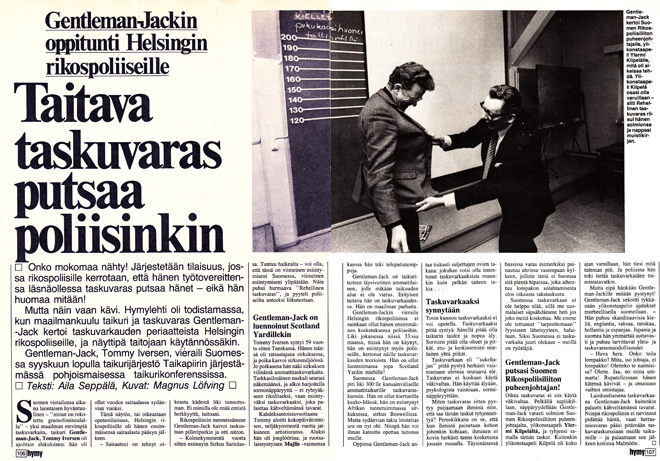 Gentleman Jack i en finsk avis / in a Finnish newspaper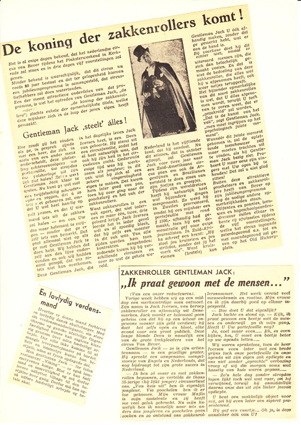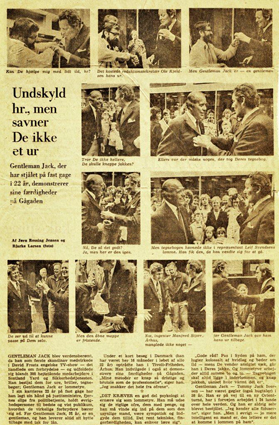 | | |
| --- | --- |
| Gentleman Jack i en hollandsk avis /in a Dutch newspaper | Gentleman Jack i Arhus Stiftstidende 1972 /in a Danish newspaper Aarhus Stiftstidende in 1972 |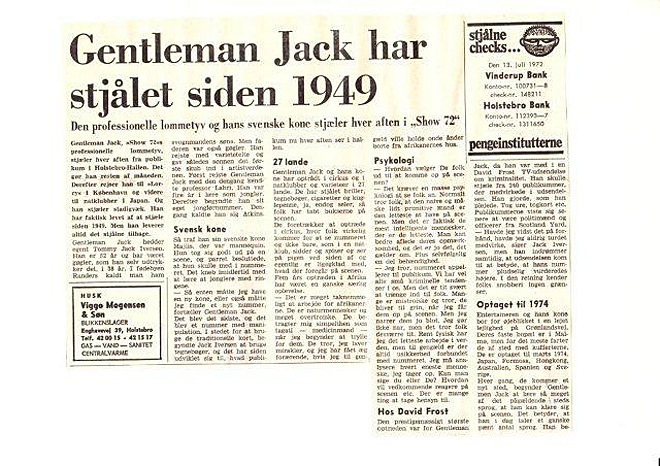 Klip fra en dansk avis / From a Danish newspaper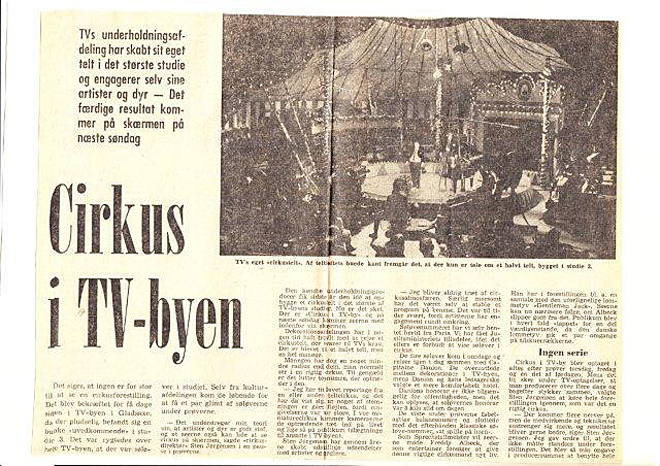 Klip fra en dansk avis / From a Danish newspaper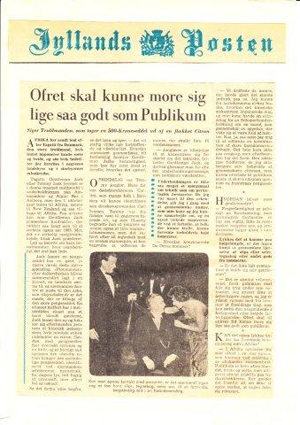 Klip fra Jyllands Posten/ From the Danish newspaper Jyllands Posten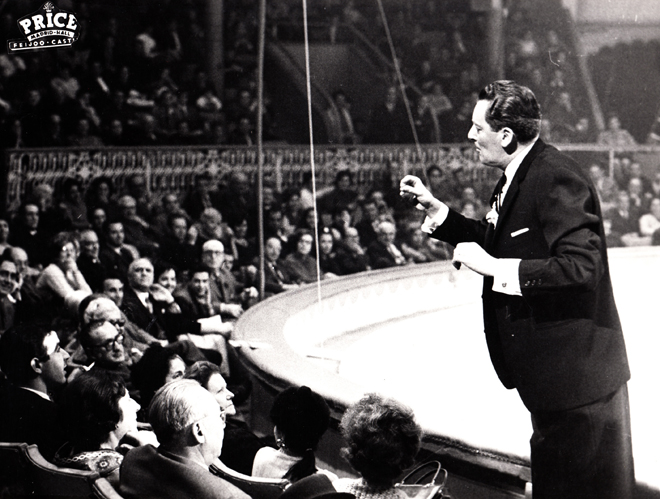 Gentleman Jack i aktion i Circus Price, Madrid / Gentleman Jack in action in Circo Price, Madrid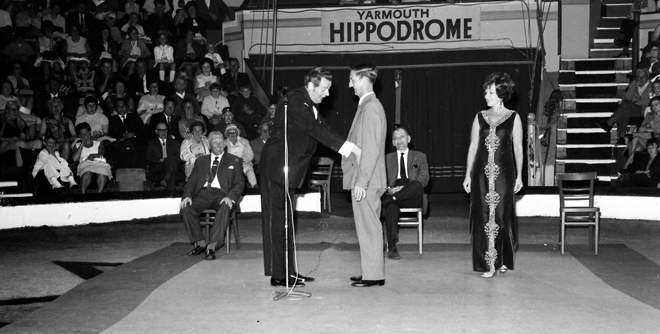 Gentleman Jack & Majlis i Gt. Yarmouth Hippodrome Circus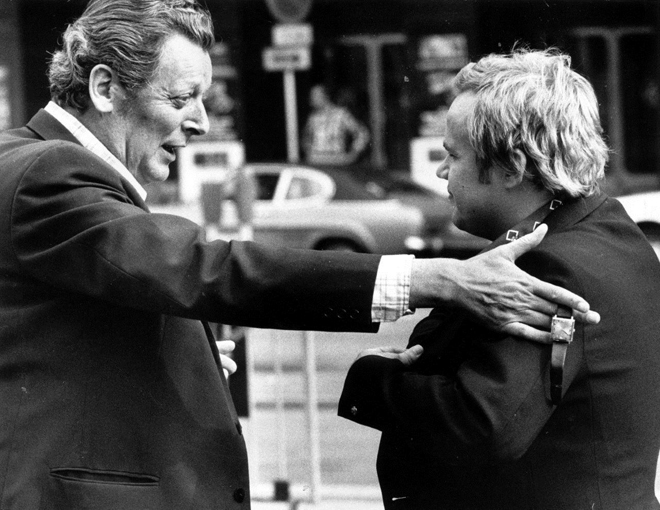 Gentleman Jack in action. Foto / Photo: Jan Carlsson, Sweden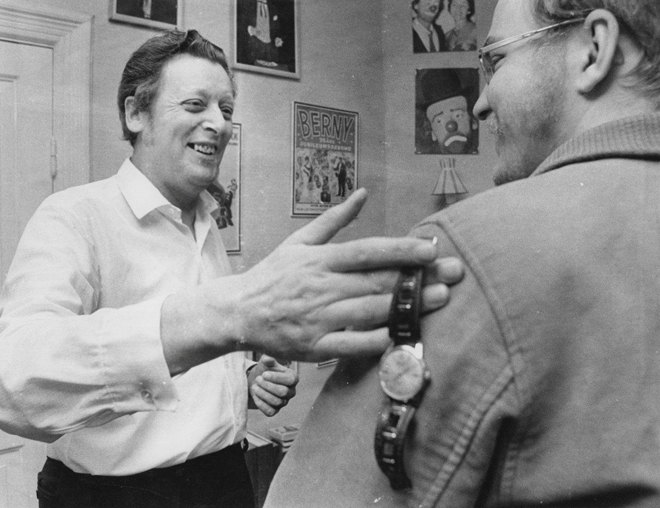 Foto taget i forbindelse med et interview / Photo shot in connection with an interview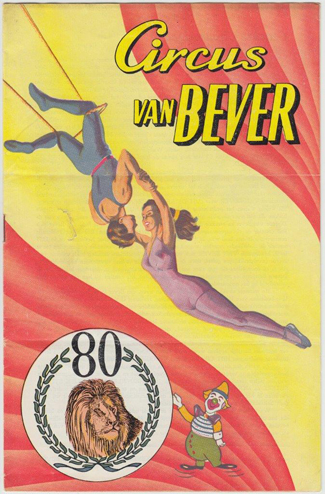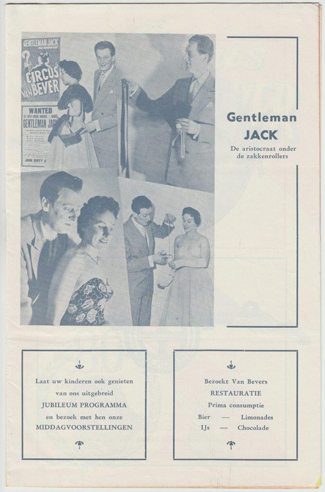 I 1956 optråde Genteleman Jack i det hollandske Circus van Bever / In 1956 Gentleman Jack was with the Dutch Circus van Bever

Gentleman Jacks julehilsen 1963 / Used as Christmas card by Gentleman Jack in 1963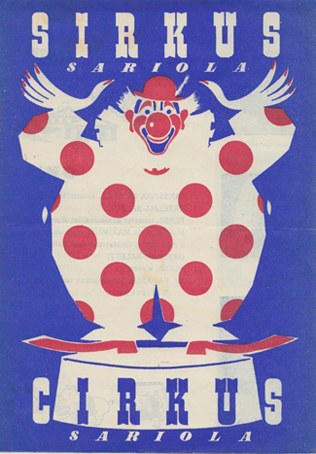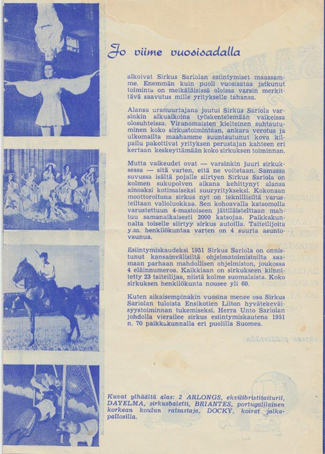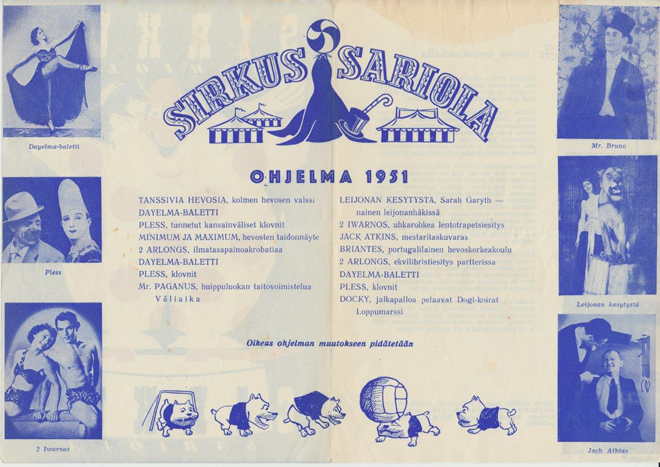 I 1951 optrådte Gentleman Jack under navnet Jact Atkins i det finske Cirkus Sariola / In 1951 Gentleman Jack using the name Jack Atikins toured with the Finnish Circus Sariola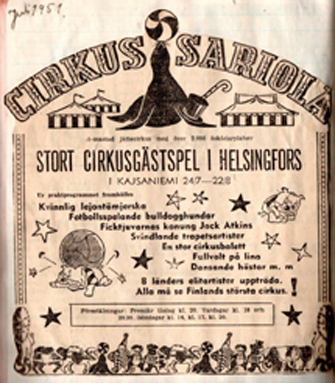 Annoncer bruge af Cirkus Sariola i juli 1951 / Advertistement used by Circus Sariola in July 1951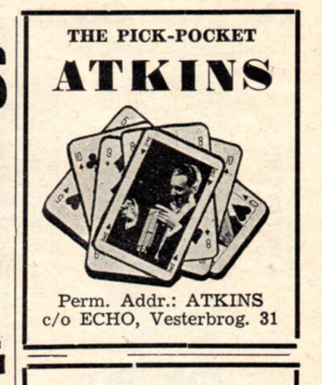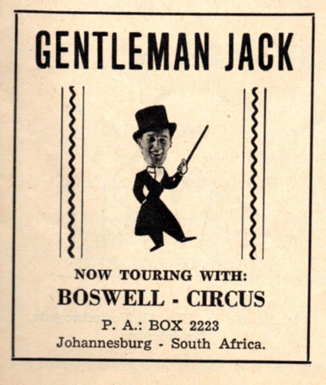 Annoncer i artistbladet ECHO fra henholdsvis maj 1952 og april 1953 / Advertistments in the artist magazine ECHO from May 1952, respectively April 1953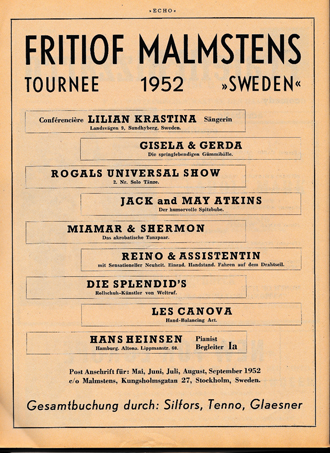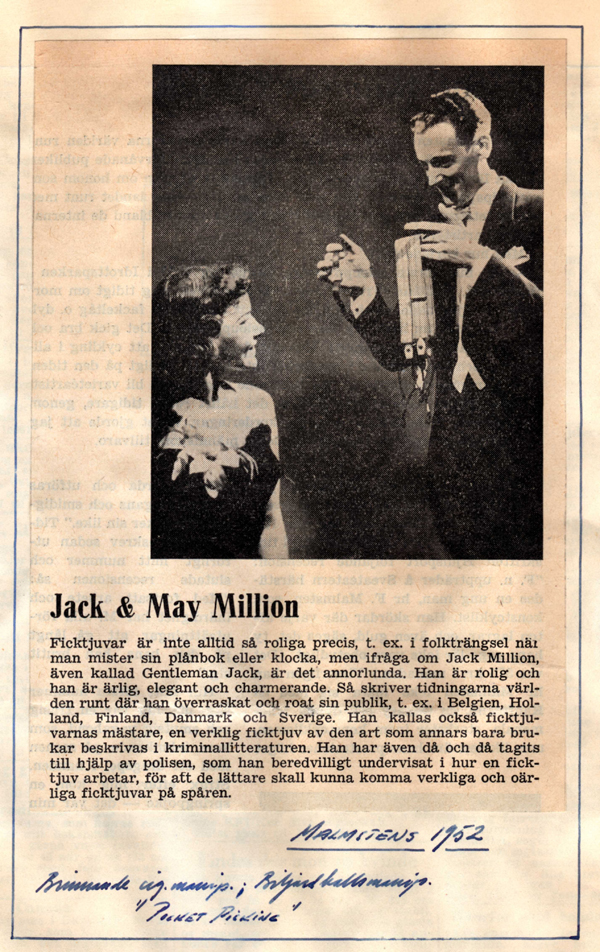 I 1952 arbejdede Gentleman Jack bl.a. for Malmsten-trupen. Øverst annonce fra ECHO, neders avisudklip / In part of 1952 Gentleman Jack toured with the Swedish F. Malmsteen show. Above advertisement from the artist magazine ECHO and a clip from af Swedish newspaper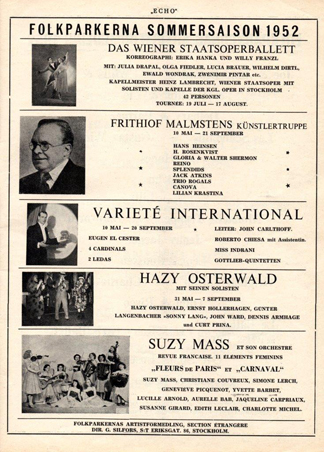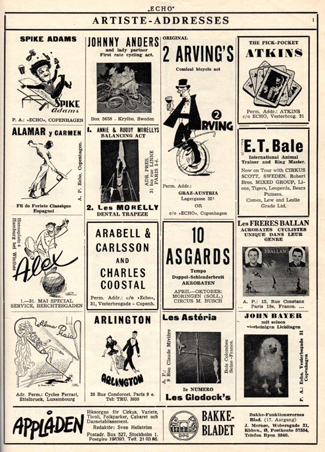 Annoncer i artistbladet ECHO maj 1962 / Advertisements in the artist magazine ECHO from May 1962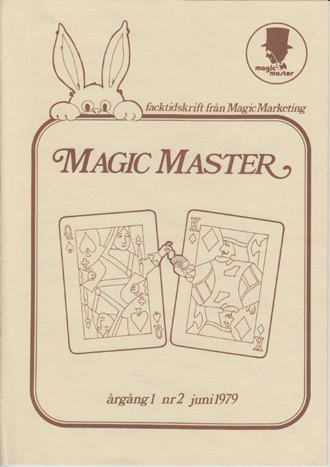 Gentleman Jack skrev under rubrikken "TRICKS & SNACK med Gentleman Jack"
en lang række artikler i det svenske magi fagblad Magic Masters, hvis første nummer udkom i 1979. Nedenfor er nogle af disse artikler gengivet / In the 1979 and the following years Gentleman Jack wrote a number of articles called
"TRICKS & SNACK with Gentleman Jack" in the Swedish magazine for magicians Magic Masters. Please find below sone of those articles (language Swedish)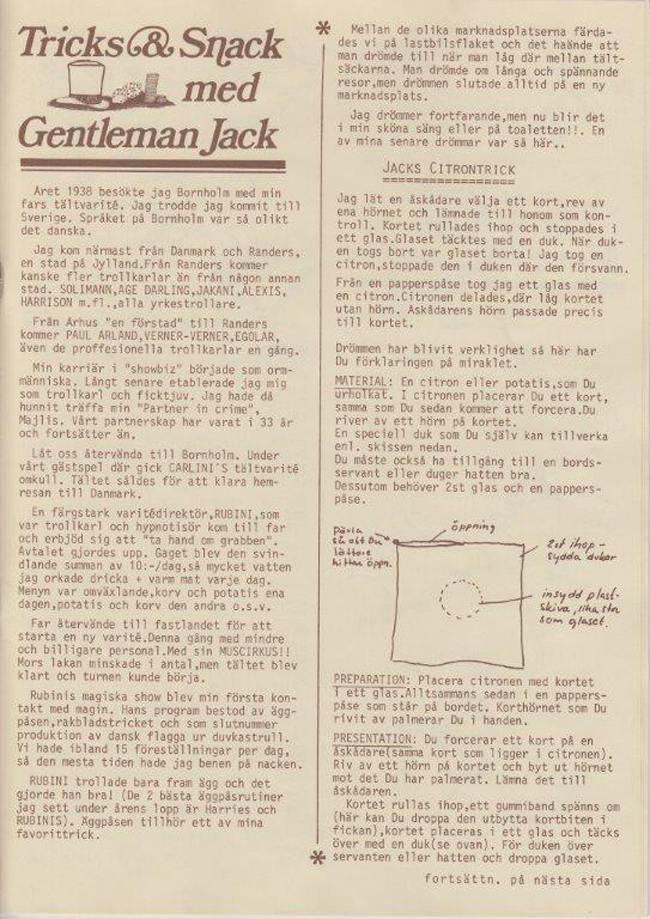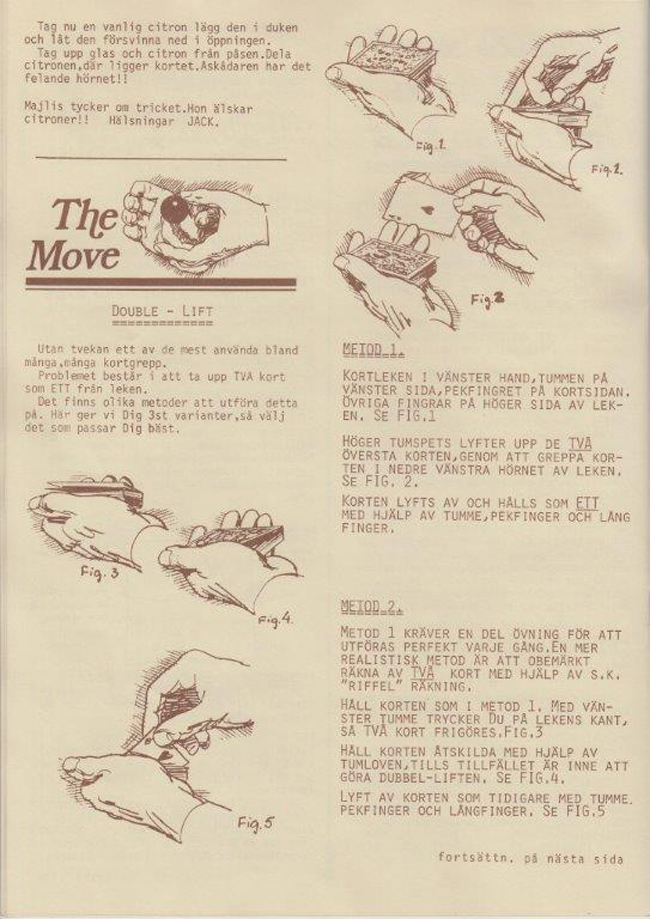 Magic Masters marts (March) 1979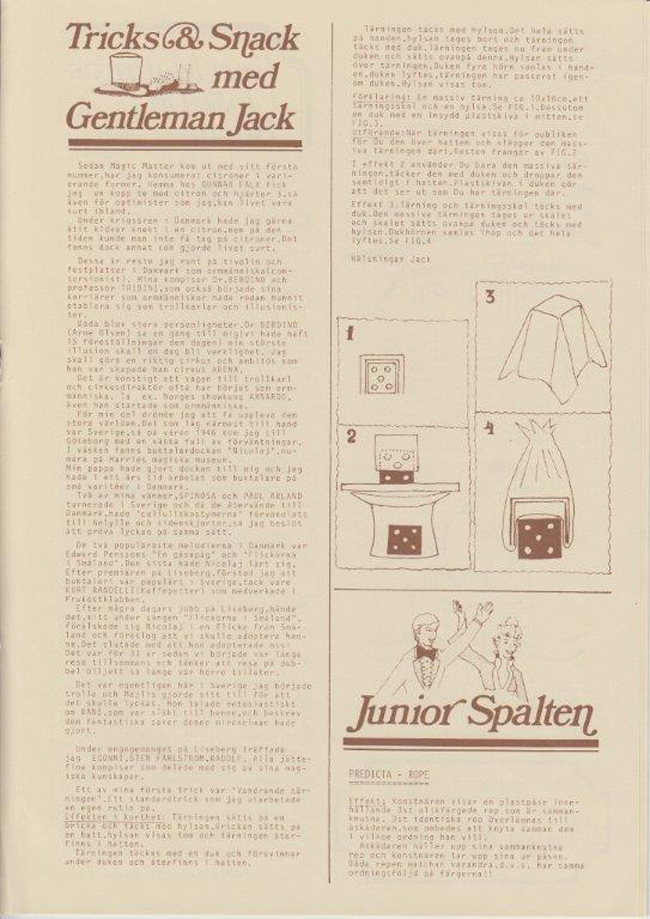 Magic Masters juni (June) 1979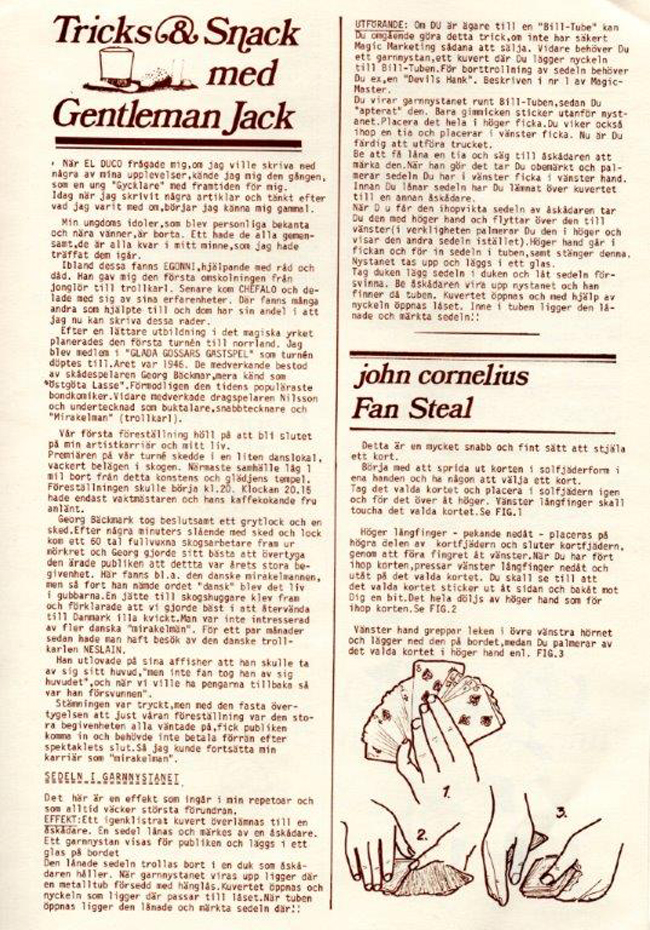 Magic Masters september 1979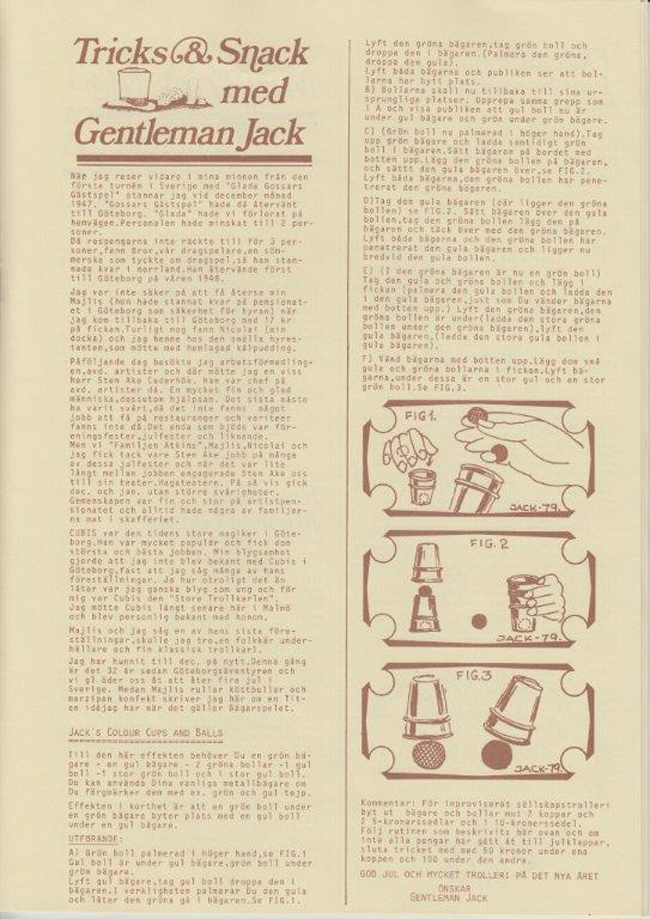 Magic Masters december 1979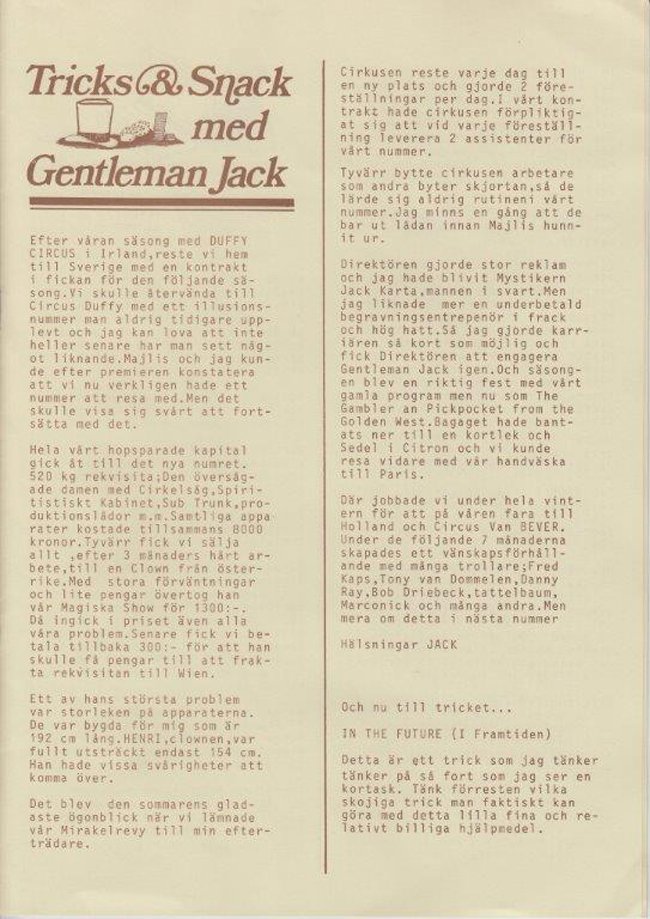 Magic Masters februar (February) 1981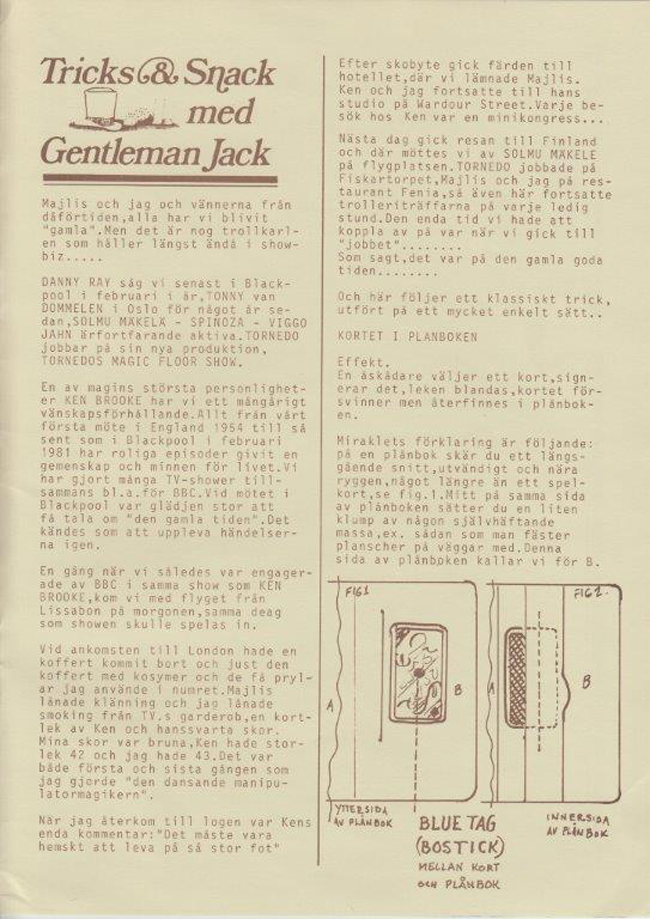 Magic Masters maj (May) 1981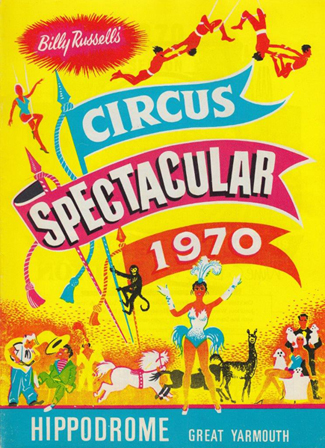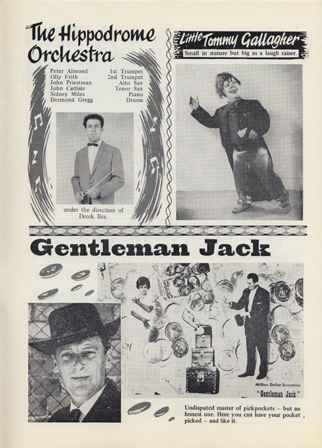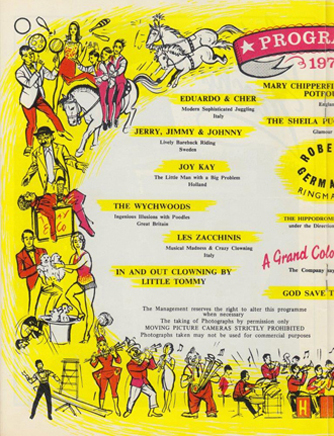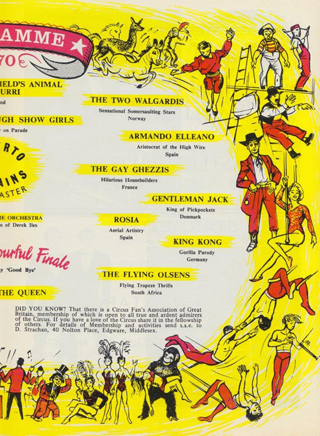 I 1970 optrådte Gentleman Jack i Great Yarmouth Hippodrome Circus i England / In 1970 Gentleman Jack was part of the performance in Great Yarmouth Hippodrome Circus in England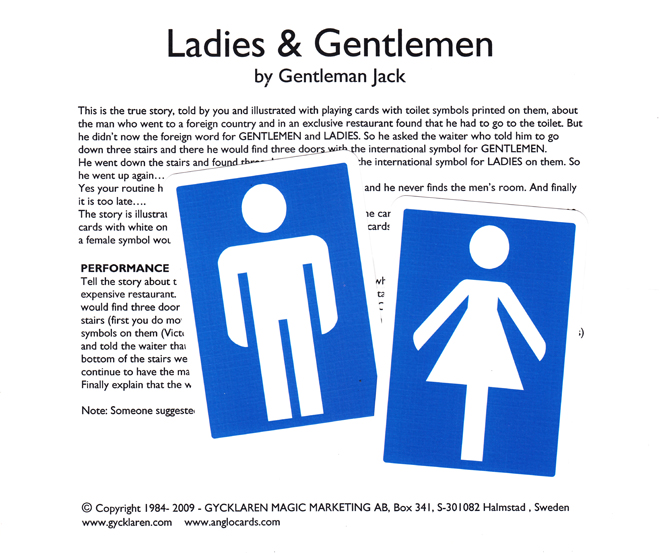 Gentleman Jack udviklede også nogle tryllenummer. Her er forsiden til beskrivelsen af et trick som blev udviklet for Gycklaren Magic i Sverige, hvor det forsat er muligt at få flere af Gentleman Jack trick. / Gentleman Jack created some illusions. This is the front page from the description of a trick which still can be bought from Gycklaren Magic in Sweden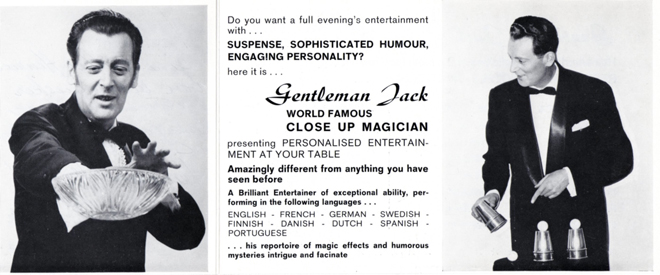 Reklame for Gentleman Jack / Gentleman Jack flyer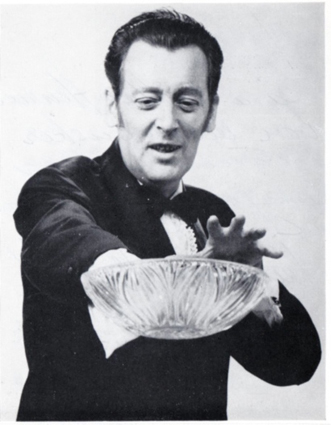 Gentleman Jacks trick med den svævende vandskål. Tricket hjembragte han fra en rejse til Østen / Gentleman Jack's trick with the flying water bowl. He found the trick in the East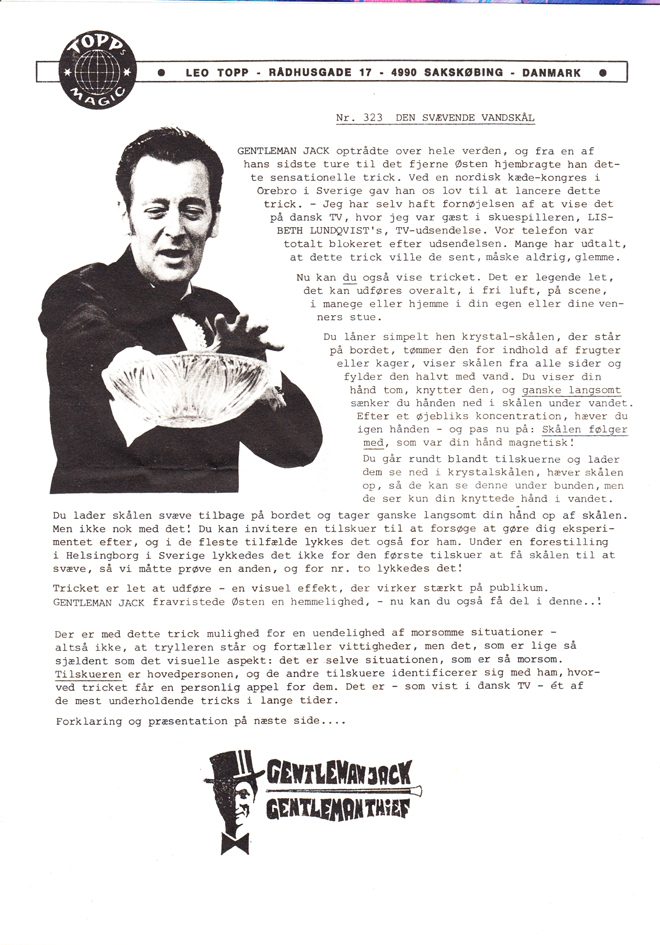 Beskrivelse af tricket med den svævende vandskål / Desription (in Danish) of the trick with the flying waterbowl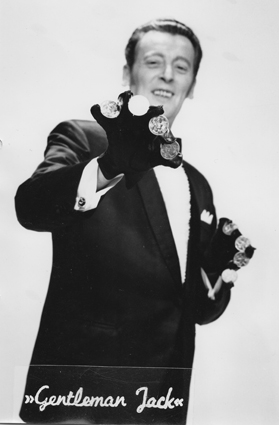 Gentleman Jacks mønttrick / Gentleman Jacks coin manipulation.
Tricket kan fortsat købes hos Harries Magic i Sverige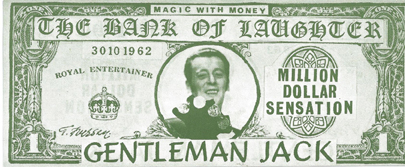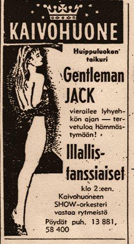 Annonce i Helsinki Sanomat fra 1964, hvor Gentleman Jack optrådte på Cabaret/Nightclubben KAIVOHUONE i Helsinki / Ad in Helsinki Sanomat fro 1964 when Gentleman Jack starred at the Cabaret/Nightclubben KAIVOHUONE in Helsinki, Finland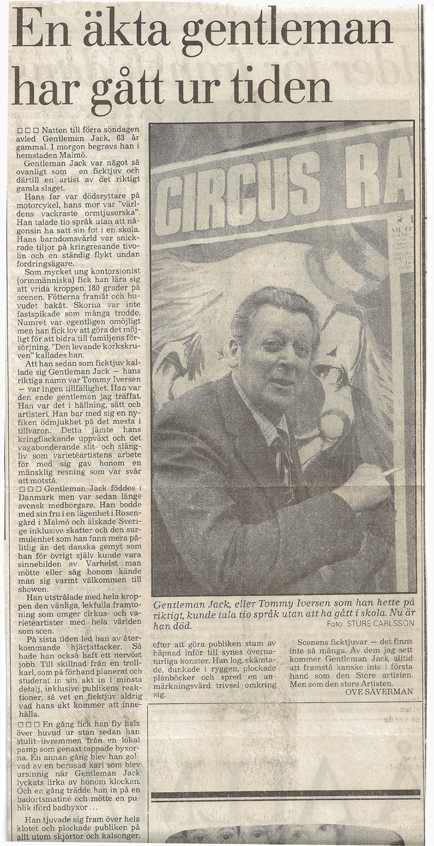 Nekrolog i den svenske avis Dagens Nyheder fra 25. november 1984 / Obituary from 25 November 1984 in the Swedish Newspaper Dagens Nyheter
Siden er senest opdateret 10. november 2013 / Last udpated 101 November 2013