Jack Joyce – the American cowboy who became a circus owner in Denmark




By Ole Simonsen



This article was written in Danish in 2002 and published at the internet at www.circus-dk.dk. A much updated version of the articlen was in 2017 published in a book "Københavns Cirkusbygning og andre artikler om cirkus og artiter" (The Copenhagen Circus Building and other articles about circus and artists). The original article was translated to English in 2012 with certain updates made in 2015, 2016

and 2017.

However not as many updates as in the Danish book.

Table of contents:

In May 2001 I received a mail from Jeanne Delaney Hubbard who told me that her grandfather's brother John Edward "Jack" Joyce had a Wild West Show which toured in Europe in the early 1900s. She added: "Family lore says that he was in Denmark for an extended period of time, taught horseback riding to the children of King Christian and introduced Jack Joyce chewing gum to Denmark. Is there any way that I could find out more about his life in Denmark?"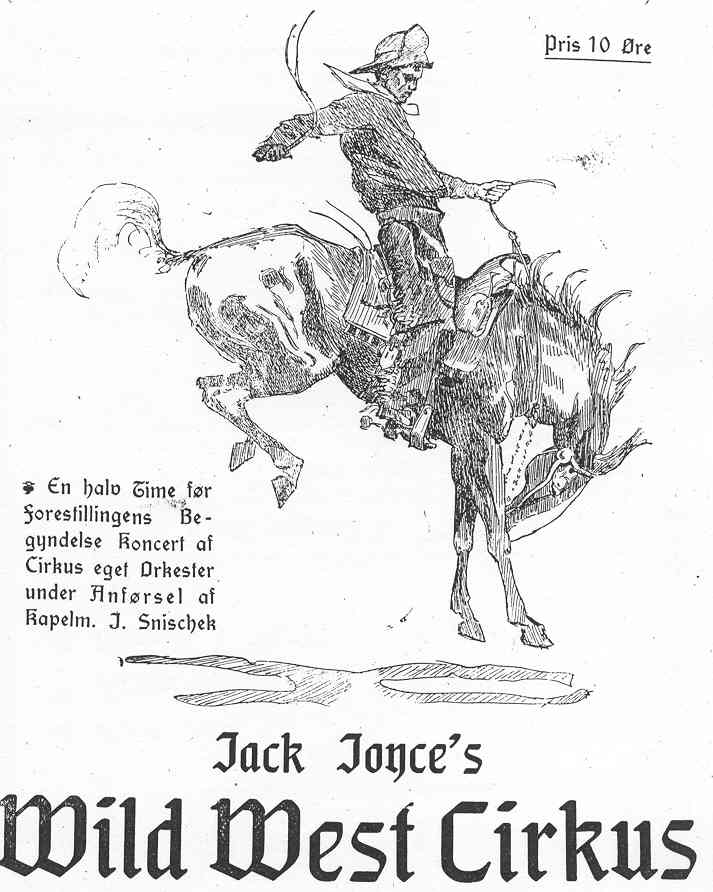 Jack Joyce and his bucking horse. Program cover from 1914. Unless otherwise mentioned all illustrations are from the collections of the Circus Museum at Hvidovre, Copenhagen
Honestly, I had never heard about Jack Joyce. But guided by the dean of Scandinavian circus historians, Anders Enevig, I was able to find some information about the American show-cowboy, who from 1913 to 1923 toured a circus in Denmark and Sweden. I was furthermore assisted by Susanne Torgard of the Circus Museum at Hvidovre, Copenhagen, Jeanne D. Hubbard, Jeanne's cousin Joyce Keeley Brickhouse (Jack Joyce's granddaughter) and Alice Martensen, Odense, who was a friend of Jack Joyce's daughter Evelyn. The Norwegian Circus Historian Herman Berthelsen has helped me with information about Jack Joyce's visits to Norway.
Joyce K. Brickhouse informed me that John Edward "Jack" Joyce was born on 10 February 1875 in Allegheny County, Pennsylvania, USA. His parents were Patrick James Joyce and Elizabeth Grimes Joyce. An obituary in Billboard dated 30 June 1934 mentions the place of birth as Carnegie, a suburb to Pittsburgh, Pennsylvania.
According to the obituary his parents had their heart set on the boy entering priesthood. But young Jack had other plans and joined the Buffalo Bill show, staying with Colonel Cody for nearly 10 years to become one of the most daring bronco riders of all time.
According to an article by John Daniel Draper in Bandwagon March-April 2004 Jack Joyce was listed in the route book of the Buffalo Bill show as early as 1896 as assistant in the Cody and Salisbury horse department.
The Buffalo Bill Historical Center at Cody, Wyoming USA has informed Jeanne Delaney Hubbard that Jack Joyce in 1899 was one of the cowboys with Buffalo Bills Wild West Show. They had no information about other years.
According to information from Joyce K. Brickhouse Jack Joyce married first time in March 1900 in Iowa to Grace Gaylord. Jack and Grace got a daughter Evelyn Joyce, born 16 December 1900. According to Jack Joyce's obituary in Billboard Grace passed away in 1906. However, Evelyn Joyce told her Danish friend Alice Martensen that her parents divorced as Jack always was away from home. According to what Evelyn told Alice Martensen Grace Gaylord later remarried 4 or 5 times. Evelyn herself became a rider and worked amongst other places at Ringling Bros and Barnum & Bailey. She passed away 15 January 1994.
In an obituary in Billboard is mentioned a story about Jack Joyce flipping a coin to see if he should start a career in the movies or join a troupe in Europe. The coin pointed to Europe.
According to an article about Jack's son Jack Joyce Jr. in Billboard dated 1 September 1951 Jack Joyce came to Europe in 1902 with Jack Joyce's American Wild West Show. The personal included Will Rogers and Cy Compton. According to this article the first route was cancelled when one of the horses bucked off the stage and into the audience. Furthermore is mentioned, that the indoor rodeo assumed its tour about 1904 and continued until 1924, when Jack Joyce returned to USA to play fairs and the Keith-Orpheum Circuit with liberty horses.
Will Rogers speaks of Jack Joyce while reminiscing in one of his syndicated newspaper articles of April 19, 1925. He calls Jack Joyce for "our best rider and principal Cowboy at that time" and mentions that he had been in Europe for 18 years and returned with the greatest trained horse act you ever saw. According to a volume of Will Rogers' writings done by Oklahoma State University, Jack Joyce was also a leading piano accompanist on the vaudeville circuit.
According to research done by Patricia Lowe of Will Rogers Memorial Jack Joyce was with the Zach Mulhall's show when they performed a horse show or fair as it was called, in Madison Square Garden from April 23 to April 29, 1905. They all rode in the grand entry and performed. Also Will Rogers and Tom Mix was part of Zach Mulhall's Wild West outfit. According to Will Rogers that was Tom Mix's first start on his Wild West career.
Around 1909 Jack Joyce married Viola Mary Carey whom he had met in London where she performed with dogs and birds. Viola was born in Philadelphia in Pennsylvania on 19 December 1885 but moved together with her parents Irish Harry Carey and German Marie Bolcke (sometimes called Maria Schroeder) to Berlin. Violas parents were probably artist. She had probably a sister, Anita.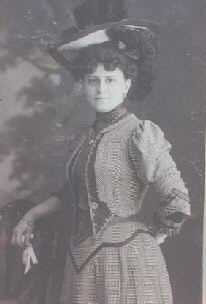 Mrs. Jack Joyce (Viola Mary Carrey). Joyce K. Brickhouse's collection
According to Joyce K. Brickhouse Jack and Viola had three children:
• Jack Jr. (John James Joyce). Born 16 October 1910 at Vienna, died 17 October 1977 at Sarasota.
• Violet Joyce (Carey). Born 17 December 1912 in Berlin, died 15 October 1987.
• Maud Anita Joyce. Born 13 February 1916 in Copenhagen.
An obituary in the Copenhagen-based Danish newspaper Berlingske Tidende dated 11 February 1934 described James Joyce's act:
Jack Joyce's bucking horse was world famous. He had literally said trained a thoroughbred horse to be wild. The act began with his assistant, the Russian Lieutenant Max, unsuccessfully trying to get control over the agitated animal which kicked, jumped and reared, so arena-sawdust stood in light rain over the audience, and neighed and screamed as if there were turned red-hot nail in the hoof on it. Naturally, the lieutenant has to give up … But then Jack Joyce climbed ring, forced the saddle on the back of the monster and swung himself up into place. And immediately the horse was so overcome humble and gentle as any female spectators under the tent roof.
The date of 11 February 1934 of the obituary is strange as Jack Joyce did not pass away until 16 June 1934. Thus, the obituary seems to be based on false rumours of his dead.
In one Anders Enevig's books about circus etc. in Odense you can see that Jack Joyce visited Denmark in 1909. Enevig quotes from a local newspaper Fyns Stiftstidende dated 22 June:

Jack Joyce from Buffalo Bill's Show. The world's premier master of horses with his large troupe of cowboys and his wild horses at the bike racing track at Fruens Boge

.
The following days the newspaper had on its front page an advertisement with a drawing of Jack Joyce riding his bucking horse. Advertiser was the chewing gum factory Engel & Kisky which gave Jack Joyce the honour of having taught the Danes to use chewing gum.
The visit at Odense was mentioned in a leading Copenhagen newspaper Politiken dated 29 June 1909:
The cowboy Jack Joyce gave yesterday at the bike racing track at Fruens Boge a performance which was attended by between 4,000 and 5,000 people. At the end of the performance the audience broke into the inner circle. One of the wild horses became frightened and jumped into the crowd. There was panic, but no one was hurt. The cowboy went on bike after the fleeing horse and captured it with his lasso. At the show tonight only 6-700 people turned up, and for such a small group of spectators the cowboy would not perform but cancelled the show. As the audience despite of this entered the bike racing track, Jack Joyce jumped up on a horse and rode into the crowd which he urged to leave in strong terms. The audience responded with whining and threats of beatings, and the situation was a bit difficult. Jack Joyce therefore let his impresario announce that he would give a performance free of charge at a nearby field. By this he managed to get through the crowds and galloped in direction of Odense.
In a note in Billboard Belle Lynch mention that Jack Joyce in 1909 also performed at Circus Busch in Berlin: "The last time I saw Jack was in 1909, at Berlin, Germany, in Circus Bush (sic). My departed husband, Joe Lynch, and I were with the Paul Shultz Wild West and Circus Wiesensee, Berlin. Jack Joyce was a very dear friend to Joe during his last years of life …" Also Draper mentions in his article in Bandwagon that Jack Joyce was in Berlin in 1909 and on his famous horse "Two Step" was hailed as the first bucking horse rider and roper to appear in Europe. Draper adds that Jack Joyce in 1911 still was with Circus Busch with his horses.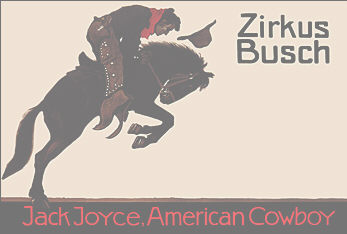 Poster from German Circus Busch. Joyce K. Brickhouse's collection
Furthermore Draper mentions that Jack became a good friend with the Danish prince Christian and that the Prince presented him with a diamond scarf pin in the shape of a horseshoe superimposed with a whip. It seems doubtful if this anecdote regarding Jack Joyce's relationship with Prince Christian and the gift from the Prince is true. The friendship and the gift were at least not mentioned in any Danish papers although press agents normally love to give such news to the newspapers. Prince Christian was born in 1870 and was King of Denmark from 1912 to 1947. He was fond of riding and it is known that he a number of times visited a circus. He was known as a rather reserved person and it seems unlikely that he became a friend with the American circus-cowboy. I know of only one example of a gift from King Christian to a circus owner. And it was not to Jack Joyce but to Dora Miehe.
An article in Billboard 1 September 1951 tells that Jack Joyce at the time when his son Jack Jr. was born in October 1910 appeared in Vienna with Jack Joyce's American Wild West Show. According to a newspaper article from 1916 he was in 1910 with Circus Ciniselli the Copenhagen Circus Building in Copenhagen. In his book

Copenhagen circus life for 100 years

from 1928 Carl Muusmann however writes that Jack Joyce's performances in Copenhagen at Circus Ciniselli were in 1909.
Muusmann's information is confirmed by a review in the newspaper Politiken dated 9th May 1909 of Circus Cineselli's opening night. About Jack Joyce is written: "

Amid all the academic acts came an act, as exciting and nerve-racking as any in the modern circus ring: Jack Joyce with his wild horses. And hurray for the wild horses! This cowboy with his brute strength and phenomenal agility nearly brought the house down! His dressage was violent and ruthless. There were people - probably members of the association "horse friends" – who found that his dressage was too violent and hissed. But this only encouraged the applauders …But this cowboy had something of the mixed South American blood in him, a bit of prairie savagery - and his horse was excellent trained, almost as if it really just had been captured and for the very first time felt a lasso around his pasterns.

"
In an ad dated 28th May 1909 for Circus A. Ciniselli it is mentioned that "the famous American cowboy Jack Joyce performs during a storm of applause." The 4 June 1909 the ad says: "Particular highlights America's famous cowboy Jack Joyce." 25 June the add writes: "Jack Joyce, a repeat of the entire program from Joyce's benefit performance which was greeted with tremendous applause this Tuesday."
Jack Joyce worked for the Swedish Circus Orlando during its performances at the Hippodrome in Malmo from 5th February to 20th march 1910. In a book about the Malmo Hippodrome Bjorn Vinberg writes that Jack Joyce in the advertisements were mentioned as follows: "The lasso thrower Jack Joyce are chewing gum and almost all women in Stockholm who have seen this artist in the circus at Djurgaarden Circus has also started chewing gum." The reference indicates that Jack Joyce at some earlier time must have appeared in the Stockholm Circus Building.


The Hippodrome in Malmö, Sweden as it looked in 1910 when Jack Joyce performed in the building. From the book mentioned above



Jack Joyce worked for the Danish Circus Bech Olsen in 1911. He was presented as "The cowboy-Indian Jack Joyce with his wild horses. Scenes from the Wild West."

After a performance in Hjorring a member of the Danish parliament Peter Sabroe accused Bech Olsen for mistreating his animals. Jack Joyce became so upset that slapped Peter Sabroe. The police became involved, and Jack Joyce was fined 20 DKK. The story was also mentioned in an obituary dated February 11, 1934 as well as mentioned in the Copenhagen newspaper Politiken.



The episode gave perhaps more publicity than badwill. In ads in the newspaper Politiken for performances at Aaboulevard in Copenhagen dated 5th, 6th, 9th and 11 October 1911 Circus Bech Olsen advertises specifically with "the cowboy Jack Joyce and the rest of the colossal program" and "the cowboy Jack Joyce with his wild horses."





In January 1912 Jack Joyce's Wild West Show was appearing at the Coliseum in London. Later, in the beginning of May of that year, it was the big attraction at the New Hippodrome Palast in Berlin. F

rom 19 May to 2 June 1912 Jack Joyce was in Malmö, Sweden with American Circus and Wild West Show Rowland & Joyce.

The performances took place in a "new American giant tent" at a lot called "Tivolitomten".

He worked also for part of the season for the Swedish Circus Orlando which had performances in the Circus Building in Stockholm from 22 March to 25 September. Quite a busy year for Jack Joyce!



Furthermore Anders Enevig has told me that Jack Joyce in 1912-13 had a major part in a Danish silent movie, The Indian Bride, where he was a cowboy Hugh, who finally rescued a woman who was robbed away by Indians. The film was released internationally in late 1913, but was first shown in Denmark in 1915. The story in the film was later used in countless circus pantomimes in Denmark.






In 1913 Jack Joyce travelled around Denmark as owner of the American Circus and Wild West Show. The circus was in Odense from 19 March to 3 April 1913 and under the name Jack Joyce's Great American Circus and Wild West Show in Copenhagen from 4 July to 16 August 1913 at Amagerbrogade next to Klovermarken and from 17 August to early September 1913 at another lot in Copenhagen at Lollandsvej / Ny Andsvej.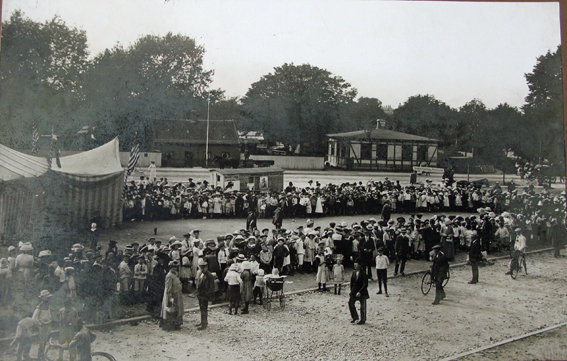 Que in front of Jack Joyce's Great American Circus and Wild West Show in 1913
On 5 July 1913 the Danish newspaper Politiken wrote: "Yesterday morning Jack Joyce circus came to town with the Randers steamer." In a slightly ironic review of the performance the newspaper's reviewer St. Paul wrote:
The cowboy's circus - opening night in Jack Joyce's tent.
Jack Joyce, cowboy and wild horse's conqueror, has become a circus owner, and he arrived to Copenhagen yesterday and has as nomads do put his tent up one of the city's open places.
At Amagerbrogade you will find the tent, a very fine red and white striped tent which can accommodate a few thousand people and has armchairs and a royal box and all other accessories.
The King had unfortunately sent apologies at the last moment, and Jack Joyce's manager Mr. Neve offered us chairs in the vacant royal box expecting that all our criticisms would be disarmed by this delicate attention.
Whether it really was the royal box that did it we could not say, but the fact is that we are all night felt deeply moved and excited by what we saw.
A couple of comic acrobats, the Elton Brothers, cheered us by their playful whim, a French high school rider Lexa Franz warmed our old galvanized heart, and a South African sharpshooter enraptured us to ostentatiously and loud applause with his aptly remarks and shots.
It was now time for the evening's highlights: the clowns, and there was an expectant thrill through Amager's school-age youth.
The existing examples was called Gjedsted and Billy, and we hope not to offend anyone by mentioning that Mr. Gjedsted looked like John Nielsen and Mr. Billy was Jerndorff's spitting image. Their comedy was perhaps a bit more spontaneous than the two actors. In any case, we don't remember having seen Mr. Jerndorff or Mr. John Nielsen beat up each other with boxing gloves or swallow large portions of flour and drop it out of the other end. These gags did of course give raise to much laughter.
During the break you could visit the stables, while the permanent circus band diverted the audience with several original tracks. Such a circus orchestra is something special. They produce tones that you never will hear elsewhere, God knows where they get them from. In the long run it is not healthy to listen to.
Hey ... before we now it we are in the middle of the second part of the performance. The Lindsen Brothers balanced on a white painted ladder from the top of which they were waving small Danish flags. Mr. Hubert Cooke, the famous Hubert Cooke, rode high school on his beautiful horse, and then two Negroes entered the ring and began tap-dancing together with a white girl who looked as if she was engaged to both of them. Tap-dancing is always a phenomenal success, and this tap-dancing was of course greeted with ovations from the audience.
Suddenly Jack Joyce himself was in the ring in his red shirt and with a lasso in his hand. A rider came bursting in and in a second Joyce had thrown his lasso round the neck of the rider and the horse, and again we had to admire the handsome guy's phenomenal agility and safety.
Even better was his act with the wild horse. Fuming and rearing is was taken into the stage; it whinnied and kicked, so it seems dangerous to get close to it, but as an arrow Joyce shot up on the back of the horse and hung on, although the horse raging jumped around in the ring.
We saw the horse when it a second later was taken outside. The fury was blown by then, its eyes were pious as a lamb, and there seemed to us that there was a tiny little smile at its muzzle. It can be called dressage.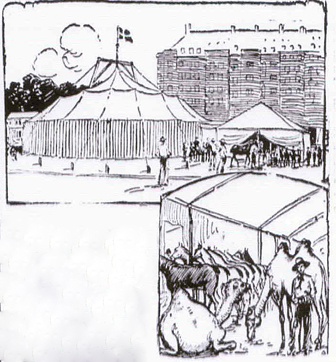 Drawing of Jack Joyce's tent in Politiken 5 July 1913 brought in connection with the review quoted above
On 10 August 1913, one could read the following in Politiken:

"Jack Joyce's cheerful tent circus Amagerbrogade will end its performances there next Sunday, but they are looking for another lot in the city since the number of visitors has been so great that there is every reason to continue the performances. The last days have brought a number of new performers such as Mr. Walker, who is an excellent jumper and a great comedian, a handsome cowboy-quadrille, ridden by four ladies and four gentlemen, a gentleman and lady dancing ragtime, and the French military acrobats the Hornbeck Brothers. Apart from those Jack Joyce's liberty dressage and Mr. Hubert Cook and the thinking horse Flora still bring much happiness. An equally interesting creature as Flora is thoroughbred camel Nebukaneser, going through the higher school, and about which Jack Joyce's manager, Mr. Paul Neve, without turning a hair told that was born during Napoleon's French visit in Egypt."
In a printed program from Copenhagen you could read that the bandmaster's name was Petack and that you furthermore could meet the comical acrobats Elton Bros, the French dressage rider Mlle. Lexa Franz, the sharp-shooter P. du Plessis from South Africa, Jack Joyce's original liberty horses and Gjedsted & Billy with comical run-ins.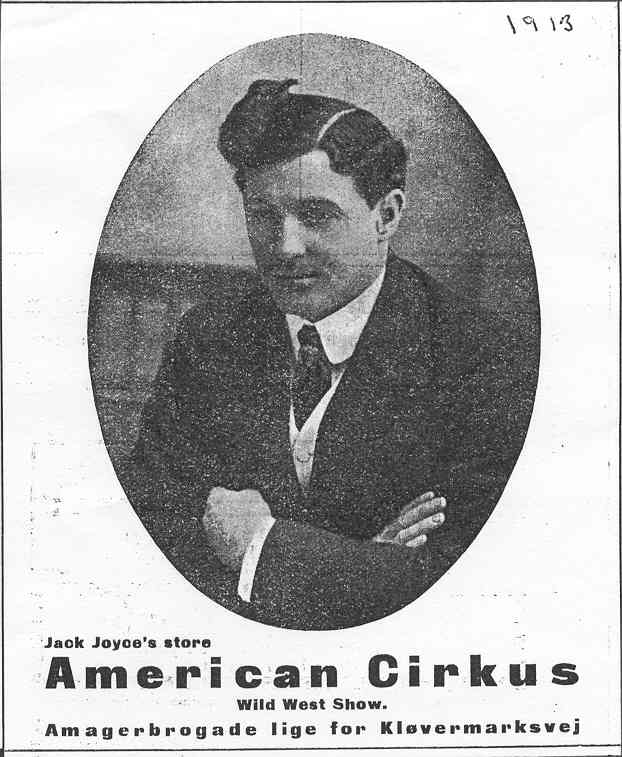 Photo of Jack Joyce in program from 1913
In 1914 the show was called Jack Joyce's Wild West Circus. Among others towns the circus visited Odense from 1 to 14 June. In a program from August 1914 the program is listed as follows:
1-3. Music
4. Large cowboy quadrille, ridden by 8 people
5. Miss Rosa, tight wire dancer, tango on wire
6. Sunday Sport in the cowboy village
7. The Douglass Brothers, balancing act
8. Miss Florentine Rosette, hunting rider
9. Jack Joyce's original liberty horses
10. Mlle Therese Renz rides the high school on the wonder horse "Whisky" which Jack Joyce bought from Circus Busch for 10,000 German Mark
11. Wrobello & Trolle, circus comedians
12. Jack Joyce's cowboy troupe, "Scenes of life from the wild west". Lasso-throwing, saddling and riding of wild horses. Slim Smith, Buffalo Bills head cowboy riding bucking horse "Twostep"
13. Music
14. Mlle Therese Renz's giant elephants
15. The Caucasian Cossack rider Solomon Pataria "The man who rides with his head down"
16. Les Zanhnettis, sensational aerial act
17. Edwin Bale Troupe, bike acrobats with the latest sensations, looping the loop, etc.
18. Miss Florentine, trick rider
19. Finale
In other programs from the same year there are minor changes: you could meet the comical acrobats Les freres Hornbech, the aerial act Les Zakrettis, the comedians Charlie & Japette, the aerial act Altenberg & Hoffmann, Les 3 Eclairs with acrobatic sketch, the beautiful Italian juggler Grethi Gargani, the comedians Edvin & Ginger, and the comical strong men Algaton Bros. It was in those days usual to modify the program several times during a season. Often it was the same artists who under new names did other acts.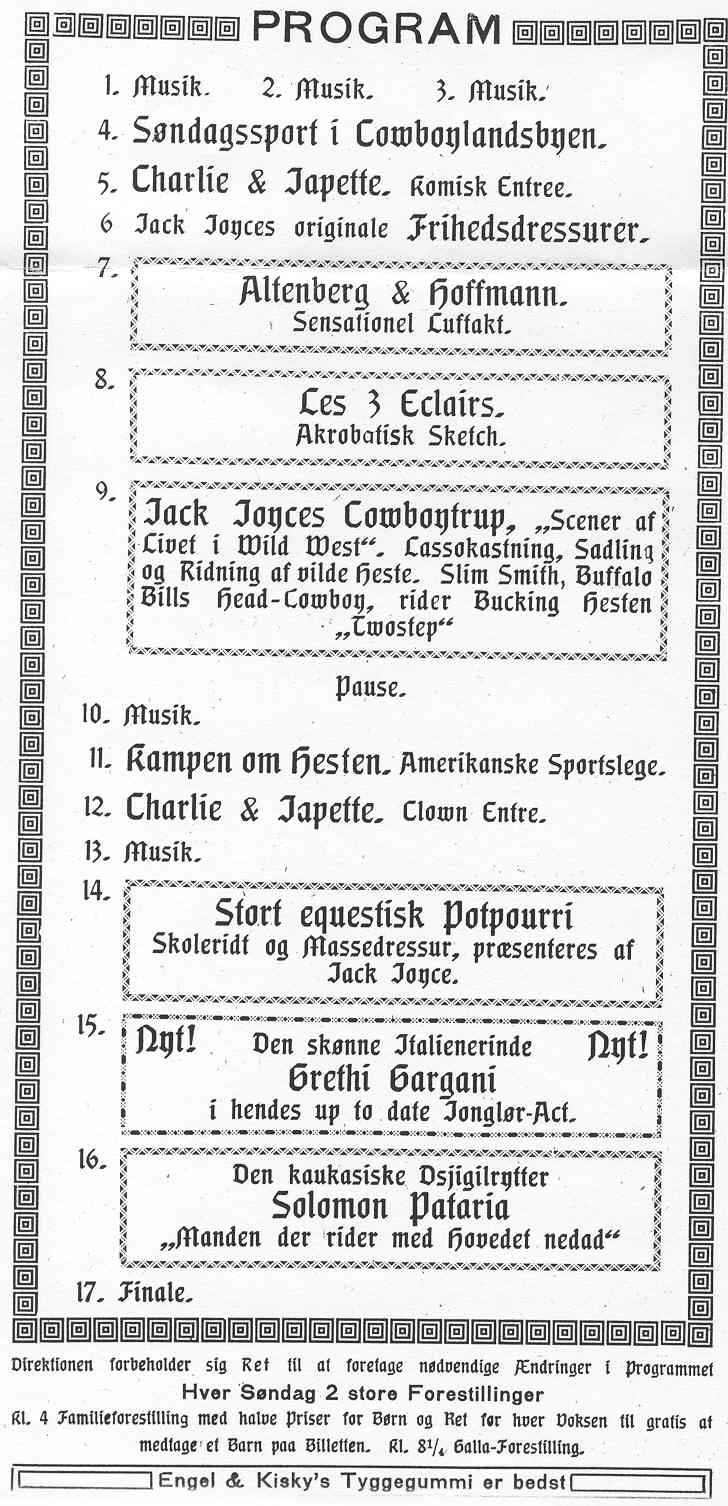 Program from 30 August 1914
In October 1915 he worked for Circus Norbeck in Norway. Circus Norbeck was at that time was a leading circus in Norway.
On 14 February 1915 Jack Joyce worked as a referee in a boxing match at the Circus Variety in Copenhagen's Circus Building between Dick Nelson and Waldemar Holberg. "The fight will continue until one of the boxers is declared defeated or knocked-out," advertisements of 13 and 14 February wrote in the newspaper Politiken. On 15 February 1915 it was mentioned Dick Nelson won the match in the 15th round.
In an advertisement in the newspaper Politiken dated 4 July 1915 Jack Joyce searched for "Circus Musicians, possibly a whole orchestra, with an experienced bandleader." The address in the ad is listed as Telegramofferte Jack Joyce, Larvik, Norway.Part of the season in Norway he toured using the name
Jack Joyce's American Circus and Wild West Show. Part of the season he worked for Circus Norbeck.
In the fall of 1915 Jack Joyce probably worked for Circus Schreiber in Sweden. In the book Circus, 1974 (p. 189) the Swedish circus expert Alf Danielsson writes that the circus during a guest performance at the Hippodrome in Malmö changed its name to Jack Joyce. Other sources tell that the visit to Malmö started 8 December and lasted 6 weeks. A Swedish newspaper wrote: "The cowboy artist Jack Joyce, who everyone remembers from his tent at Store Fïrstadsgatan a few years ago. Now he has been in Copenhagen, Stockholm, Christiania and is on his way to New York where he according to the circus impresario the journalist Neve will be CEO of a wild west show".

Among the other performers were Danell Arkony and Salmon Pataria. After a week also "The singing cowboys" Baptista Schreiber and Otto Detlevsen.

Jack Joyce launched in Malmö a new ad style. Circus Orlando had used short one column advertisements and Circus Strassburger 7-column ads in alternating lay-out. Jack Joyce used a "body text":



An outstanding collection of horses from Circus Busch, including the wonderhorse "Whiskey", which alone has a value of 10,000 marks ... the program is filled with imposing attractions. Finally I regret to say that the very costly artist unfortunately make the Woman's evening and Special low price performances impossible.



The latter refers to other circuses use of performances with reduced ticket prices.

In the book Circus from 1965 Swedish Alfred Rundberg writes that Jack Joyce appeared on Roslatorv in Stockholm as the main attraction for the English circus company Cooke. Cooke's visit in Stockholm was despite a good program not successful. Alfred Rundberg does not mention the year of Jack Joyce's appearance in Stockholm.
Jack Joyce was back in Denmark from 1916 until 1923.
In 1916 he named his show Circus Jack Joyce. It visited Odense from 19 April to 4 May and Copenhagen at a lot at Aaboulevarden from 14 July. In Copenhagen performances took place in a wooden construction which also had been used by Circus Bech Olsen. In a program from 15 July 1916, the program is listed as follow:
1-3. Music
4. Mlle Merry, hunting rider
5, Cowboy sports in the Negro country
6. Adolph Olshcansky and Eugine
7. Liberty horses
8. Agathe Reiffenstein or Mr Charles rides high school on Queen, the English thoroughbred mare.
9. Van Nickerk, the South African sharpshooter
10. The pony Boy, presented by Marry Gautier
11. Saloman Pataria with his wild Cossack riding
12. The 4 Boise - the human airplanes
13. Jack Joyce's Cowboy Act "Two-Step", the wild horse is ridden by Mr. Harry
14. Adolph Olschansky
15. Claison and Partner
16. Trick riding a la Richard. Riden by Mr Charles
Ticket prices ranged from 60 Danish Ore to 3 Danish kroner.
A notice which most likely was be produced by the circus own press agents describe the program 1916 as follows:
The Copenhagen entertainment life will from 14 July be a mixed context richer. It's Jack Joyce, the irresistible horse master, heartthrob and daredevil who ... with his American circus is moving into wooden circus building at Aaboulevarden. And here ... Mr. Joyce will during the summer present Copenhagen for a program that is second to most "large" circus performance.
Jack Joyce has these days completed a tour through Denmark's provincial towns. Fortune has in recent years smiled to the brave cowboy, he is his own man, has his own bank account - but still there is sensation around his name. And now he is happy to revisit the town where he - after Paris - has had his greatest success, the first time in the Copenhagen Circus Building in Jernbanegade in 1910 with Ciniselli and later on his own with his healthy, small, American circus, of which there was always a smell of fairground life romance - assuredly as he is miles distant from the usual "CEO" type of evening dress. Jack Joyce will remain cowboy with cowboy hat and lasso! - But this time he present a program which from an artistically point of view is the best ever presented in the small ring.
First and foremost Copenhagen ... will make acquaintance with the world-famous aerial act The 4 Boise called "the human airplanes". This American elite act was lately applauded in Australia and Cape Town's large-variety shows and will be the program's great sensation. Tivoli, Schumann and the Circus Variety have for a long time wanted to engage Boise, but the troupe has had a contract with Jack Joyce for several months.
As the program's second-best attraction must be mention amusing Danish-born August clown Peter Adolf Olschlansky. 20 years ago he did backward handspring at Circus Busch in the Copenhagen Circus Building in Jernbanegade. Now Olschlansky is somewhat older, but he can still jump, and his mood is intact.
Furthermore: the trained wonder pony Boy, presented by Mrs. Marry Gautier, sister to the well-known producer; the pretty young Danish high school rider Miss. Agathe Reiffenstein ("The star of Lolland"); the South African sharpshooter Van Nickerk; the Cossack rider Solomon Pataria; the high school rider Mr. Charles; Mlle Merry as high speed rider on paneau; the French clowns Clerson and Cavales; ... and last but not least Jack Joyce's famous big wild-west-act.
Jack will also this time understand to capture the audience with his lasso!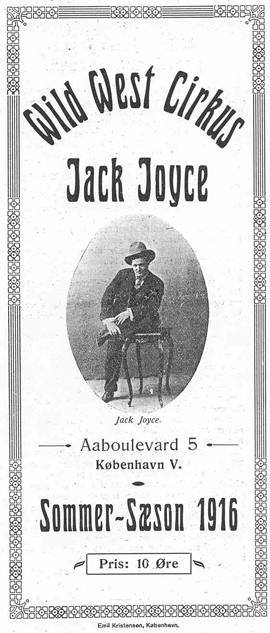 In 1917 Jack Joyce used the name Wild West Circus Jack Joyce or Jack Joyce's Wild West Circus. It visited Nyborg from 22 May to 24 May.
Notices in the newspapers Jyllands-Posten and Berlingske Tidende dated 28 April 1986, respectively 2 April 1986, tells that the Joyce family from 1917 to 1922 had their permanent address at Hedemannsgade in Aarhus .
Jack Joyce's wife Viola Mary Carey did not tour with the circus. Of the kids it was probably only Jack Jr., who periodically joined his father at the tour. A former neighbour of the family told Alice Martensen that he remembered Jack Joyce, his family and his German wife, who certainly was not a beauty. The family was far from wealthy. The former neighbour worked for a short period for Jack Joyce.
In 1918 the name was again Circus Jack Joyce (Wild West). It visited among others cities Odense from 6 May to approx. 16 May.
I have not been able to find any information about a tour in Denmark in season 1919. At least part of the season Jack Joyce was in Norway working for
Cirkus Norbeck which at that time was a leading circus in Norway.
In 1920 the show was called Jack Joyce Circus Wild West or Wild West Circus Jack Joyce. The circus visited Odense from 14 June to 24 June.
Neither in 1917, 1918, 1919 or 1920 was Jack Joyce nor his circus mentioned in the Copenhagen Newspaper Politiken apart from an advertisement 13th January 1920, where Jack Joyce searched band for the summer season. In the advertisement Jack Joyce mentions his address as Aarhus. The lack of publicity and advertisements in Politiken suggests that Jack Joyce and his circus in none of the years mentioned visited the Danish capital.
In 1921 the name of the circus was Jack Joyce Circus Wild West. The circus used a lot at Aaboulevarden 5 in Copenhagen in May and June and was in Odense in August or September 1921.
On 23 May 1921 Politiken had the following review:
To strong applause from the well visited houses and with the chambrier's powerful crack and fairly wild horses whinnying Jack Joyce has opened his tent circus at Aaboulevarden. There is speed over the show, and the sawdust is flying wildly around. The Director presents a number of horses that are well trained in liberty. There are no clowns but on the other hand sensations of which especially The two Darnells are rewarded with thunderous applause after they have completed their thrilling performance on a ladder lying loose on a trapeze under the tent ceiling. Furthermore we should mention mentioned Ritter's troupe of dwarfs and Chester Dieck, whose foolhardy bike ride fits perfectly into the wild-west show, which should cause a stir in the quiet Frederiksberg surroundings.
As it can be seen Jack Joyce this time used a tent and not as in 1916 Bech Olsen's wooden construction. Opening night was 11 May.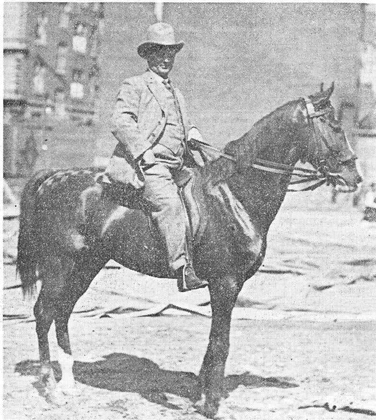 Undated photo of Jack Joyce in Copenhagen, probably from approx. 1920

.
Circus Jack Joyce did not tour Denmark in 1922. He might have been in Belgium, France and Holland. At least an advertisement in 1923 mentioned that he for 1½ year had been in
Paris, Antwerpen, Bruxelles and Amsterdam
.



In 1923 the show was called Wild West Circus Jack Joyce. 1923 was the last season for Jack Joyce to tour a circus in Denmark.
In 1924 Jack Joyce presented liberty horses in Cirque de Paris in March, April and the beginning of May. During the summer the Cirque de Paris was used as an event venue for the Olympics which were held in Paris that year.


He and his circus were in Cork, Ireland from 9 to 21 June 1924 with performances in the Cork Opera House. The show was favourably reviewed by the Irish Examiner. In the review it was mentioned that "the exellent circus and wild west show ... has come direct to Cork from the Cirque de Paris. Taken all round it is an exellent show with a great deal in it that is uncommenly good."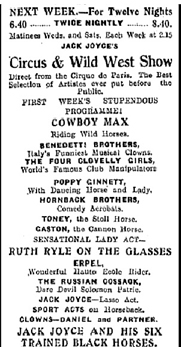 Advertisement in Irish Examiner 7th June 1924. According to the ad the circus came "direct from the Cirque de Paris".
Perhaps surprisingly, the show did not visit Dublin. However, it did head further north to Belfast where they opened at the Grand Opera House according to an add in The Era 24 June 1924.
Following Ireland the show was at the Olympia in Liverpool where it stayed for about three weeks. According to at note in Freemans's Journal, Saturday, 9th August, 1924 a wild steer escaped in Liverpool and tore through the streets of the city chased by real cowboys until Jack Joyce lassoed it Cold have been a media stunt ...
Liverpool was followed by a three week visit to the Coliseum in Glasgow. It's probable that Sheffield was the next stop. The show was certainly in Nottingham later in September where a favourable review was given the Nottingham Evening Post 23rd September 1924.
It appears that the show had travelled south-westwards and was in Newport at the beginning of October. Later that month it performed at the Palace in Hull for about a week or so.
An advertised rehearsal call indicates that the show was in Cardiff in mid-November. And indeed it was according to The Era, Wednesday, 19th November, 1924.

By mid-December the show was at the Empire in Leeds, Yorkshire Evening Post, Saturday, 1 December, 1924.
For the latter part of December and the first few days of January, 1925, the show was at the Alhambra in Bradford.
On Thursday, 1st January, 1925, the Yorkshire Evening Post advertised that there would be a matinee showing of "Jack Joyce's Circus" on the following Saturday.
The Saturday edition of the same newspaper advertised two evening performances. These were perhaps Jack's last performances in Europe.
Information about Jack Joyces tour in France, Ireland and England has been provided by John Curtis
.

Jack Joyce returned from Glasgow to U.S. with his family on 10th January 1925.
In an obituary from 1934 in the Danish Newspaper Berlingske Tidende it was mentioned that Jack Joyce "a few years ago" was on a short visit to Copenhagen. He had had come to Europe to negotiate about the creation of a new Jack Joyce Circus in Berlin. This plan never materialized.
According to an article in Billboard dated 24 January 1925 Jack Joyce and his nine thoroughbreds arrived to New York from England in the beginning of January 1925 after a hard, stormy crossing with the Cunnard-Anchor liner California. Jack Joyce should be part of the Keit-Albee-show at the Hippodrome, and his agent was HB Marinelli, Ltd.
The show at the Hippodrome was reviewed by Roy Chartier in Billboard from 31 January 1925. Among the performers were among other the escapologist Houdini and the Kuons Sisters, which the reviewer considered to be the two main attractions. About Jack Joyce he wrote:
Jack Joyce and His Horses were cast in third position. Joyce and his equines arrived recently from London and are making their first appearance here. The animals did not work as smoothly as they might at this afternoon's show, probably because of the rough trip across the pond which they are said to have experienced. A good hand, however, came forth on the finish of the routine, which includes high-school bits, trick riding and the usual ring work, and Joyce need not feel that the reluctance of his horses at times to do their stuff hurt enough to be noticeable.
In the same issue of Billboard Fred G. Walker mentions that a tribute to the intelligence of circus horses was paid to the nine equine thorobreds owned by Jack Joyce by Captain James Blaikie of S.S. California, who found it necessary to transfer the animals from the improvised stalls on the shelter deck to an inner freight square on another deck on account of a severe storm. Their superintelligence thruout was amazing, according to the captain.
Billboard from 7 February 1925 had a more detailed review of "Jack Joyce and his Wonder Horses", again written by Roy Chartier and based on the same performance as the first review. It was reported that the act lasted 15 minutes, and the description was as follows:
Jack Joyce is making his first appearance in America in many years. He has been in England and on the continent with his horses, having come here directly from London where he had an extended engagement.
Joyce's nine thoroughbred steeds, while far above the average horse act, do not begin to compare with J.R. Agee's equines, which appeared at this house recently. Agee's and Joyce's horse do a different type of act, however, Joyce's being the typical circus offering kind in which the animals do a routine along conventional lines.
He opens in the same set Agee used, with a high-school routine that is little longer than it should be for vaudeville purposes. The bits include various types of one and two-stepping to music with Joyce in the saddle. In this the horse used works splendidly and in good time to the music. Next Joyce puts a black steed thru a ring routine in which the animal kneels, runs between canons placed in the ring and does other minor stunts. A comic that probably comes from England and ladles his drollery accordingly, takes part in the routine, stirring mild laughter in the short bit he offers. A thrill comes when a Cossack trick-riding number is given, with the rider engaging in various unique feats as the horse paces around the ring. The specialty scored at Monday afternoon's show.
Six equines of the showy type, with royal plumery and in glittering harness, that do a nice ring routine in which marching on the rim of the ring is featured, bring the offering to a conclusion in a tasteful manner.
When reviewed, however, the horses were somewhat reluctant to do their stuff. They appeared to be a bit nervous and high-tensioned, which may have been caused by the inclement seas they experienced in crossing the pond less than two weeks prior to their opening here. Sea legs may have had something to do with it, and with all these thing taking into consideration, the animals did well. The act scored a good hand, when caught.
On 28 March 1925 Roy Chartier reviewed once more a performance at the New York Hippodrome with Jack Joyce among the performers. In this review was stated:
Jack Joyce and his Wonder Horses gave it a pleasing start, altho the equines was a trifle nervous, one of them slipping and losing all sense of composure. The animals recovered as the finish neared, however, and saved the act in a splendid manner, going thru a specialty. Joyce and his horses appeared here not so long ago.
Elsewhere in the review you could read that eight acts made up the current bill instead of the customary eleven and that engagements usually were fortnight engagements.
In the same issue of Billboard R.C. (Jack) Carlisle posted the following from Buffalo in New York:
Recently I dropped in backstage at Shea's Theatre in Toronto, Can., to say hello to Jack Joyce, an oldtimer of Wild West Show note, who has been in Europe for a number of years. Jack now has a real European act of highly schooled horses and a Russian Cossack trick rider. I have seen Circus Bush (sic), Circus Schumann in Berlin, Germany, Circus Renz, Circus Carey & Sangere, and many others in Europe, but Joyce's horses are beautiful black thorobreds that will rank with the best in Europe.
In the following years Jack Joyce and his liberty horses plaid fairs and performed at the Keith-Orpheum Circuit.
In an add in Billboard 26 December 1925 Jack Joyce offered his 10 circus horses for sale or open for bookings.
The daughter of first marriage Evelyn got contact with his father when he returned to the United States. She told Alice Martensen that he was relatively poor when he died. The last time she visited him in the hospital, he asked her for a few dollars. Evelyn furthermore told Alice Martensen that the father had Parkinson's disease. Joyce K. Brickhouse denies, however the accuracy of this information.
Jack Joyce died on 16 June 1934. His wife Viola Joyce passed away on 2 January 1969.
An obituary in Billboard 30th June 1934 reads:
One of the most colorful figures in the world of horsemanship and animal training was removed on June 16, when John Edward Joyce familiarly known as Jack Joyce, died in Albany. N. Y., after several years illness in which his health failed rapidly. In 1910, while appearing in Brussels, he was kicked in the head by a horse, which resulted in a nerve affliction, and that, coupled with other complications, resulted in his death.
Jack Joyce was born in Carnegie, Pa., 58 years ago. His parents, Mr. and Mrs. Patrick Joyce, had their heart on the boy entering priesthood, but young Jack had other plans, joining the Buffalo Bill Show, staying with Colonel Cody for nearly 10 years, to become one of the most daring, broncho riders of all time. He appeared with Will Rogers in a roping and riding act in New York theatres. They tell a story of him flipping a coin to see if he would start a career in the movies, then known
as "new fangled," or join a troupe in Europe. The coin pointed to Europe. He went abroad to appear thruout the continent and in 1914 established Jack Joyce's Wild West Circus, which toured there for several years. Europe hailed him as the first bucking horse rider and the first roper to appear there. His bucking horse, Two Step, became one of the most famous steeds of that era. Appearing in Denmark during the war, Jack and the then young Prince Christian, now king, became intimate friends, the prince being a regular show visitor and occasionally riding a horse himself. One of Joyce's cherished mementos was a diamond scarf pin in the shape of a horseshoe, with a whip superimposed on it, presented to him by Prince Christian. He came back to this country nine years ago, played New York houses and then toured the nation as a vaude feature. Meantime he had established stables in Albany and exhibited at fairs and with circuses. He made another European trip in 1928 and came back after less than a year. He suffered severe financial reverses and retired a little more than two years ago.
Joyce's first wife was Grace Gaylord and the union brought a daughter, Evelyn, Ringling-Barnum Circus equestrienne. His wife died in 1906, six years after their marriage, and two years later he married Viola Carey, with whom he had three children - John, who is on Hagenbeck-Wallace Circus; Violet and Maude. Children' and widow survive.
Funeral was held from the home in Albany June 19 prior to services in St. Vincent de Paul's Church, where a requiem high mass was celebrated. Burial was in St. Agnes Cemetery, Albany.
As mentioned above the story about the friendship with Prince Christian is probably not true. Prince Christian became King of Denmark in 1912, before the first world war. He was fond of riding and it is known that he a number of times visited a circus. But he was known as a rather reserved person and it seems unlikely that he became a close friend to the American circus-cowboy.
An obituary in the Danish newspaper Berlingske Tidende 11 February 1934 writes:
The master of horses Jack Joyce died in America ... Many people in Denmark will remember the big, handsome cowboy, whose top act was to tumble with a seemingly bursting wild horse in the circus ring. For several years he was even circus owner with himself as the star of the program. Circus Jack Joyce gave performances in most of Europe; especially in Denmark ... He lived for some years in Aarhus where his children went to school while the circus toured the Kingdom of Denmark. He had also an apartment in Copenhagen at Colbjørnsensgade.
Jack Joyce's bucking horse was world famous. He had literally said trained a thoroughbred horse to be wild. The act began with his assistant, the Russian Lieutenant Max, unsuccessfully trying to get control over the agitated animal which kicked, jumped and reared, so arena-sawdust stood in light rain over the audience, and neighed and screamed as if there were turned red-hot nail in the hoof on it. Naturally, the lieutenant has to give up … But then Jack Joyce climbed ring, forced the saddle on the back of the monster and swung himself up into place. And immediately the horse was so overcome humble and gentle as any female spectators under the tent roof.
Jack Joyce started his career with this act, he made his money from it, he became circus owner due to this act and he became famous for it. He also damaged his forehead badly doing the act. It was just after the war, in Brussels, he for once, and quite without self-determination swapped roles with Lieutenant Max. Long time he was sick and waited to die, but one day he rose from his sickbed and went back to America...
In addition to himself, he had several excellent employees in his circus, including old Olschansky. Jack Joyce became popular in Denmark, but had also disappointments; it was said that he mistreated animals, for example that there were sharp spikes under the saddle on "the bucking horse." But it was unfounded rumours and even unnecessary to do; the horse was trained to buck until it had Jack Joyce in the saddle...
The American chewing gum industry owes much Joyce. He had always, in the ring and outside, his mouth full of chewing gum. And children and young people who wanted to look as their circus hero, started chewing gum.
The date of 11 February 1934 of the obituary is strange as Jack Joyce did not pass away until 16 June 1934. Thus, the obituary seems to be based on false rumours of his dead.
In articles in the Danish newspapers Jyllands-Posten and Berlingske Tidende from 28 April 1986, respectively 2 April 1986, Jack Joyce's daughter Evelyn Joyce Cook searched for a half-sister in Denmark. The half-sister had written to Evelyn Cook's brother that her mother on her deathbed had told her that Jack Joyce was her father. Evenlyn's brother threw the letter away.
Alice Martensen, who helped Evelyn Cook with the search, told me in a telephone interview 1 September 2001 that the search failed.
In august 2016 I was contacted by Ib Ottesen who in an old family photo album had found a photo of Jack Joyce on horse with the text "grandfather on horse" below. In august 2016 he didn't know whether his mother Eva Lillian was Jack Joyce's Danish daughter. But further investigations has prooved that Jack Joyce during his stay in Denmark got at daughter out of wedlock: Eva Lillian, born in 1919. Her mother was Edith Mary Johanne Brandt. Eva was adopted by Anton and Anne Margrethe Christensen but knew apparantly that Jack Joyce was her father. In 1947 Eva married Svend Edgar Ottesen. The got two children: Ib, born 1952, and Per, born 1955. Eva passed away in 1962.
This explains why the newspaper search in 1986 was unsuccessful
.
She never told
her children about her father. They believed that she was daugter of
Anton and Anne Margrethe Christensen
.
In a paper based article you can quote sources in footnotes. But this doesn't work in an internet article. However, if you are a circus historian and interested in my sources, send me an email at circus@mail.tele.dk. I will then provide you with a pdf-version of the article including endnotes mentioning the sources.