Circus Arli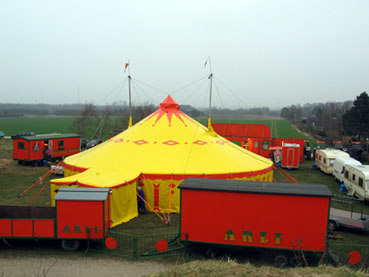 Circus Arli 2005
Founded: 1971
Present owner: The Arli Family
Present tent: 2 pole red and yellow tent from 2010 with a seating capacity of 220 people
Summer Season : April to late August
Winterquarter: Hulgårdsvej 27, DK-2400 Copenhagen NV
Link to homepage: www.arli.dk (language: Danish)
Brief history of the show:
Søren Arli Hansen (1935-2011) was a skilled house painter who got tired of painting. Together with his wife Lotte, née August (a half-sister to award winning Danish movie director Bille August) he created a comical juggling act called Lott and Arli. Furthermore Soeren performed as whiteface clown and Lotte did thought reading using the artist name Madame Zarina. With acts like those Søren and Lotte toured with circuses among those the Danish circuses Moreno and Arena.
As many artists Soeren and Lotte Arli had a dream about establishing their own circus. In 1971 their dream came through when they opened Circus Arli in a tiny 1-pool big top they had made themselves. The staff consisted of Soeren, Lotte and their son Martin (born 1960).
The first two seasons was spent in Jutland Mini Zoo in Haustrup. Since 1973 Søren Arli and his circus has toured Zealand with what he himself calls the smallest circus in Denmark and a two pool big top with seating capacity of 220 people.
Family members do the acts: Soeren, Martin and his wife Bettina, their son Alexander (born 1987) assisted by a couple of foreign artist of good standard. The first many years the performance was backed up by taped music. From 1995 to 2000 they had a two piece band. In 2001 they reverted to taped music.
The performance is very friendly to small children who especially seem to like the clown act Martino & co: originally Søren Arli as whiteface and Martin as the august in baggy-pants with exaggerated make up and clothing. In the later years Martin and his son Alexander, assisted by Martin's wife Bettina, who also acts as ringmistress.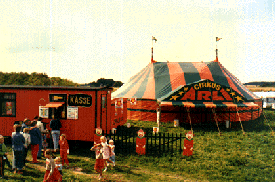 Circus Arli 1985