'
From Denmark
and other Scandinavian countries
Special feature: It all happens in Paris (when relevant)
A weekly updated internet magazine
Last updated : 13. October 2018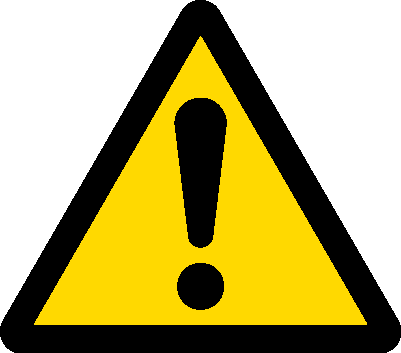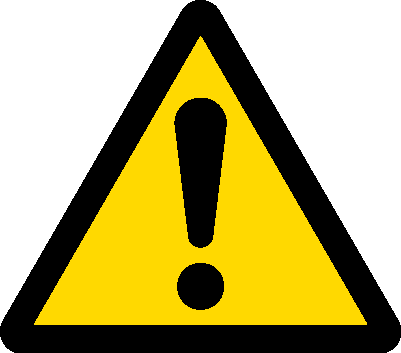 Due to holiday next update will not take place until 27 October 2018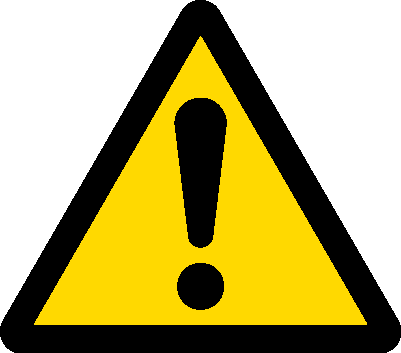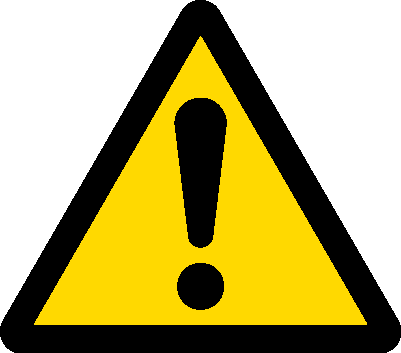 13 October 2018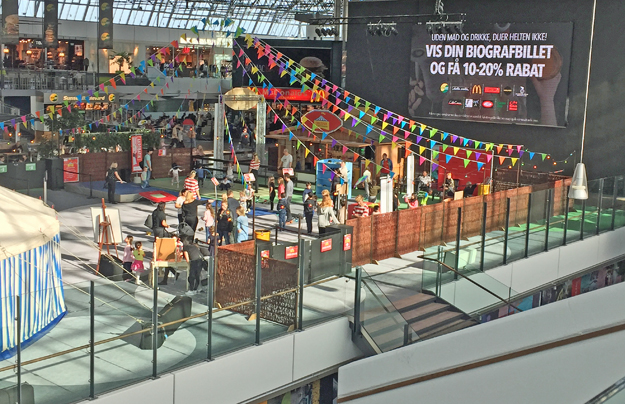 Circuspark with Benneweis is the name of the autumn holiday offer from the shopping mall City 2 in Høje Taastrup (Copenhagen suburb). There was premiere today. The circus park offers both the possibility of circus fun where kids can try their luck as acrobats with the instruction of talented artists and short performances. The performers are the he clown Bonbon clown and his children Julia and Joakim with Mama Tiina backstage to take care of the technical. Bonbon and Mrs. Tiina had their Danish debut in Circus Benneweis in 1992 and 1993 and were later in several seasons with Circus Arena. They are clowns of international format with performances in many well-known circuses, including the large German Circus Krone, where they were in February together with their children who in Krone successfully had their international debut
In the approx. 30 long performances we meet Bonbon with three of his best entrées: the one with the "heavy suitcase", the bell entrée and the one with the turtle. Children from the audience were involved in the first two entrées. Julia and her younger brother Joakim presented juggling and bike acrobatics. The performance is the tent which Søren Østergaard's Zirkus Barnly used during the summer tour. No doubt the audience was excited about the show which hopefully will get lots of people to visit City 2.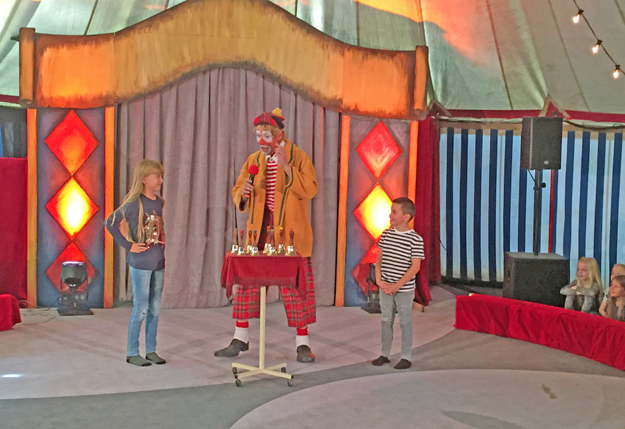 Bonbon and bells. Click here to see more photos from the show. The slideshow will not be finalized until Sunday morning.

12 October 2018
As previously mentioned, the shopping mall Kolding Storcenter has performances produced by Circus Arena from 15th to 21st of October. As usually in Kolding Bettina Arli is ringmistress. From the Berdino family (owners of Circus Arena), the audience meets Laura Berdino as a guest star. Francesco Fratellini and Sarah Florees present the living doll entrée which the audience in Circus Arli could see last year. From this year's Arli show Jelena Vasiljeva comes partly in tissue, and partly in a handstand act together with her spouse Sergei Populans. In this year's Arli show, Sergei presented his handstand act solo, but in Kolding there is a joint act with Mrs. Jelena. The clowns Martino & Co. consists in Kolding of Martin and Alexander Arli together with Francesco Fratellini.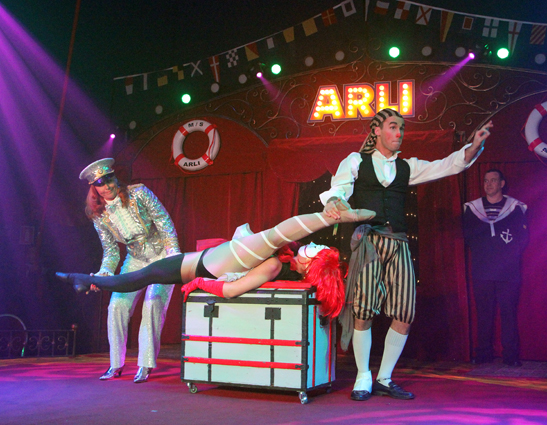 Francesco and Sarah with the living doll entrée. Photo from Circus Arli 2017

11 October 2018
English Cirque Berserk in Denmark. Cirque Berserk is called "Real Circus made for theatre". For a few days they visit Horsens, Randers and Esbjerg in Jutland. There was opening night with full house Tuesday 9 October at «Værket» in Randers. The performance was part of a customer event in Kronjylland Savings Bank and the audience was very happy with the spectacular and fast-running performance.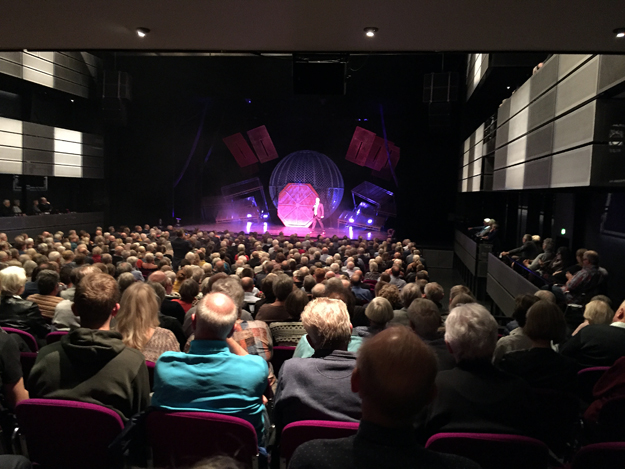 Randers culture centre «Værkets» large auditorium has room for 1,000 spectators. There was full house at the Danish premiere at the show
Cirque Berserk is not a contemporary circus, but a circus show created for theatres. Berserk is hardly a performance for smaller children. But both teenagers and adults will surely enjoy the performance.
In the performance, you met among other artists an acrobat troupe, Timbuktu Tumblers, who skipped, built human pyramids, jumped through hoops and did limbo. The Tropicana Troupe presented a springboard act. There were jugglers, both some who used their hands and one who used the feet. There were knife throwers, gauchos with bolas, aerial acts, comedians and knock-about table acrobats and much more. The comedians / knock-about table acrobats were Mustace Brothers, who some might remember from Circus Dannebrog 2013. And as the last act in the performance 4 riders, The Lucius Team, in the motorcycle Globe of Death.
"The wildest show ever," wrote Lisbeth Stryhn List about the performance and gave it 6 stars in the local newspaper Randers Amtsavis. She continued: "Tempo, timing and professionalism are the code words of the British company that blow up the classic circus tradition in atoms. On the other hand, the supreme artists take their audience into the galaxy - all the way out where everything can be done and you disregard the force of gravity and other obstructive laws of nature. "
The circus queen Agnete Louise Enoch will see the show on Sunday in Esbjerg and has promised to write a review. Look forward to one of Agnes's always well-written and colourful reviews!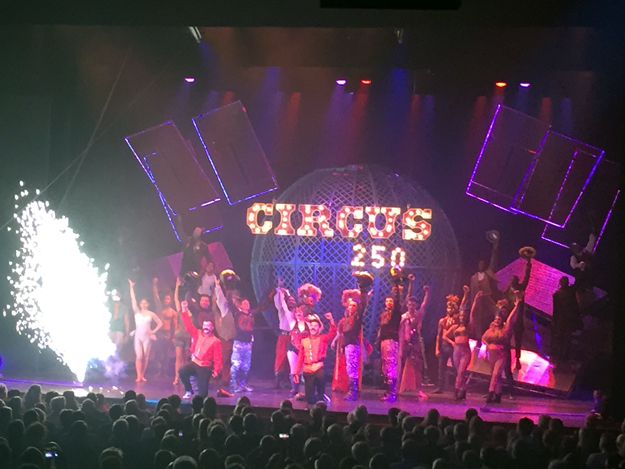 Smartphone photo from the grande finale at Cirque Berserk

6 October 2018
IT ALL HAPPENS IN PARIS -- people go to the theatre, concerts and circus -- an ancient tradition dating back from MOLIERE'S time, -- now: COMEDIE SAINT MICHEL, a small theater offering an impressive program, proudly presents AUGUSTIN, clown, comedian and magic entertainer.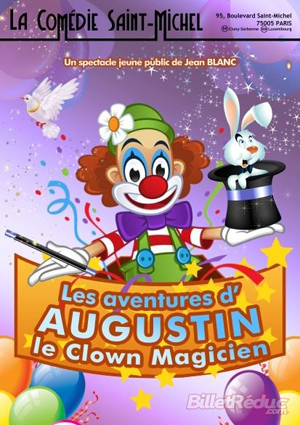 This show is geared to the smaller fry - and to their parents !
AUGUSTIN sports a colorful costume and has a nice and sympathetic approach to the audiencee, hence getting their attention and interest - a prerequisite for all success !
Following a sequence with all sorts of funny jokes, really appreciated as much as magic tricks, we were treated to a session of giant soapbubbles, created from soapy water in a bowl, then came a number of MAGIC STUNTS: all of them simple and clear, thus making it possible for the small ones to follow the action: colorchanging silks, the soft rope that turns stiff, goldfish appear in a bowl filled with water, a cute little brown rabbit appears out of a box - to the kids' delight.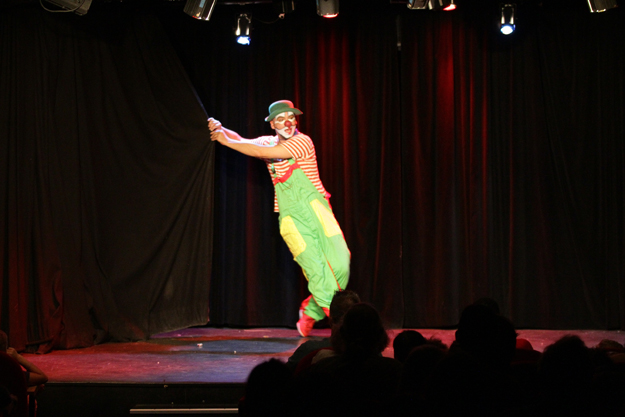 Clown Augustin. Photographer : Jean Blanc.
Enter now on stage a PANDA, an actor sporting a PANDA outfit, that sings and dances with the children, eventually a photo session is organized with them - great success !!
Everyone has been enjoying an extraordinary afternoon - surely the children will be inspired to various plays by the happenings of this AUGUSTIN show !!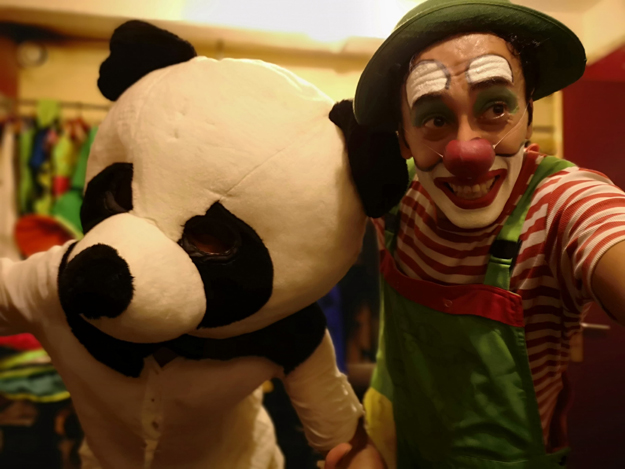 Augustin with the Panda. Photographer : Jean Blanc
IT ALL HAPPENS IN PARIS !!!
Venue: COMEDIE ST MICHEL, 95 Boulevard ST MICHEL, 75005 PARIS. RER/local train/
station LUXEMBOURG.
.................................. reported by ZARRO ZARRO.

5 October 2018
Circuses etc. during the autumn holiday. All schools in Denmark are closed in week 42. During the school's autumn holidays you can see circuses and artists in some shopping centres etc.
Here is an overview of the events I know of:
In Jutland
Kolding Shopping Mall is visited by Circus Arena from Monday 15 October to Sunday 21 October. Short performances every day at 11, 13 and 15. As usually for the Arena performances in the shopping mall the clowns Martino & Co. from Circus Arli are among the performers. Free admission.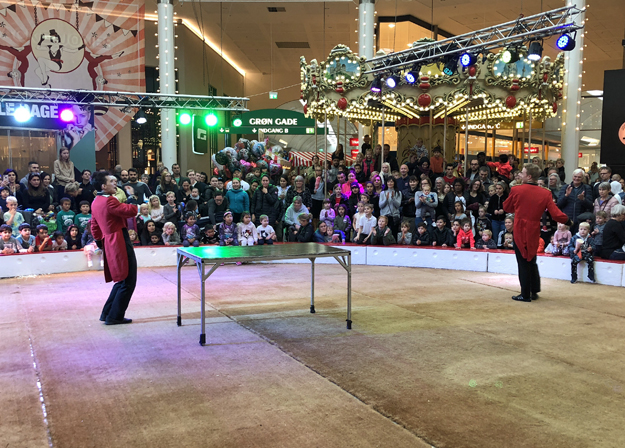 Circus Arena in Kolding Storcenter. Photo from the show in 2017
At the market place in Løkken you can Tuesday 16 October and Friday 19 Otober at 13 met the family from Katja Schumann's Circus Farm with a funnny show with their goats. Free admission.
In Broen Shopping Center in Esbjerg, Circus Big has performances from Monday 15 October to Saturday 20 October, every day at 13 and 16. There will be laugh, thrill and fun when the clowns Benjamin aka Mr. Big and Clown Knud beat their own world records. Here is magic, music, juggling, dance, giggles and artistry in comic style.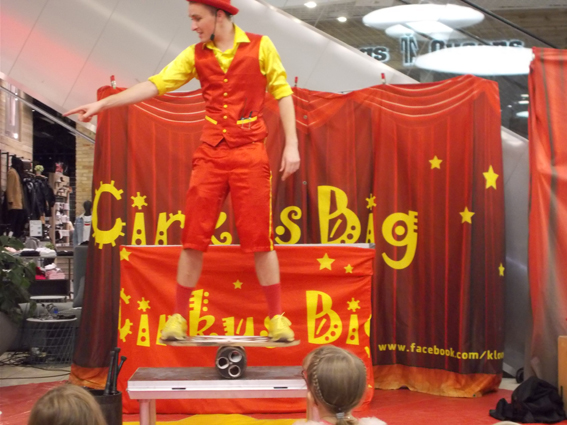 Circus Big at Broen in 2017. Photo: Find Stendevad
From 13 to 21 October, the Circus Museum in Rold is open from 11 to 16. In addition to seeing the exhibitions, you can step into the Artist's Workshop, where you can try your luck as a circus artist
On Funen
Dynamo - Workspace for Circus & Performing Arts in Odense presents TWO - A Children's Circus Performance and Workshops Wednesday 17th of October frem 12.30 to16 and Thursday 18th of October from 12.30 to 16. Admission. The address is Finlandkaj 6, Odense C. Admission.
In Copenhagen and elsewhere at Zealand
At the Circus Museum in Hvidovre you can from 15 to19 October every day at 11 see a juggling show with Lauge Benjaminsen. Admission. The museum writes (my translation):
In the autumn holiday you can have a great experience when we offer a show with Denmark's probably best juggler, Lauge Benjaminsen. Wheh he was 14, he won the "The Stage is Your" TV contest, and ever since, he has only improved his skills and has, among other things, become a YouTube phenomenon. Tickets can be booked at info@cirkusmuseet.dk, and they cost 20 DKK for children and 70 DKK for adults (admission to the museum is included).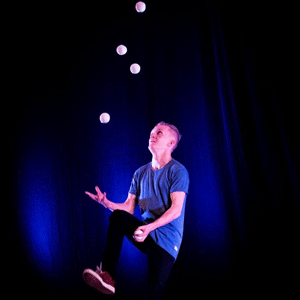 Lauge Benjaminsen
In the autumn holidays from 15 to 19 October there are Circus Fun 12:30 to 14:30. The first half hour will focus on juggling, where you can get instruction by Lauge Benjaminsen. After juggling you can also try trapez, tissue, tight wire and more.
In Spinderiet Shopping Mall in Valby, Copenhagen, Circus Mascot has performances in the days 15 to 21 October. In the approx. 30 minutes long performances you will meet the clown Gulio and his family and Marianne Deleuran with her poodles.Free admission.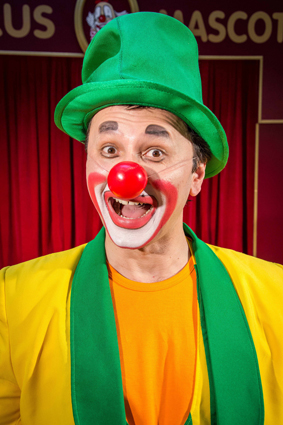 Gulio. By courtesy of Circus Mascot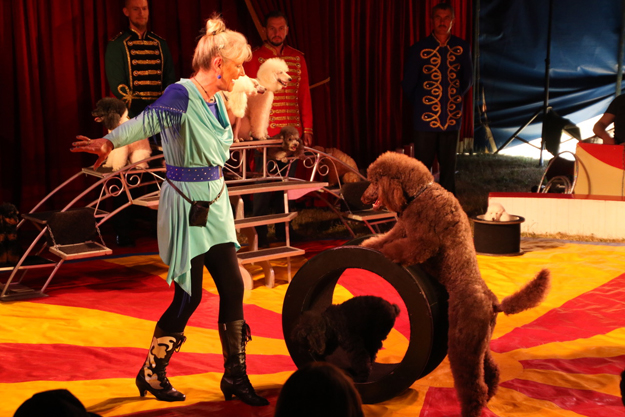 Marianne Deleuran and her poodles. Photo: Per "Mr. Sputnik "Krogh Petersen
City 2 Shopping Mall in Høje Taastrup offers this year Circuspark with Benneweis with workshops and short circus performances. Høje Taastup is a Copenhagen Suburb. Performances Monday to Friday at 13.30 & 15.30 and Saturday and Sunday at 12 & 15.30. Admission 30 DKK.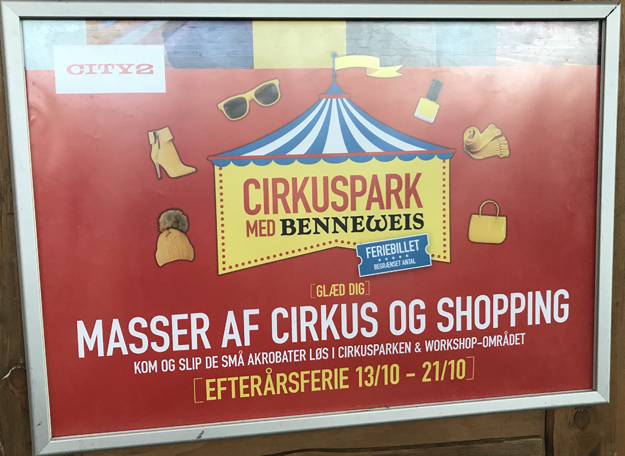 In the Frederiksberg Center, Copenhagen, you can from 13 to 21 October every day from 12 to 14 meet the clowns Charlie & Binalto. Free admission.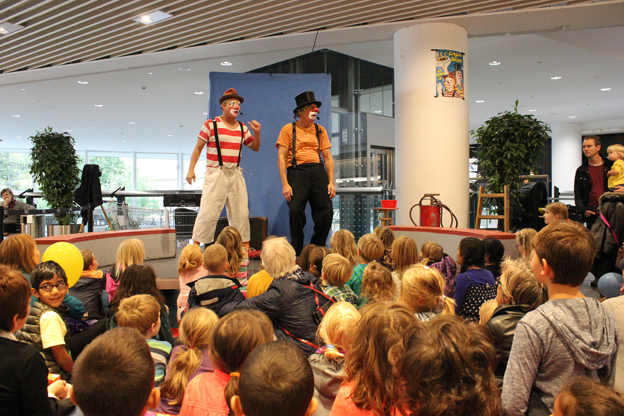 Charlie and Binalto
Circusland in Årslev by Slagelse. Circusland is owned by the Berdino family and situated in Circus Arenas winter quarter. Circusland writes (my translation):
Get a experience besides the usual for the whole family when Circusland in Slagelse open the doors in the autumn holidays from the 13th to the 21st of October - all days from 10 to 16.
"In the autumn holiday 2018 we will reopen with our pirate theme. Here the whole family has the opertunity to explore the theme park, participate in the treasure hunt and meet the pirates on new adventures," park manager Suzanne Berdino says.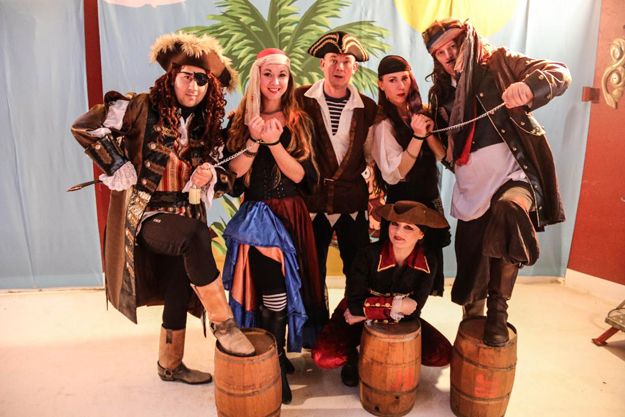 Pirates in Circus Land. By ourtesy of Circus Land
Come close to circus life in Denmark's only circus park and feel the smell of sawdust and animals. Composed with a wealth of experiences, nostalgia and great shows. All activities and shows are free when the entrance fee is paid.
As circus this year all over the world celebrates its 250th anniversary we have managed to get a special exhibition abot circus for 250 years in Circusland during the autumn holiday.
Every day in the autumn holidays you have the opportunity to see a number of shows. You can, among other things, watch the great pirate show with artistry, and the Indian pirate fakir Abdullah who is a true fire pirate. There is children's show for children and adults of all ages.
In the occasion of the circus' 250th anniversary, we celebrate the circus genre with a true old-fashioned circus performance. In the autumn's circus performance we are lucky to present our horse whisper from Cirkus Arena, Charmaine Berdino, who got the award as the Year's Talent 2018 from Danish Circus Award for her work with her horses. In addition, Circus Arena's own African elephants, Lara, Jenny and Djungla, can be seen for the verylast time in the autumn holiday in Circus Landino as a ban against elephants in circuses is expected to emter into force from 1 January 2019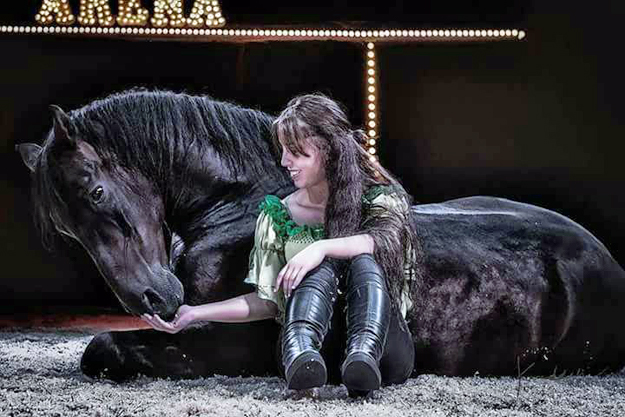 Charmaine Berdino received the Danish Circus Awards talent prize in 2018. Photo by courtesy of Circusland.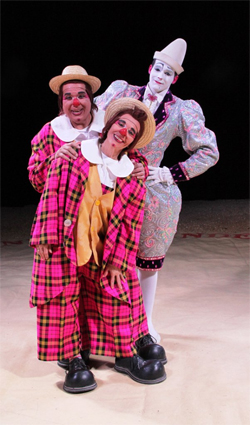 Cirkus Landino present the Spanish musical clowns Quiros. Photo by courtesy of Circusland.
Circusland has both outdoor and indoor activities. In our indoor playground you can play miniature golf, go for a ride with our little circus train, go on the water in the waterrollers or try a tour of the ancient carousel. You can also take a ride on the rodeo bull, ride on ponies, drive in the mooncars or try a ride in our nostalgic air swings. Outdoor in our circus tent you can go to a circus school where you can try various circus disciplines,such as monocycling, tight wire walking, juggling etc. Look at our stables, take a rest in the circus cinema, visit a original circus van or take a look at our circus museum and experience the 'Circus for 250 Years' exhibition. Here you can also try different costumes.
Admission: 119 DKK. Children under 90 cm. has free admission. Family tickets for 4 persons: 396 DKK. Free parking.

4 October 2018
Kim Kenneth and Jessica Caveagna to London. From 22 November 2018 to 6 January 2019, the Danish magician Kim Kenneth and his partner and girlfriend Jessica participate in the circus performances produced by Martin Burton in London's Winter Wonderland in Hyde Park. Martin Burton owns both England's largest touring circus, Zippo's Zirkus and Cirque Berserk. Kim will together with Jessica and 4 other girls present his illusions. Jessica will also do sword balancing. Just as she did in this year's performance i Danish Circus Baldoni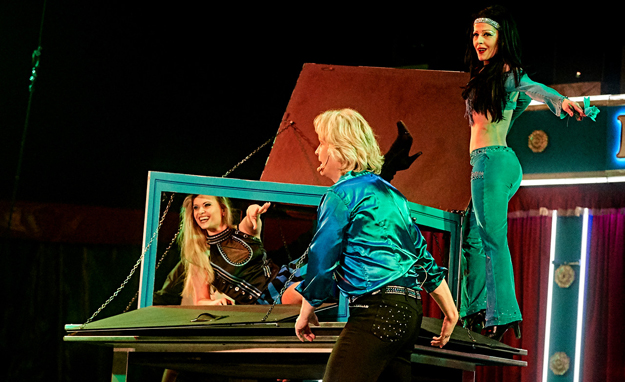 Kim Kenneth with Jessica and an additional assistant. Photo: Rud Kofoed / Ajour Press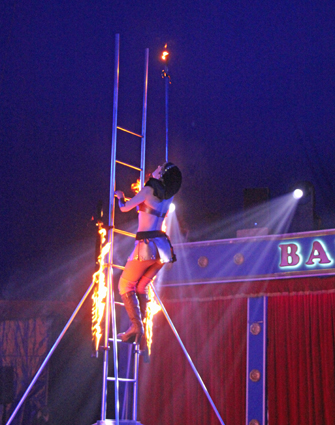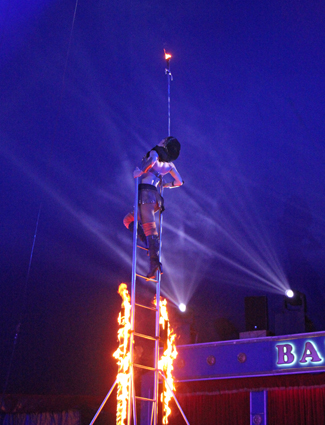 Jessica with sword balance. Photos: Ole Simonsen

2 October 2018
The European Youth Circus Festival Wiesbaden is this year held from the 25th to the 28th of October. There are 3 acts from the Nordic countries: From Finland comes Saana Leppänen, who performs in vertical rope, and the juggler Aki Haikonen. From Sweden comes in trapeze Duo Olivia, who is educated at AMoC in Copenhagen. At the festival, which is one of the most prestigious for young artists, 25 acts from 11 different European countries participate this year. The festival is held every second years.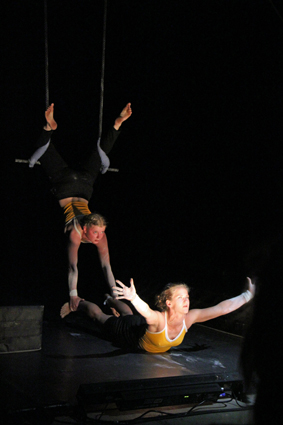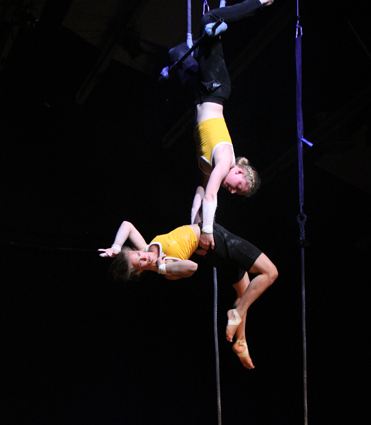 Duo Olivia (Olivia Englund & Olivia Bjurling) comes from Sweden and prestent a nice and slightly different act in trapeze. Photos from AMoC's graduation performence 2018

2 October 2018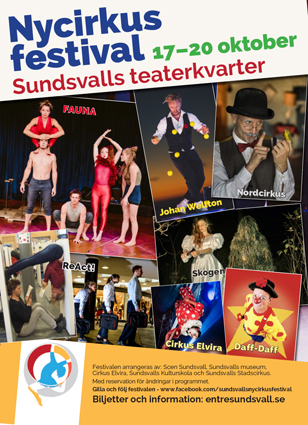 From the 17th to the 20th of October there is a contemporary circus festival in Sundsvall, Sweden. Click here for more information

1 October 2018 (updated 5 October 2018)
IT ALL HAPPENS IN PARIS -- viz. EVERYTHING -- POSITIVELY as well as NEGATIVELY!
Please get this info: Circus in general has a difficult time and hard conditions -- the various terrorist acts have got people = the public , reluctant to join gatherings and crowds, the economic situation made CIRQUE PINDER stop the summer tour, as the government changed the organization of the schoolday, circus lost the main part of the necessary income as the pedagogical school shows no more could fit into the school scheme and thus were cancelled.
The sometimes violent discussions about wild - and other - animals as part of a circus program -- are not to the advantage of circus - far from that !
CIRQUE PINDER has announced that they will perform their Christmas season , about OCT - JAN 2019.
Thus, we should normally enjoy CIRQUE ALEXIS GRUSS, CIRQUE ARLETTE GRUSS, CIRQUE D'HIVER BOUGLIONE.
BOUGLIONE will play OCT 06 - MARCH 17, 2019, their program is called EXTRA, featured mainly Saturdays and Sundays, as well as certain other dates.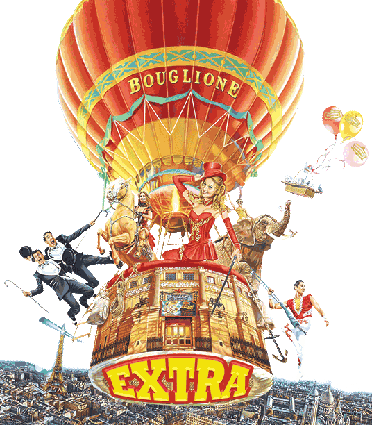 Program: ERRANIS' elephants, juggler TU TOJO, GOLDEN DREAM, golden statues in aerial act with tissues, clowns STEVE AND RYAN, DUO FRENESI Chinese pole, WOLFF BROTHERS comic trapeze and knockabout table acrobats, REGINA BOUGLIONE doves, ANDREY ROMANOVSKY contorsion, JOSEPH BOUGLIONE horses, FLYING MENDONÇA trapeze, LIVIV TUDOR comedian, CHLOE GARDILO aerial ring, SALTO DANCERS and a first class circus band back up this program.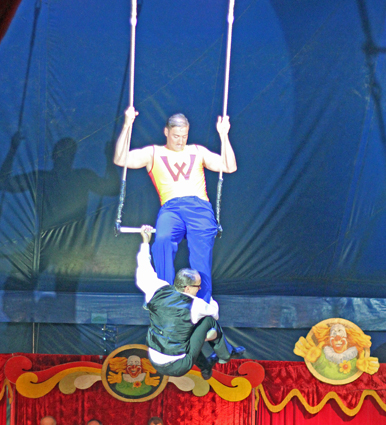 Wolff brothers. In Denmark known from Circus Arli 2011 and 2014 and in Sweden from Circus Olympia 2013 and Circus Brazil Jack 2017 and 2018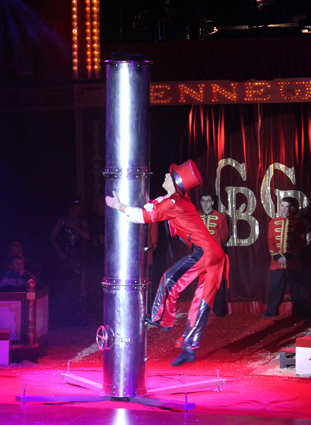 The Danes met Andrey Romanovsky in Circus Benneweis i 2014.
CIRQUE GONTELLI performs in the parks and squares of Paris until Christmas. There was a review on this page dated 8 September.
CIRQUE BORMANN MORENO mainly a family circus, proudly presenting clown SASHA, are present all the year JAN - JAN, as mentioned earlier in www.circus-dk.dk There was a review on this page dated 16 September
L'OFFICIEL DES SPECTACLES is a weekly WHAT'S ON ??, that every week reports on ALL shows and entertainment features in PARIS, thus including CIRCUS.
Please find a short text, from L'OFFICIEL DES SPECTACLES, issue 3745, page 57 :
The very number of visits, FRANCE, shows that CIRCUS has a great place in people's heart, viz. concerning live entertainment. Continuously several million visitors, indeed after fun fairs and tivolis, cinemas and zoos, but well before theater, dance productions and opera.
We can certainly find this success in all that CIRCUS has to offer: a concoction of risk, emotional sensations, sound-effects, music -- all these elements tie together artists, sometimes animals and the attending audience.
...................................... reported by ZARRO ZARRO.

28 September 2018
Cirkus Arena visits Greenland for the 35th time! Circus Arena writes (my translation):
From Tuesday 2 October until Sunday 7 October we have performances at Greenland. This year we visit Ilulissat, Aasiaat, Maniitsoq, Sisimiut and Nuuk. The star-spangled performance offers inter alia balancing human body, jugglers that can keep everything flying and soap bubbles in giga size! The two clowns Francesco and Martino are part of the performance with a wealth of ideas that children of all ages can join.
As it is 35th time, Cirkus Arena is on tour in Greenland, it is a great pleasure to present the tour's special guest star: Mille Gori, who will again be in Arena's ring - now in Greenland.
Mille Gori, a popular young Danish actress and television star, was ringmistress in Circus Arena in 2017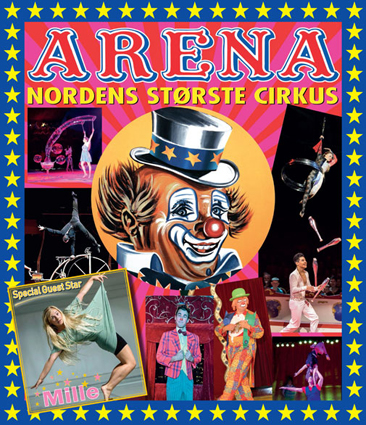 Among the performers are apart from Mille, Martino (aka Martin Arli) and Francesco Fratellini, Francesco's girlfriend Sarah Floores and Jelena Vasiljeva and Segeis Populans, all known from this year's performance in Circus Arli. From this year's performance in the Norwegian Circus Arnardo, Diana Boiachin has been picked up, presenting poetic play with soap bubbles. From Arena's own performance, the Greenlanders will probably meet the juggler Juan Pablo Martinez, one of the three nominated artists for the award for the best circus act of the year.

26 September 2018
The Danish circus season 2018 is over. We have had 8 touring circuses in 2018: Arena, Arli, Baldoni, Barnly, Mascot, Krone, Nemo and Trapez. Circus Mascot and Circus Trapez closed as the last Danish circuses their season Sunday 23 August. Despite the extremely hot summer that did not increase the number of visitors all circuses has managed to complete the season as scheduled. Søren Østergaard of Zirkus Nemo even claims that he has had his best season ever with more than 50,000 visitors, equivalent to an average occupancy rate of more than 75 %.
Some circuses are active in the winter season, including in the autumn holidays, the Christmas holidays and the winter holidays.

26 September 2018
Goodbye to circus elephants. Circus Trapez's performance in Vojens was perhaps the very last time Danes could see an elephant in a ring in a touring circus. Before the end of the year a large majority in the Danish parliament will change the animal welfare act making a ban against performing elephants in circuses. It is unclear whether there will be a shorter transitional scheme for the elephants already in Denmark. The future is therefore unclear for Circus Trapez's elephant Ramboline, who has been performing for 35 years together with her owner Bernhard Kaselowsky. She can hardly be put together with other elephants.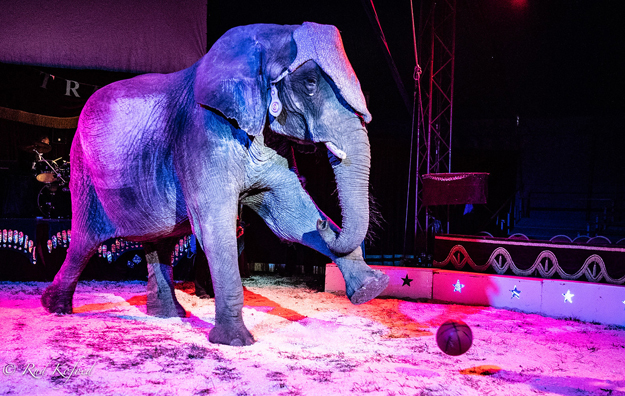 Ramboline. Originally she was called Rambo, but some believed that Ramboline fits better for a female elephant. Photo: Rud Kofoed / Ajour Press
Ramboline was born in 1983. She is an African savannah elephant. Bernhard bought her in 1985 for 30,000 D-mark, equivalent to approx. 15,000 Euro, from an animal dealer in Zimbabwe. Had she been allowed to stay at an African savannah, she would probably be dead for long. Either of diseases or shot of the poachers, which is a major threat to African elephants. In the wild half of all African elephants die before they are 15 years old and only 1/5 of all elephants reach the age of 30 years.
Circus Arena's 3 African elephants Lara, Jenny and Djungla can be seen in the indoor Circus Landino in Circus Land in Slagelse in the autumn holidays in week 42. It may be the last time you can see performing elephants in Denmark.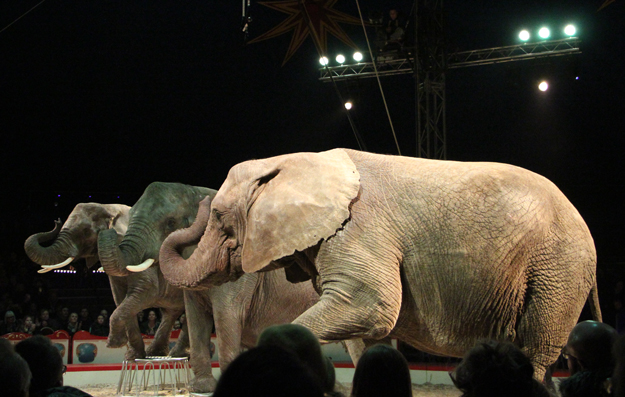 The Arena elephants Lara, Jenny and Djungla. The three elephants were born in 1985. Circus Arena took over the elephants from the Rossi family in Spain in 2007
The most famous Danish elephants are probably the Benneweis elephants Thai, India, Ceylon and Siam. All four were Indian elephants. Thai and Siam arrived in Denmark in 1969 and India and Ceylon in 1971. They were not caught wildlife but purchased from an elephant farm in Thailand.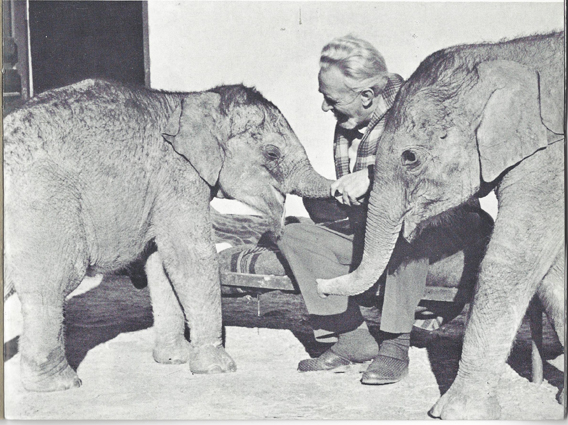 Eli Benneweis with Thai and Siam. Photo from 1969
They quickly became part of the performances in Circus Benneweis. First as baby elephants, since as teenager elephants and then as grown up elephants. Until 1978 it was Sonny Benneweis who trained and presented the elephants. In 1979, when he was seriously ill, his sons Kim and Miller took over the act. From season 1980, Kim Benneweis took over. Year after year, Kim Benneweis, often assisted by his wife Kirsten, impressed the audience with new and impressive elephant acts. Siam was put down after an event in Nyborg in 1994, where she overturned Kim and trampled on him and later ran around in the city before she lumbered back to the stable. Thai, India and Ceylon performed in Circus Benneweis through season 1995, where Kim stopped a few months before the season ended. After the end of the season they were sold to a German animal park, which to Diana Benneweis' disappointment handed them over to an Italian circus. Diana had believed and wished that they should end their days under peaceful conditions in an animal park and not in another circus.

23 September 2018
IT ALL HAPPENS IN PARIS --- original, interesting and funny shows --
THEATRE AKTEON proudly presents magic entertainer SEBASTIEN, present in my earlier write-ups, featuring an entirely new program, inspired by magic, but now on the theme:
TICKET TO LA FETE FORAINE / = fun fair/.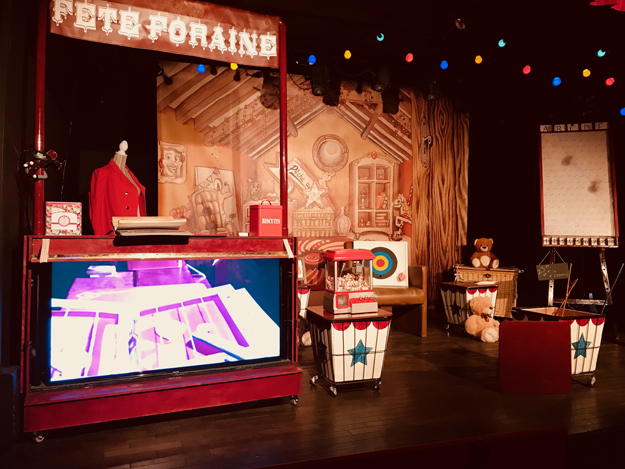 All photos by courtesy of Sébastien Gayou - Magic'Seb Production
The magic effects are performed with and by the children's active action, thus big interaction, the various plays and stunts are interpreted and conceived in order to remind the audience of the activities you meet when visiting a fun fair.
The show is very theatrical, and very clearly and pedagogically composed - the result is that the small fry easily can follow the actions.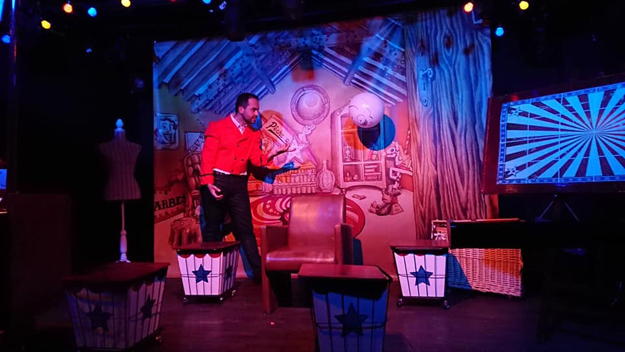 The stage is loaded with props that appeal to the audience's interest and it is beautifully and tastefully decorated, all the people present do eagerly follow all that happens on stage.
The grown-up particularly appreciate that -- their offspring is happy!!
SEBASTIEN is an old hand as a children's entertainer, he treats them in a friendly and sympathetic way, and everybody is happy.
An original show, well worth seeing - even for the adults!!
The performance can until 11 November be seen every Wednesday, Saturday and Sunday at 14:30.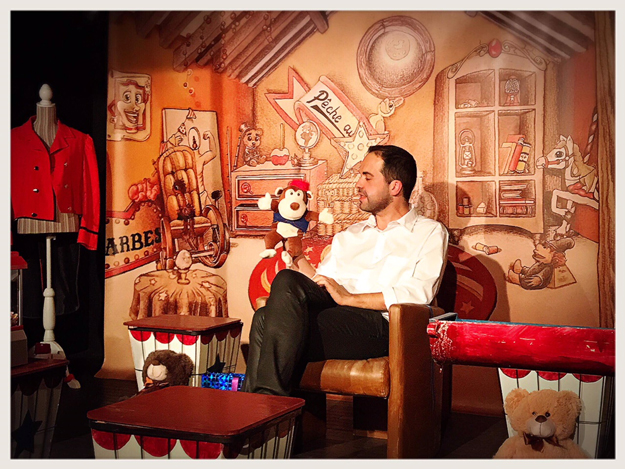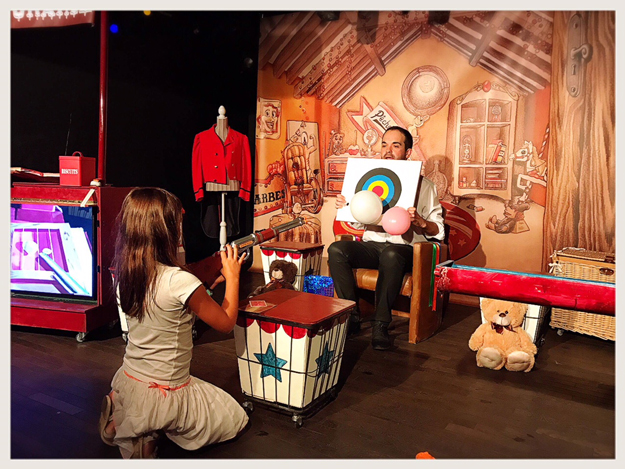 IT ALL HAPPENS IN PARIS !!!
See more: https://votrespectacledemagie.com/
Venue: THEATRE AKTEON, 11 rue du General Blaise, 75011 PARIS. Metro ST AMBROISE -- there is a plan over the vicinity in the metro, to facilitate the location of the above street /rue/.
......................................... reported by ZARRO ZARRO.

20 September 2018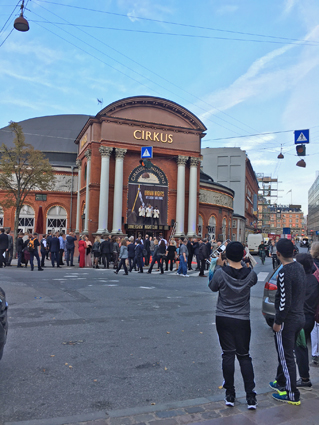 On 19 September Wallmans had premiere in the Copenhagen Circus Building on their new dinner show Urban Nights. There have been a number of dress rehearsals since 25 August. In the show you will meet young singers, dancers and artists. Ticket prices for show, 4-course dinner and nightclub are from 399 DK (approximately 63 Euro).
The circus acrobats in the new show are the juggler Grygoriy Lovygin, who can hold no less than 9 balls in the air, and aerial acrobat Igor Zavadko. They both come from Ukraine. The third circus performer of the show is Danish Ylva Maia (Ylva Havndrup), who was among the artists who completed their education at AMoC in 2017. Thus, she contributed to the talent award from the Danish Circus Award in 2017 being given to AMoC.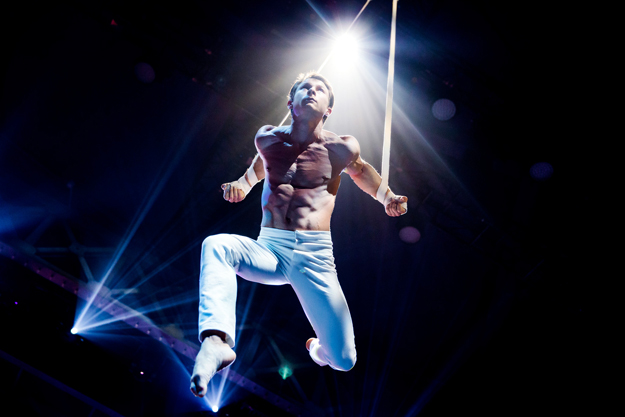 Igor Zavadko. Wallmans press photo. Photographer: John Resborn

18 September 2018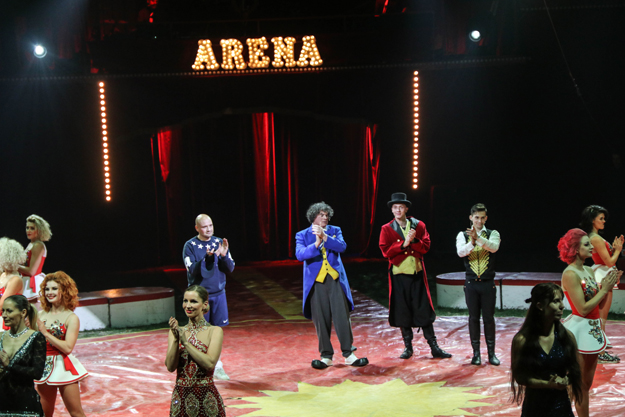 On Friday 14 September Circus Arena had a charity performance supporting the artist Tetiana Koreneva from the Bingo Circus Theater, who in August had a bad accident in connection with Arena's performance in Hornbæk. The performance was held at Charlottenlund Beach Park north of Copenhagen and was a normal edition of this year's Arena show. However, the performance ended with the ringmasters Clemens and Patrick Berdino thanking the audience for their support. At the same time, they told that a total of more than DKK 40,000 had been collected in connection with the charity performance. Text and photo: Jacob Boas Leitisstein.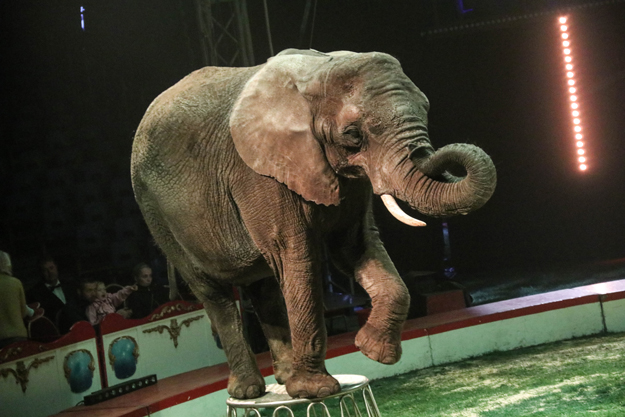 One of the three Arena elephants, photographed during the charity performance. Circus Arena ended the season on 17 September and the forthcoming ban against elephants in Danish circuses might mean that it was the last time the audience could see elephants in Circus Arena's ring. The future for the three elephants is uncertain. Circus Arenas 3 elephants is among the youngest of the barely 50 circus elephants left in Europe. Photo: Jacob Boas Leitisstein.

17 September 2018
Winter Circus in Malmo and Helsingborg, Sweden.
Albin Ganovic, who for several years has been the main force behind the Swedish Cabaret Candy Club and who presented the Helsingborg Christmas Circus in 2013 and 2014, will try his luck with winter circus in January and February 2019. First in Malmö, where there will be performances in a heated tent at Møllepladsen from 10 to 20 January, and since in Helsingborg. There is the tent put up next to the castle Sofiero, and there are performances from 26 January to 3 February.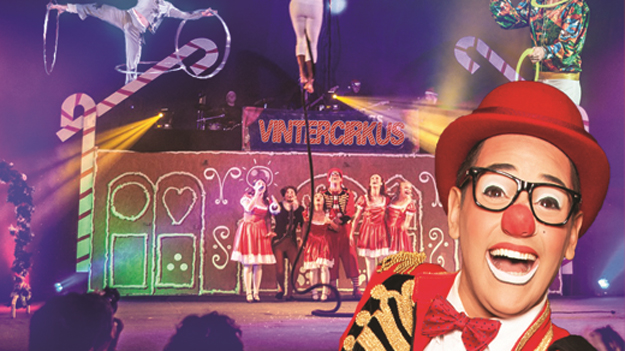 In the press release is written (my translation):
Winter Circus is a musical and exhilarating experience in a traditional circus environment. The smell of popcorn, the heated circus tent, our world-famous acrobats in combination with the big ensemble and the joyous circus orchestra, tells our very own winter story that touches big and small.
The popular opera diva Marianne Mörck and our circus director Albin Ganovic take the role of the clowns. They tell you this exciting winter story of the small Ofelia who runs away with a circus and ends up being a circus director. Eva Rydberg makes the narrative voice that takes the audience through the circus performance.
Follow courageous Ofelia, our crazy clowns, the fast acrobats, the trapeze artist high up under the circus doom and the jugglers on a journey through winter dream and circus wisdom.
The performers are Alex Michael in trapeze, the jugglers Trio Sarkozi, Romy Meggiolaro with foot juggling, Duo Solys + Hector handstand and Yosvany Rodriguez Peña, tight wire and straps. Clowns are as mentioned Clown Cito aka Albin Ganovic and Clown Mama aka Marianne Mörck. There is also a large ballet, an orchestra and a children actor as Ofelia.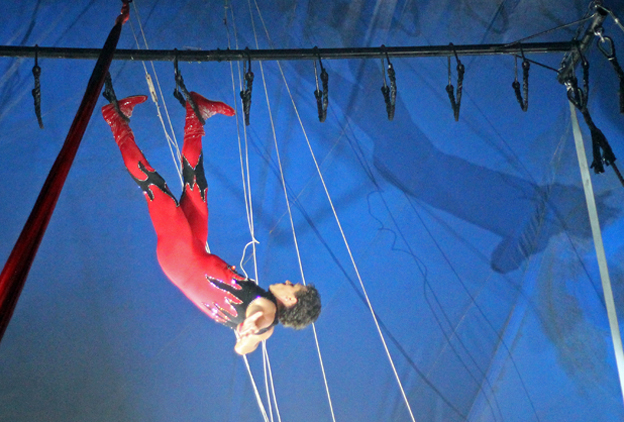 Alex Michael toured with Swedish Circus Olympia in 2013 and Danish Circus Arena in 2014. His spouse Romy Meggiolaro has not previously worked in Scandinavia.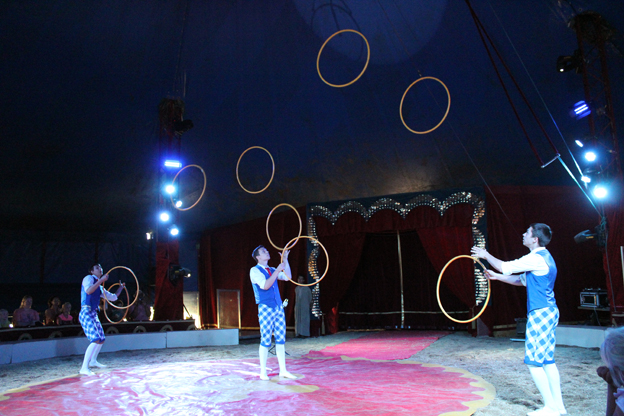 Trio Sarkozi was in Denmark in 2014 with Circus Trapez in 2014 and in 2015 in Sweden with Circus Maximum.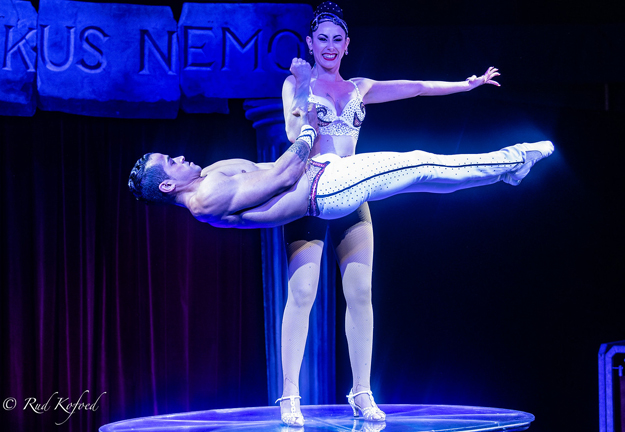 Duo Solys won the award for the best circus act in Denmark in August this year. They performed in Zirkus Nemo, where the male partner Hector also presented his handstand act. They were also at Nemo in 2016 and at the Swedish Circus Maximum in 2017. Photo: Rud Kofoed / Ajour Press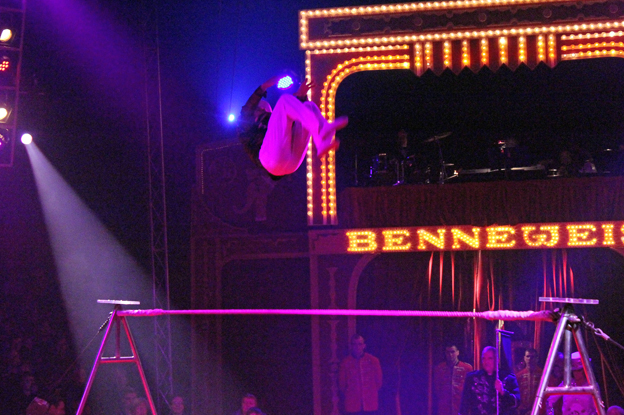 Yosvany Rodriguez Peña making a backward salto. He was with Swedish Circus Scott in 2013 and at Danish Circus Benneweis in 2014.
Before the winter circus, Albin Ganovic and his team once again present the Cabaret Candy Club. This year's performance is called Aphrodite the Burlesque Extravaganza, and there are performances in Helsingborg Arena 15th, 16th and 17th of November and in Malmö in the Morian Pavilion 22 November to 15 December. Starring is apart from Albin Ganovic with large ballet and orchestra Duo Solys, who as mentioned just has won the award as the best cicus act in Denmark, and the performer and juggler David Eriksson (bald with balls), which you can read more about at www.baldwithballs.com/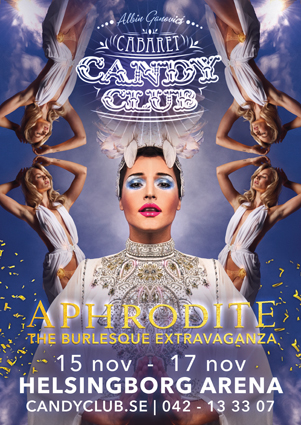 16 September 2018
IT ALL HAPPENS IN PARIS -- always interesting and sympathetic shows -- it is UNIQUE that PARIS has a circus that is playing actively all the year around.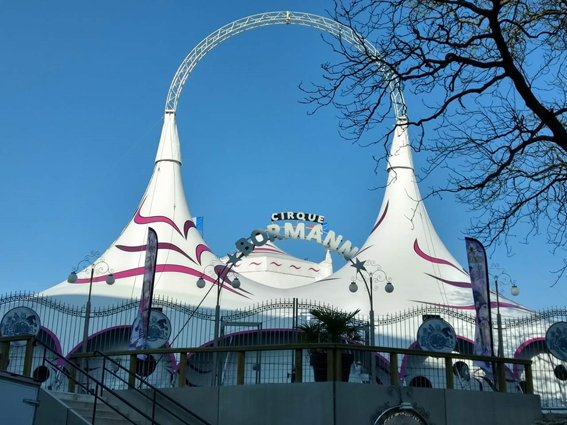 CIRQUE BORMANN MORENO thus features a circus event presented by a traditional circus family where ALEXANDRA, daughter of MARQUIS PAUWELS, wife of ERIC BORMANN, holds an important part and role, super juggler mastering 9 rings in the air!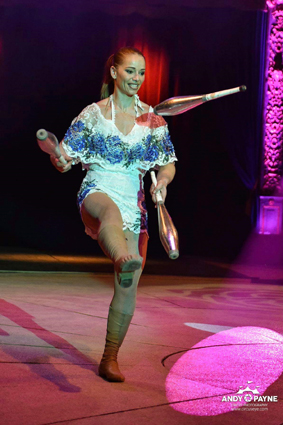 Alexandra Bormann Pauwels. All pitos by courtesy of Cirque Bormann Moreno
The show is performed in a BIG TOP, holding 900 seats, we have the impression to be seated in a concrete circus-building, beautifully and tastefully decorated.
CIRQUE BORMANN MORENO invites us to an excellent and entertaining show, all the acts are performed by the family , except the clown SASHA who is a good juggler as well and he creates fun, laughter and life to this performance.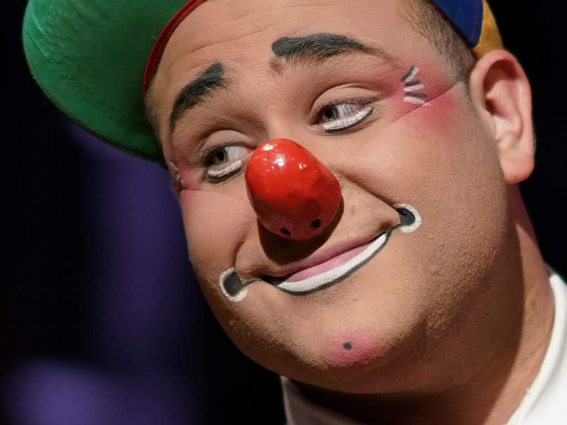 The clown Sacha de PAZ
Before the opening -- the children, and the adults if they want, are invited to try out various circus disciplines, like the spinning plates etc. After the finale, everybody is invited to visit the animals' quarters: tigers, horses, lamas, it is included in the ticket price, a good idea and very popular.
The program: cowboy act using whips and lassoes, aerial act, juggling, RICHARD BORMANN features an advanced handstand act, the classical horse act "big and small", clown entrées both in the ring and on the gradins, where SASHA and partner make a lot of fun - and play the trumpet !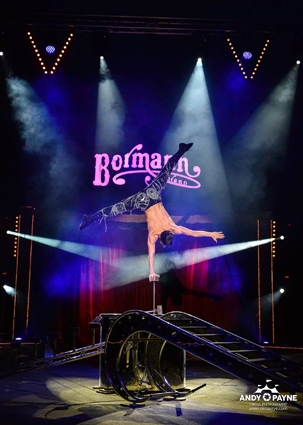 Richard Bormann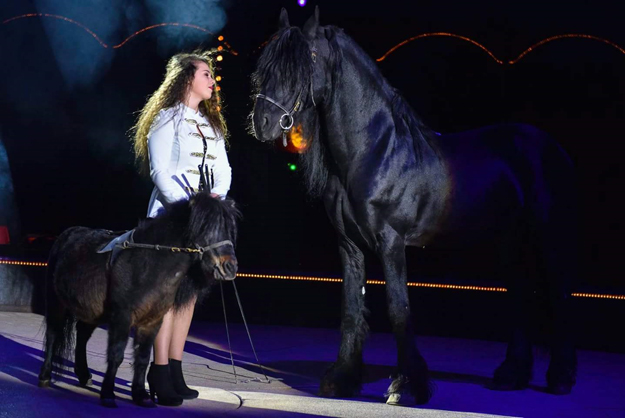 Silvana Bormann
The tiger show is presented at special events and occasions.
IT ALL HAPPENS IN PARIS!!!
See more: www.cirquebormann.fr
Venue: Pont du Garigliano, 5 rue LUCIEN BOSSOTROUT, 75015 PARIS, Metro BALARD,then about 15 minutes' walk / there are a few stairs to climb/.
........................................ reported by ZARRO ZARRO.

14 September 2018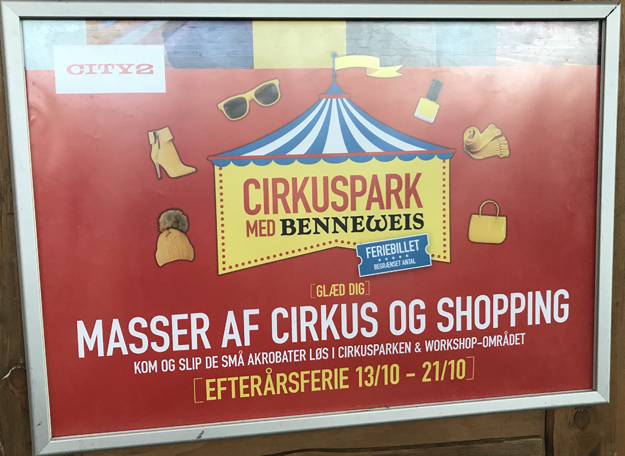 As the poster shows the City 2 Shopping Center in the Copenhagen suburb Hoje Taastrup presents during the Danish autumn holidays in week 42 "Cirkuspark with Benneweis". There are workshops and short circus performances. In 2016 and 2017 the name of the autumn holiday event was "City 2 Circusland" and the producer was Karsten Mathiasen and his small Circus Bella Donna. This year the circus park and performances are produced by Nadia and Dawid Benneweis. – Circus Benneweis toured every summer from 1887 to 2015, but has not been on tour since 2015. The twins Nadia and Dawid Benneweis (born 1987) hopes later to resume Circus Benneweis' long run.

10 September 2018
Kenny Quinn to Chemnitz. It is almost tradition for the Danish gentleman thief Kenny Quinn and Mrs Joan to have job in Germany in the winter months. Often in one of the many German Christmas circuses. But this year it is the audience is in the dinner show Moments 2 in Chemnitz who can see the elegant gentleman thiefs. There is premiere on 18 November and the show runs until 6 January 2019.
Chemnitz is a city with approx. 250,000 inhabitants in the German Land Saxony. It was named Karl-Marx-Stadt between 1953 and Germany's reunification in 1990.
The show's title Moments 2 is due to last year's successful show being called Moments.
You can read more about Moments 2 at www.moments-chemnitz.de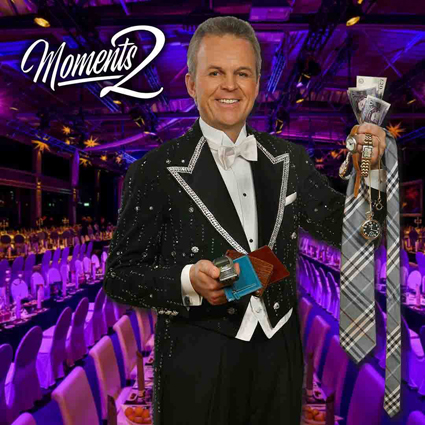 The producer of the show is Guido Gentzel, the long-time leader of the German Rock-'n'-Roll-Band The Firebirds. Guido Gentzel also produces dinner shows in Dresden and Leipzig. Kenny Quinn had a couple of years ago had great success in Guido Gentzel's dinner show Mafia Mia in Dresden.

8 September 2018
Support performance for the injured artist Tetiana Koreneva. On Friday 14 September Circus Arena has a performance in Charlottenlund, Copenhagen, where all ticket revenues go to the artist Tetiana Koreneva from the Bingo Circus Theater. On 1 August Tetiana was injured under her aerial act when a wire holding her tisues broke.
Tetiana photographed at the premiere in Circus Arena in Copenhagen. It was during during her act in tissue a wire broke and she fell into the ring. The wire was part of the Bingo Circus Theatre's own equipment. Photo: Rud Kofoed / Ajour Press
Cirkus Arena writes (my translation):
Tetiana has subsequently undergone a successful operation and is getting better. However, the fractures she suffered during the accident requires time to heal up and all of Tetania's former source of income as an artist is for this reasons put on hold. In order for Tetiana to get rest, both physically and economically, so she can recover in the most optimal way, it is with great pleasure that all artists and all staff in Circus Arena can present this special performance, where all ticket income will go to Tetiana and her future treatment.
The performance of the 14th of September in Charlottenlund will be a completely normal version of this year's performance "The Clown and Crown Prince - The Search for the Lost Tear".
If you have not yet seen this year's performance, or would you like to see it again, there is the opportunity to do it now and support Tetiana. We hope to see as many of you as possible so that we together can contribute to the already ongoing collection ❤
Tetiana is employed by the Ukrainian circus company Bingo Circus Theater, which Circus Arena has booked to do two acts in this year's performance. The Bingo Circus Theater receives a salary and pay the wage to the members of the troupe. "It is the Bingo Circus Theater, which unkoown to us has stopped paying her salary after the accident. Previously the Bingo Circus Theater had told us that she would still be paid," Kristoffer Ditlevsen, Press Officer at Circus Arena, says to TV 2 Lorry.
Tetiana has now been moved to a hospital in Germany where her boyfriend Sebastian Hoffman lives. He has told TV2 Lorry that Tetian's doctor says she should be happy if she can get a normal job in a year. But to become a circus artist again or do extreme sports the doctors do not expect to be possible. But we maintain our hope, Sebastian Hoffmann said. He told TV2 Lorry that fr the time being more than 150,000 DKK (equivalent to aprox 20,000 Euro) have been collected in support of Tetiana.

8 September 2018
IT ALL HAPPENS IN PARIS -- now the season is starting up --CIRQUE GONTELLI is here - they are a UNIQUE circus, albeit rather small, sporting 120 seats, they specialize in shows for the youngest kids and as the tent is a small one, it has a human dimension that makes the small fry feel safe and at home.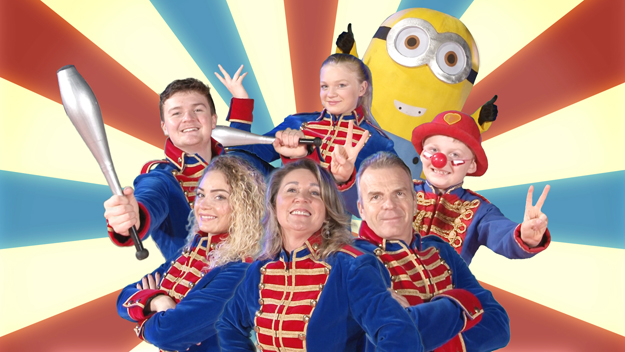 All photos by courtesy of Serge Gontelli
The kids participate in the show and do so happily as they are treated very nicely - a prerequisite for success!
SERGE GONTELLI with wife FABIOLA take turns in MC-ing the show, SERGE performs an elegant antipode /footjuggling/ act, ending it by turning a big table on his feet. Furthermore: their son CHRISTIAN juggles and balances on a rola bola and makes lasso tricks, dressed as a cowboy. OPHELIE shows off beauty and grace, performing in trapeze, aerial ring and on tight wire, she also is an elegant QUEEN OF DOVES, together with beautiful white doves.
Her sister MARY performs on a rolling giant globe as well as with hula hoops, the youngest son CLINTON amuses the audience with various clown stunts, and.... with the beginning of acrobatic skills.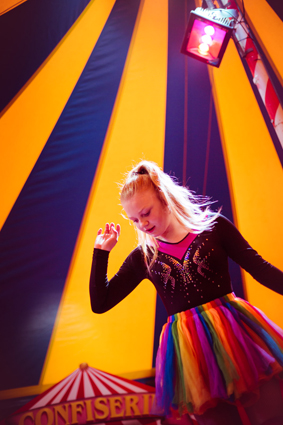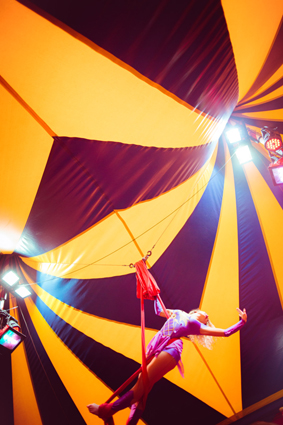 All join in featuring the classic sketch MUSIC IS HERE FORBIDDEN; sometimes they perform THE WATER ENTREE.
The program also includes a cat, some white mice /but not together with the cat, there is a goat that mainly shows herself eating pop -corn..... these animals basically do as they want, the atmosphere is relaxed, everybody enjoys it all, and the kids mainly want to pat the goat!
When the show, lasting 90 minutes, is over, it doesn't mean that no more effort is needed:
publicity posters have to be put up, and later pulled down, licence to perform must be obtained from the local TOWN HALL, the tent is pulled down, and many other menial tasks.
This circus is UNIQUE, the only competition may come from the PUNCH AND JUDY SHOW.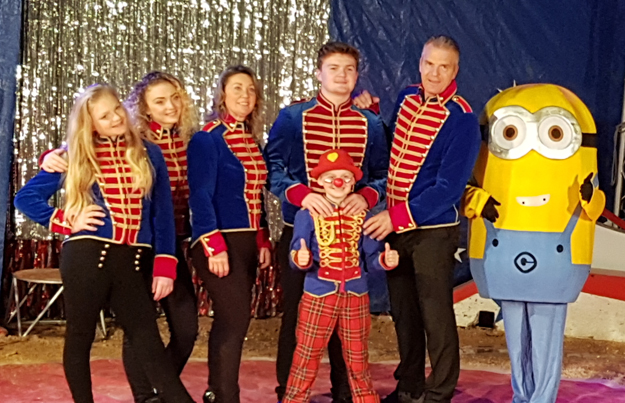 IT ALL HAPPENS IN PARIS!!!
See more: http://les-gontellis.e-monsite.com/
Venues: squares/parks in Paris, summertime, idem in Marseille, wintertime.
You find addresses in L'OFFICIEL DES SPECTACLES, in all newspaper stalls, Euro 1.
......................................... reported by ZARRO ZARRO.

7 September 2018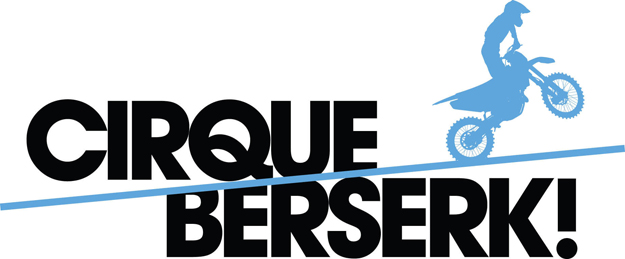 Cirque Berserk is coming to Denmark. From 9th to 14th of October, Horsens, Randers and Esbjerg will be visited by the large English circus made for theatre Cirque Berserk. Some of the performances are sold performances, but for the performances in Horsens October 12, Randers October 13 and Esbjerg on October 14, it is possible to buy a ticket. Check out in What's on.
Cirque Berserk is produced by Martin Burton, who also owns England's largest touring circus, Zippos Circus.
Cirque Berserk has every year season opening at the Winter Wonderland in Hyde Park in London. Winter Wonderland is a large Christmas market in London, which, in addition to various rides also offers entertainments and shows, including special Christmas performances in both Cirque Berserk and Zippos Circus.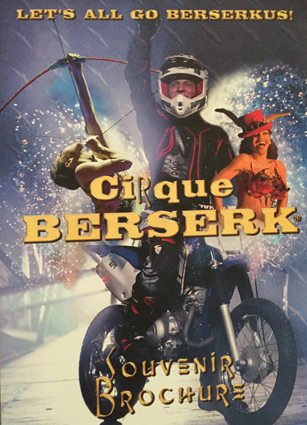 Front page of the printed program
After Winter Wonderland, Cirque Berserk tours with performances at a number of theaters in England and Ireland. And this year the tour is expanded with performances in Denmark and Belgium.
Showcasing the finest in traditional circus thrills and skills, Cirque Berserk celebrates the 250th anniversary of the invention of Circus by bringing this treasured form of live entertainment bang up-to-date in a jaw-dropping spectacular created especially for the theatre.

Combining contemporary cirque-style artistry with adrenaline-fuelled stunt action, this astoundingly talented international troupe includes over thirty jugglers, acrobats, aerialists, dancers, drummers and daredevil stuntmen.

Featuring the world's most hair-raising circus act – the legendary motorcycle 'Globe of Death'.
English The Daily Express gave the performance 5 stars and wrote: "This amazing show is like Cirque du Soleil on steroids ... brings the big boys to the big top in an outrageous, death-defying circus that will leave you gasping for breath. and outrageous, this is gripping grown up fun that makes you wish you were a kid again so you could run away and join the circus. "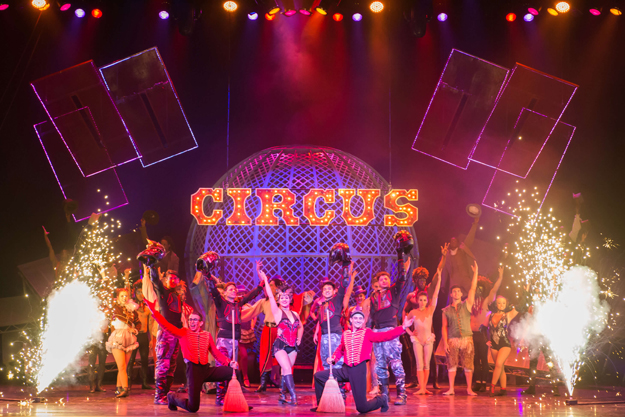 From the finale in Cirque Berserk. Press photo from Cirque Berserk. Photographer: Piet Hein-Out. Click here to see the official video trailer for the performance.

6 September 2018
A Bag of Laughs. Jørgen Lorenzen saw the year's edition of Aarhus Festivals nightcabaret at Hermans, Tivoli Friheden, Aarhus, 5th September at 18.30 and writes (my translation):
The dining guests were situated at 10-peron tables. Thus there was good opportunity for talk and conversation over the tables. The menu was delicious, the surroundings aesthetic, black walls with golden skylights from small bulbs. And there was a good acoustics – also important.
At my table in the sold-out hall we agreed that the concept was very good: delicious food - followed by great entertainment. Not revue, not stand up, not theater - but artists and comedians. The printed program uses the word cabaret the performance. It is a question of definition.
The show began at 21. The director was circus director Frank Thierry (Danish Circus Krone), who had put on stage in such way that the artists used the entire hall as a stage - also during the dinner, where they entertained at the tables. Frank's brother Marc Thierry and his trio played live music to most of the performance and played in the foyer before the event began. A live orchestra gives the performance rhythm and pulse and should be mandatory!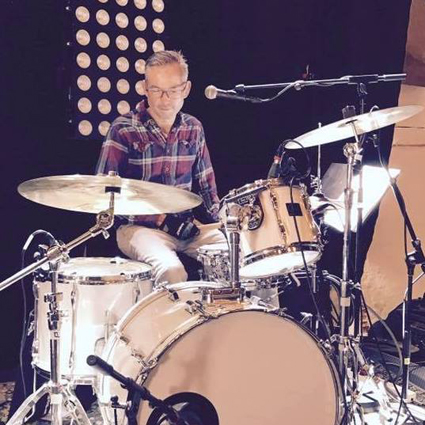 Marc Thierry. Photo by courtesy of Aarhus Festival
I told my companions that a performance can be judged by two criteria: the severity of the individual number and the way it is "sold". A slightly weaker act can easily be improved if it is presented correctly. And a top act may lose effect if "wrapping" is not okay. This Frank Thierry obviously knows better than most and the performance was excellent. Nothing less!
Royer and Emelie started with a classic roller skating act. Naked Lunch turned out to be two cheeky comedians who ate vegetables and played on frying pans - with a multitude of gags, whims and comic sounds and chats with the audience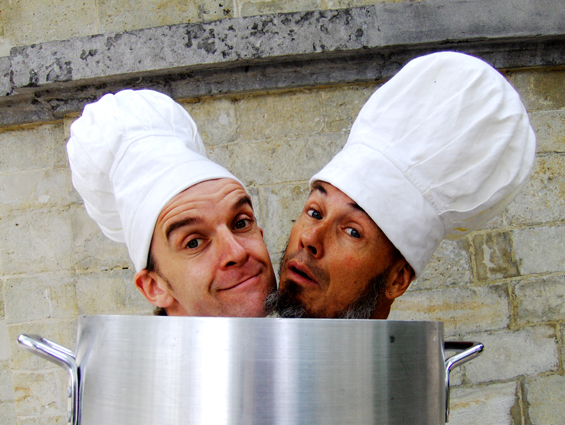 Naked Lunch. Photo by courtesy of Aarhus Festival
Men in Coats were also two male comedians. They were wearing a duffel coat, and they thrilled with themselves and a bunch of cheeky props inside a large black box made of fabric which they used to go in and out of, while various props and finally body parts flew up around the black box.
Camille and Louis Marc worked in two aerial straps that hung down from the ceiling, or rather: two big loops. A prop, which was a gap between tissue, aerial rope and straps. A good idea. The act was a superb presentation of power, beauty and movement. And at the same time it contained elegant aesthetic where which colors, light and motion went into a unity with the costume and the individual tricks.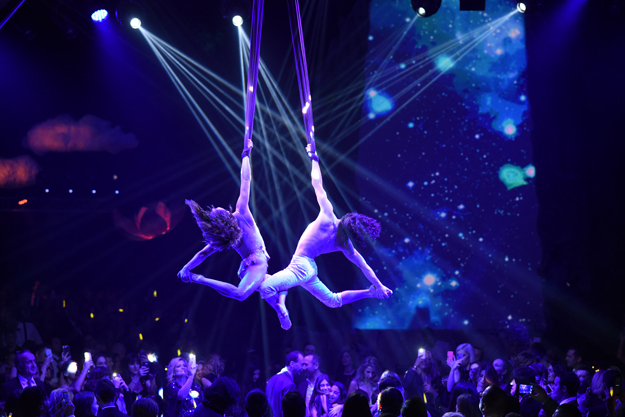 Camille and Louis Marc. Photo by courtesy of Aarhus Festival
Galina and Sonny Hayes were comedians, or maybe better: eccentrics. A multitude of gags, bitches, misunderstandings and ideas were presented in a live dialogue with the audience.
And then the main act: The Swedish juggler Johan Wellton juggled with balls - what is called bouncing in the technical language, throwing the balls into the ground instead of throwing them into the air. He juggled on a table, but could get the juggling balls to jump under the table - and even find their way back. It was as if they were living and had their own will. He also juggled against a chair that was slanting. 5, 6 and 7 balls. In the end, he covered his eyes with black tape stood on the chair, which was put up at table, bouncing with 7 balls. And then he had a nice contact with the audience. Highlight of the performance.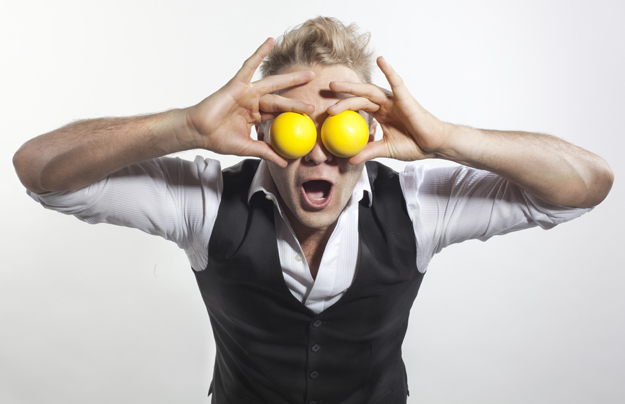 The Swedish juggler Johan Wellton. Photo by courtesy of Aarhus Festival. Johan
Wellton won a well-deserved Silver Pierrot for his comedy juggling act at the Budapest Circus Festival in 2012.
2nd part of the performance was opened by Galina and Sonny Hayes as unsuccessful magicians. They performed the trick with the 3 buckets on a table where a head pops up. Here done with fresh variations and surprises.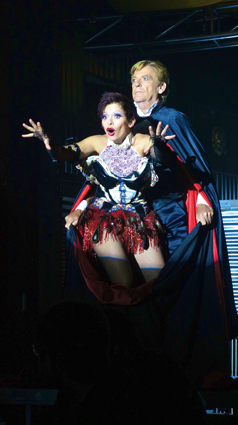 Galina and Sonny Hayes. Photo by courtesy of Aarhus Festival.
Camilla and Louis-Marc were back again. Now with a handstand act with added acrobatics. Difficult, but extremely aesthetic. Great!
Men in Coats was back with new gags. Naked Lunch turned up undressed, only with a fig leaf, or rather: a frying pan. At the beginning there were 4 pans, but on the way they lost three, and even managed to hide their noble body parts, even with a single frying pan. Funny, but not vulgar. And a nice timing so it did not end in embarrassment.
The teeterboard artists Step Out consisted of 3 artists, if you saw the picture of them in the printed program. This evening there were only two, maybe because the third had an injury. But the two remaining did well. Double salto with twist and jumps in long series, where they ran from one end of the board to the other and thus changed position.
A lovely evening. The guests at the table will come again. Some were already "regular customers". The rest will be. And in the final there was a glimpse of Preben Palsgaard, who had a role behind the stage.
Big applause! Adoration, enthusiasm and gratitude.

4 September 2018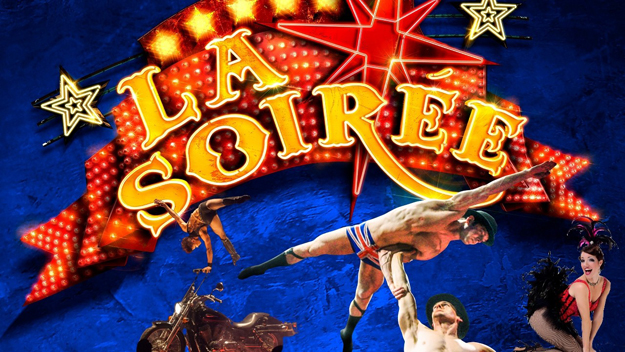 La Soiree. Jorgen Lorenzen saw the performance in the Mirror Tent Paradiso - at Skråen, Aalborg on 30 August at 20. Skråen is a theatre and music venue in Aalborg. Jorgen writes (my translation):
The Belgian mirror tent, which has been used in both Aarhus and Copenhagen, is the ideal setting for a show: well proportioned, intimate, aesthetic and atmospheric. This wooden tent was the framework of Skråen's music hall performance La Soiree - a performance almost in the cabaret genre. There were daily performances from 16 August to 1 September. Before the show started, there was a banquet for those who wanted to dine before the performance.
You ware welcomed by a compère before the excellent Elvis-like singer Mikelangelo sang his first song - accompanied by a local pianist. He appeared several times in the performance, and his repertoire was versatile. His diction was fine, his voice was good and he sang with a technical surplus. A few times he sang the duet with the other performers. His feature gave the impression that for a while you were moved to the cabaret world.
The performance began with a strong number - acrobatics in the pole. The genre is from China, and it is based on the sailor's jumps from mast to mast. Here the mast was a wooden pole. The two artists coming from India was named Rajesh Amrale and Rajesh Rao. Their costumes and the entire outfit also pointed to India. And their ability was impressive. Jump on, to and from the mast - individually, in pairs, synchronously and individually. The strongest act of the show.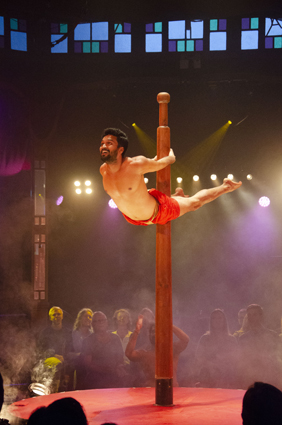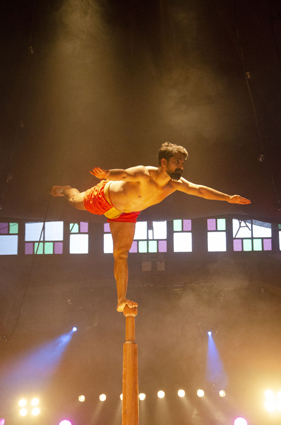 Pole-acrobatics. Photo by courtesy of Skråen. Photographer: Pia Kirstine Langgaard
The multi-artist Victor Rossi was - along with the singer - a main figure. He was a good juggler who mastered up to 7 balls in the air. He could play on xylophone and clarinet. He performed an escape act number with a touch of comedy. For such act can also be funny. His run-ins was spiced with humor, gags, and comic ideas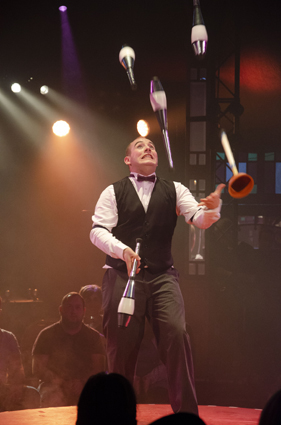 Victor Rossi. Photo by courtesy of Skråen. Photographer: Pia Kirstine Langgaard
An act in tissue and aerial straps ended on the floor of the ring where the female artist turned into a snake girl. Another woman did hair hang and floated like an angel over the audience. However, the angel lost her wings and angel costume and turned into an attractive woman.
The 2nd part of the performance started with dance before the artist ascended in a ring trapeze that could rotate across the audience. There was hula hoop dance with luminous rings. There was a male air artist in fishing net. Strong, virile and fast-paced. Perhaps an aerial act like this works better for a man than for a woman as you usually see. The masculine strength gives more expression possibilities and stronger pace in the individual tricks.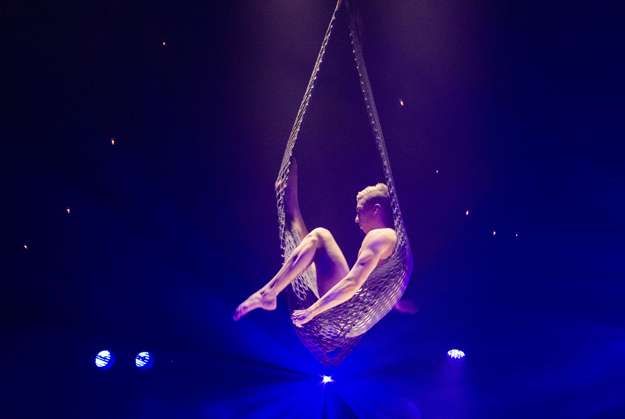 A gentleman in the fishing net. Photo by courtesy of Skråen. Photographer: Pia Kirstine Langgaard
The performance ended with a female contortionist who could take her legs on her neck. But she could do more. In handstand she could shoot with a bow - that's with her feet as her hands had already been used for the handstand. With her back to her goal, which she could not see, and a bow that was served by her feet, she hit the bull's eye - and even in the first attempt.
Embitter your joy in a performance that was really good. Mirror's interior design and design appeal to romance, poetry and beauty. Why, then, turn the sound up as if you were into a hard rock concert? My companion said: that's because they want the youngsters into the show. But it seemed disharmonious and disturbing with such a loud noise. When the compère welcomed, no-one could hear what he said because the music was too high. But as my companion also said, maybe it's us that have become too old.

31 August 2018
Obituary: Egon Larsson from Trio Hoganas. At the age of 91, Egon Larsson, passed away on 29th of August in his home in Höganäs, Sweden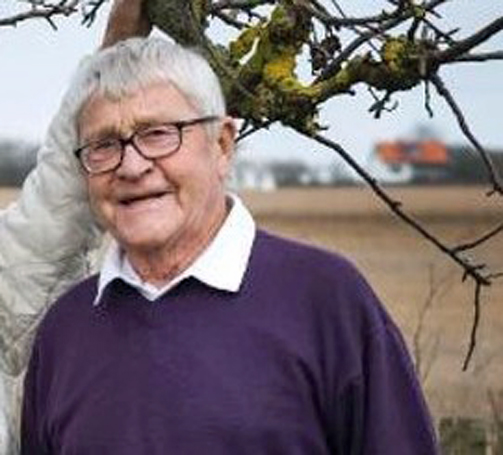 Egon Larsson. Photo: The Swedish Circus Academy
Egon Larsson was one of the members of the world-famous Swedish Trio Hoganas. The troupe had their heyday at the end of the 1950s and until 1975.
In May this year, the municipality of Höganäs now set up a monument in memorial of Trio Hoganas.
Egon Larsson was honorary member of the Swedish Circus Academy.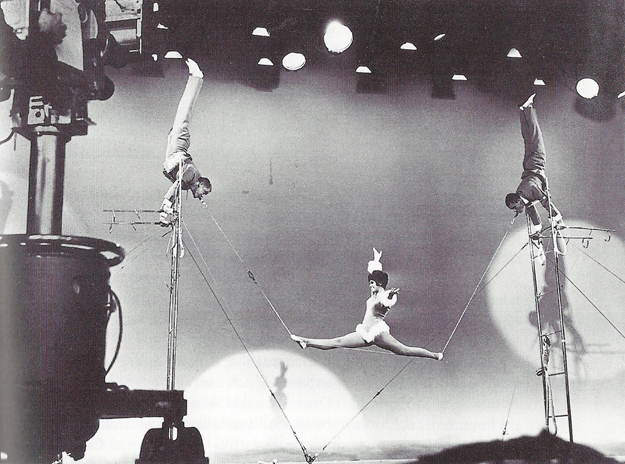 Trio Hoganas. From the collections of Per Arne Wåhlberg

Link to news from 2007

Link to news from 2006