'
From Denmark
and other Scandinavian countries
Special feature: It all happens in Paris (when relevant)
A weekly updated internet magazine
Last updated : 18. August 2018
17 August 2018
Dynamo Circus Festival took for the second year in row place on 10 and 11 August 2018 in Odense.
Lise Kokholm saw the performances on August 11 and writes (my translation):
The first show I saw on Saturday was called "AROUND" with Race Horse Company. It was a small circus show with classical numbers with juggling, hula hoop and acrobatics. But the animal acts were replaced with a mask like an elephant, and the snake whistled up by a box was the female artist in snake-like clothing. Very entertaining.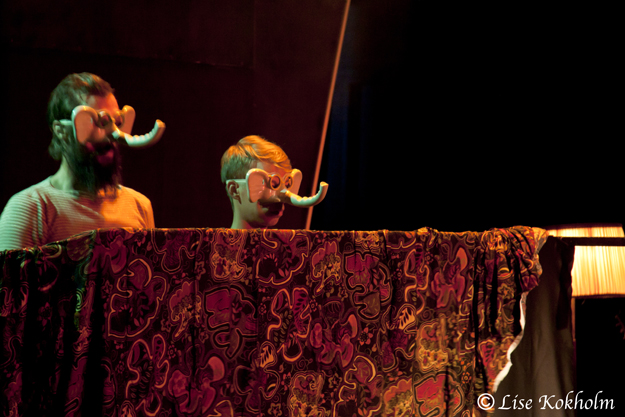 The elephants. Photo: Lise Kokholm
No. 2 performance was called "BABEL GLÖM" and was with the Kaaos Kaamos artist group.
A performance of 6 artists showing how to climb throw in each other in every possible way. A show where we not only have to clap when 2 or 3 artist are standing on top of each other, but where the actual way of getting up and standing on its own is a performance. Incredibly nice show, and during the show the tricks became more and more difficult and beautiful. So even though you usually only see such exercises in max. 10 minutes in a circus, we saw without getting bored for about an hour how much you can do with the human body.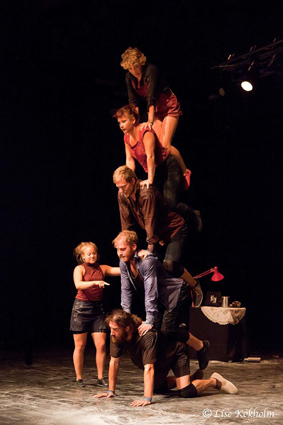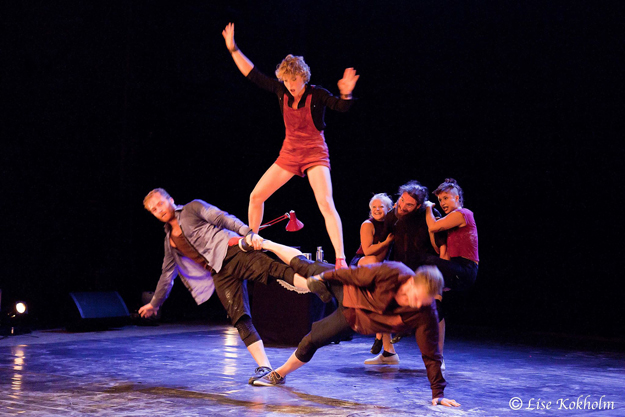 From Babel Glöm. Photos: Lise Kokholm
Later there was an outdoor open stage.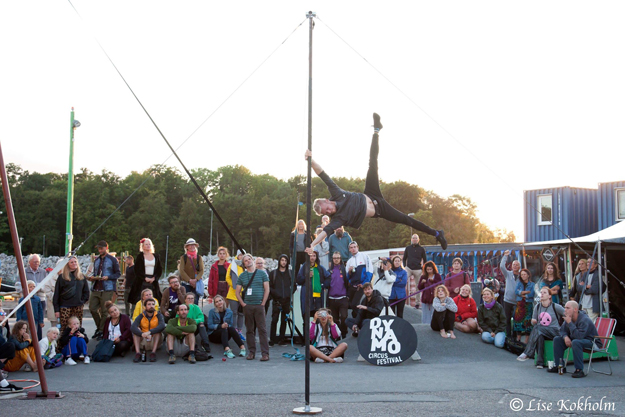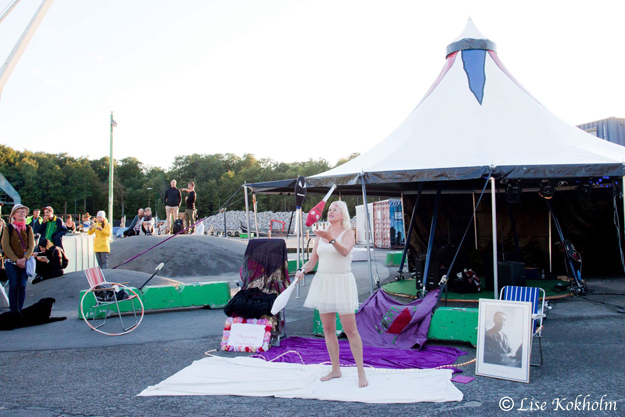 Open Stage-performances. Photos: Lise Kokholm
Saturday night there was a super good late night cabaret which was a great composition of all performances and workshops. The performance was 'spiced' with a great musician and singer.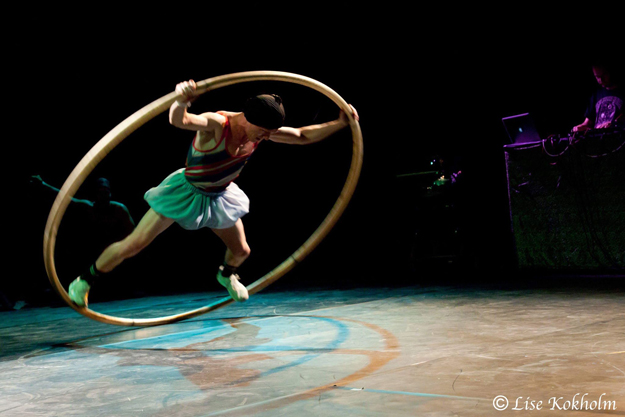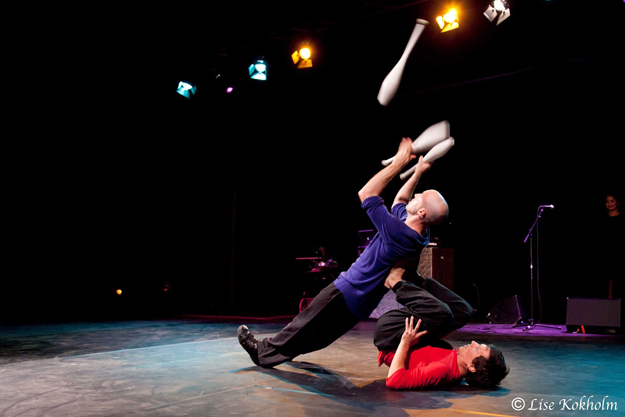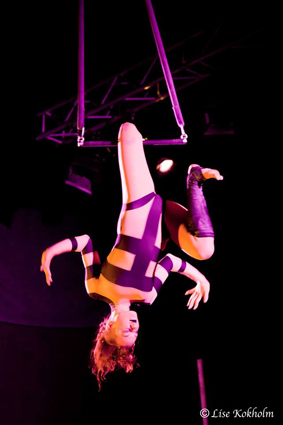 From Late Night Cabaret. Photos: Lise Kokholm

13 August 2018
The Danish circus season 2018 is coming to an end. In the Scandinavian countries the circus season usually ends in August or September.
Yesterday, Zirkus Barnly, Katja Schumann's Circus Farm at Løkken and Circusland at Aarslev, Slagelse, ended their summer season 2018.
Circus Arli closes the season on 22 August. Circus Krone closes the season on 26 August. Circus Baldoni close the season on 29 August. Zirkus Nemo closes the season on 15 September. Cirkus Arena closes the season on 17 September. Circus Mascot and Circus Trapez will end the season on 23 September.
Some of the mentioned circuses are active with indoor performances in the winter season, including in the autumn holidays, up to Christmas and during the winter holidays. Circus Baldoni visits the Faroe Islands in the beginning of September and Circus Arena visits Greenland in the beginning of October.

9 August 2018
The Danish Circus Award - Nominations for this year's awards
Since last year's award ceremony on 9 August 2017, members of the jury have seen more than 90 artists / acts.
The jury has now decided which of these should be nominated for the award to the best act presented in Denmark in 2018 and this year's talent award.
For the prize for the best number of the year is nominated:
• Juan Pablo Martinez, Circus Arena
• Vlad Olander, Circus Arli
• Duo Solys, Zirkus Nemo
For this year's talent award is nominated:
• Charmaine Berdino, Circus Arena
• Karel "Kaya" Janecek, Circus Baldoni
• Sofia Speratti, Circus Krone
The prize ceremony will take place on Wednesday 22 August at 12 at the Circus Museum in Hvidovre, Copenhagen, with the participation of the Danish Minister of Culture Mette Bock and Hvidovre's mayor Helle Adelborg.
4 awards will be given:
• The honorary prize "The Danish Circus Award"
• Talent award
• Best act of the year
• The special effort prize
There is no nomination for the honorary prize and the special effort prize.
About the awards
The honorary prize is awarded to a person in recognition of his or hers particular worthwhile efforts to promote the art of circus in Denmark. The honorary award can only be received once. Nominations are not made for this prize. The honors prize consists of a painting by the painter Viggo Salting, known as the Master of clown painters.
The award for the best act of the year is awarded to the act which, in the Jury's opinion, is the best of the year. The prize consists of a diploma and a lump sum of 750 Euro.
The talent award is preferably awarded to a younger artist. The prize consists of a diploma and a lump sum of DKK 10,000.
The special effort prize goes to the politician or public person who has made most efforts to support circuses in the past year.
About they nominated artists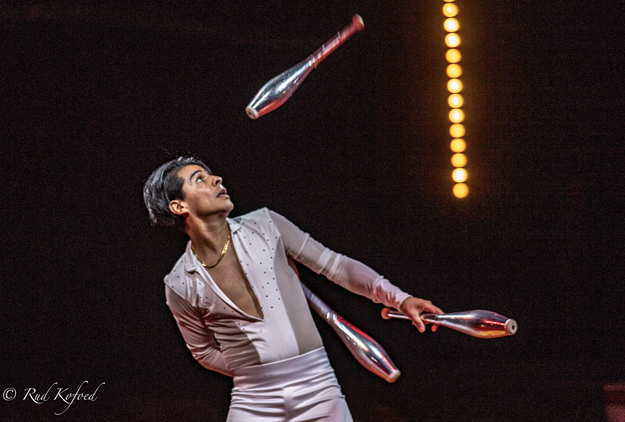 JUAN PABLO MARTINEZ from Mexico is the juggler who is an explosion of joy of life and incorporates every part of the ring in his dynamic act where he juggles with both hats, clubs and ping-pong balls in what almost is a volcanic eruption. As Arena's printed program well states: "When the earth burns under the feet, one must have more than one juggling ball in the air". Photo: Rud Kofoed / Ajour Press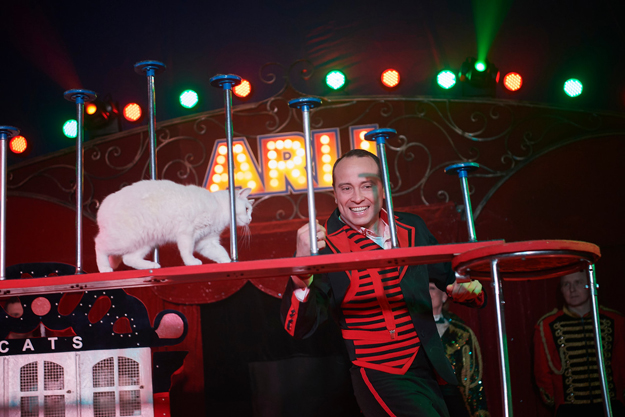 VLAD OLANDER. It must be extremely difficult to make such an elegant number with 6 white angora cats, as Russian Vlad Olander does. The cats run freely on as well as under a balance beam - hanging in 'two arms' when it is necessary. Olander started as a juggler before he got his first cat and he was so fond of it that cats have been his way of life in the ring ever since. The cats have previously visited Denmark - in Cirkus Benneweis in 2009 and 2013 - but the act has developed and is perhaps the circus world's very best house cat act. Photo: Rud Kofoed / Ajour Press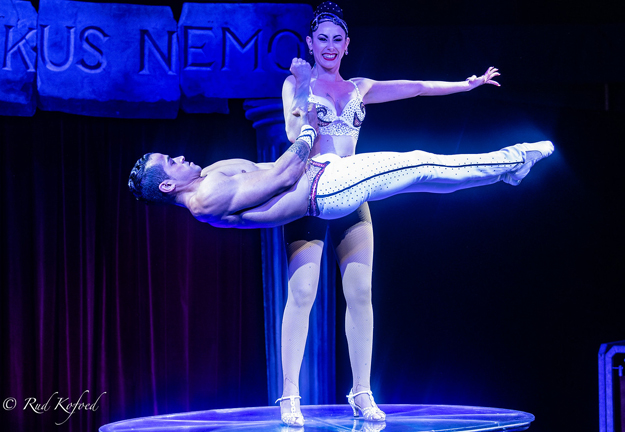 DUO SOLYS is the most beautiful example that body and love can go up in a higher artistic whole. During a trip to New Caledonia, Cuban Hector Yzquierdo, in the midst of his complicated handstand act, caught eye contact with a beautiful girl from the audience. He was struggling to concentrate, but managed to complete his act. When he looked after the girl she was gone - until he left the place. She waited at the exit. Shortly after Tatiana left her family and her office job and became a world-renowned circus artist. Today, the couple is married and internationally known for winning one award after another. Easy to understand. The act is an acrobatic enjoyment. They were also at Nemo in 2016. But the act has since then became even better. Photo: Rud Kofoed / Ajour Press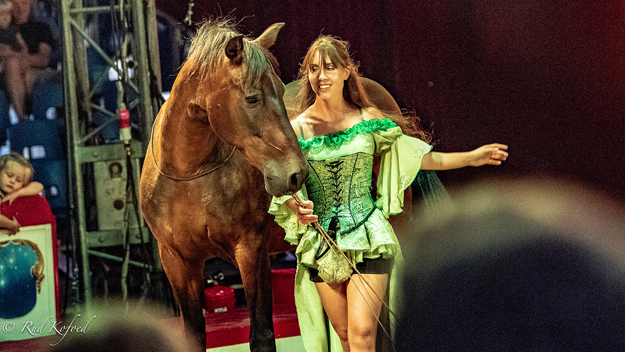 CHARMAINE BERDINO is the daughter of Suzanne Berdino and thus Benny Berdino's granddaughter. Like most circus children, she has had an all-round training in many disciplines. Like her mother, Suzanne, she has especially thrown her love on horses. She has been able present her acts in Circusland in Slagelse and, for that matter, at the Orion Theatre in Stockholm, but it is in the Arena's ring she belongs! It's breathtaking when she enters the ring in with her 'naked' wild horse and 'talks' to it. It's poetry, both humble and beautiful. Photo: Rud Kofoed / Ajour Press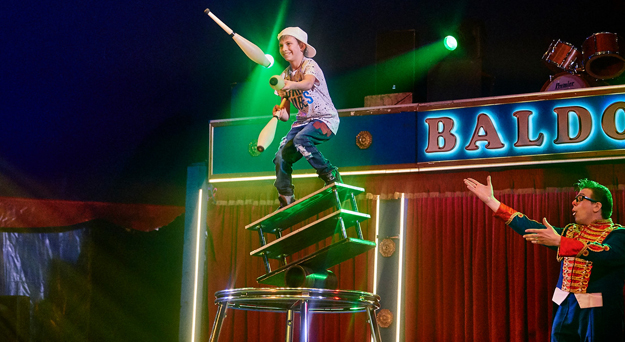 KAREL 'KAYA' JANACEK is the 8th generation of a well-known Czech artist family. He is only 11 years old, but presents an impressive rola bola act where he hugs with his father Eddie Janecek about who is the best. Last year he was part of in Baldoni's children's performances as well as in their tour of the Faroe Islands and their Christmas circus. This year he shows the youth's charm his act in Circus Baldonis 'general' performance and is clearly among the favorites of the audience. Photo: Rud Kofoed / Ajour Press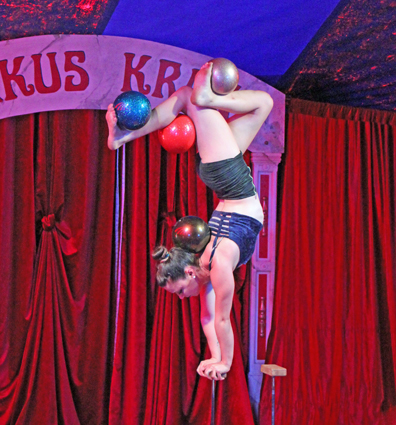 SOFIA SPERATTI from Argentina is a rising star which you can get crazy with. Her ball-handstand with four 'footballs' is absolutely superb. Her bodily ball treatment hits an originality, that's probably will qualify her for a lot of international circus prizes. She also presents an excellent hula hoop number. Photo: Ole Simonsen.

August 5 2018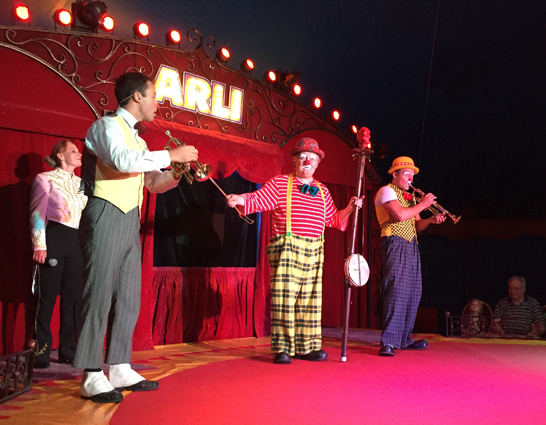 At the season premiere, Circus Arlis clowns Martino & Co. consisted of Martin and Alexander Arli as augustes assisted by Francesco Fratellini as a ghost until he eventually played the trumpet together with Martin and Alexander. During the season there has been a small change. Now it's Alexander and Francesco, who is augustes, and Martin who is a ghost. In the final, Martin has a dingdong instead of a trumpet.

2 August 2018 updated 17 August 2018
Accident in Circus Arena. Wednesday 1 August at 17 Circus Arena had a performance in Hornbæk. During the performance, a female acrobat, Tetiana, fall three meters down at the end of a number in vertical rope.
The policeman on duty Henrik Alstrup from North Zealand Police said they were notified of the accident at 17.25.
"The accident happens at the end of her number," he said. Here, a wire should stop her fall approximately three meters over the ring, but it broke and she fell three meters down.
The woman was in a helicopter taken Rigshospital's trauma center.
"She was all the time conscious and able to talk to people," Henrik Alstrup said.
After the accident, the circus continued the performance.
The unlucky is a member of the Ukrainian Bingo Theater Troupe.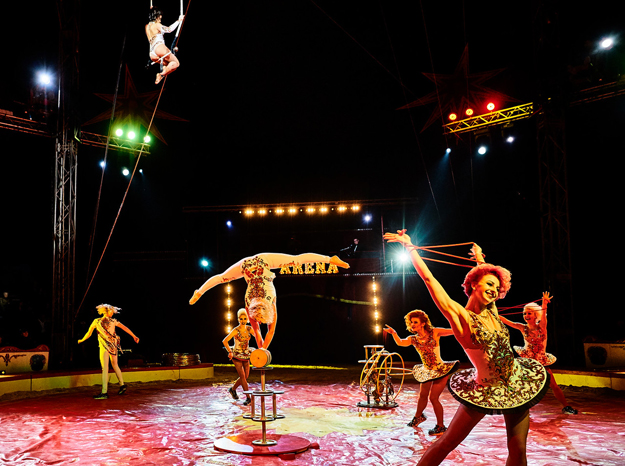 The versatile Ukrainian Bingo Theater Troupe master a wide range of artist disciplines, including aerial acts. It was during an aerial act in vertical rope the accident happened. The photo above of the troupe is from the premiere in Copenhagen at this year's Arena performance. Photo: Rud Kofoed / Ajour Press
TV 2 Lorry was shortly after the accident in contact with Cirkus Arena's tour manager, Klaus Jochumsen.
"It was shocking both for us and for the public who watched it," he says.
He tells that there were two female doctors present among the audience. They quickly recovered the woman until the doctor's ambulance arrived.
He states that the woman who is in the 20's comes from a Ukrainian artist group called the Bingo Theater. Klaus Jochumsen describes the group as being "top professionals" and tells that they have their own equipment and own props with them.
- They are legally self-employed and self-insured. Such is the case in the circus world, he says, adding that there is no insurance company that wants to insure circus artist such as trapeze artists.
On August 2, Klaus Jochumsen informed me that Tetiana from the Bingo Theater was in an ongoing operation as she unfortunately had a break on the neck vertebrae. Subsequently, she has to go with a stiff collar for 12 weeks and then in rehabilitation so she will not work anymore this season. On 17 August Klaus told me that Tetiana still are at the hospital, but probably can leave it in a week or so.
In a facebook message dated 17th of August from the clown David Larible he starts a collection in favor of Tetiana, which he calls by her nickname Tanya. Circus Arena welcomes the initiative, but states that Larible's information stating that Tetiana has broken almost all the bones in her cervical spine and got a shattered left pelvis isn't true. According to the orthopedic surgeons at Rigshospitalet, she has "just" broken 3 of the 7 neck fractures. But such damages are of cause serious enough. If you are on Facebook you can see the David Larible's message here.

2 August 2018
Circus Big Anniversary. Circus owner Benjamin Breith writes:
On August 1, 1998 Denmark got a brand new circus - and a small one of the kind; Benjamin's Interactive Gambling Show! Over time, the name changed to B.I.G., then Mr. Big and finally Cirkus Big. 20 years have passed and Circus Big can now boast to be Denmark's most exclusive circus!
Of course, the anniversary must be celebrated with a huge celebration of a birthday party, and where could it be more obvious to hold the party than the city where it all started? [In Faaborg]
Experience a magnificent gala show where you'll be able to experience funny clowns, nerve-racking sword swallowing, award-winning magic, and acrobatics without safety net, world-class gymnastics and amazing live music. An experience one will soon forget! Cirkus Big always has 100% laughter guarantee.
Ordinary, the performance in Circus Big is done by two or three performers.
The tent that Cirkus Big uses for their Funen and Jutland summer tour seats 149 persons.
Lise Kokholm saw the anniversary performance and writes (my translation):
On August 1st, I was lucky enough to see Benjamin's 20th anniversary performance in Faaborg in a crowded tent. A very funny evening where nobody got the money back - Benjamin has a 100% laughter warranty!
The tent got the best possible lot in Faaborg - but it was very well deserved as Benjamin is born in this beautiful harbor town at the southern part of Funen. We experienced everything from magic, song, acrobatics, sword swallowing, diablo, hats-juggling, balloons, clowns - all you could wish for.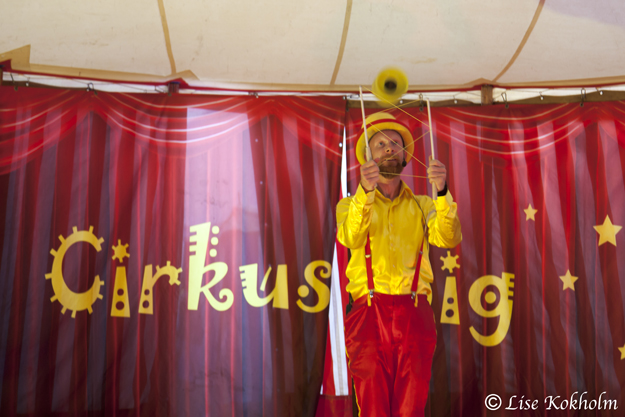 Benjamin "Mr. Big" Breith in the ring in his tiny circus. Photo: Lise Kokholm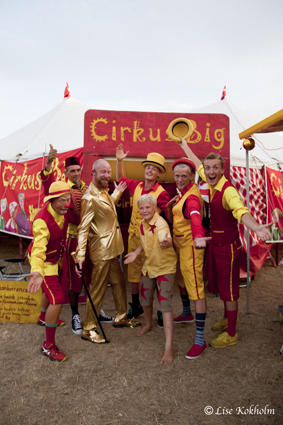 The team from the anniversary show. Photo: Lise Kokholm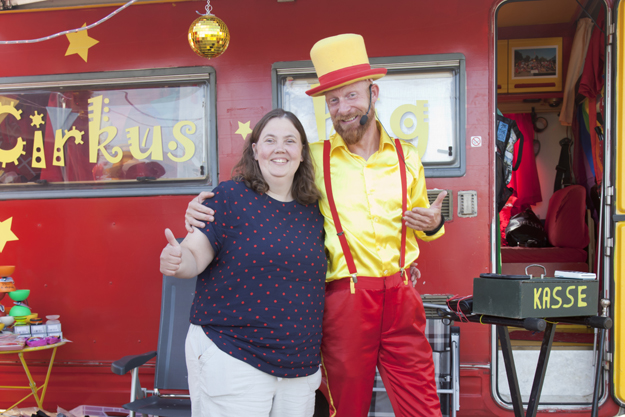 Lise Kokholm is a fan of clowns and of Circus Big. Here she is seen together with Mr. Big.

27 July 2018
Circus Flik-Flak in Odense. Odense Children's and Youth Circus Flik-Flak which is one of Denmark's very best, writes (my translation):
As it has been a tradition in Odense children and youngsters welcome to a circus performance for the whole family in Circus Flik-Flak in week 31.
The program is composed of our many young artists and offers an exciting show where inspiration is taken from the circus world.
Here you will meet an artist troupe consisting of 230 children and youngsters in good form, presenting all sorts of artistry, subtle and funny clowns, dizzying aerial acrobats, spectacular challenge of the law of gravity and illusion you can hardly understand.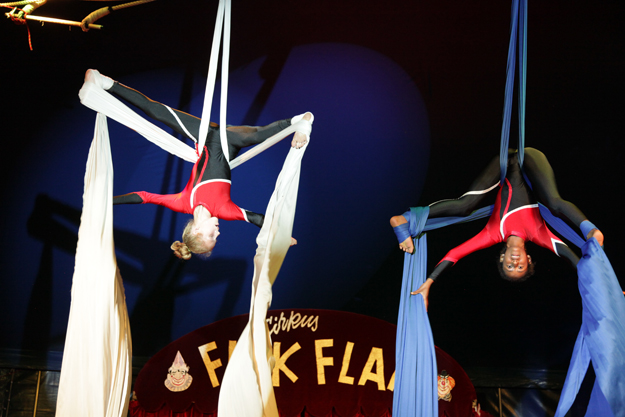 In Circus Flik-Flak you can give yourself and your family, a child or a boy- or girlfriend a vitamin injection of joy, happiness and good mood!
The circus tent is just the perfect setting for a great experience for the whole family.
It is with great pleasure that Cirkus Flik-Flak this year again will present a unique performance.
"Ladies and gentlemen! Circus Flik-Flak now has the pleasure to welcome you to this year's circus show for children of all ages."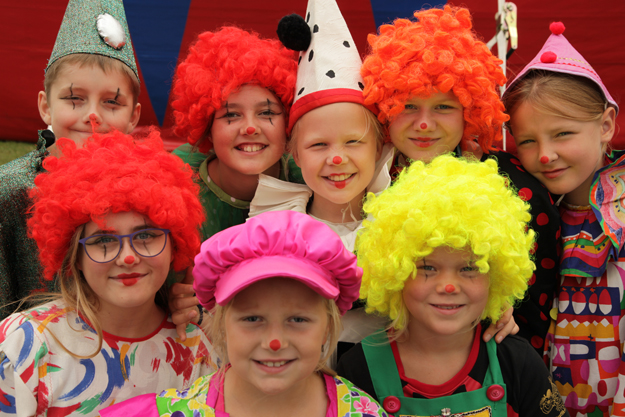 The tent is put up at Herluf Trolles Vej 138, 5220 Odense, for the following performances:
Friday 3 of August at 13:30
Saturday 4 August at 13 and 15.30
Sunday 5 August at 13 and 15.30

27 July 2018
Circuses in Scania. If you visit Copenhagen and want to see Swedish circus performances there are good opportunities in the first half of August.
Scania, also known as Skåne is the southernmost province of Sweden. Scania's largest city is Malmö, which is also the third largest in Sweden, as well as the fifth largest in Scandinavia. There is a bridge/tunnel from Copenhagen to Malmö.
Sweden's largest circus, Circus Brazil Jack, returns to Scania from 6th to 12th of August. 10 and 11 August they have performances in the Malmö Suburb Limhamn.
They had premiere in Malmo in March and have since then traveled all over Sweden with this year's performance. Among the artists, they themselves emphasize the clown Emiliano, the diabolo juggler Pierre Marchand and the human cannonball Jody Bellucci. They have chosen not to have animals in the performance this year. Click here for link to tour list with possibility of ticket ordering.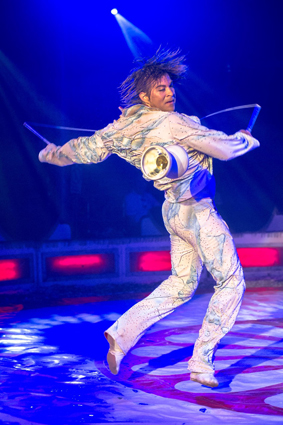 The amazing diabolo juggler Pierre Marchand is among the performers in Circus Brazil Jack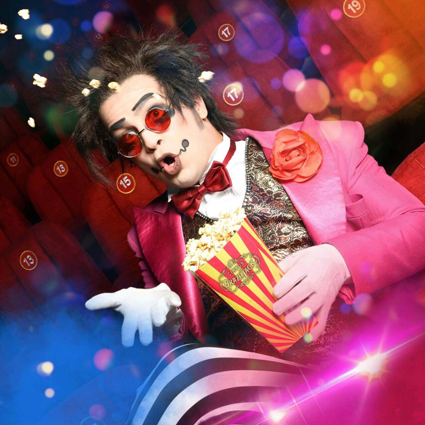 Brazil Jack's clown for the season is named Emiliano. He is from Argentina. It is his first season in a European circus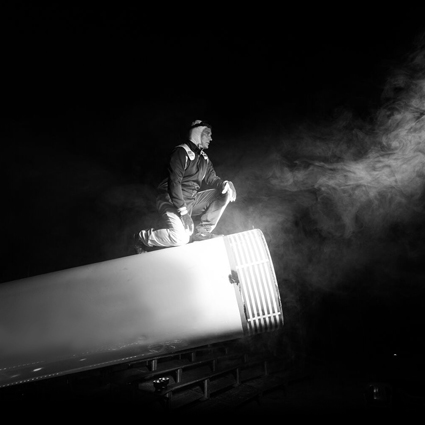 Trolle Rhodin found the human cannonball Jody Bellucci in a small Italian family circus
Sweden's second largest circus, Cirkus Olympia, visits from 4 to 10 August a number of cities that are easy to reach from Denmark. For example, they are in Helsingborg on August 10th. 20 minutes with ferryboat from the Danish city Elsinore. They have lots of animals: horses, camels, alpacas and dogs. Artistically speaking, the top act is Duo Stauberti, who received a silver clown in Monte Carlo in January for their impressive perch act. In addition, they offer on classical musical clowns. Click here for link to tour list with possibility of ticket ordering.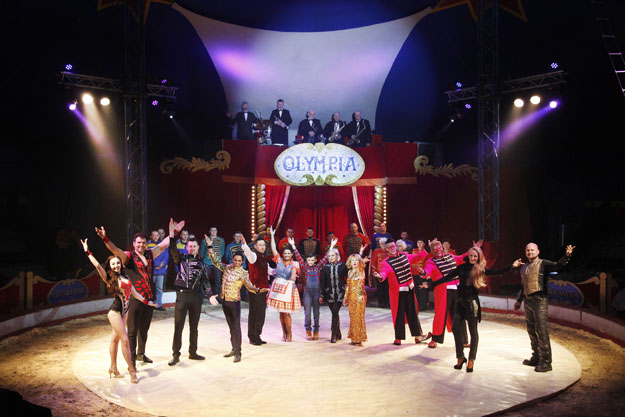 All the artist in this year's Olympia performance. Press photo from Circus Olympia, photographer Linda Himsel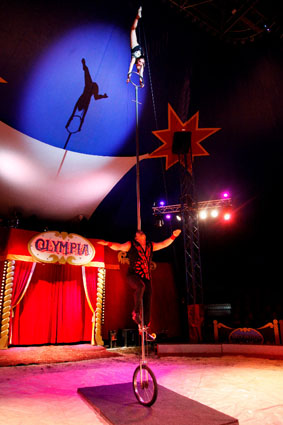 A world class act in Circus Olympia: the silver clown winners Duo Stauberti. Press photo from Circus Olympia, photographer Linda Himsel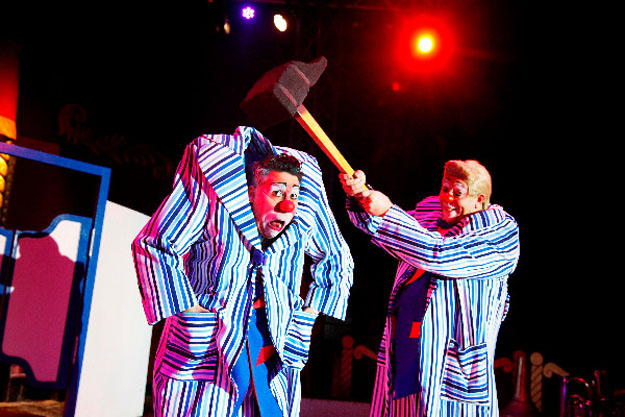 Clowns with red noses - Cito and Danny Rivelino. Press photo from Circus Olympia, photographer Linda Himsel
Both circuses have live music: a 6 pieces band.

26 July 2018
Contemporary circus and street theater in Denmark. In the coming month, you can several places in Denmark see contemporary circus and street theater performances. Most places with free admission as the performances are funded by the Ministry of Culture, the Danish National Council of Art and a number of municipalities or foundations. Denmark's 8 circuses, which do not receive any such support, hardly find the competition from the contemporary and street performances quite fair!
There are no less than 6 street theater festivals which also feature contemporary circus performances or performances with artists:
Bornholm's International Street Theatre Festival, held from 26th to 29th of July on Bornholm. Bornholm is a Danish island in the Baltic Sea, to the east of the rest of Denmark, south of Sweden, northeast of Germany and north of the westernmost part of Poland.
Passage International Street Theatre Festival, which takes place from 31 July to 5 August in Elsinore, Denmark, and Helsingborg, Sweden and in the neighbor areas.
Fanoe Street Theatre Festival Gadeteaterfestival 2018, held 9th to 11th August. Fanoe is the northernmost island in the Wadden Sea.
STREET CUT - Næstved's international street theater festival, which takes place on 10 and 11 August in Næstved. Næstved is a town in the municipality of the same name, located on the island of Zealand in Denmark.
Denmark's International Street Theatre Festival, which from 12 to 26 August has over 100 performances in Esbjerg, Frederiksberg, Gentofte, Guldborgsund, Ikast-Brande, Copenhagen, Køge and Silkeborg.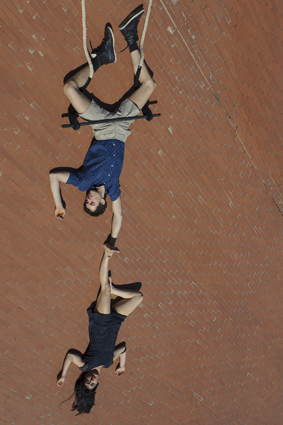 Among the many theater performances is La Fem Fatal with the Spanish artists Anton and Polina. Press photo from the Danish International Street Theatre Festival.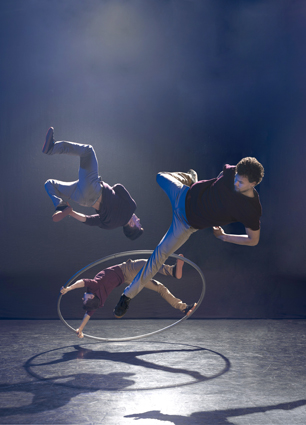 The show Bromance with the English Barely Methodical Troupe features new circus, parkour and wild stunts! Press photo from the Danish International Street Theatre Festival.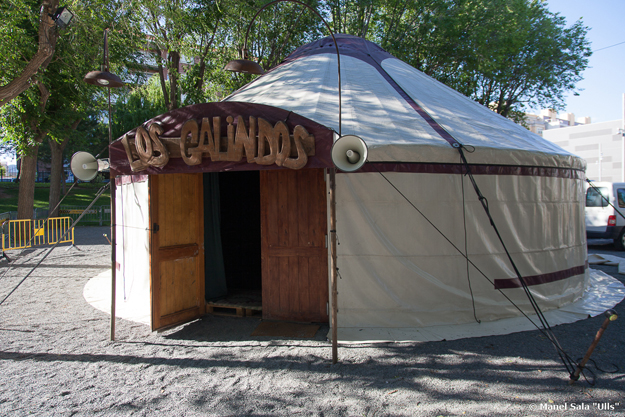 About the performance Udul the Street festival writes: A mysterious tent stands upright. It does not look like a typical circus tent. And inside, you will not find normal circus artists. Los Galindos is a handsome family with father, mother, son and daughter-in-law. UDUL could be seen in Elsinore in 2017 and can now be seen in Randers, Silkeborg and Gentofte, with room for 90 people per performance. Press photo from the Danish International Gadeteater Festival.
Street International Street Theater takes place from 23rd to 26th of August in connection with Triangle Region Festival 2018 with performances in Fredericia, Give, Haderslev, Jelling, Kolding and Vejle. The Danish Triangle Region is a cooperation consisting of seven Danish municipalities on the Danish peninsula of Jutland and the island of Funen.
In addition, August offers two contemporary circus festivals:
Dynamo Circus Festival, which takes place in Odense on 10 and 11 August 2018 at Finlandkaj 6, Odense C.
The Heaven and Harbor Festival which is called Taarnby's own festival with modern circus, acrobatics, clown and live music for the whole family. It will take place 11-12 August at Kastrup Marina, close to the Copenhagen Airport. Taarnby is a Copenhagen suburb on the Isle of Amager.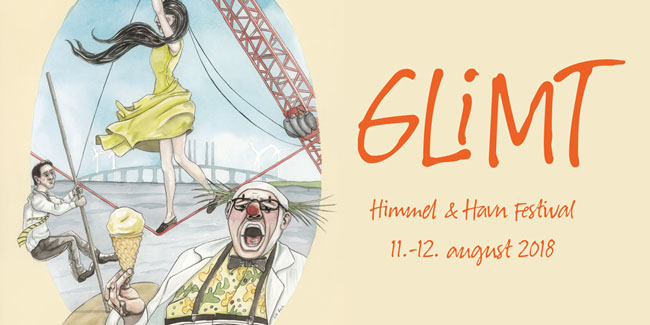 In addition, as mentioned on this page on 20 July Aquanaut with the performance The Golden Fleece can from 31 July to 4 August be seen in a number of ports in the southern part of Jutland, on Funen and at Ærø. Also in August, GLiMT present the performance opHAV in the ports of Kastrup, Hvide Sande, Ringkøbing and Esbjerg.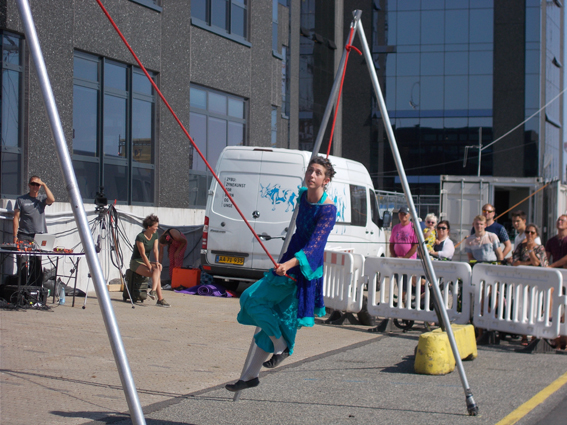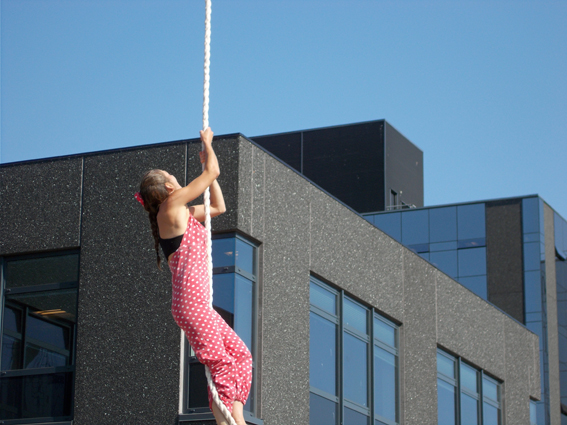 Finn Stendevad took these photos when opHAV on July 19 could be seen in Esbjerg. Finn writes (my translation): They presented just 3 acts from the full performance. The first act was a nice slack wire act. 2nd act was a water splash act where a female clown demonstrated how she meant they were doing the personal wash on the large sailboats. The third was a brilliant vertical rope act in a rope that hung down from a tall crane. The performance ran for 20 minutes. My only complaint is that the water clown spoke English although the act was for children. You should have let the young guy, who was a sort of ringmaster, say what should be said in this act so also children you could have understood what it was all about.

24 July 2018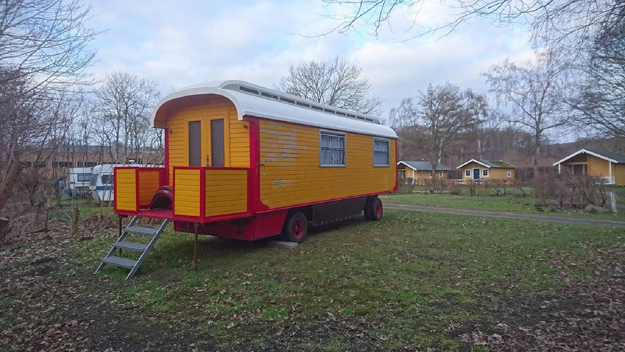 Campsite with circus wagon. Frederiksværk City Camping has both a campsite and a hostel. Connected to the campsite there are 5 cabins and as something new a real circus wagon from Cirkus Maximum in Sweden. Here you can stay 2 adults and 2 children, there is a small tea-kitchen, but to get to the toilet you need to walk 50 meters. The circus car is isolated and can be used all year long. It cost 800 DKK to rent the circus car for a night. Photo: Frederiksværk City Camping. Further information at www.fredfyldt.dk

20 July 2018
Maritime contemporary circus performances in the summer months
The Danish contemporary circus company GLiMT's harbourfront performance called "opHAV", which they are co-producing with Teatret OM, could be seen in the harbor in Esbjerg on Friday 20 July. The performance will be repeated Tuesday 24 July at 18.30 at Assens Harbor. In Esbjerg, the performance was part of the Tall Ship Races. In Assens it is the part of the Assens for Full Sail event, arranged by the municipality of Assens.
11 and 12 August the performance can be seen at Kastrup Marina in Copenhagen during the Heaven and Harbor Festival. A festival with modern circus, acrobatics, clown and live music.
17th of august at 15 the performance can be seen at Hvide Sande Habor. 18 August at 13.00 in Ringkøbing Harbor and 26 August at 14.00 in Fredericia Harbor.
Free admission to all performances.
Press photo from GLiMT. Photographer: Søren Meisner
GLimT writes:
opHAV is a site-specific performance with acrobatics, physical theatre and live music about our relationship to the sea.
The crane stands on the quayside, solidly planted – the link between land and sea.
In the company of the crane and its operator we're allowed to dream about distant horizons and new adventures. And we experience how we receive new opportunities and new people, who come from elsewhere, with curiosity, joy and distrust.
From the harbor, travelers embark into the world. And here we welcome new people and wares coming from foreign regions. The crane leads us up into the heights and all the way down to touch the water, and through aerial acrobatics in rope, slackline dancing, live music and much more, the 4 performers give soul and energy to this story about our eternal yearning for new horizons.
Compagnie Aquanaut presents its newest show: The Golden Fleece, a contemporary circus performance happening on a sailing ship in the harbor. Stunning aerial artistics, acrobatics, juggling, dance, theater and live-music. It is a German contemporary circus company which using their ship "Lovis" as a sailing stage for more than 10 years every summer has visited some Danish harbors.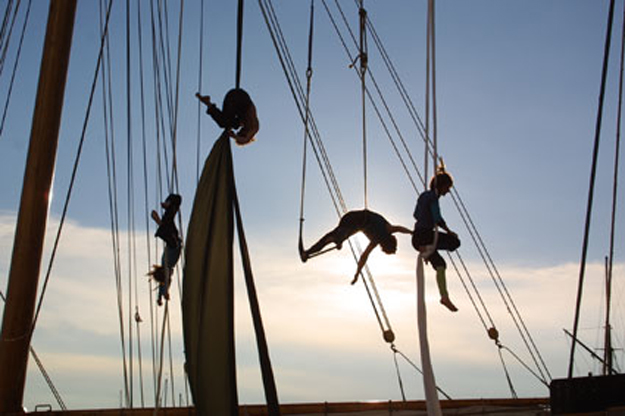 From a previous performance with Aquanaut. Photo: Lise Kokholm
Lovis and its crew have the following performances in Denmark:
31 July at 19: Graasten harbor
1 August at 19.00: Sønderborg harbor
2 August at 19: Faaborg Harbor
3 August at 19: Ærøskøbing harbor
4 August at 19: Marstal harbor
Everywhere there are free admission thanks to financial support from Flensburg City, Sønderborg Municipality and Faaborg-Midtfyn Municipality.
Both GLimT's performances and Compagnie Aquanaut performances can only be presented thanks to money from local municipalities. Thus, they are a taxpayer-funded competition to the Danish circuses which not receive any form for economical support.

19 July 2018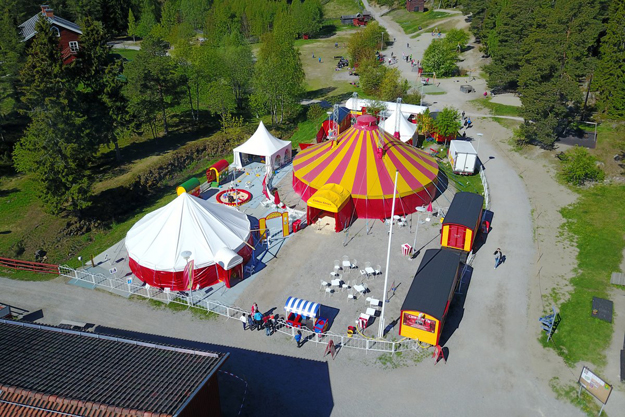 Circus Elvira. For the 10th consecutive year, Swedish Circus Elvira has performances at Norra Berget in Sundsvall City Park in Sundsvall. From the 2nd to the 28th of July, the show is called Sommarskoj (Summer Fun), and the performers are the clown Daff-Daff and artists from Sweden, Finland and Norway. The performance run for approximately 45 minutes and can be seen daily at 12 and 14. 29th and 30th of July at 19 Circus Elvira presents the contemporary circus performance Revolt. Further information at www.sommarskoj.nu

17 July 2018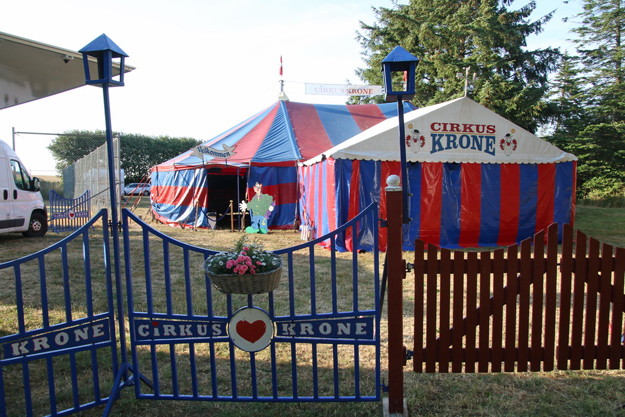 Small Danish Circus Krone has had a couple of performances at the Danish Long Island 'Langeland'. Of cause the photographer Per "Mr. Sputnik "Krogh Petersen who has his home at Langeland visited the circus. "Circus Krone does not just make circus with the heart, but also for the heart," he writes. Click here to see Per's photos and video clips from Circus Krone's visit to Langeland.

13 July 2018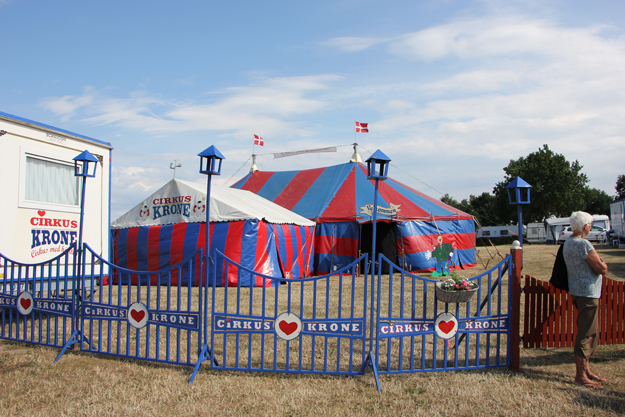 Circus Krone, Denmark's smallest touring circus is currently on Funen. Here their small tent is photographed at Camp Hverringe north of Kerteminde.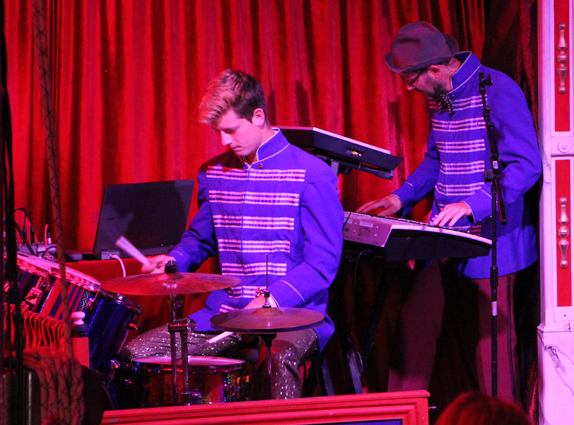 Just like Circus Arena and Circus Trapez, Circus Krone has live music, but only to part of the performance. The juggler Kasper takes care of the drums and circus owner Frank Thierry plays the keyboard.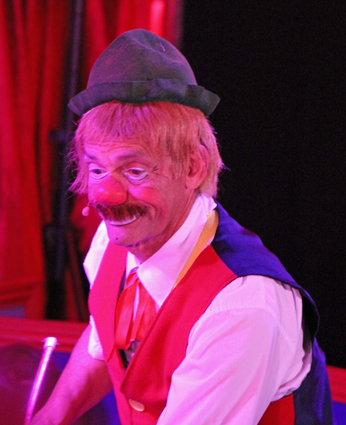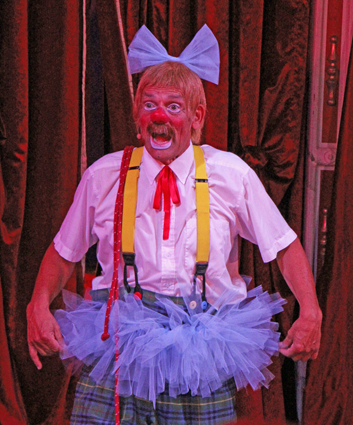 Circus Krone's usual clown Allando has chosen not to be part of the performance this year. Instead, the clown for part of the season is Tonny Trifolikum and for another part of the season Don Carlos. Both of them Danes. At Camp Hverringe, it was Don Carlos who had the task. It is the first time since 2002 Don Carlos is on tour with a Danish circus.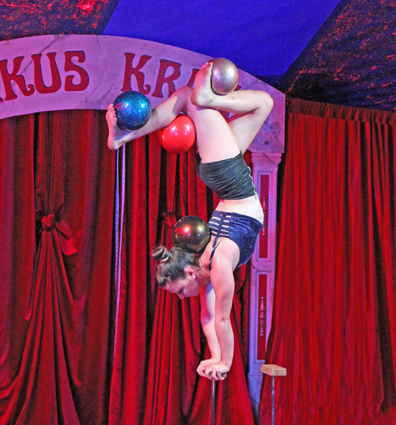 Among the artists, the young Sofia Speratti from Argentina impressed me. She present handstand with the use of balls (see photo). Elegant and something I have never seen before. In addition, she has a very good hula hoop entrée.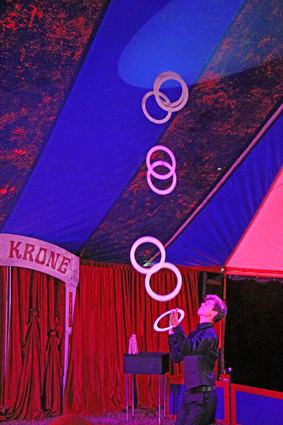 The juggler Kasper Bujanauskas is also in a special class. Last year he won the Lithuanian version of "Got talent". At Krone he shows his winning act where many different juggling disciplines with talent are presented in a very short time. - The performance in Circus Krone 2018 was reviewed on this page on 24 May.

12 July 2018
Pirates in Circusland. "The pirates are coming," Circusland in Circus Arenas winter quarter at Aarslev, Slagelse, write about the summer season, which lasts until August 12th.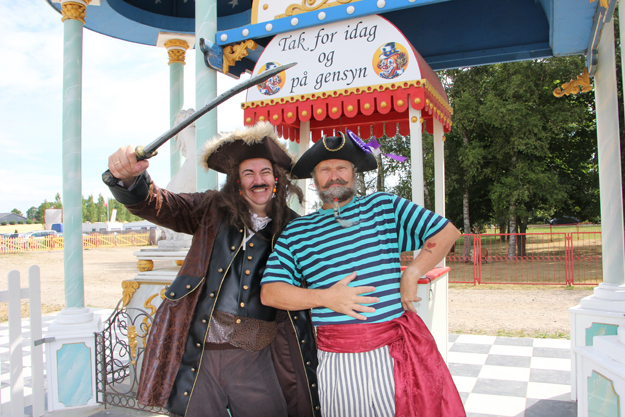 Two of the pirates: Kalle Cannonball and Pirate Foam Beard
Where other Danish amusement parks like Tivoli, Bakken, Legoland, Bonbonland and the many summer lands mainly offer a lot of rides main emphasis in Circusland is on a number of entertaining shows: pirate shows, Circus Landino and sea lion show. In addition, there are a number of amusements, mainly for the smaller children, such as moon bounces swings boats, a merry-go-round, a small train, fun balls and a (mechanical) rodeo bull. There is also a circus school where visitors with the help of artists can try their skills. The entrance is reasonable: 119 DKK (16 Euro) and free parking. Thus Circusland is an excellent destination for parents and grandparents with children up to 10-12 years old. The visit does not have to cost a fortune, since you can bring your own food. However, food can also be bought at the bistro.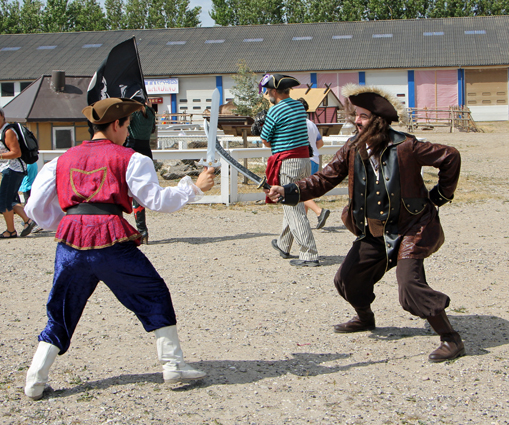 The Pirate Show which takes place in the sea lion hall begins with a small parade, where the pirates of course fight another. With Suzanne Berdino as a narrator there is a story: the evil witch, played by Sylvana Biasini, has bewitched the beautiful princess (one of the Wolff family's female members), so she has become a mermaid.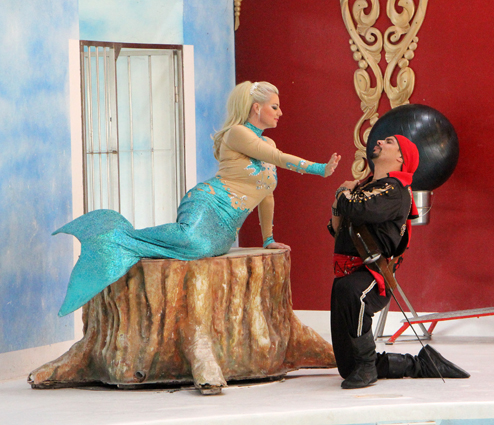 The elixir, which can heal her, hangs in a chest high up under the ceiling. The pirates - the two male members of the Wolff family - try to reach the chest with the aid of Claude Biasini. Of course, by means of ladder balancing which is one of the Wolff family's specialties.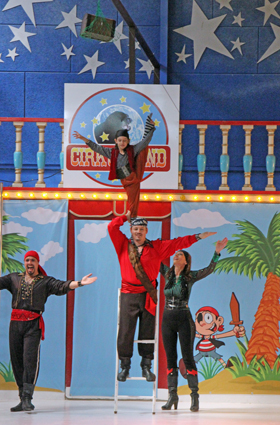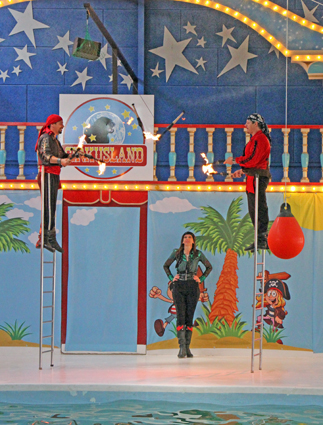 They do not succeed at first. The mermaid is even spelled to a sea lion after the pirates have tried to spear the witch in a basket.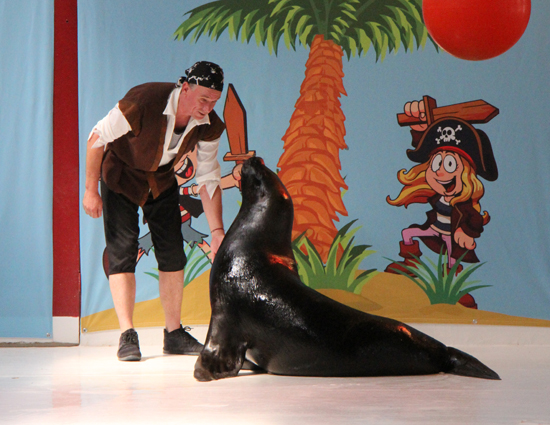 But of course there is happy ending: the brave pirates reach the chest and the princess becomes a princess again.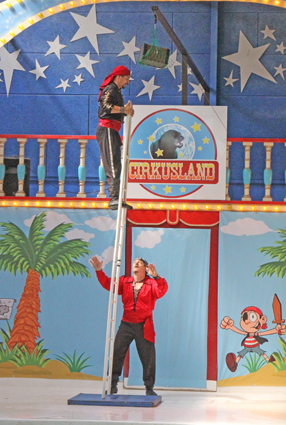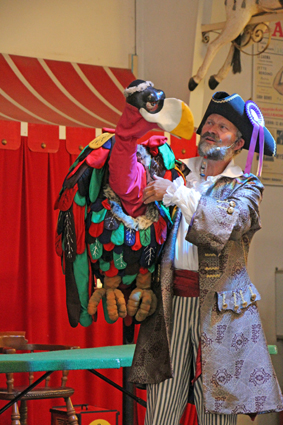 Pirate Foam Beard's show first presents a ventriloquist act with Pirate Foam Beard aka Preben Palsgaard. Denmark's best ventriloquist!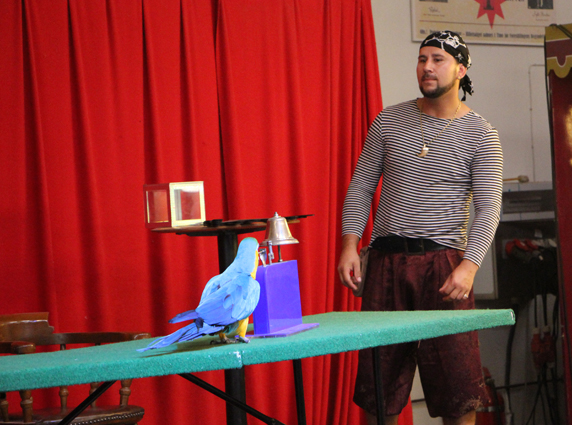 Sorcerer Black Beard (Daniel Koscik) then has a short entrée with his parrot.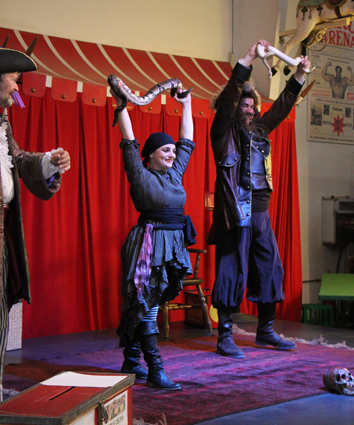 Kalle Cannonball (Brian Behrendt) and Codfish Marie (Sylvana Biasini) present python snakes which however are not as large as those your years ago could meet in circuses and at fairs. Kalle Cannonball and Pirate Foam Beard then has an entrée with comic magic before the show ends with an act with of one of the small girls from the Wolff family.
The performance in Circus Landino is presented as Circus as in the good old days by Professor Briano and Preben Palsgaard. The first act is tight wire performed by one of the female members of the Wolff Family while the wire is held by Daniel Koscik (see photo). How I do not want to disclose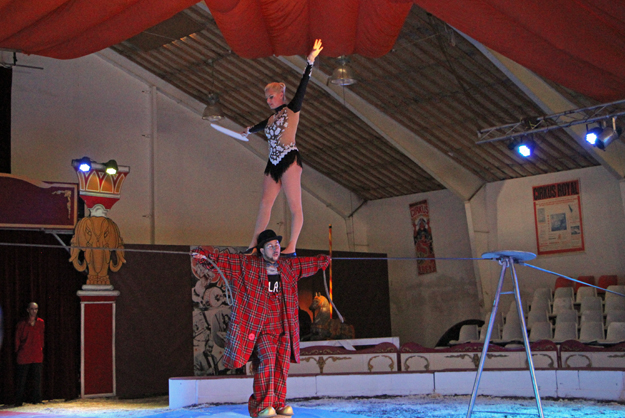 Next Sylvana Biasini presents her foot juggling act.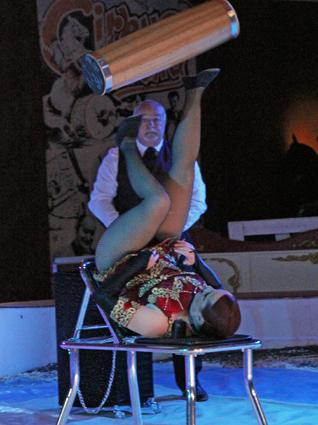 The comes Tim Delbosq with 6 beautiful Frisian horses.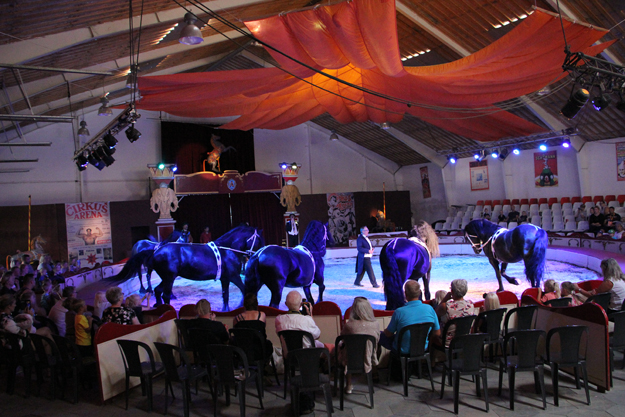 After a short magic run in with Suzanne, Briano and Preben Palsgaad the Wolff family present their excellent juggling entrée.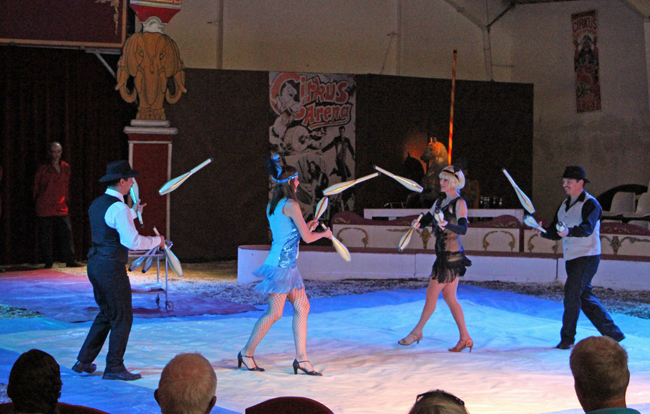 The are followed by Claude and Sylvana Biasini with an illusionist act which also includes a short quick-change. Last act in the performance is Tim Delbosq with dromedaries and llamas.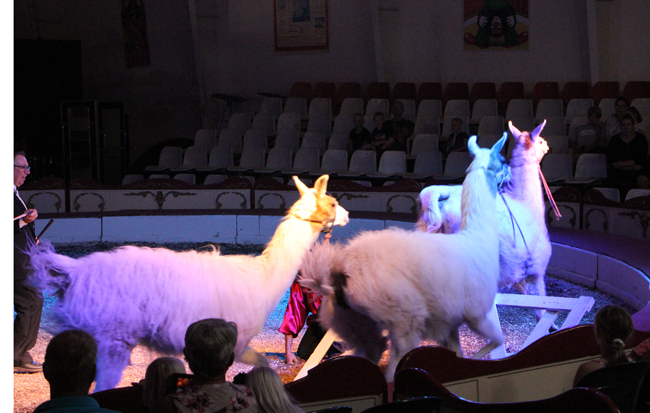 The last show of the day is a short sea lion show with with a pirate theme and both of Circusland's sea lions.

11 July 2018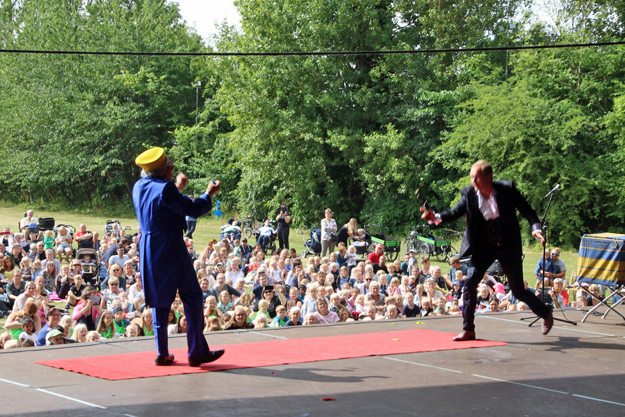 On Tuesday, July 10th, Benny Schumann appeared with Max Carling at the 'GREEN* in Nyborg as part of Nyborg's summer entertainment. Benny's good friend Per "Mr. Sputnik" Krogh Petersen was on the spot and took the photos shown above and below. Click here to see more of Per's photos.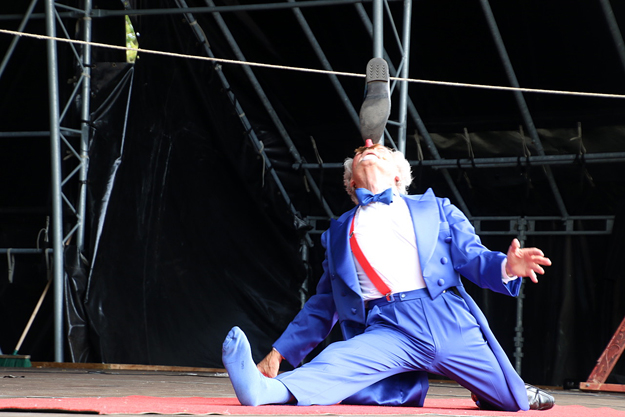 4 July 2018
Circus Trapez' truck with tent stolen. The night between 2 and 3 July, Cirkus Trapez' truck with big top, foyer tent and poles etc. was stolen from the lot in Fjerritslev, where they had a performance on July 2nd. It was ready to be driven to Saltum, where Circus Trapez should have a performance on July 3rd.
Fortunately, the truck was found later in the day. However, not in time to put up the tent for the show at 19:00 in Saltum. Circus Trapez therefore chose to have an Open Air performance. The show must go on! On Facebook a visitor wrote (my translation): "A quite unique experience; to see this year's performance in the evening sun in Saltum, without a tent, without trapeze and aerial acrobatics, but with lots of humor and commitment"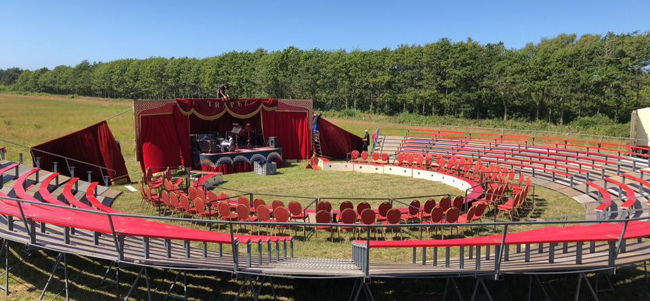 From the circus lot in Saltum. Photo: Circus Trapez

3 July 2018
Zirkus Barnly 2018. Sunday 1 July at 15 there were gala premiere in Søren Østergaard's new zircus for children: Zirkus Barnly. Zirkus Barnly offered 45 minutes of good and child-friendly entertainment.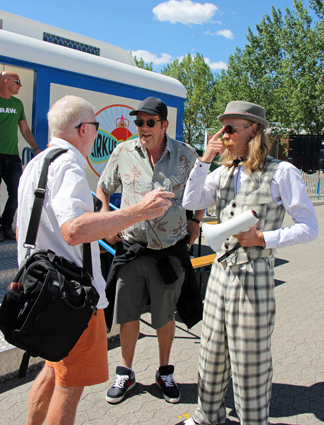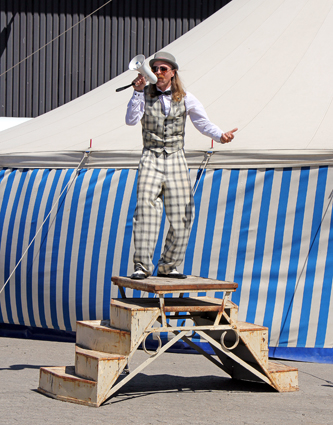 To the left: a summer-dressed circus owner Søren Østergaard welcomed the audience when they arrived at the lot. Here he is seen in conversation with the "old" theater reviewer Rud Kofoed and Søren's main star in Barnly: Captain Frodo. Apart from Zircus Barnly Søren Østergaard owns the very successful Zirkus Nemo, which he calls zirkus for adults. To the right: Before the performance, Captain Frodo acted as barker, just at the older generation remembers it from old days at fairs. Photos: Ole Simonsen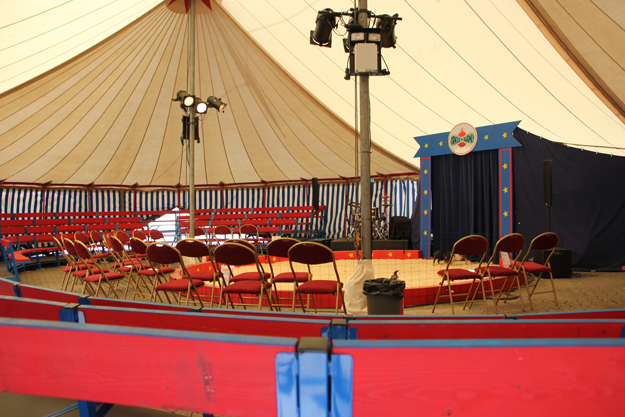 A look into the tent, where there are some ring side chairs and 4 rows of benches around the little sawdust filled ring. The tent has previously belonged to the Danish clown and entertainer Tonny Trifolikom. Photo: Ole Simonsen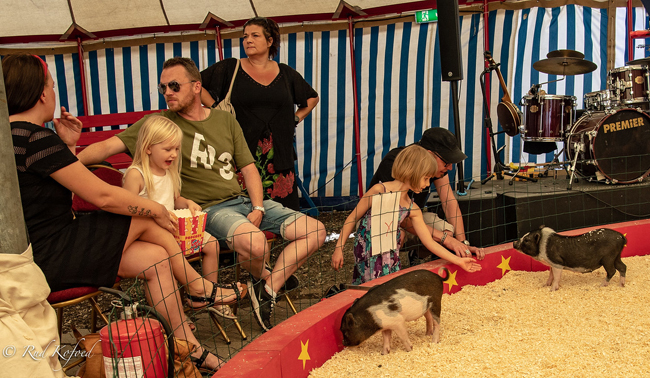 The small curious Canadian mini pigs are the first to welcome the audience around the ring, However, they are not included in the performance. Photo: Rud Kofoed / Ajour Press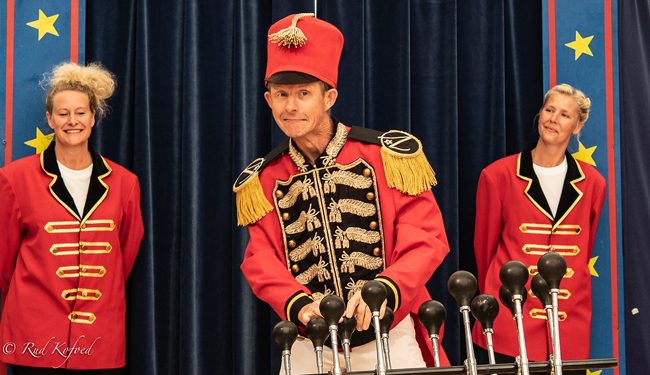 The first act in the performance is a honk horn concert with the one-man orchestra Henning Amstrup. The two ring girls are to the left Line Vittrup and to the right Jennie Mikaelsson. Photo: Rud Kofoed / Ajour Press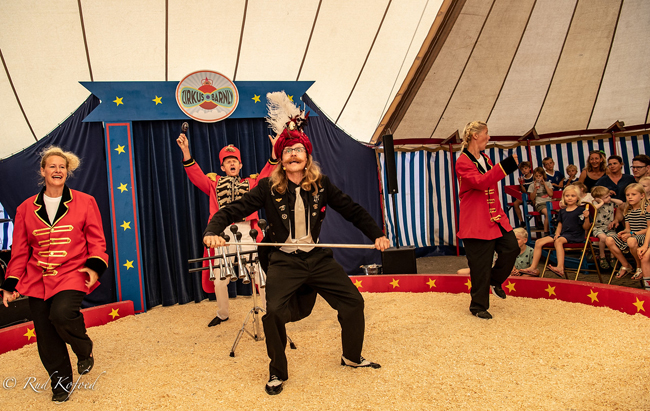 Captain Frodo welcomes and shows a completely different part of himself than the one known from La Clique, La Soirée and Zirkus Nemo. In Zirkus Barnly he is a very entertaining and talking as a waterfall. Photo: Rud Kofoed / Ajour Press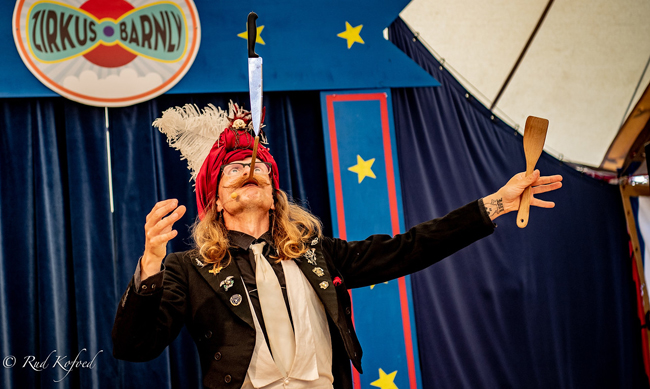 Frodo juggles and balances with household tools. Photo: Rud Kofoed / Ajour Press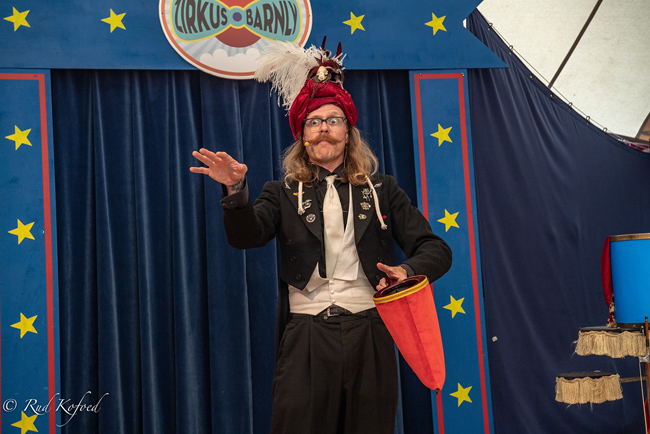 A large part of the performance consists of Frodo's cozy magic for children with the use of among other things a magic change bag and the trick with the rope, cut into 3 pieces. He also gets a lot of fun from the invisible egg and the lost shoe. He is not a stranger of magic: he is the son of the Norwegian magician The Great Santini. The artist's name has his father probably borrowed from an American novel, also filmed. The novel/film is however not about a magician. Photo: Rud Kofoed / Ajour Press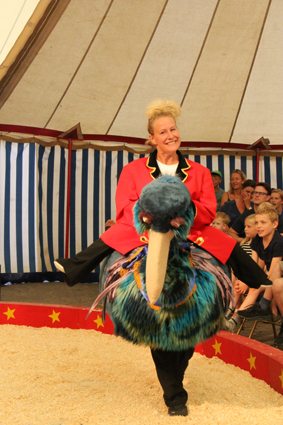 There are animals in the show! Here you can see Line Vittrup riding a bird. Line and Jennie also have a few other short run in's in the performance, including a knockabout entrée. Line was for many years partner in Steckel's well-known knockabout table act. Photo: Ole Simonsen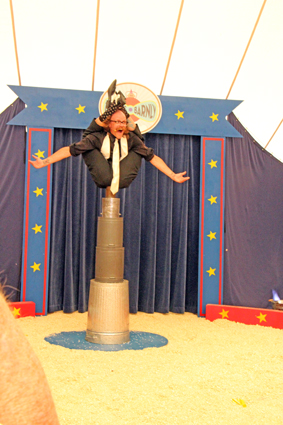 The last act of the show is Frodo's famous act with buckets. Photo: Ole Simonsen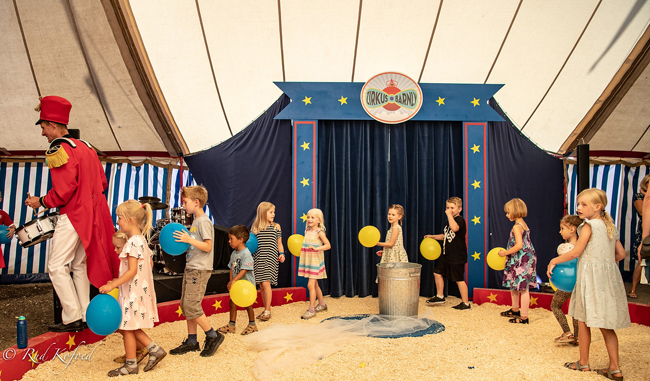 The show ends with Frodo and the 3 others in parade leading the children to circus fun in front of the tent. Photo: Rud Kofoed / Ajour Press. Click here to see more of Rud Kofoed's photos from the show.

3 July 2018
Last show in Wallmans 2017/18 performance ENTOURAGE in the Copenhagen Circus building was Saturday 23rd June. Benny Schumann who was among the performer writes (my translation)
After the last show we were all gathered up in the stables where show producer Johan Espeland gave each of us a gift and nice words. Latter, I also received the honor that CEO Dorthe Ekelin appointed me as a guest of honor at the Circus Building.
It has been an unforgettable season. Not just to be back the Circus building (the Schumann family run the building until 1969), but also to see how fine all the staff is doing and to meet a unique audience at every show.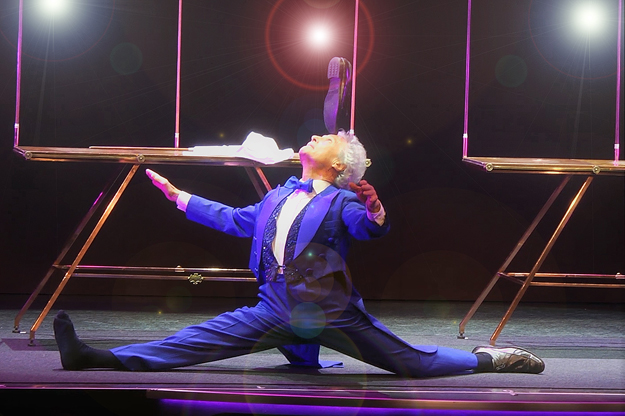 Photos by Schumann
Wallman's new show URBAN NIGHTS has gala premier on Wednesday, September 19, 2018, where the press, VIPs and friends of the house are invited up to the red carpet. There are dress rehearsals from August 24th. The circus artists in the upcoming show are the juggler Grygoriy Lovygin, who can keep no less than 9 balls in the air, and the aerial acrobat Igor Zavadko. They both come from Ukraine. The third circus performer on the show is Danish Ylva Maia (Ylva Havndrup), who was among the artists who completed their education at the Danish circus school AMoC in 2017. She thus contributed to the talent award from the Danish Circus Prize in 2017 being given to AMoC. "I am particularly proud of working with Ylva, since she is Danish and has been educated at AMoC. It is always fun to be able to employ artists from the domestic education in performing arts," Wallmans show producer Johan Espeland writes.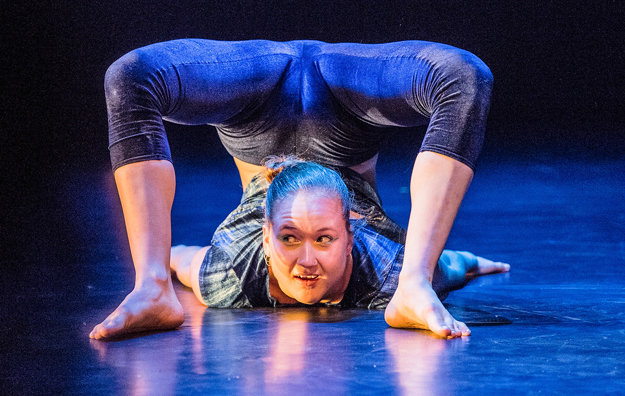 The skilled Danish contortionist and hand stand acrobat Ylva Maia Havndrup is among the performers in Wallman's upcoming show. Photo from AMoC's graduation show 2017. Photographer Rud Kofoed / Ajour Press

1 July 2018
The Swedish Circus Olympia has visited a few cities in Scania in the southern part of Sweden. They will return to Scania again in August. This year's performance was reviewed here on this website on 27 March 2018. Below are a few photos from the show on June 30 in Lomma.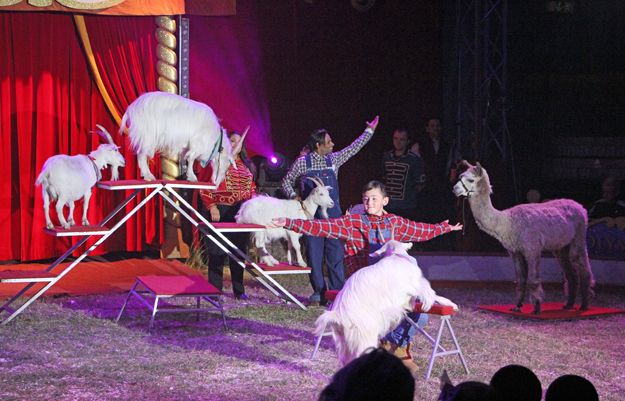 Until now the Swedish Circus Olympia's act with goats has been presented by David Hammarberg and Natascha Jarz. But a few days ago, Natascha has handed her task in the act over to her and Niklas Bengtsson's 12-year-old son Simon, as Natascha is pregnant and she and Niklas are expecting an addition to the family in August.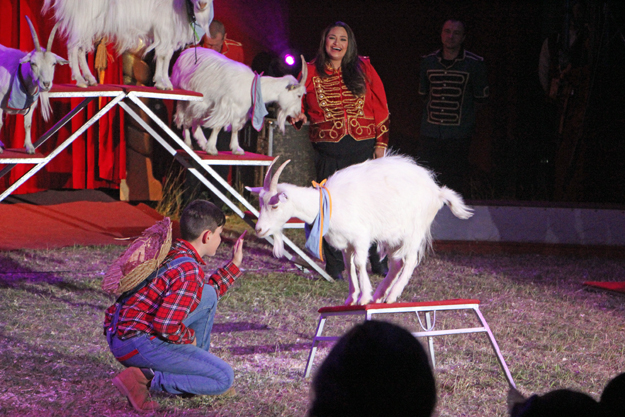 As can be seen, Mama Natascha is in the background. But Simon did fine!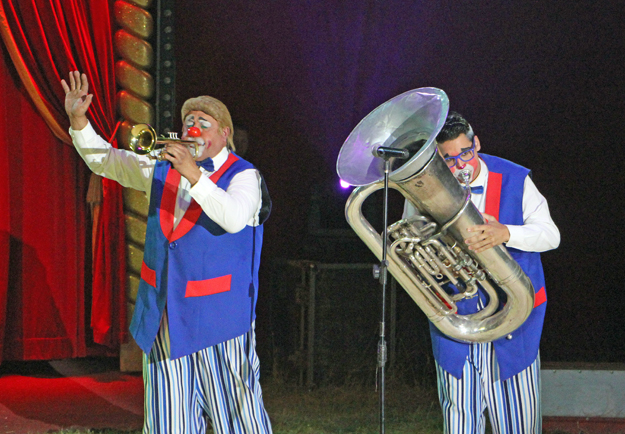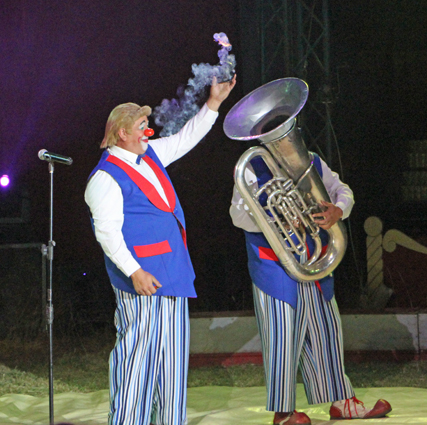 An old-fashioned musical clown act is today seldom seen. But that's what Cito Rivelinos and his son Danny does in their main act in this year's Olympia performance. Intro with the two clowns playing trumpet, then the gag with the bomb in the tuba (see photo), a custard pie gag and finally Cito playing saxophone and Harry trumpet. They received more applause from the audience than any other clown act I've seen in season 2018. - Cito was part in the Rivelinos troupe which in some seasons toured with Danish Circus Arena and Swedish Circus Maximum, last time in 2009 with Circus Arena. Then for a few years he was tent boss Zirkus Nemo, but stopped when Jackie Berdino lost the contract with tent rental to Nemo.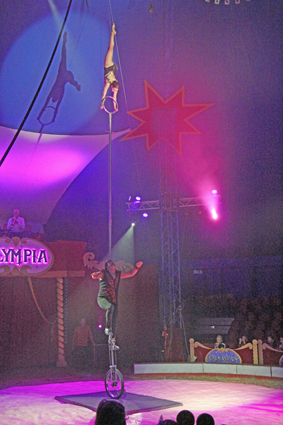 The last act in the performance is Duo Stauberti, who received a silver clown at this year's Circus Festival in Monte Carlo and next year is going to the large German Circus Krone. The duo has since 2015 consisted of Dimitr Stauberti and his niece Nancy. In their final trick Dimitr is sitting on a high mono bike while balancing the perch with Nancy in handstand at the top - see photo. Impressive that Cirkus Olympia has been able to book such a top act!

Link to news from 2007

Link to news from 2006