'
From Denmark
and other Scandinavian countries
Special feature: It all happens in Paris
A weekly updated internet magazine
Last updated : 19. November 2017
15 November 2017
Poster War in Hvidovre. "Hvidovre municipality will remove Cirkus Baldoni's posters because they are put up too low," Hvidovre Avis writes.
On 21 November there is municipal election in all 98 Danish Municipalities. As in many other countries candidates put op posters on lamp posts etc. Just as circuses are doing.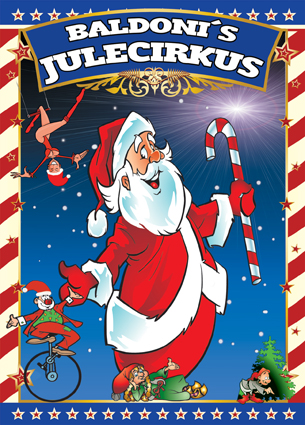 It is this poster Hvidovre municipality demand removed from places where it does not hang at least 2.3 meters above the road surface. It is unknown if the municipality make the same demands to those politicians who hope to have their Christmas wishes met already on November 21.
Political parties and candidates have been struggling for the best positions in the lamp posts around Hvidovre for several weeks and another user of posters - Circus Baldoni - has been hit very hard.
Cirkus Baldoni has been told to make sure that their billboards for the traditional premiere on Christmas circus in the Circus Museum's Fencing Hall in Avedøre Camp in the weekend of 18 and 19 November will hang at least 2.3 meters over the road surface. And it has been impossible to fulfill this request as the political parties have seized all of Hvidovre's lampstands at that height.
There are also politician posters that do not fully meet the requirement of the 2.3 meters.
If Cirkus Baldoni does not remove the posters themselves, staff from Hvidovre Municipality will take them down.

12 November 2017
IT ALL HAPPENS IN PARIS -- the best circus art turns up in PARIS - and it indeed does mean the best, also on the European level, they know that there is a faithful audience waiting for them, and PARIS AIME LE CIRQUE =/PARIS LOVES CIRCUS/.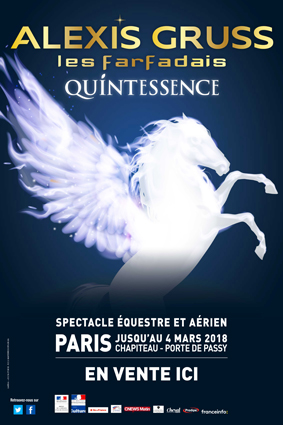 CIRQUE ALEXIS GRUSS , proudly presents its show in a combination of a building and a BIG TOP - their wonderful show, called QUINTESSENCE - features unique horse-manship, including skillful jockey-riding, juggling on horseback and as a grande finale " the mail carriage" where tens of horses circulate in the ring , conducted by a jockey - a beautiful sight of great entertainment value.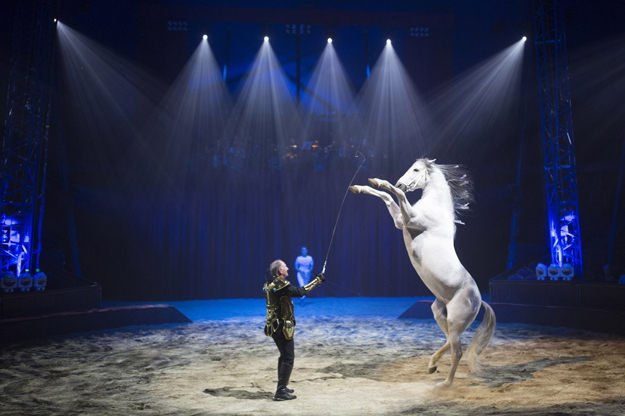 Alexis Gruss. By courtesy of Cirque Alexis Gruss.. ©Time To Film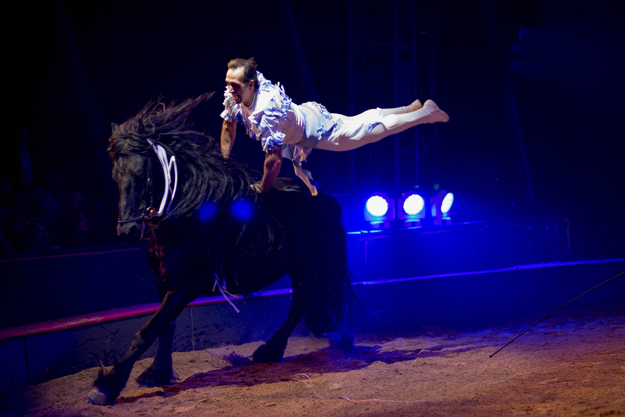 Stephan Gruss. By courtesy of Cirque Alexis Gruss.. ©Time To Film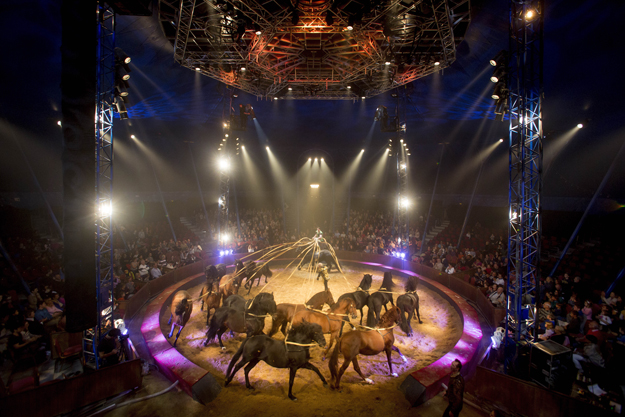 Firmin Gruss riding The Courier of St. Petersburg. By courtesy of Cirque Alexis Gruss. ©Time To Film
After intermission, LES FARFADAIS, devil-daring aerials, who perform in many original positions, as well as neck-breaking stunts, both under, inside and over a special metal structure, obviously custom made, as it can act as a fountain - all these artists finish their stunts well into the water!!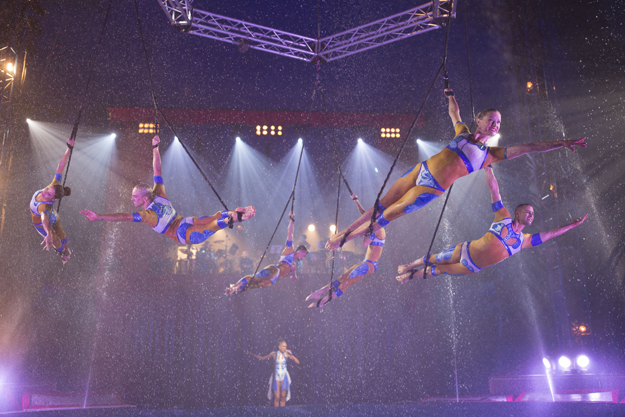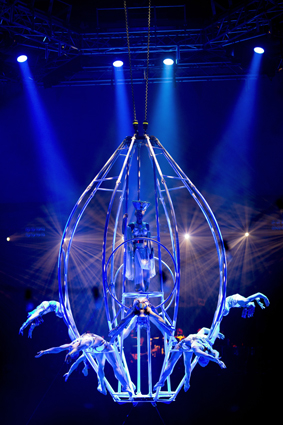 Les Farfadais. By courtesy of Cirque Alexis Gruss. ©Time To Film
The entire show is created by the GRUSS family, they perform both on horseback and GYPSY GRUSS, born in the great circus family BOUGLIONE, features a nice dog act, with 2 small dogs which perform movements that come natural to them.
This classic circus act makes for a human dimension - after the audience has seen --super-human stunts.
Elegant interior, comfy seats, an excellent orchestra and a warm welcome by the personel showing the spectators their seats/ and they speak English as well/.
Absolutely worth seeing!!
CIRQUE ALEXIS GRUSS can be seen in Paris until 4 March 2018. In part of the season there are only performances some of the days in the week. However, from December 22 to January 7, there are performances every day. Even on Christmas Day and New Year's Eve.
IT ALL HAPPENS IN PARIS!!!
See more: www.alexis-gruss.com
Videoteaser: https://www.youtube.com/watch?v=AdLcfIQ6Rw0
Venue: Bois de Boulogne, Metro: Ranelagh, then 15 min. walk.
/There are posters indicating the venue, but these are sometimes pulled down, by people who think that is funny.../
............................................... reported by ZARRO ZARRO.

9 November 2017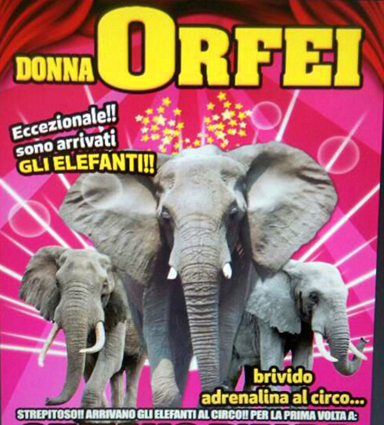 Circus Arena's elephants in Italy. Danish Circus Arena is the owner of 3 African elephants. During the autumn holiday, the elephants were at home in the winter quarter in Aarslev, which as "Circusland" was open to the public in week 42. But now they are on their way to Italy where their trainer Rudi Althoff from 18 November will present them in Circo Donna Orfei, owned by Alex Medini. The first performance is in Cinzano, located in northern Italy close to Turin. See more at http://www.circusfans.net/news/?view=16486

6 November 2017
Circus Arena in Rødovre Centrum. At the moment, you can buy Circus Arena gift vouchers through Go Dream, and to promote the sale Circus Arena will host a series of short circus shows in various supermarkets in the coming weeks.
The first show in the series took place on Sunday, November 5th at 14.00 at the entrance to Føtex Supermarket in Rødovre Centrum. In the performance you met Suzanne Berdino and her family. The first act was Suzanne's spouse Daniel with the parrot Gøje, which did a lot of different tricks.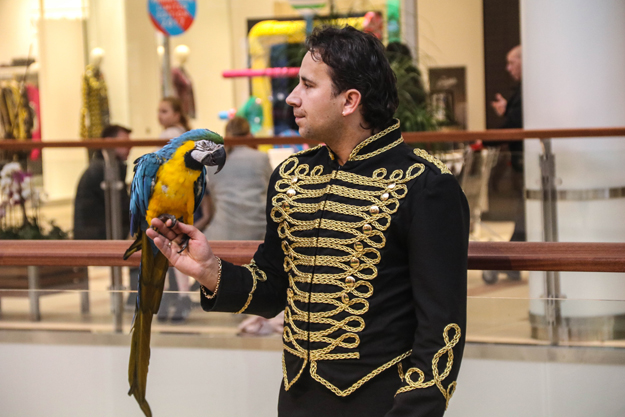 Daniel Koscik with Gøje. Text and photos: Jacob Boas Leitisstein
The second and last act in the short performance was Suzanne's daughter Charmaine Berdino's hula hoop act which attracted great enthusiasm among the many children who watched the show. Before Charmaine entered the ring Suzanne invited two children into the ring where they were allowed to try the hula hoops.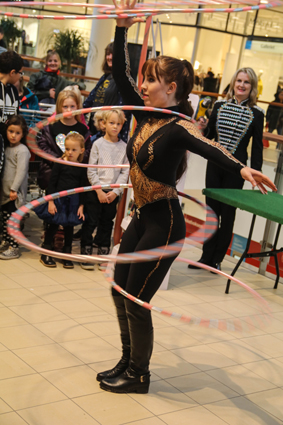 Charmaine Berdino. Click here to see more photos.
The circus performance attracted a lot of children and adults and lasted about 20 minutes. In December, Circus Arena visits a number of Bilka stores in Funen, Zealand and Jutland. Bilka is the leading Danish chain of hypermarkets.

6 November 2017
David Hammarberg holder of this year's Reino bursary. Every year, a bursary is awarded in memory of the famous Swedish acrobat Reino (1921-2011), who in his time was one of the world's best on the slack wire.
This year, the bursary was given to the young Swedish aerial acrobat David Hammarberg. David has been performing in the Swedish Circus Olympia for several seasons, and he participated in Wallmans 2016/2017 dinner show in the Circus Building in Copenhagen.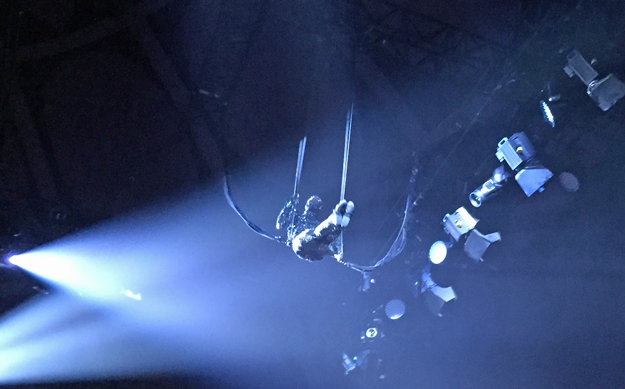 David Hammarberg at Wallmans in Copenhagen
The bursary is 10,000 SEK, equivalent to slightly more than 1,000 Euro.
"I will use the money to go abroad and train or for expensive equipment" David Hammarberg says.
The award ceremony took place on 4 November in conjunction with a circus show at the Bohuslän Museum in Uddevalla, Sweden.

6 November 2017
IT ALL HAPPENS IN PARIS -- CIRCO CRIOLLO -- a sympathetic little circus, that also can perform on stage, really -- and here lies the originality -- a come-together - performance of circus acts and folklore elements - from URUGUAY and ARGENTINA - very appealing and interesting - due to a seldom seen joy of performing and excellent contact with the spectators.
The main animator is MARIEANGELES KALAMAR who performs oriental dances, belly dancing, acrobatics with vertical rope and a stunningly original hula-hoop entrée.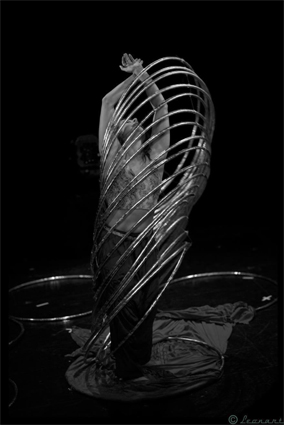 Mariangeles Kalamar.
The program features a clever MC, getting a good contact with the spectators, he is the RINGMASTER, MONSIEUR LOYAL in French, a male acrobat on vertical rope, the RINGMASTER returns in a funny sketch, a performer who very skillfully manipulates "las bolas", small wooden balls attached to ropes, about 3 meters' length.
It has a great impact, especially when he succeeds in making a spectator execute a few stunts - great success! These "bolas" are used by Argentine cowboys to catch cattle on the pampas /prairie/ - thus it is a kind of lasso.
A couple featured a perfect TANGO from ARGENTINA, very elegantly - wearing authentic dresses, amazing, appealing - really worth seeing like the entire program, 90 minutes.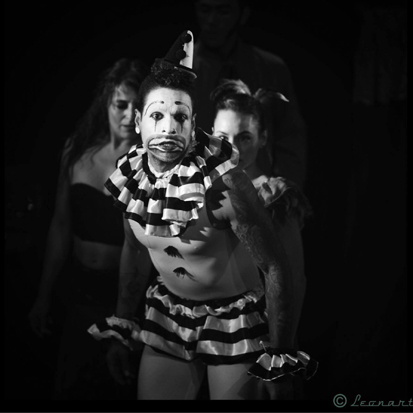 Photo by courtesy of Circo Criollo
Performers' names: Natalia Almada, José Vivallo Urra, Gabriel Oxford, Alejandro Fabian Hernandez and Mariangeles Kalamar
Stage settings: Charly Hove
Texts: Francisco Marti
IT ALL HAPPENS IN PARIS!!!
See more: www.assocircocriollo.com
The show was offered at THEATRE CLAVEL, 3 rue Calve, 75019, PARIS, Metro: PYRENEES.
.......................................... reported by ZARRO ZARRO.

3 November 2017
New Danish book about circus and artists. The Copenhagen Circus Building and other articles about circus and artists is the title of an anthology, which will be published on December 1 by Wisby & Wilkens publishing house.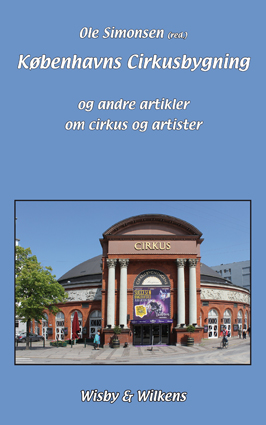 Since the dean of Nordic Circus Historians Anders Enevig passed away in 2013, Danish books on circus and circus-related topics have rarely been published. With the support of a foundation which Anders Enevig and his wife founded to support the publication of such books, the above-mentioned book will be published on 1 December. The book is on 254 pages incl. registers. Hardcover and with many illustrations, several in colour. Dimensions: 140 mm × 25 mm × 220 mm. The language is Danish. Easy to read for Danes, Norwegians and Swedes and Finns from the Swedish-speaking parts of Finland. A bit more difficult for other nations!
The book contains 6 articles about circus and artists:
About the Copenhagen Circus Building History from 1886 and until today – from Renz to Wallmans.
About artists who got their Danish debut in the building:
The American show cowboy Jack Joyce (1875-1934) and who from 1913 to 1923 run his own circus in Denmark.
The Danish high school rider Anna Stennis (1888-1990), who became a big name internationally and later became wife of a bishop and ended up in Australia where she passed away in the age of 102 years.
About the German Circus Strassburger's attempted to visit Denmark in 1930, including their attempt to borrow a circus licence from some Danish circuses.
About the Benneweis Elephants and about 'The Danish Circus Award'.
Ole Simonsen, chairman of 'The Danish Circus Award ' and 'Danish Circus Friends Association' and former artistic advisor to Circus Benneweis, has edited the book. The articles are written by Ole Simonsen and Finn Stendevad.

3 November 2017
Cooperation between Circus Arena and Go Dream. Go Dream, a firm selling gift vouchers to experiences such as visits to theatres, cinemas, hotels, dinners at restaurants etc. have teamed up with Circus Arena and will in the coming weeks present a number of circus shows in supermarkets all over Denmark.
The first show will take place on Sunday 5 November at Føtex Supermarket in Rødovre Centrum (a large shopping mall in a Copenhagen suburb) from 14.00-14.30. There you can meet a true circus princess: Suzanne Berdino, who presents the performance. The performers are Charmaine Berdino with hula hoop and Daniel with his parrot. In December, the small show can be seen in a number of Bilka supermarkets.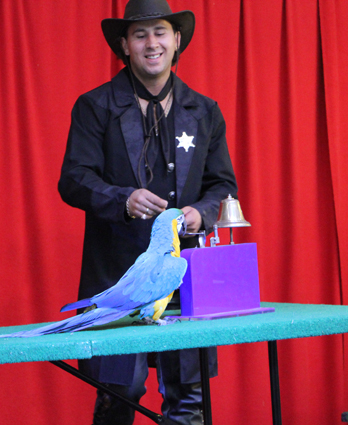 In Rødovre Centrum you can meet Daniel Koscik and his parrot

30 October 2017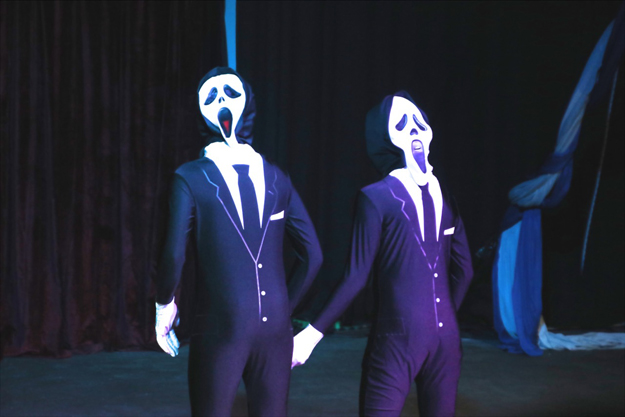 Circus Flik-Flak's Flak Halloween Show 2017. The photographer Per "Mr. Sputnik" Krogh Petersen saw the performance on 29 October and took both photos and video clips. Click here to see his pictures.

29 October 2017
The new Swedish film What a damn circus was premiere in the Swedish cinemas on the 20th of October. The film is directed by Helena Bergström, and parts of it are recorded in the Swedish circus Brazil Jack. Helena Bergström's previous film A Holy Mess was a great success also outside Sweden.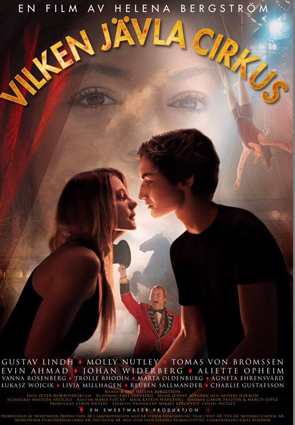 The reviewers in the Swedish Medias have been a bit hard to What a damn circus, which typically gets two out of five possible stars. However, many spectators call the film a nice feel good movie. The well-known Danish acrobat Freddi Steckel has seen the film and writes:
Trolle Rhodin 3 is actually a continuous figure in the movie, and he does it very well. Actually, it is a love story that eventually ends in "Circus Margot". A little long in between, if you expect real circus, but it takes place in a really old-fashioned messy circus, nice. I thought it was good and, as said, Little-Trolle does it really well.
Little-Trolle is Freddie Steckel's nickname for Trolle Rhodin 3, born in 1988. His grandfather was the circus king Trolle Rhodin, and his parents are Trolle Rhodin JR and his spouse Carmen.

29 October 2017
IT ALL HAPPENS IN PARIS -- the CHRISTMAS season has started, the great circus-shows turn up in PARIS: CIRQUE D'HIVER BOUGLIONE features an exceptionally beautiful program - it can't be done better!!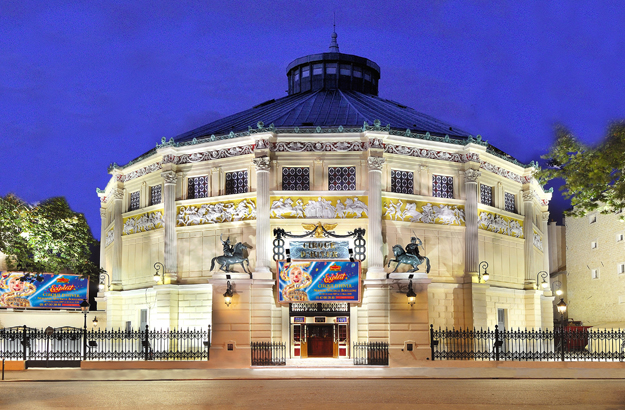 Cirque d'Hiver where you still can see circus during the winter season opened its doors first time in 1852.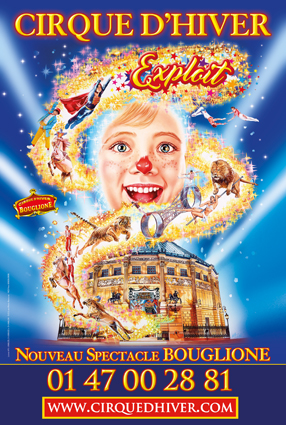 This year's performance which can be seen until 11 March 2018 is called Exploit
All the performers have outstanding acts, they are supported by the BOUGLIONE CIRCUS BAND, maestro PIERRE NOUVEAU, the traditional ballet SALTO DANCERS, 8 beautiful dancers, Ringmaster MICHEL PALMER, and clown ENRICO CAROLI supervises the whole show:
MAX WELDY/ funny acrobatics on trampoline, disguised as a swimming-pool/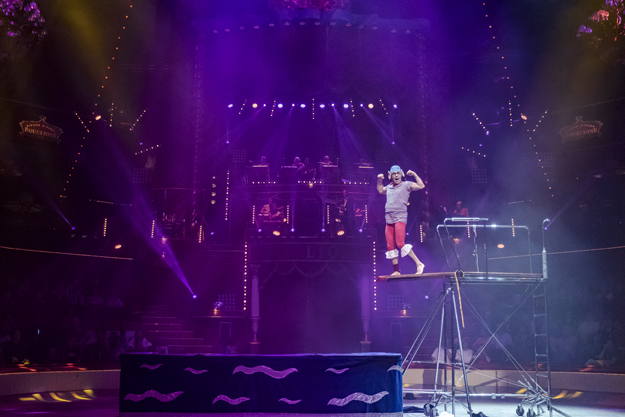 The trampoline comedian Max Weldy is well-known in Scandinavia. He was with Circus Benneweis in Denmark in 1991, performed at the Red Inn Theatre in Copenhagen in 2004, and could be seen at the Open Air Stage in Copenhagen's Tivoli gardens in 2004. He toured Denmark with Circus Arena in 2010, Sweden with Circus Maximum in 2011 and 2017 and Norway with Circus Arnardo in 2015. Photo Dominique Secher, by courtesy of Cirque d'Hiver Bouglione.
PIERRE MARCHAND/diabolo and acrobatic stunts/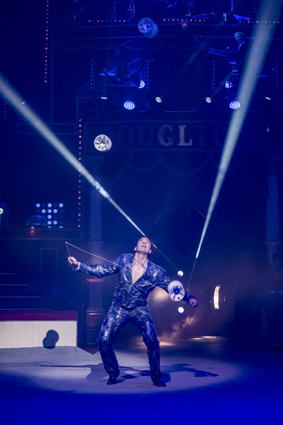 Pierre Marchand got his breakthrough when he in 2004 got a gold medal at the European Youth Circus Festival in Wiesbaden. In 2007 he got one of the special awards in Monte Carlo. He was for several seasons at Lido in Paris. In 2015 he toured Sweden with Circus Brazil Jack and in 2017 Denmark with Circus Arena. For his outstanding act he was nominated to the award for the best act of the year in Denmark. With French elegance and charm he accepted that the award was given to another of the 3 nominated artists. Photo Dominique Secher, by courtesy of Cirque d'Hiver Bouglione.
ENCHO KERYAZOV/handstand on pedestal/,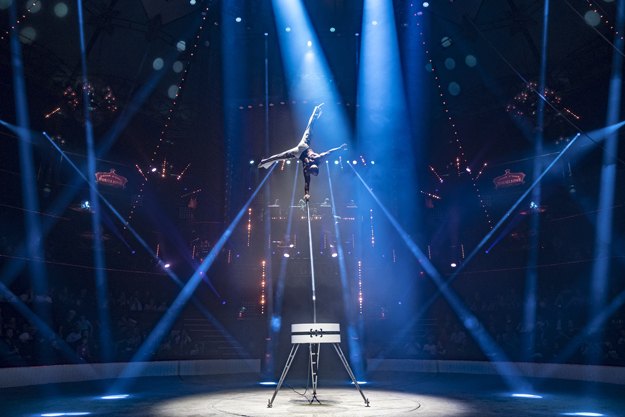 The world class acrobat Encho toured Denmark with Circus Arena in 2006 and 2017. I 2007 he got at silver clown and the audience award in Monte Carlo. Photo Dominique Secher, by courtesy of Cirque d'Hiver Bouglione.
GUNTER SACCHMAN JR/ performing rodents of various sizes/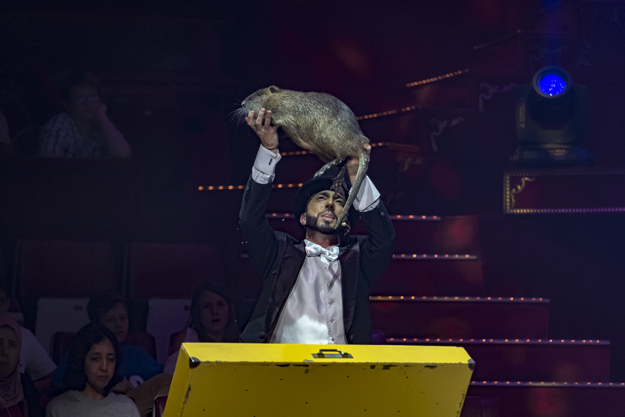 Gunter Sacckman JR. Photo Dominique Secher, by courtesy of Cirque d'Hiver Bouglione.
SZOFIA KOMENDA/ swinging mast/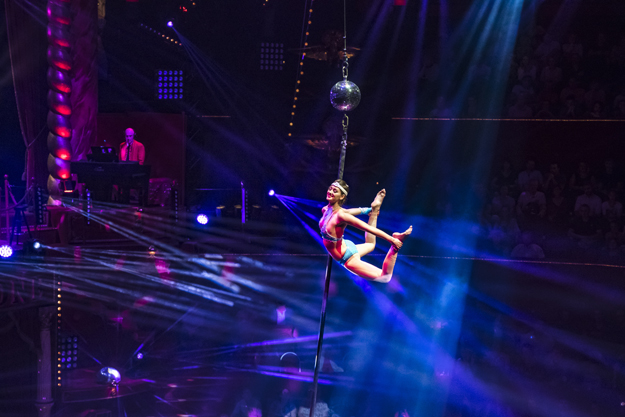 Szofia Komenda. Photo Dominique Secher, by courtesy of Cirque d'Hiver Bouglione.
DONNERTS FAMILY/ jockey riding on beautiful white horses/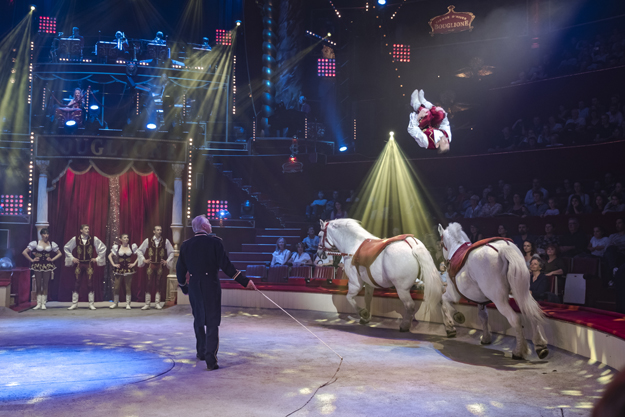 The Donnert family toured Denmark in 2013 with Circus Benneweis and Sweden in 2014 and 2017 with Circus Brazil Jack. Photo Dominique Secher, by courtesy of Cirque d'Hiver Bouglione.
DUO GIRIBALDI RALUY/ Risley acrobatics/,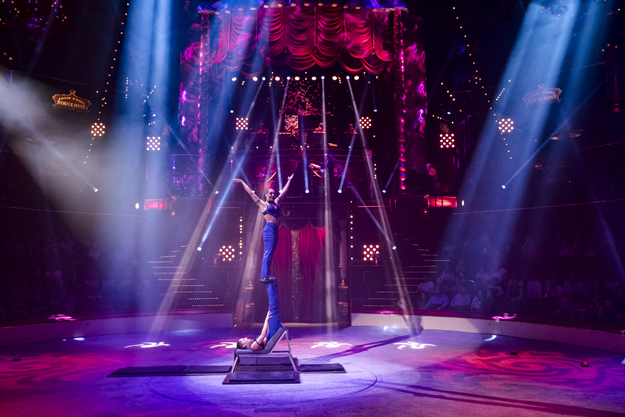 Duo Giribaldi Raluy. Photo Dominique Secher, by courtesy of Cirque d'Hiver Bouglione.
ROBIN VALENCIA/ human cannon ball queen/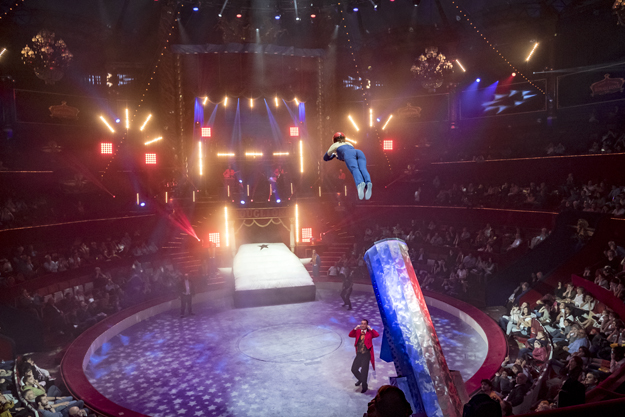 The Danes met Robin Valencia in Circus Arena in 2007. The same year she got one of the special awards in Monte Carlo. In 2013 she toured Sweden with Circus Scott. Photo Dominique Secher, by courtesy of Cirque d'Hiver Bouglione.
NAVAS/wheel of death/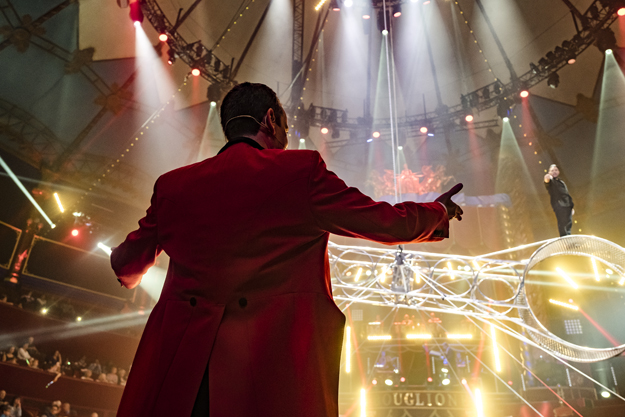 Duo Navas toured Denmark in 2013 with Circus Arena. Photo Dominique Secher, by courtesy of Cirque d'Hiver Bouglione.
EMANUEL FARINA/ lions and tigers/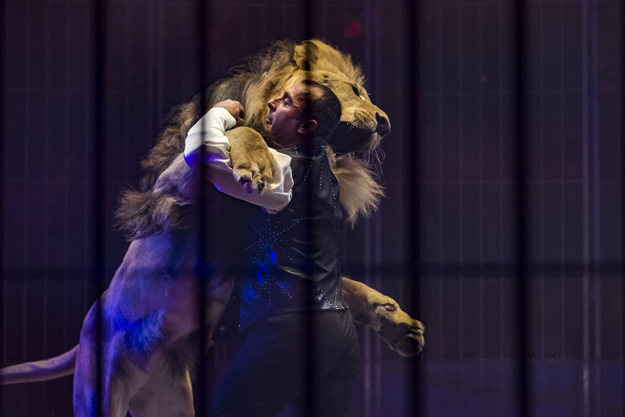 Emanuel Farina. Photo Dominique Secher, by courtesy of Cirque d'Hiver Bouglione.
ROB TORRES/burlesque comedian/
REGINA BOUGLIONE / classical horse riding/.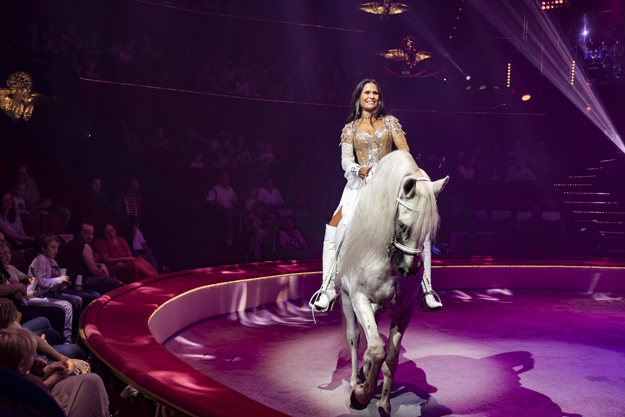 Regina Bouglione. Photo Dominique Secher, by courtesy of Cirque d'Hiver Bouglione.
The refurbished interior of this prestigious circus building offers a splendid sight, giving the true atmosphere of circus, the entire program is a symphony of imagination, beauty, joy and the marvellous!!
Absolutely well worth seeing!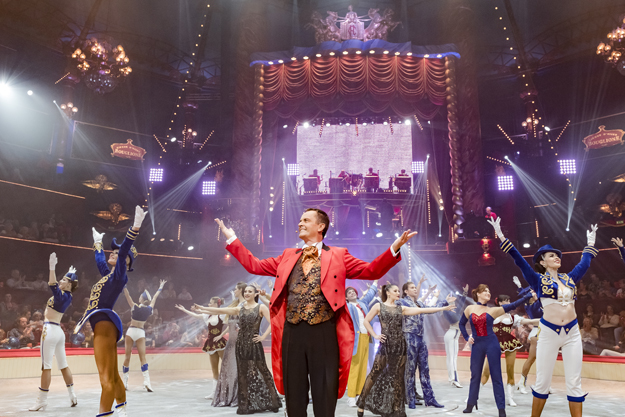 From the grand finale. In the front the ringmaster (in French Monsior Loyal) Michel Palmer. Photo Dominique Secher, by courtesy of Cirque d'Hiver Bouglione.
The show can be seen until March 11, 2018. In part of the season there are only performances in the weekend. However, from December 22 to January 7, there are several performances every day. Even on Christmas Day and New Year's Eve.
See more: http://www.cirquedhiver.com/en/shows/exploit/
Venue: 110 rue AMELOT, 75011 Paris. Metro: Filles de Calvaire.
IT ALL HAPPENS IN PARIS !!!
-------------------------------------------- reported by ZARRO ZARRO.

27 October 2017
Baldoni's Christmas Circus is the only circus in Denmark with a "full length" Christmas performance, i.e. approximately 2 hours. There is opening night in the Fencing Hall at the Circus Museum in Hvidovre, Copenhagen, on Saturday, November 18th, and in the following weeks 14 or 15 towns on Zealand will be visited. Check out What's on.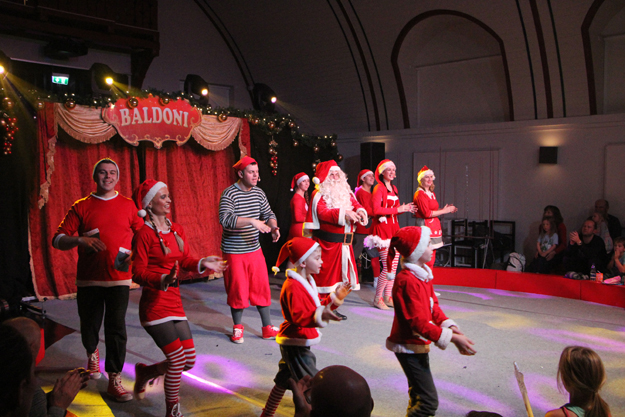 From the grand finale at Baldoni's Christmas Circus 2016
The performers in this year's Christmas performance are the talented Janacek family from the Czech Republic: the parents Eddie and Maria and the children Kaya and Rudi. They have been with Baldoni several times before. In addition the audience will be meeting the duo Hands to Violin, who toured with Circus Baldoni in the summer season 2016. They were as one of only 3 artist acts nominated for the Danish Circus Award's award for the best act of the year. A clear quality stamp, although the award went to another act. Finally, the audience meets Daniel (the clown Danilo) and Cindy. As well as Santa, whose voice, according to my grandchildren, sounds like circus owner René Moenster Baldoni's voice...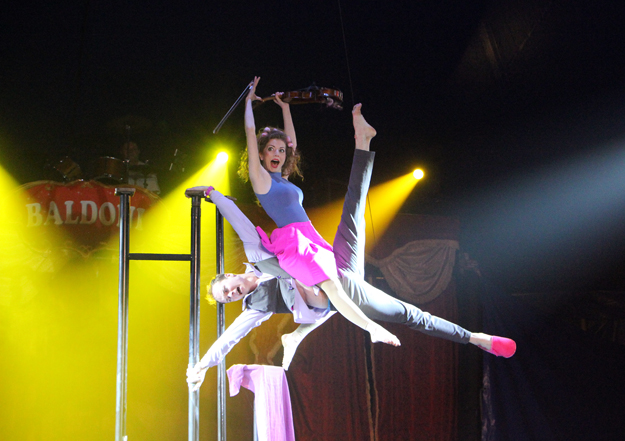 Hands to Violin pretended a contemporary circus like act in Baldoni's 2016 performance. For their original act they were nominated for the Danish Circus Award's award for the best act of the year.
27 October 2017
Halloween circus in Odense. Sunday 29th of October at 14.00 the youth Cirkus Flik-Flak invites you to a fantastic Halloween circus show for children of all ages. The performance features floating skeletons, amazing magic fairies and lots of acrobat trolls. A new and exciting show where the theme of the show is Halloween with inspiration from the circus world. Ticket prices and bookings: Tickets: Children DKK 40, -. Adults DKK 60, -. Tickets can be purchased at www.cirkusflikflak.dk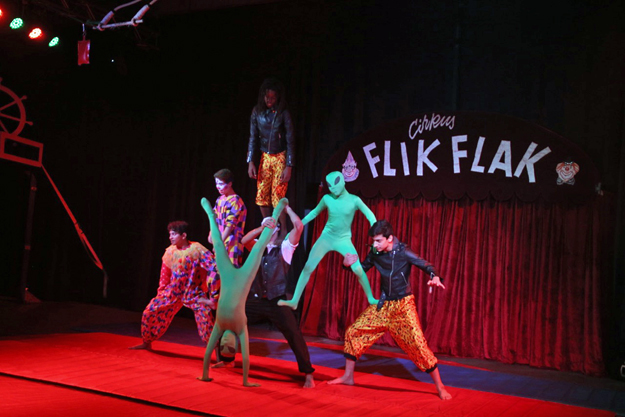 As previous years the talented children and youngsters from Odense's Circus Flik-Flak present Halloween Circus on the Sunday before All Saints' Night. Photo from last year's performance, taken by Per "Mr. Sputnik" Krogh Petersen.

26 October 2027
Zirkus Nemo 2018. The owner the comedian and actor Soren Ostergaard writes (my translation):
Ladies and gentlemen, LOOK FORWARD TO SEASON YEAR 2018. We are still putting the finishing touch on the program, but I promise you once again that we will show you world-class circus artistry - including with the amazing French-Cuban handstand duo Duo Solys, the sovereign ruler of hula hoops Geraldine Philadelphia and the world's fastest juggler Mario Berousek.
In addition, the performance offers some of the strongest brilliant stars in Danish showbiz - who cannot yet be revealed, but as it will be known to the most hard core Nemo fans, I have promised Erik Bo Nielsen from Otterup aka the Smash Man (one of Soren Ostergaard's own comedy characters) a comeback that both can be seen and heard.
See you in Denmark's only circus for adults.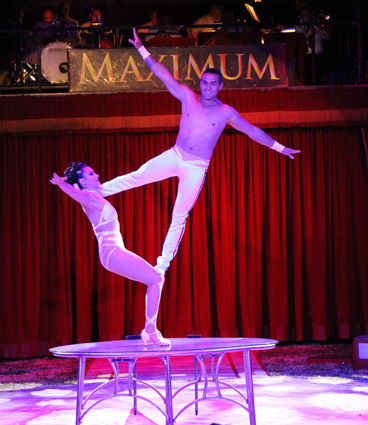 Duo Solys was also at Nemo in season 2016. In season 2017 they toured Sweden with Circus Maximum. The photo is from this show.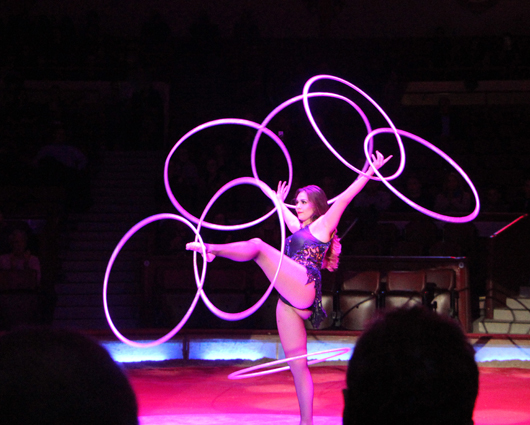 It will be first time in Denmark for the Hula-Hoops Juggler and Artist Geraldine Philadelphia. But she is excellent! Photo from Circs Krone's February performance 2017 in the circus building in Munich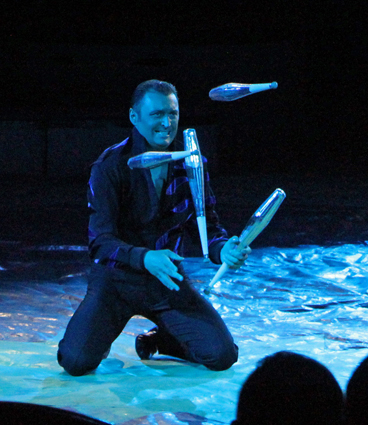 The high speed juggler Mario Berousek toured Denmark with Circus Benneweis in 2007 and with Circus Arena in 2016. He juggles faster with his clubs than anyone else. The photo is taken at 1/1600 seconds but might have seemed more natural (with the moving clubs) at a slower speed. Photo from Circus Arena 2016

24 October 2017
Circus Arena 2018. Cirkus Arena's 2018 performance will be presented by Benny Berdino's grandson Patrick Berdino, known from the Danish version of 'Strictly come Dancing' and the Danish rapper MC Clemens.
Patrick got a 6th place in 'Strictly come Dancing' in 2015. Clemens Legolas Telling (born October 8, 1979 in Roskilde and raised in Sonderborg), better known under his artist name MC Clemens or just Clemens, is a Danish rapper, singer, producer, theatre director and song writer.
The names of the artists in season 2018 are not yet published. It is known, however, that you can look forward to see the excellent Spanish trapeze artist Alexander Lichner. In season 2017 he had great success in the Swedish Circus Maximum. During the autumn holidays he participated in the Arena performance which you could see in Kolding Shopping Mall.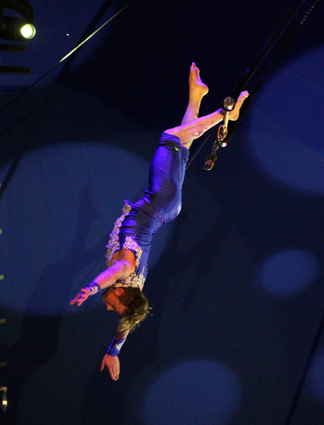 Alexander Lichner does an impressive act in swing trapeze. On the picture he hangs in one heel. Photo from Cirkus Maximum 2017.

23 October 2017
Circus and artists during the autumn holidays. Here is the continuation of last week's reviews and photos of some of the autumn holidays' many performances.
Circus Mascot was as in previous years in Bytorv Horsens. All the days were crowded around their ring at the square in the mall, as it has become a tradition for people from Horsens and hinterland to visit Bytorv Horsens and Circus Mascot during the autumn holidays. They had a total of 17 performances, all of which were presented by Daniel Deleuran as ringmaster. Husik did elegant juggling with large hoops and his sister Julia was a living doll in an entrée with their father Gulio, who also had a clown entrée together with Daniel. Last but not least, the act that many consider to be Circus Mascot's signature act: Marianne Deleuran with her happy poodles. - Marianne Deleuran and her son Daniel are now busy preparing for the season 2018. However, before Christmas, you can meet Circus Mascot in several of Plantorama's garden centres, just as they are also active during the winter holidays.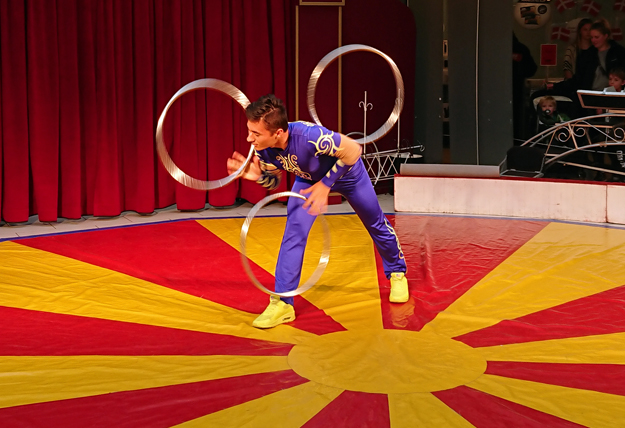 Husik with the hoops in Bytorv Horsens. All photos are smartphone photos shot by Circus Mascot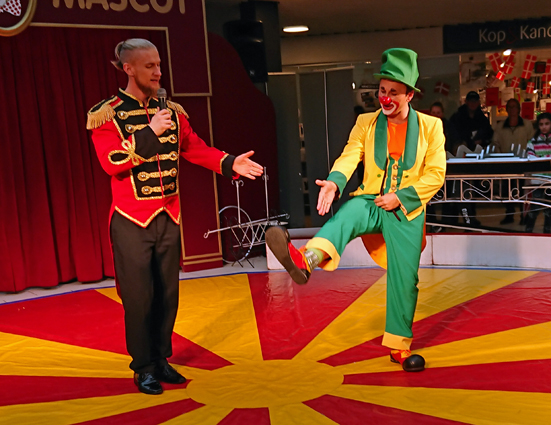 Daniel and Gulio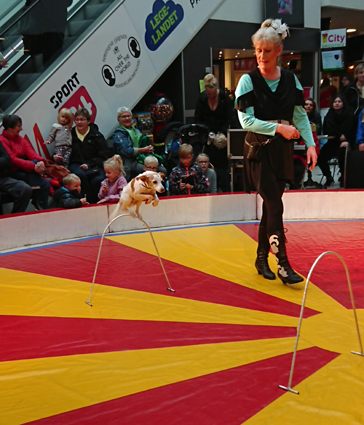 Marianne Deleuran and one of the dogs
Circus Big appeared in shopping mall The Bridge in Esbjerg. Find Stendevad saw the show 18.10.2017 at 16:16 and writes (my translation):
Andreas and Knud took good care of the children. Andreas as a ringmaster and clown and Knud was August clown with falsetto.
They did some magic, balance and monocycle tricks as well as a funny act with Knud in jacket and Andreas' hands to perform the tricks. Another with Andrew's head, moving from top hat to top hat etc.
There were about half a hundred spectators. They were child friendly, nice and could actually do something.
Thomas Vilhelm Larsen aka the clown Knud has told me that the performers changed a bit during the week. At the Wednesday performance seen by Finn Stendevad it was Andreas Magic (Andreas Brunsborg Larsen) and Knud who was on stage.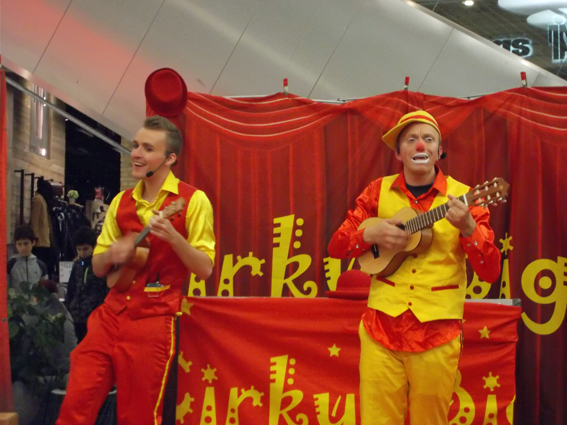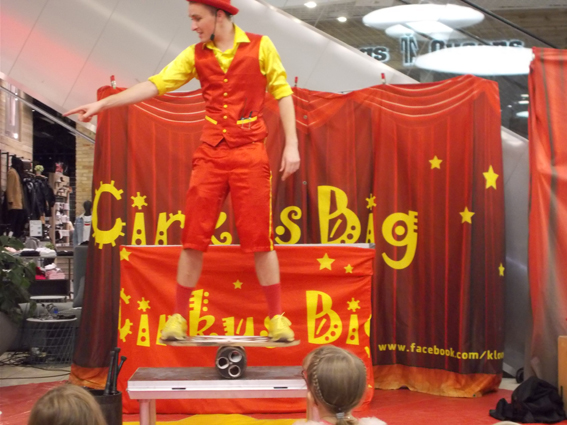 Photos from the show, taken by Finn Stendevad. It's Andreas Magic doing Rola Bola
Cirkus Arena had as usual produced a performance for Kolding Shopping Mall. Jørgen Lorenzen saw the show on October 20 at 13 and writes (my translation):
There was full house for the show - many children with great expectations. Several shopping trolleys blocked for the children's view, and Martin Arli asked before the start that they were placed in the background - with partial luck. Several stubborn mothers overheard his friendly request.
Ringmistress Bettina Arli welcomed and called for the good circus mood. However, the inquiry had to be repeated because she estimated that the children were not completely awake yet. But then it started. Patrick Berdino presented 6 ponies. He has great experience and did it very well. There was a great hilarity when the last pony in the act wouldn't jump over the pole as it should – but of cause that's what it was trained to.
Martin Arli appeared as an escape artist with a mysterious name – I believe it was Frederico Brava. With his gift of the gab he was helped by two children who tied his hands - but no more than the tied hands could help the kids to make nots knots, big cheer!
Oliver Berdino entered the ring with 6 ducks - running ducks according to the ringmistress And they could run - around and around. True herd instinct. And yes, animals belong to the circus. A pleasant change from human acts.
Next, Denmark's favourite clowns arrived. Alexander and Martin Arli entered the ring with the hypnotist gage. Martin is the happy, faithful big boy and Alexander the clever and turning hypnotist who exerts his medium. And in his figure one is suspicious of madness, because a good clown may lean over the madness-without being or being mad. And the whole scene ends with tumultuous talk in the mouth of each other, as the hypnotized clown reveals that with a cabbage he has protected his brain from external attacks.
And then Alexander came in - not Arli this time, but Alexander Lichner. An outstanding aerial artist. Luckily enough using lounge. For it was furiously difficult what he could do in his trapeze: rotating in mouth hang, hanging in a foot and a balance where the artist hangs in his knees and raises his lower leg centimetres for centimetres, so he ends up hanging in his heel which must be quite painful to the fibula muscles. I would like to see him soon again in Denmark.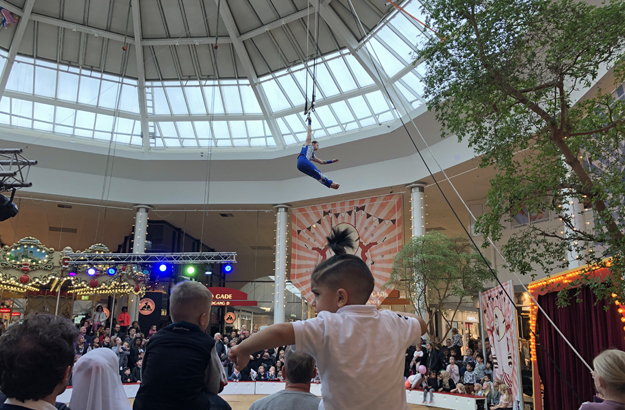 Alexander Lichner in Kolding Shopping Mall. Jørgen Lorenzen will see him soon again: Alexander Lichner will be with Circus Arena in 2018. Smartphone photo taken by Martin Arli
Last number was Oliver and Patrick Berdino in a combination act. First juggling, then with a knockabout table act. Two athletic, versatile, well-trained and agile artists. Nice to see the young Arena generation in such a good form.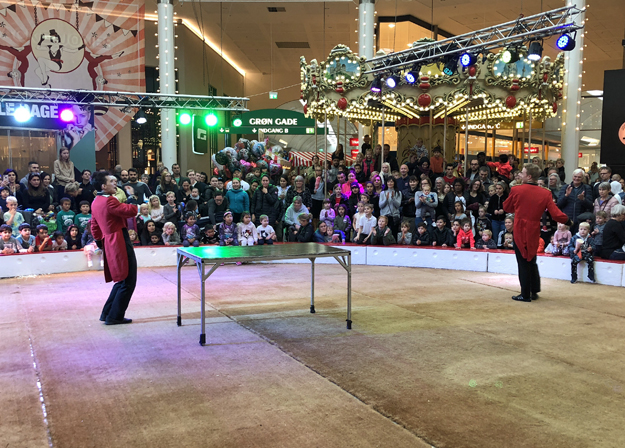 The cousins Oliver and Patrick Berdino. Smartphone Photo taken by Martin Arli
There was no curtain call of the artists. But it was also superfluous, because the audience was well satisfied after 40 minutes of genuine circus.

23 October 2017
IT ALL HAPPENS IN PARIS -- an entirely new theatre: 13EME ART proudly presents THOMAS MONCKTON, acrobat, comedian, mime, contortionist - in his show THE PIANIST - where there is hardly any music, but the spectators see a number of hilarious situations where THOMAS MONCKTON enters the stage, after many difficulties - to start his concert... things don't go as scheduled so we see acrobatic stunts at a high level together with hilarious movements and contortion stunts.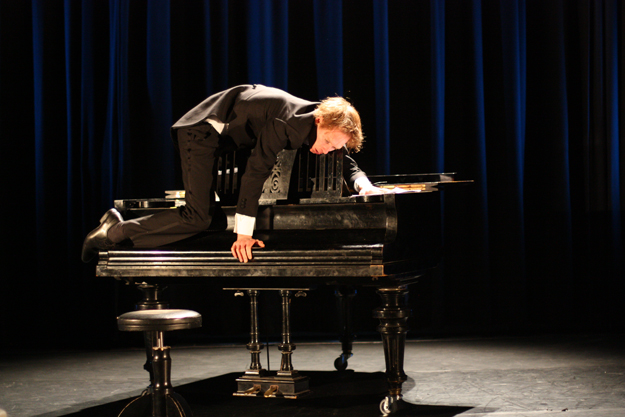 Thom Monckton. Photos by courtesy of Théâtre Le 13 ème Art
Dressed in elegant tail coat, THOMAS MONCKTON starts an uphill task of taming his music sheets, microphone and grand piano - it is a burlesque show , loaded with clown stunts and not expected comedy situations - particularly when he is about to jump from his grand piano to catch a suspension that hangs from the ceiling.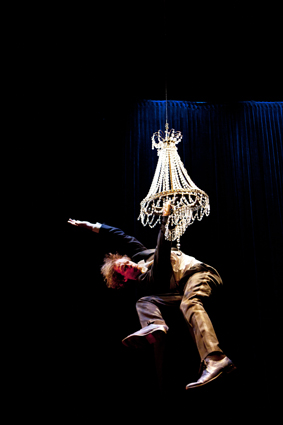 It is original, he has a strong personality on stage, and he beams of joy to perform and of energy which all boils down to getting the spectators' sympathy.
THOMAS MONCKTON from NEW ZEALAND has performed at many international festivals around the world, after having studied, among other venues, at JACQUES LECOQ'S mime academy in Paris, for two years.
Thus an international performer and great entertainer, featuring his one-man-show during one hour. Standing ovation -- for a show well worth seeing!!
IT ALL HAPPENS IN PARIS!!!
See trailer: https://www.youtube.com/watch?v=XsbdZUJI6I0
See more: www.thommonckton.net
Venue: 13EME ART , 2 avenue d'ITALIE, 75013 PARIS. Metro: PLACE D'ITALIE.
The theatre 13EME ART is located inside a huge shopping mall, only 50 meter from the Metro, it is somewhat hard to find it, you enter this shopping mall and downstairs you find the theatre.
............................................. reported by ZARRO ZARRO.

21 October 2017
Circus and artists in the autumn holiday. This week and next Saturday I will bring photos and reviews of some of the autumn holidays' many circus related activities.
Circusland in Slagelse. Jacob Boas Leitisstein writes (my translation):
Circus Arena's winter quarter, Circusland in Slagelse, is as usual open during the school's autumn holiday. They offer many different performances and shows, and there were also many new things in the autumn program. In addition, Circusland has also a large playground, a western city, circus school, circus museum and lots of circus animals.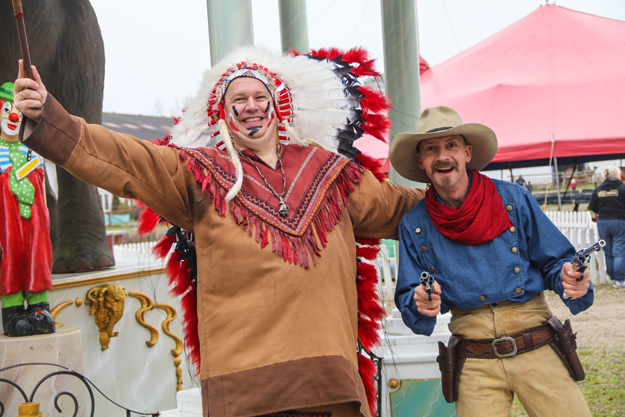 Chief Talking waterfall (Brian Behrendt) and Texas Jack. All photos shot by Jacob Boas Leitisstein
The first opening day was well visited, and from the start of the day there were shows on the program. The first show was a western show, as the park's main theme, besides the circus, is the Wild West. The show was opened by Chief Talking Waterfall who presented the first western act: Suzanne Berdino presenting 4 liberty horses. Then it was time for Texas Jack's acts with revolver juggling and whips cracking. Texas Jack then joined the clown Christian Folco, dressed as Indian.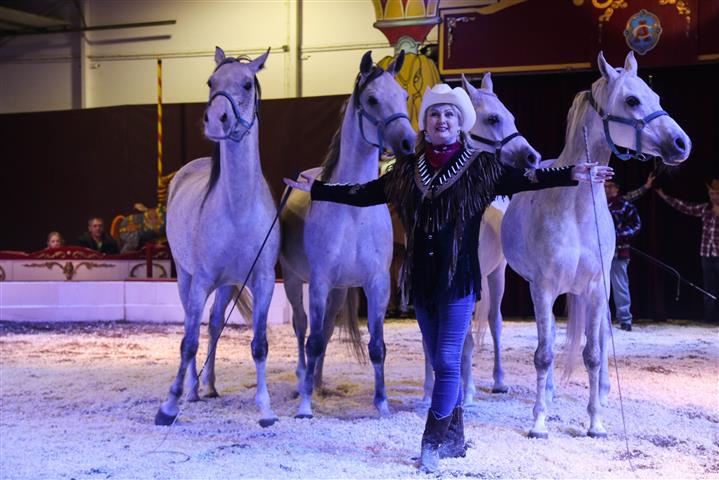 Suzanne Berdino.
The next acts in the western show were respectively Timm Delbosq and Daniel Koscik with horses which both could count and eat at a small table. Texas Jack then did tricks with whip and lasso. The last acts in the western show were with Indian girls Charmaine Berdino and Silvana Biasini with horses.
The next show was the sea lion show. Usually it is Circus Arena's own sea lions you can see. But during the autumn holidays, Circusland could present another sea lion show. It was Steven Pedersen with his two large sea lions Teddy and Scoopy. It was a great show. In addition to the usual tricks such as balance with ball, the sea lions also swam and jumped in the large water basin. During the show, a number of children were also allowed to try and do some tricks with the sea lions.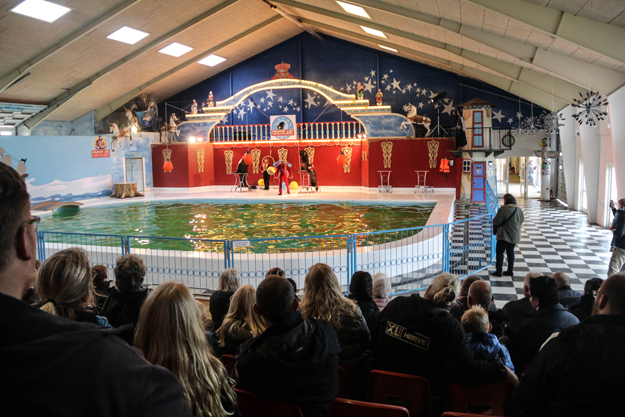 The sea lion basin and Steven Pedersen's sea lions
After lunchtime there was a children's show on the small stage in the playground. Here you could see Texas Jack with magic and a parrot show with Daniel Koscik.
Cirkus Landino also offered a new performance in the autumn holiday. This performance started with a hula hoop act with Charmaine Berdino, performing with luminous hula hoops. Then there were animals in the ring - more specifically dromedaries presented by Timm Delbosq. By the end of the act also a pony and two llamas entered the ring.
The clown Christian Folco, who also participated in Circus Arena's Greenland Tour in the beginning of October, now distributed a number of bells among the audience in the ringside chairs. Then a girl helped Christian Folco to control all the bells so that eventually a little piece of music came out of it.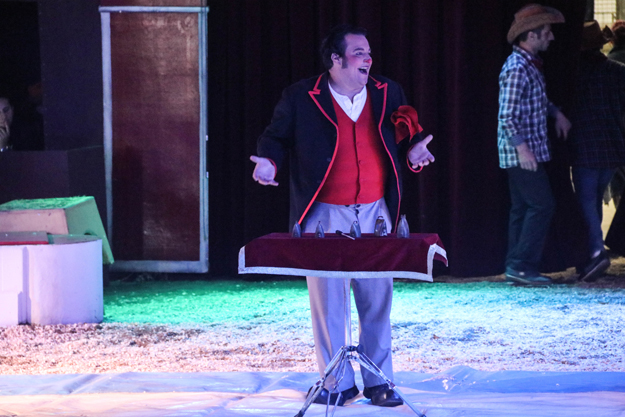 Christian Folco
The next act was also in Circus Landino during in the summer holiday: Foot juggling with Silvana Biasini.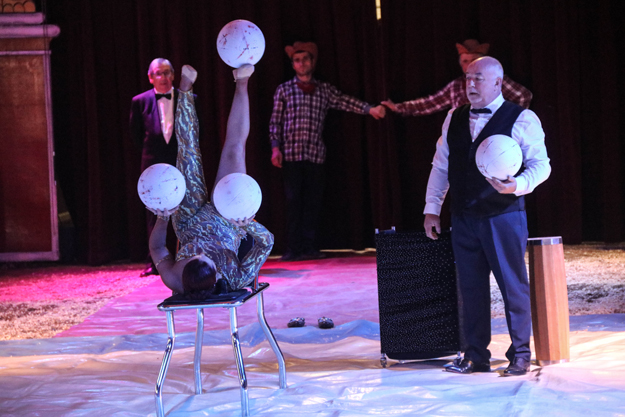 Silvana Biasini
Charmaine Berdino, nominated by the Danish Circus Award to this year's Talent Award, then presented her excellent horse act.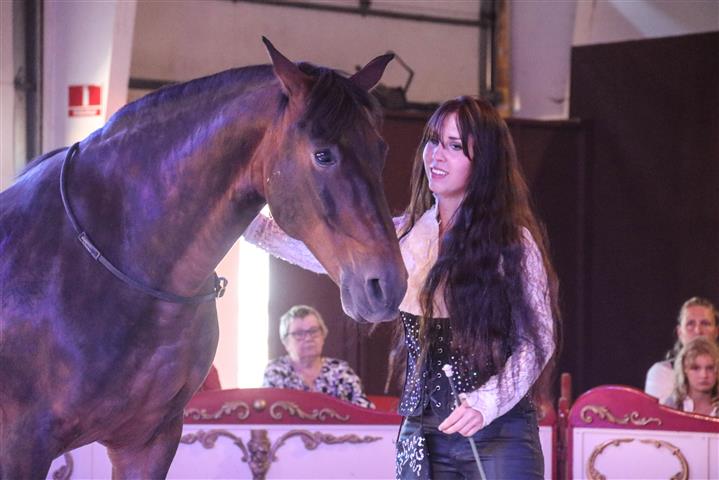 Charmaine Berdino
Following this act, Christian Folco was in search of "volunteers" from audience. It ended with the clown entrée where the volunteers together formed a band.
The second last act was also included in the summer edition of Cirkus Landino. It was Duo Biasini's quick change and illusion number. Last act in the performance was Circus Arena's own elephants. It is rare for the elephants to be home in Slagelse when Circusland is open. The act the audience could see was the same as you could see in Circus Arenas 2017 performance. The elephants were presented by Rudi Althoff.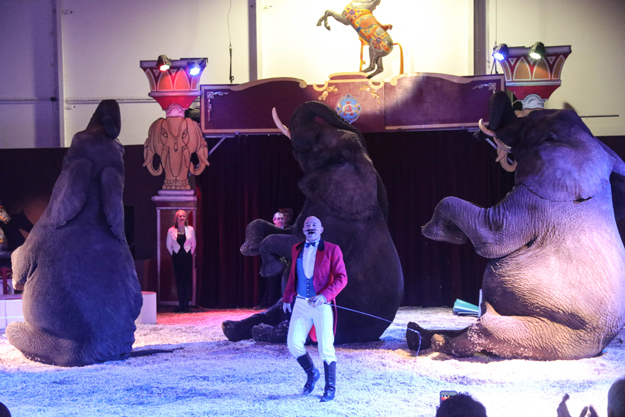 Rudi Althoff with the 3 Arena Elephants. Click here to see more of Jacob's photos from Circusland.
In addition to the mentioned shows and performances, you could from Monday to Friday see a show with Motor Mille.
The Circus Museum in Rold. Jacob Boas Leitisstein has sent me these smartphone photos from the museum, which has its last opening day in season 2017 on Sunday, October 22. Then, as in previous years, there are winter closures until 1 May 2018.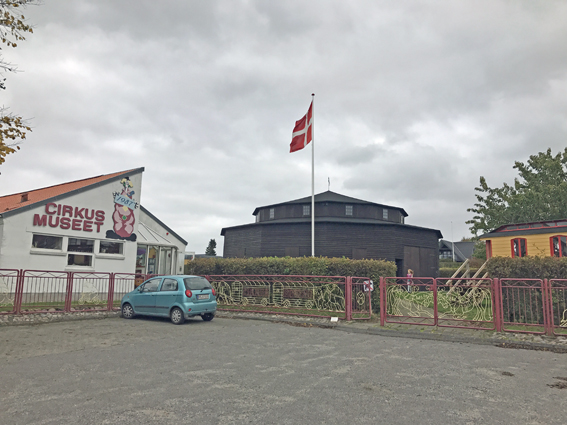 To the left the museum and in the middle Circus Miehe's old wooden circus building which they used as training ring. The fence is from Circus Moreno.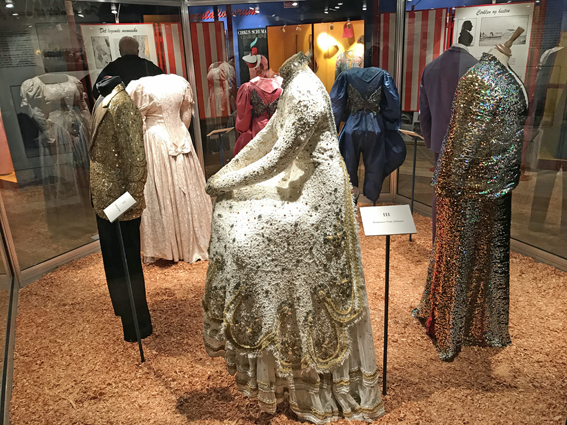 From the museum's exhibition.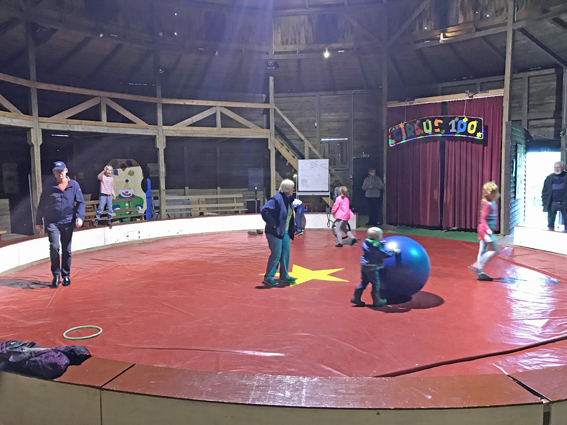 Inside the circus building where children could try their luck as artists.
Charlie and Binalto from Circus 3 could be seen in Frederiksberg Shopping Centre in Copenhagen. "The show is a really nice present for all children. It is always a pleasure when you see CIRKUS 3 SHOW. Charlie & Binalto you always gets the good mood up" writes Per. Mr. Sputnik "Krogh Petersen and continues: It is with great pleasure that I now can show you the pictures & video I took. May All Your Days Be Circus & clown Days"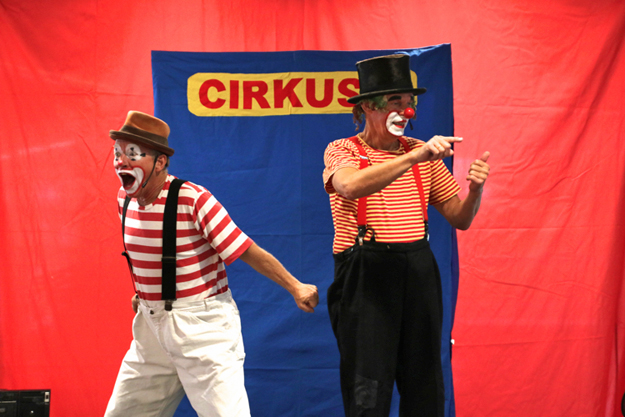 Charlie and Binalto. Click here to see more of Per "Mr. Sputnik "Krogh Petersen's photos from their performance in Frederiksberg Shopping Centre.

19 October 2017
A different sort of pickpocket. The Danish gentleman thief Kenny Quinn has just participated in the German TV program VERSTEHEN SIE SPASS? which was broadcasted on the German channel ARD - Das Erste from kl? 20.15 - 23.30, Saturday evening, 14.10.2017. The program was seen by approx. 4.5 million TV viewers.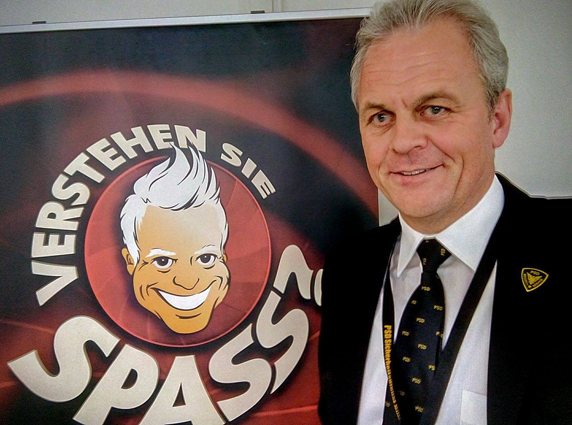 But Kenny did not steal. On the contrary! "Instead of stealing from the audience, I should be dressed as a security guard putting various items in the guest's pockets together with German Blogger Joyce Ilg, who is also a new in Verstehen Sie Spass?" Kenny Quinn tells. The recordings were made over 2 hours when the audience arrived at the BAVARIA FILM STUDIOER in Munich, from where the program was broadcasted. The recordings with Kenny were edited until they were broadcasted about 22 o'clock. During the 2 hours many who were filmed found everything possible in their pockets, ranging from brass, driving license, handcuffs, and mini bananas to two "Fake" joints. To great fun, not least the for audience in the studio. Click here to see the approx. 3 minutes long clip with Kenny Quinn.
As mentioned earlier on this page Kenny Quinn will from 10 November to 9 December be part of Cabaret Candy Club's shows in Malmö and Helsingborg. Here, however, it is his normal entrée as elegant gentleman thief the audience can look forward to see.
From the 15th to the 31st of December, Kenny Quinn and Mrs Joan can be seen in the Bonner Weihnachts Circus in Bonn. The German Christmas Circus offers also apart from Kenny a number of top artists. The performance is put on stage by of Louis Knie Snr. who also has been involved in the booking of acts. See www.bonner-weihnachtscircus.de

18 October 2017
IT ALL HAPPENS IN PARIS -- an entirely new theatre: 13EME ART - has opened in PARIS, this theatre proudly presents a lot of different shows: legitimate theatre, stand-up-comedy, dance, circus, thus a rich variety of programs, including classical theatre, musical as well as visual productions.
This is good news as the audience has hesitated for a rather long time to attend public gatherings - after several terror attacks.
13EME ART proudly presents CIRQUE ELOIZE with the show CIRKOPOLIS. A new-circus from QUEBEC, CANADA, touring the world for about 20 years, featuring a fantastic program: 2 acrobats play around among the audience already before the curtain is up, they act as intermission clowns, JEANNOT PAINCHAUD is responsible for the stage-setting, he has integrated video-special effects, and has got his hands on original music.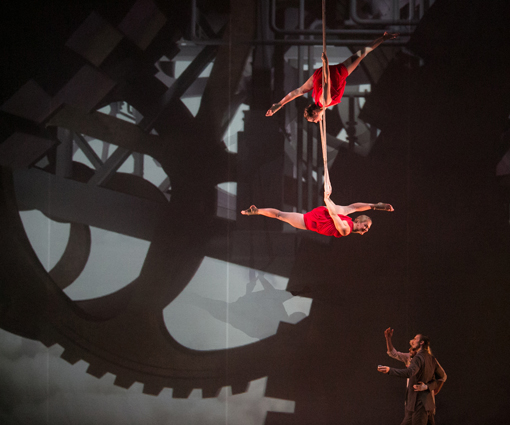 Photos by courtesy of Théâtre Le 13 ème Art
The entire ensemble, 14 acrobats, master: dancing, theatre and acrobatics at a high level and this show is full of poetry, imagination as well as many hilarious stunts. All the performers are dressed in class and style - not common among new circus artists.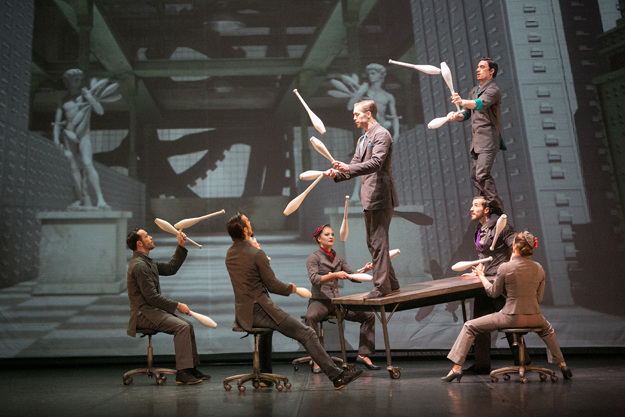 At a brisk pace we saw: CYR WHEEL/ two kinds: one single, then a double version/, trapeze, vertical rope, springboard, a very skilful diabolo juggler and all of them taking part in juggling Indian clubs.
A marvellous show geared to all kinds of spectators. The standing ovation was a well-deserved reward -- this is worth seeing.
IT ALL HAPPENS IN PARIS!!!
Click here to see trailer
Venue: 13EME ART, 2 avenue d'Italie, 75013 PARIS. Metro: PLACE D'ITALIE.
This venue is located inside a huge shopping mall, 50 meters from the Metro, somewhat hard to find.
.................................................... reported by ZARRO ZARRO.

15 October 2017
When I on 10th of October mentioned the new Swedish film What a damned circus I wrote that some liberty horses belonged to Adriana Folco and that the dogs belonged to Peter Igen. Carmen Rhodin of Circus Brazil Jack has corrected me: the horses belong to Franziska Micheletty Folco and the dogs belong to Peter Taylor Balder. And Carmen knows: it was her who helped the movie producers to find artists, etc. Carmen's son Trolle (Trolle III) is also among the performers in the film as the fire eater Sergio.

10 October 2017
What a damned circus is the title of a new Swedish movie which premieres in the Swedish cinemas on October 20th. The film is directed by Helena Bergström and parts of it are recorded in the Swedish Circus Brazil Jack. Some scenes in the film are recorded with artists and animal trainers as stand in. Two aerial numbers are thus performed by Uve Jansson, who works for Cirque du Soleil. Some liberty horses belong to Franziska Micheletty Folco. A tight wire act is done by the clown Bubi Ernesto's granddaughter Ofelia. The dogs belong to Peter Taylor Balder.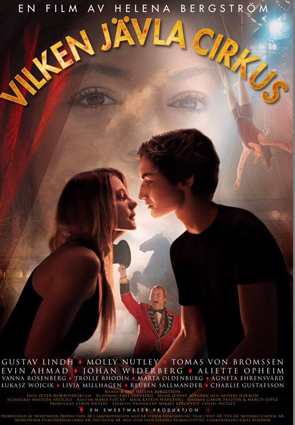 Story line: Young university student Hugo (Gustav Lindh) falls in love with promising violinist Agnes (Evin Ahmad), but something happens that changes his life completely. Moving on, the story turns into a romantic drama-comedy with great portions of humour and warmth, as Hugo ends up at Circus Margôt and is drawn into that absorbing existence

9 October 2017
Benny Schumann show in Broen shopping in Esbjerg 08.10.17. Find Stendevad saw the performance and writes (my translation):
Benny Schumann was as usual in fine form. He made all his small gags such as the small magic tricks with scarves, etc. But it never looks like pure routine. He present all tricks with his own twist. He also brought his ventriloquist dolls and balanced with knifes and a shoe.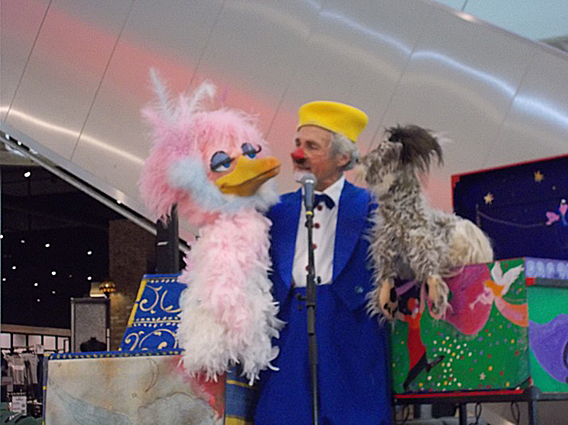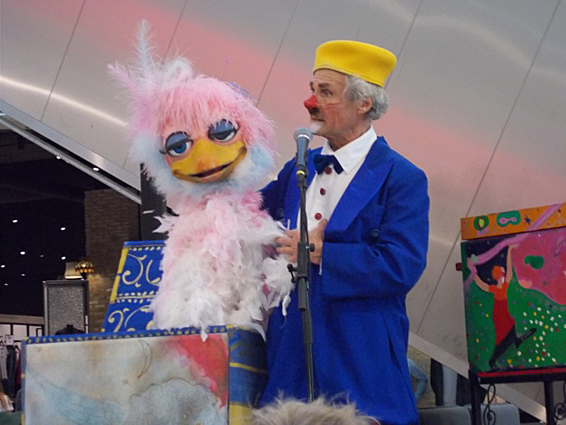 Benny Schumann. Photo: Find Stendevad
The show lasted half an hour. After that he spent another half an hour with workshop for children, inviting them up on the stage teaching them to balance with rotating plates, etc. As usual both charming and loving. The kids enjoyed it. Good entertainment on noisy shopping mall square.

9 October 2017
IT ALL HAPPENS IN PARIS -- a number of funny, interesting and thrilling shows -- now at the very beginning of the season THEATER CLAVEL proudly presents a sympathetic, appealing and hilarious show by and with PIERRE FATUS -- a real multi-artist who masters a large panel of skills: comedy, music, dance, acrobatic stunts, mime, magical effects and juggling --he also features short funny sketches riding a unicycle.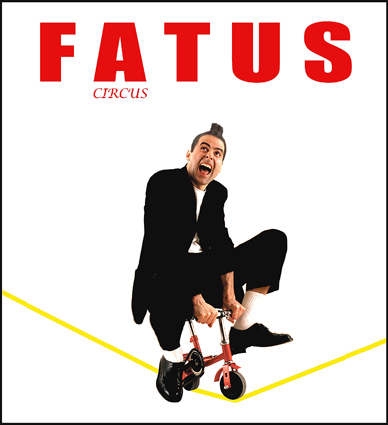 Pierre Fatus. All photos by courtesy of Pierre Fatus
His entrance riding a mini-mini two wheels bike is amazing -- he excels playing the saxophone, also a mini-model of this instrument, electric guitar, mouth harmonica and concertina - a classical instrument among clowns.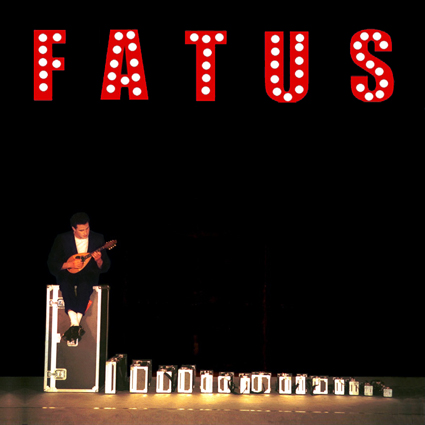 Several short magic tricks, and a sequence juggling three balls, surely classical juggling /CASCADE / but accurately and professionally performed. PIERRE FATUS displays dance-and acrobatic stunts, showing a perfect body control, and likewise when performing several sketches riding his unicycle -- inclusive audience participation/interaction with the spectators. Exit - as he entered the stage - on the mini-two wheels bike!!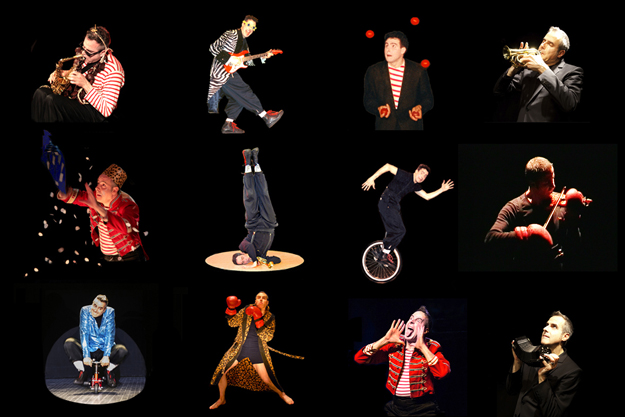 PIERRE FATUS shows great joy of performing for his audience - his performance is well worth seeing, I can congratulate the spectators who had found their way to THEATRE CLAVEL - regretting, in fact, the too small number of people present.
IT ALL HAPPENS IN PARIS!!!
Venue: Theatre CLAVEL, 3 rue CLAVEL, 750019 Paris. Metro: PYRÉNÉES.
See video clip at https://www.youtube.com/watch?v=LaEIiPXkAtQ&feature=youtu.be
Website: http://www.fatuscircus.com/
................................ reported by ZARRO ZARRO.

6 October 2016
Circuses etc. during the autumn holiday. All schools in Denmark are closed in week 42. During the school's autumn holidays you can see circuses and artists in some shopping centres etc.
Here is an overview of the events I know of:
In Jutland
Kolding Shopping Mall is visited by Circus Arena from Monday 17 October to Saturday 22 October. Short performances every day at 11, 13 and 15. Free admission.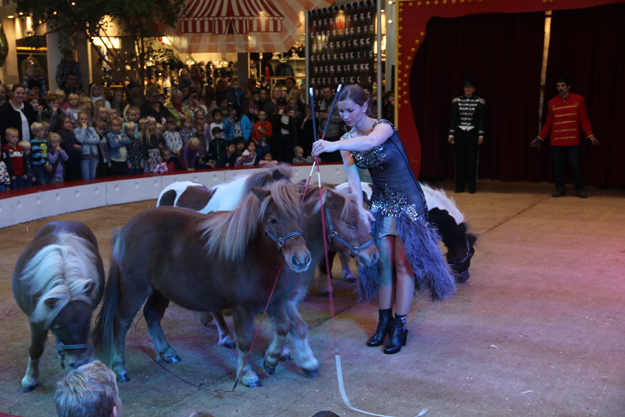 Laura Berdino with ponies. Photo from 2016. Photographer Jacob Boas Leitisstein
Circus Mascot has performances in Bytorv Horsens in the days 16 to 21 October. Monday to Friday at 11, 13 and 15:30. Saturday at 11 and 13. Free admission. In the approx. 30-minute long performances you will meet Gulio the clown, partly with solo reprices and partly together with her daughter Juliya. Husik does juggling. Last act is Marianne Deleuran's poodles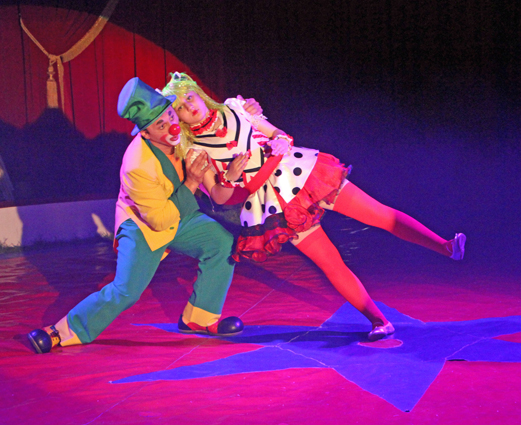 Gulio with his daughter Juliya
At Katja Schumann's Circusfarm on Vrenstedvej 287 in Løkken there is from Saturday 14 October until Sunday 22 October performance every day at 16. Admission.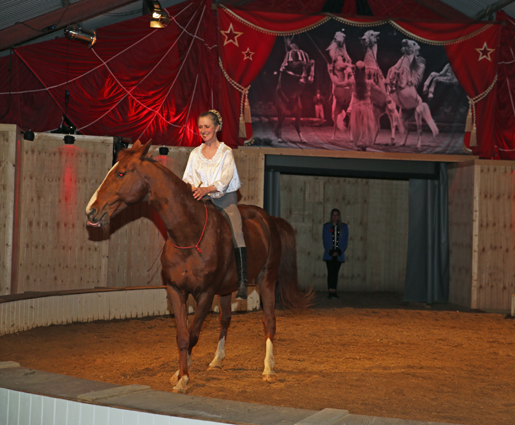 Katja Schumann. Photo: Jens Chr. Sorensen
In Copenhagen and elsewhere on Zealand
At the Circus Museum in Hvidovre, Copenhagen, you can from 16 to 20 October every day at 11 meeting the artist and clown Benny Schumann with his 50th anniversary show as solo performer. Look forward to an amazing show with highlights from Benny's amazing career.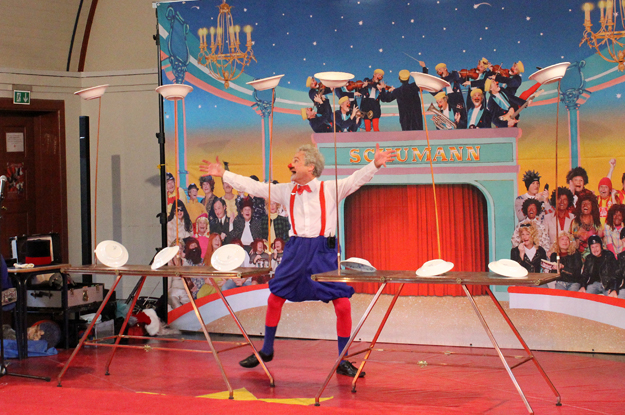 Benny Schumann. Photo from performance at the Circus Museum on World Circus Day 2015
In the shopping centre City 2 in the Copenhagen suburb Høje Taastrup Circus Bella Donna has performances and workshops from 14 to 22 October. Every day there are circus performances at 12 and 15, where the children have the opportunity to participate in the performance. Admission.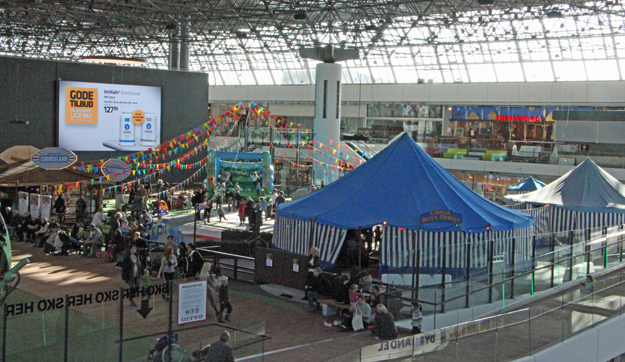 Circus Bella Donna in City 2. Photo from 2016
Frederiksberg Shopping Center, Copenhagen. From 14 to 22 October every day is at. 12 and 14 clown show with Charlie & Binalto. Free admission.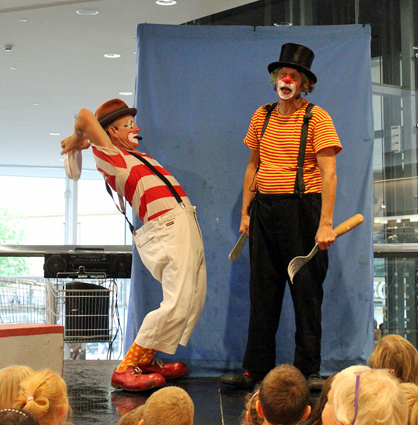 The children love Charlie and Binalto's pie entrée
Circusland in Aarslev at Slagelse. Open every day from 10 to 16 in the days 14 to 22 October. You can, among other things, see circus performances, sea lion show, western show and children's show. Among the performers are the clown Christian Folco, the sea lion trainer Steven Pedersen and the Wild West artist Texas Jack. Park Manager Suzanne Berdino presents liberty horses and her husband Daniel Koscik his parrot. One of Suzanne's daughters, Charmaine Berdino, present her excellent horse act. Admission.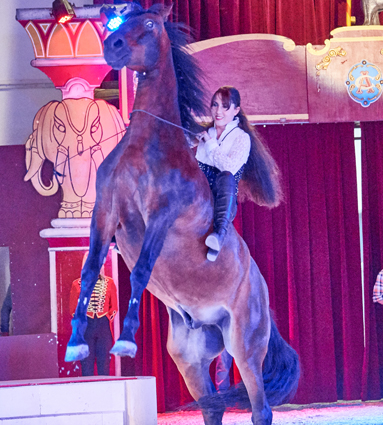 Charmaine Berdino was one of the three artists nominated for the Danish Circus Award's talent award this year. A quality stamp, even though the award was given to another. Photo: Rud Kofoed / Ajour Press
Christian Folco is a nephew of Cirkus Arena's house clown Jimmy Folco and travelled all his childhood with Arena together with her parents and his sister Edith.
Steven Pedersen's act is known from the Danish DVD 'Animals in circus'. In 1994 he performed in Circus Arena and in 2003 and 2005 in Circus Benneweis. In 2006, Danes met him in Benny Schumann's mini-circus, where he also has been later years, and at Circus Kenny in Odense.
Texas Jack was also in Circusland during the winter holidays. In 2007 and 2008 he toured with Circus Baldoni.

4 October 2017
IT ALL HAPPENS IN PARIS --- the fall-winter-season has just begun and, as usual, we are looking forward to seeing a number of good shows....THEATER LES FEUX DE LA RAMPE proudly presents an excellent MAGIC COMIC SHOW, stage direction by CLEMENT NASLIN, featured by outstanding magic entertainer GUS.
THEATER LES FEUX DE LA RAMPE is perfectly suited for this rather intimate show, sporting seats for 150 persons, having red chairs in the best of theater style but all the same modern, as all the technical furniture is attached to the black ceiling.
LES FEUX DE LA RAMPE is located in a very lively area, full of tourists but also locals find their way there.
GUS is elegantly dressed, all in blue: shirt, trousers, waistcoat and jacket - everything matches.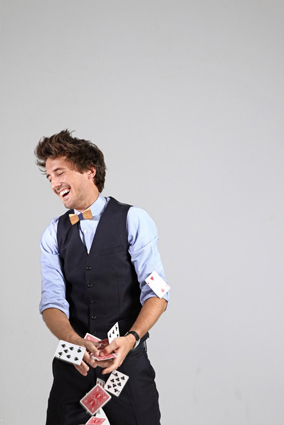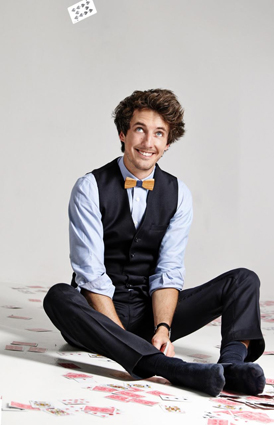 All photos by courtesy of Gus. Design: TROIKA, Photo: Laurent PONS
The show starts and ends using a video sequence, where GUS is seen in a funny context.
An important point of interest is that GUS masters both technically advanced manipulations and the comical stunts that accompany them - he displays both skill and comical talent when performing the bottles and glass that keep changing places and the manual technique when plucking cards - seemingly from thin air...
Audience participation/interaction with the audience is featured with great curtesy to all, which means that everyone has a nice and even hilarious experience, both the spectators that are invited up on stage and those who remain seated.
GUS performs displaying great joy at performing - a feeling that is extended to the audience.
A GREAT SHOW - the final standing ovation was well earned.
GUS performs both at theatres and at special events.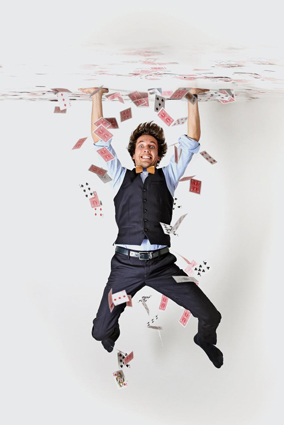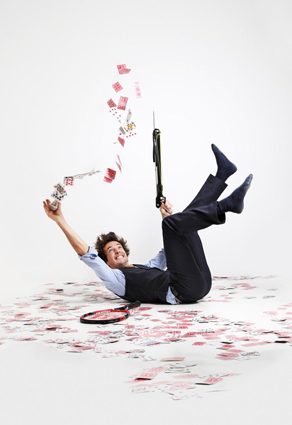 See more: https://gusillusionniste.com/ (in French, but you can use Google – translation).
Venue: THEATRE LES FEUX DE LA RAMPE, 2 rue Saulnier 75009 PARIS, METRO: Grands Boulevards or CADET.
IT ALL HAPPENS IN PARIS!!!
......................................... reported by ZARRO ZARRO.

29 September 2017
Circusland opens with a new program for the autumn holidays.
Due to autumn holidays all Danish schools are closed in week 42. Due to this Circusland in Circus Arena's winter quarters in Aarslev, Slagelse, is open from 14th to 22th of October. All days from 10 to 16.
"In Circusland, we put all our effort in ensuring that a visit always will offer new adventures," park manager Suzanne Berdino tells.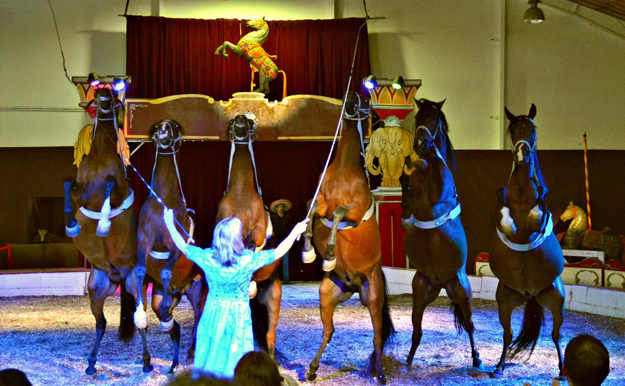 In addition to being park manager, Suzanne Berdino presents liberty horses in the circus performance in Circusland. All photos by courtesy of Circusland.
Motor Mille, popular Danish TV-star from the children's channel Ramasjang, visit Circusland all weekdays where she does her own show from Monday to Friday at 11.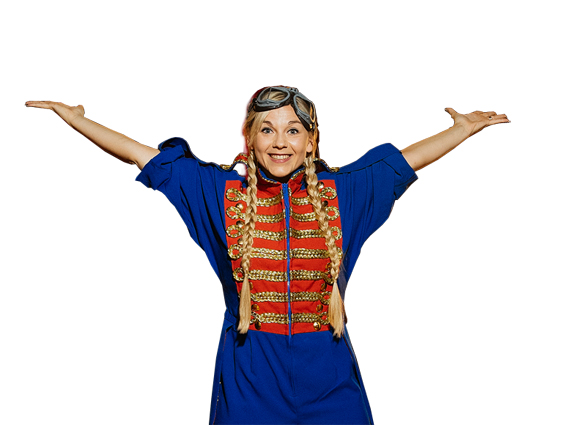 During the day there are a number of shows. Including special children's show, parrot show, western show with Texas Jack, as well as a lavish circus show featuring Circusland's own circus artists and animals. In this performance you can also meet their new clown Christian Folco.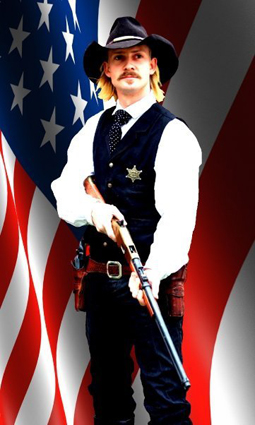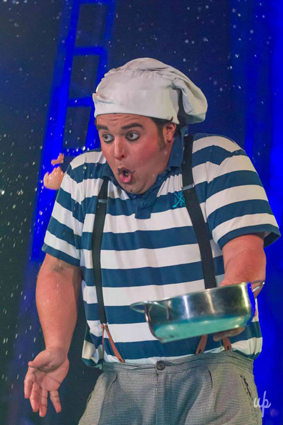 To the left: Texas Jack. To the right: Christian Folco.
You can also see a sea lion show with the well-known sea lion trainer Steven Pedersen who present his two sea lions Scoopy and Teddy.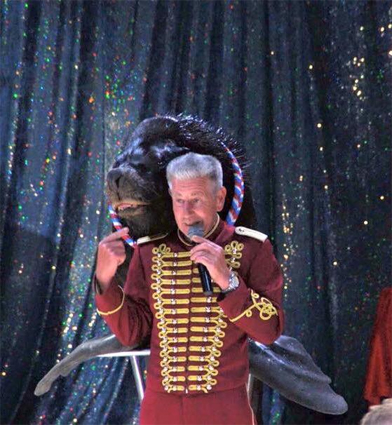 Steven Pedersen and one of his sea lions.
In the stables you can meet Circus Arena's three African elephants Lara, Djungla and Jenny, who are back in Circusland after a fantastic circus season with Circus Arena.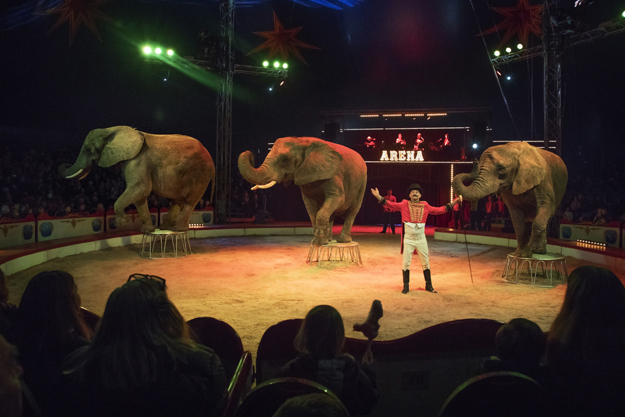 Circus Arena's elephants.
Practical info about Circusland:
Address is Aarslevvej 6, 4200 Slagelse.
Entrance per person: 119 DKK. Family ticket for 4 persons 396 DKK. Free admission for children under 90 cm.
When the entrance fee is paid, all shows, rides, activities and parking are free.

28 September 2017
Bonbon and Tiina to Munich. The Danish / Finnish clown couple Bonbon and Tiina are among the performers in the upcoming February performance in Cirkus Krone in the circus building in Munich. Other artist in the February programs includes Pablo and Victoria Garcia with their rocket, known by Danes from Cirkus Arena 2001 as well as from Circus Dannebrog 2008 and 2014.

25 September 2017
Obituary: Picaso Jr. The formidable juggler Picaso Jr. passed away on September 24th, only a few weeks after he ended a successful season with Danish Zirkus Nemo. His civil name was Francisco Tebar, and he was born in Madrid on October 23, 1969. His father was also a famous juggler, known as El Gran Picaso. El Gran Picaso was probably the first one to juggle ping-pong balls with his mouth. A trick which Picaso Jr. also mastered to perfection. He could also juggle with the balls on a ping-pong bat as well as juggle with plates.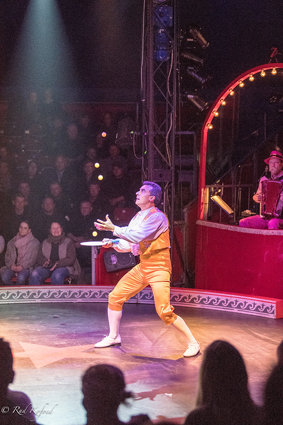 Picaso JR in Zirkus Nemo 2017. Photo: Rud Kofoed / Ajour Press
In Scandinavia, we first time saw Picaso JR in 2001 the Swedish Circus Scott. The following year he got a silver clown in Monte Carlo. In 2008 and 2012 he toured Denmark with Circus Arena and in 2013 and 2017 with Zirkus Nemo. A few years ago, he was seriously ill, but those who saw him in Zirkus Nemo this year met at juggler with sparkling energy and charm.
In his review of this year's performance in Zirkus Nemo Rud Kofoed wrote:
"The Spanish juggler Picaso Jr. can get his juggling balls and plates to do what he want. It is so elegant and charming done that one senses the total surrender of the audience in the sold out tent. The circus world's Picaso thus matches the painter world's Picasso.
Picaso Jr. is the son of the legendary juggler El Gran Picaso, who has taught him how to juggle. It is easy to understand why Junior hardly dared to make his entrance to the ring after his famous father. But he has inherited his father's talent and learned his skills to perfection.
I watched when Junior got a silver clown on the most prestigious international circus festival in Monte-Carlo in 2002. He has not gotten worse - on the contrary! He was the first time in Nemo in 2013 - after seasons with Circus Arena in 2008 and 2012. It is not surprising that more than one mantelpiece is needed to get room for all the prizes he has been awarded."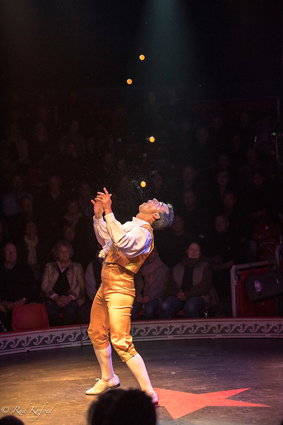 Picaso JR in Zirkus Nemo 2017. Photo: Rud Kofoed / Ajour Press
Extremely sad that this world class artist has passed away just a few weeks after the audience in Odense saw him at this year's last performances in Zirkus Nemo. By 2018 he was to have performed at Circus Jesper in Kristiansand Dyrepark in Norway, and in 2019 he should have been back in Denmark for his third season with Zirkus Nemo.
From Zirkus Nemo, Soren Ostergaard, Lisbet and Laura write:
"We are in deeply chock. We just got informed that our beloved and good friend Paco Picaso Jr. suddenly died. It's so incredible unreal for us - we just ended the season where Paco drove to his family in Spain and we were looking forward to seeing him again in Nemo 2019. He was a wonderful and such a given man filt with warmth, humor and energy and most of all an unmatched artist! We send over deepest compassion and love to his wife and children. The lost must be unbearable."

25 September 2017
Cirkus Arena in Greenland: Circus Arena has now published the full list of performers for their tour on Greenland in the days 1 to 5 October:
"We have put together a very good performance which the audience can look forward to see. There will be something for everyone," says Circus Director Benny Berdino, who himself will be ringmaster.
The performers are
The foot juggler Silvana Biasini
Quick-change with Silvana and her husband Claude
The clown Christian Folco
Miss Elena (Yelena Larkina) with hula hoop.
The juggler Kris Kremo
The diabolic juggler Damian Pranay
Patrick and Oliver Berdino knockabout table act.
Clowns Martino and Co (Martin and Bettina Arli).
Ducks presented by Daniel Koscik

22 September 2017
Standing ovation for Benny Schumann. There was a standing ovation for Benny Schumann, when Wallmans had their gala opening night on the dinner show Entourage on September 20th. In the show one spectacular act follows after another, like a string of pearls. A show that clearly is for the 6 stars, which is the maximum a reviewer can give. The show can be seen in the Circus building in Copenhagen until mid-June 2018 with performances every Thursday, Friday and Saturday. In November and December also performances on Wednesdays. The language in the show is English making it perfect alto for non-Danes.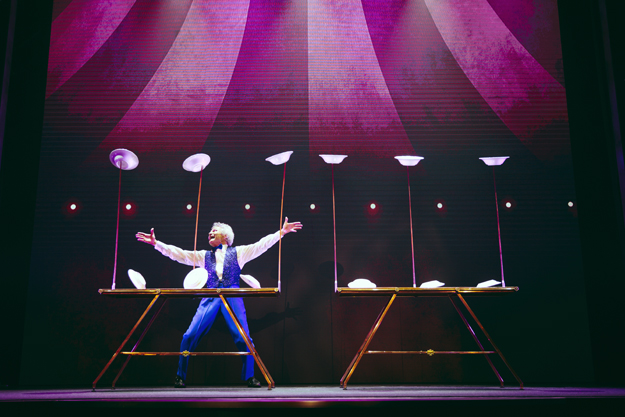 Benny Schumann. Photo by courtesy of Wallmans
It is 50 years since Benny Schumann had his debut as spinning plate juggler. It was in Circus Schumann in the Copenhagen Circus building, which he left by the end of season 1967 for the next 10 years to travel around the world with his plate spinning act under the artist name Ric Benny.
It was with pride that Wallmans' CEO Dorthe Fryd Ekelin welcomed Benny back to the building after 50 years of absence.
Benny's entre started some movie clips from his childhood in the Circus building.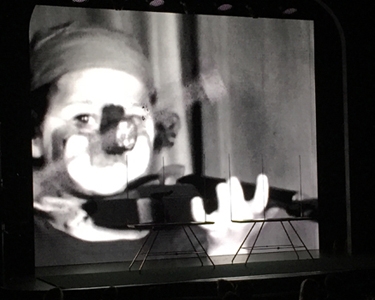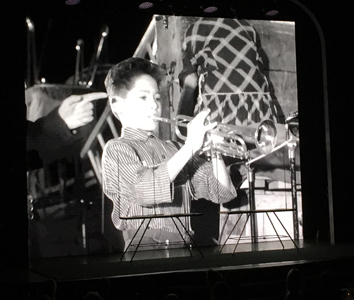 A young Benny Schumann. Smartphone photos
Then Benny entered from the door to the left of the stage and first presented plate spin and then after entering the stage the trick where he spits while balancing a shoe on his forehead.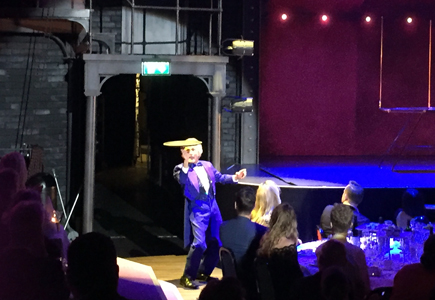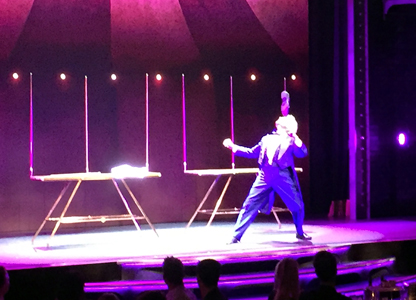 Smartphone photos
Then he presented the elegant act with the 6 spinning and 6 rotating plates. As the only performer in the show Benny was rewarded with standing ovation. My side lady refused to believe me when I told her that Benny was 72 and age wise could be father or even grandfather to a large part of the other performers.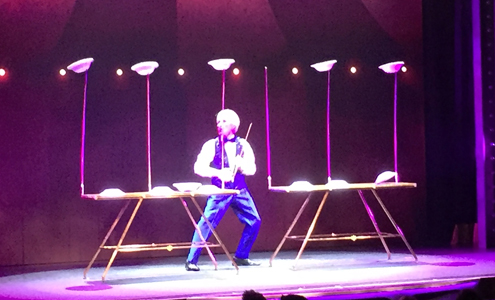 Smartphone photo
In the break after the act Benny went around among the audience, who were allowed to try their luck as plate spinners.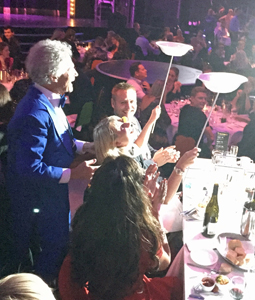 Smartphone photo
The performance also provided a reunion with Polish Duo Creative who was in Wallmans in season 2016/17 and who in summer was one of the 3 artist acts nominated for to the award for the best year of the year in Denmark. A clear quality stamp for both them and Wallmans, even though the award went to another act. In the Entourage show they did a fine act in aerial straps. Before joining Wallmans in the autumn 2016 the two talented artists have among others places performed in Great Yarmouth Hippodrome Circus in England and at Caesar Palace in Las Vegas.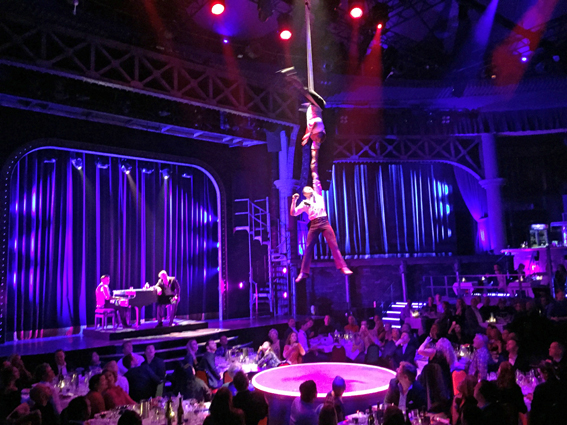 Duo Creative. Smartphone photo
The evening's third artist act was Finnish Veera Kaijanen who previously has been touring with Cirque du Soleil. At Wallmans she present a wire act where the wire is put up over the hall's lowest section, see photo. For the sake of the audience sitting under the wire she uses a safety lounge.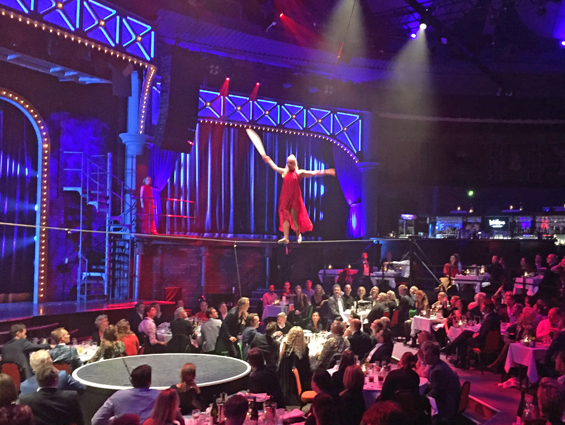 Veera Kaijanen. Smartphone photo
In addition to the three artist acts the show presents talented young dancers and singers with tribute to stars as Leonard Cohen, George Michael, Prince, David Bowie and Madonna. There is no doubt that not only the premiere audience but also the tens of thousands of visitors who will see the show in the next 9 months will feel that they have had a wonderful evening at Wallmans.

17 September 2017
Circus Trapez owned by Isabella Enoch Sosman and Bernhard Kaselowsky has been in the media spotlight several times over the year. The stories in the medias has usually – deserved or undeserved - been negative. Under the heading Circus clowns around: Safety for employees and the public sailing, the tabloid Ekstra Bladet writes today with Avisen.dk as the source that, over the summer, episodes with failing security have put both employees and the audience at risk. This has resulted in a number of orders from the Danish Working Environment Authority.
In June, three people were injured after a tribune crashed crowd in Blokhus, and a few weeks later a Polish man who was affiliated with Circus Trapez was kicked down by a camel during the stay in Bjerringbro. There has also been a case about employees who had to lift heavy ring sections manually and a forklift with broken tower chains that had not been inspected for nine years.
According to Avisen.dk Isabella Enoch does not believe there is a security issue for the public and employees and denotes the accidents as minor accidents. The Danish Working Environment Authority smiley page gives Cirkus Trapez a yellow (unhappy) smiley and tells that they have received 4 direct orders, 2 of which have not been met. This may lead to fines, which may well be in the range of DKK 100,000 or more.
Circus Trapez is not a member of the Danish Circus Owners Association. The Association find it deeply regrettable that Circus Trapez has given reason to many negative stories in various media. "It is very difficult for people to know the difference between the various circuses in Denmark. That's why the stories about Circus Trapez hurts all of us" said the associations chairman Martin Arli recently in a press release. The Circus Owners Association's members have had a work environment consultant with advice to target the work on safety and the preparation of Workplace Evaluations (APV), thus ensuring that there are neither security problems for the public nor the employees in their circuses. The members of the association work together to make demands on each other in order to enhance the quality and safety and thus the experience of Circus in Denmark. Circus Arena, Circus Arli, Circus Baldoni, Circus Mascot and Circus Krone are members of the association. The same goes for the two circuses that have not has toured this year: Benneweis and Dannebrog.

14 September 2017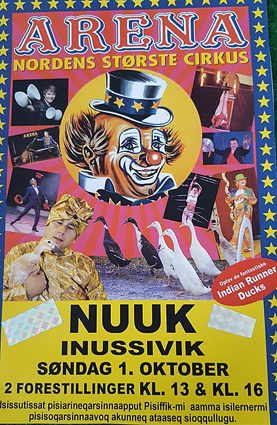 Traditionally in the beginning of October Circus Arena visits a number of cities in Greenland with a special performance. From this year's poster you can see that Daniel Koscik dressed as an Indian shall present Indian Runner Ducks. You can also see the knockabout table acrobats Patrick and Oliver Berdino, the juggler Kris Kremo, the hula hoop star Yelena Larkina, the clown Martin Arli, the foot juggler Sylvana Biasini and the clown Christian Folco. In addition, there is a picture of a young diabolo juggler whose name I don't know. - Kris Kremo and Patrick and Oliver Berdino toured this summer with Circus Arena. Sylvana Biasini performed this summer in Circusland in Circus Arena's winter quarter.

11 September 2017
Kenny Quinn to Cabaret Candy Club in Helsingborg and Malmo. Again this year, the Danish gentleman thief Kenny Quinn will be part of Albin Ganovic's Cabaret Candy Club Show "Ohlala", which this year can be seen both in Malmö and Helsingborg from 9 November to 9 December. In addition to Kenny Quinn, the audience will meet Duo Hand2Stand. They come from Canada and have, despite their young age, joined the circus festival in Monte Carlo as well as worked in Cirque Du Soleil and Circus Roncalli. In addition, the audience meets Albin Ganovic himself as well as his Candy Boys and Candy Girls.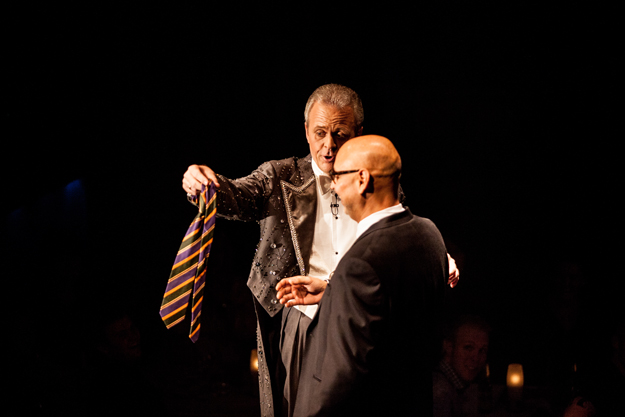 Photo of Kenny Quinn taken during the Candy Club show in 2014.

9 September 2017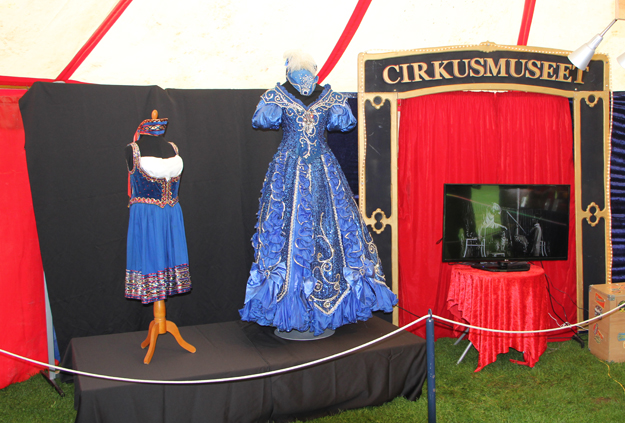 Benneweis exhibition. In connection with an event in Hvidovre, the Circus Museum had made a special exhibition about Circus Benneweis in the museum's small tent. In the exhibition you could see two of the beautiful costumes the museum recently has received: The small dress is a gift from Princess Eleonore-Christine zu Schaumburg-Lippe, who told the museum it was Diana Benneweis' first costume. The beautiful blue dress is a gift from the Benneweis family. It has been used by Diana Benneweis and later by ringmistress Judy Glosted. After the event the two costumes became part of the museum's permanent exhibition.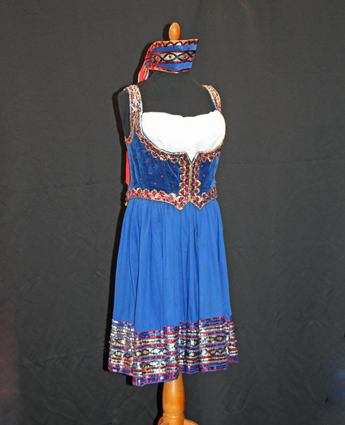 Diana Benneweis tells that she was about 14 years old when she used this small blue dress, which the museum got from Princess Eleonore. The dress was used together with an embroidered white blouse.

7 September 2017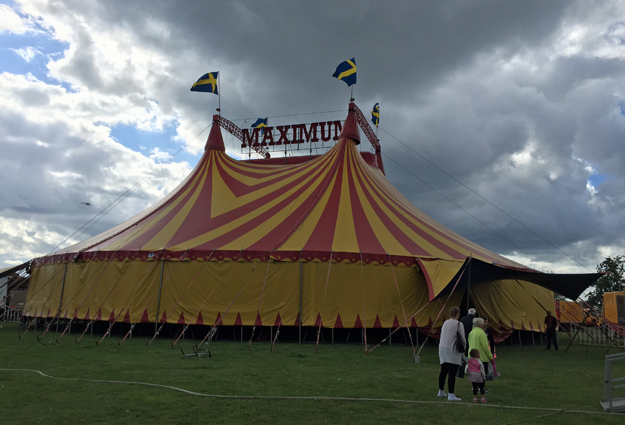 Circus Maximum. After 3 weeks summer break in August, the Swedish Circus Maximum has resumed the tour. The season will close in Gothenburg on September 24th. It is common knowledge that the season 2017 did not meet the expectations of circus owner Bengt Källquist, and that he felt that he without reason through the season was pursued by animal rights activists.
There are many rumours about what will happen in the season 2018. Circus Maximum's Tour Manager Helena Schicht writes: ""Rumors are rumors and these are not to be believed." Until there is something concrete, I will refrain from reproducing the rumours on this page.
Bengt Källquist established his circus in 1983 under the name of Circus Minimum. A few years later, he changed the name to Circus Maximum. He can thus celebrate his 35th anniversary as circus owner in 2018.

5 September 2017
The Swedish Circus Scott has not been touring this year. In 2016, the "tour" consisted just of a couple of weeks visit to Stockholm with musical circus built up over the Swedish children's book figures Babblarna. This year, Robert Bronett tries something new: the performance MagicXmas, which can be seen at Stockholmsmässan from 16th - 26th November. The performance can be seen both as a dinner show and as a show without dining. The performing magicians are
Jidinis, known from several seasons in Circus Benneweis and Circus Arena, last season 2017 at Arena
Aaron Crowe "The Silent Mentalist"
Jean Garin - Modern Digital Magic
Sonambul "The Art of Mind Reading"
Gérald le Guilloux "Master Manipulator"

3 September 2017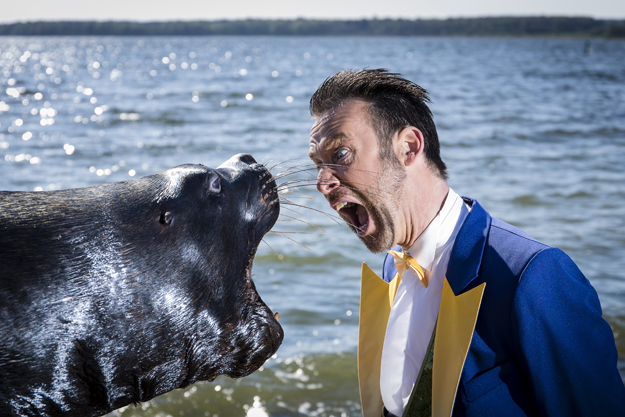 Sea lion retires. When Ingo Stiebner and his sea lion Lappy on September 16 finish the season at Zirkus Nemo, Lappy will retire. Ingo presented for many years with two sea lions, but one, Lola, died shortly before Zirkus Nemo began their season. Lola was the one whom Ingo was known to dance with. Now, Ingo has decided that the last sea lion Lappy after many years of faithful service will be allowed to retire. Ingo Stiebner's sea lion act is known as one of the best in the market. His mother Claire presented for many years the excellent sea lion act Clarrison's together with Ingo's stepfather Peter Harrison whom she met in the Copenhagen Circus Bulding where he was run-in-clown. Claire had taken over the sea lion act from Captain Max Morris. In 1992 it was Ingo Stiebner who presented Clarisson's sea lions in Circus Benneweis. Ingo had his Danish debut with his own sea lions in Circus Benneweis in 1998. Since the turn of the millennium, Ingo Stiebner has spent 5 seasons with Danish Circus Arena. He has spent three seasons with the Swedish Circus Maximum. Season 2017 is his third season with Zirkus Nemo, where you until September 16th can see him and Lappy in the tent at the fairground in Odense. Ingo Stiebner does not intent to train new sea lions but have other plans. - Press photo from Zirkus Nemo. Photographer Jesper Voldgaard.

2 September 2017
IT ALL HAPPENS IN PARIS. You've probably noticed that there currently is less news from Paris than in earlier years. That is partly because it is not in the summer the most exciting things happen in Paris, and part because my senior correspondent in Paris ZARRO ZARRO has had 2 surgical interventions due to arthritis, both knees. Following a long re-education, he can now walk around (nearly) as well as before. But I have asked my old friend to take good care of himself and only cover what he find most interesting.
However, I can promise you that you during the autumn still will get reports from Paris, including from some of the exciting circus performances, Paris offers every autumn: Cirque d'Hiver Bouglione, Circus Alexis Gruss, Circus Arlette Gruss and Circus Pinder.
The winter circus in Paris, Cirque d'Hiver, is perhaps the world's most famous circus building. It was opened by Emperor Napoleon III on 11 December 1852 as the Cirque Napoléon and has ever since been a prominent venue for circuses and other events.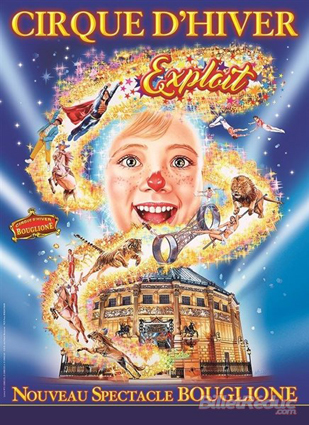 This year's performance is called Exploit. The season will open on 14th of October and close on 11 March 2018. The performance is tied together by the clown Rob Torres's and offers a number of world class artist including several we have met in circuses in Scandinavia: Robin Valencia (Arena 2007, Scott 2013), the jockey riders Donnert family (Benneweis 2013, Brazil Jack 2014 and 2017), the trampoline comedian Max Weldy (Benneweis 1991, Red Inn Theatre 2003, Tivoli 2004, Arena 2010, Maximum 2011 and 2016, Arnardo 2015) Encho (Arena 2006 and 2017) and the diabolo juggler Pierre Marchand (Brazil Jack 2015, Arena 2017).

30 August 2017
Swedish Circus Brazil Jack closes the season in Malmo. The Swedish Circus Brazil Jack finishes this year's nationwide tour at the Mill Square in Malmö with performances Friday 8 September at 18 and Saturday 9 September at 16. Malmö is the third largest city in Sweden, after Stockholm and Gothenburg, and the fifth largest city in Scandinavia, with a population of above 300,000. There is a bridge/tunnel from Copenhagen, Denmark, to Malmö.
"Circus Brazil Jack 2017 - classical circus when it is best. Brazil Jack opened the season in Malmö in the southern part of Sweden on Thursday 16 March. The approximately 2 hour long performance is a very strong performance presented in a brisk pace and without any superfluous breaks. There is not a single act of the kind you sometimes sees just as a "filler" I wrote on this page after their season opening in Malmo on March 16th.
Among the attractions is the 32-year-old Ukrainian strongman Deniz Ilchenko. Strongmen in circus are today a rarity – Danish Circus Baldoni had, however, in 2016 the not quiet young Hungarian Hercules Jozsef Pakuza in their performance. Deniz is clearly better - but also much younger - than his Hungarian colleague. He juggles with tires, pull a car by a bit and spins a tree trunk around his the neck. A feat, which he then repeats with 4 people on the tree trunk, see photo. At the end of the entrée he is run over by a car.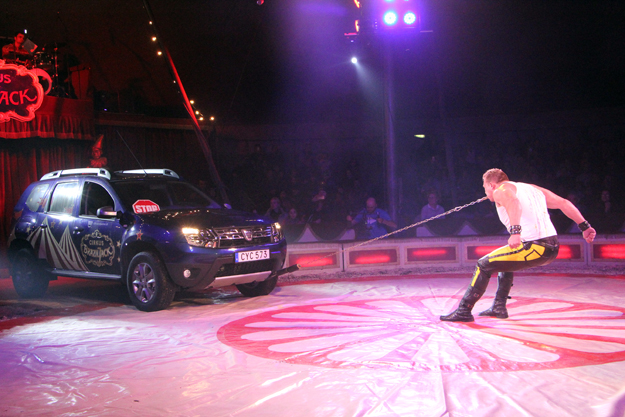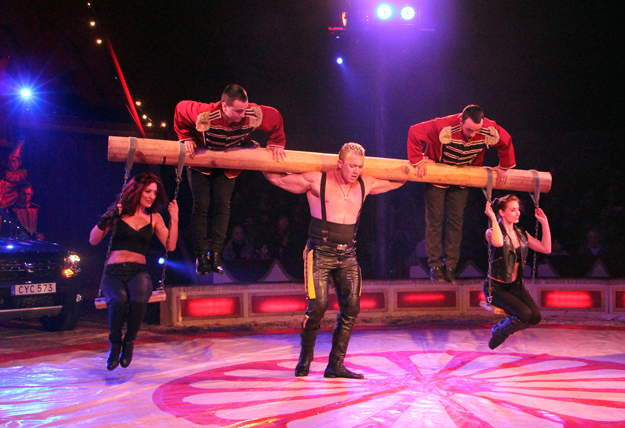 Deniz Ilchenko, Click here to see more photos from the show.
Earlier in July Deniz with his teeth pulled three Dacia cars in Visby harbor. Click here to see a video clip.

28 August 2017
The Swedish Circus Olympia has been in the province of Scania in the southern part of Sweden during most of August. They offer an excellent performance that is completely on par with what you meet in the other major Nordic circuses: Arena in Denmark, Brazil Jack and Maximum in Sweden, Arnardo in Norway and Finlandia in Finland.
Saturday the 2nd of September at 14 and Sunday 3 September at 14 and 17 there are performances in Löddeköpinge just north of Malmö.
Then, the Circus Olympia leaves Scania. The season ends on September 17th in Veddige.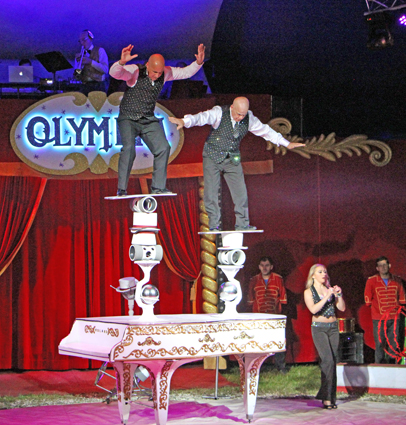 Among the performers in Circus Olympia are Trio Gaspar, which the Danes met in Circus Benneweis in 2008. In addition to their rola bola entre, they present as at Benneweis their act with the comic taxi.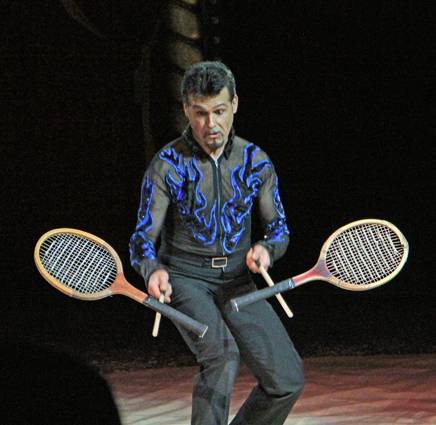 You will also meet the excellent juggler Rogerio Goncalves, who circus fans from Denmark probably remember from Circus Dannebrog 2009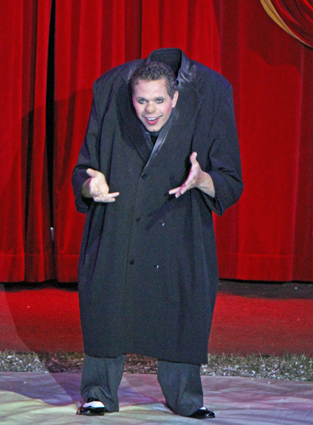 The clown Sidney Balder are probably also a name familiar to many. Together with his two brothers, he was with Circus Dannebrog in 2008 and 2009 and before that with Circus Barum in Germany. Some years ago the brothers split up, because a circus today for economic reasons rather engages a solo clown than a clown trio. At Olympia he presents a number of brand new gags which are not just copies of other clowns' gags.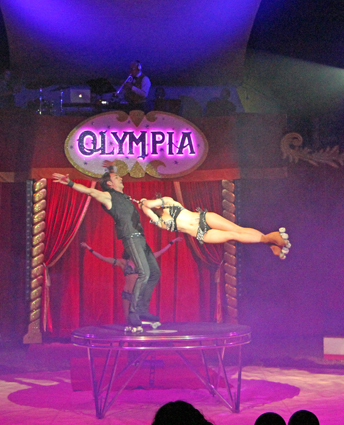 We have not yet met the skating Trio Nistorov in Denmark. But they present a nice act which I would like to see in a Danish circus

27 August 2017
Magic Night 2017 in Lund, Sweden.
Northern Europe's largest magic congress, with 400 magic interested participants, is scheduled for the 31st time in Lund in October 2017. Lund is a city in the province of Scania, southern Sweden.
During the congress some of the world's most creative and original magicians will perform. The organisers have managed to engage them all for a unique magic show at the Scandic Star Hotel in Lund on Thursday 5 October.
Vlad Kryvonogov from Ukraine is a manipulator who is equally skilled in manipulating the playing cards with his feet as with his hands. It's unique.
Chris Torrente from France is a prize winner of Comedy Magic from the World Championships 2015. A unique and crazy magic show, where an invisible dog plays one of the main roles.
Miguel Muños from Spain is a winner of the World Championships 2015. Unique magic with glass balls and running water.
Manolo Costa & Mindanguillo from Spain are award winner in Comedy Magic from the European Championships in 2017. With magic mixed with physical comedy, clowning and drama, they end their act with a unique and strong final message.
Nestor Hato from France won the Grand Prix at the European Championships in 2017. A very fast-paced and skilled act filled with amazing and unique surprises.
There will be 75 magic minutes that you will soon forget.
Tickets for the show 5/10 at 20 at www.juliusbiljettservice.se

28 August 2017
KRAN - a strange performance. The Danish contemporary circus company GLiMT had premiere on the 26th of August on the show KRAN (Crane) on the southern pier of Kastrup Marina. KRAN was created specifically for Kastrup Harbour in collaboration between GLiMT, Kastrup Haber and Taarnby municipality, which probably covered all the costs.
"Come and experience modern circus, air acrobatics, physical theatre and live music, as acrobats, musicians and performers occupy the harbour's room and its impressive mobile crane" the press release wrote.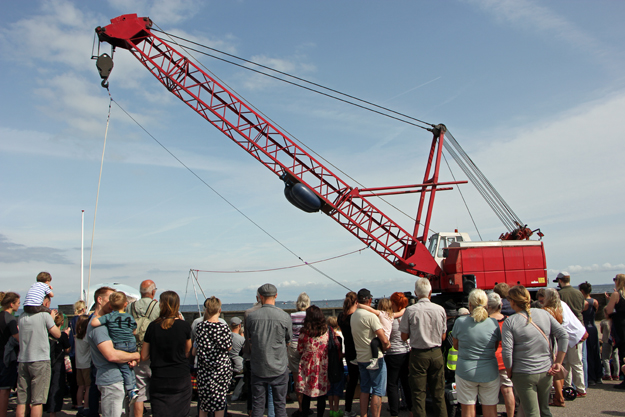 The performance took place around a medium-sized mobile crane
The idea of ​​using a crane in connection with aerial acrobatics is good, but the crane was not used much in the performance. It starts with the crane driver polishing the crane and tying a sack into a rope that is attached to the hook of crane via a waistband. Then she has an a bit lengthy entrée with a suitcase which she use for acrobatic stunts.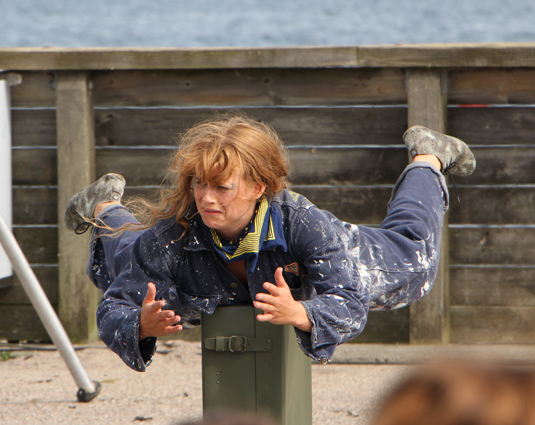 Then she pulls a mermaid out of the bag using the waist, and the mermaid present hair hanging, which simply means she is hanging in her hair without doing any tricks.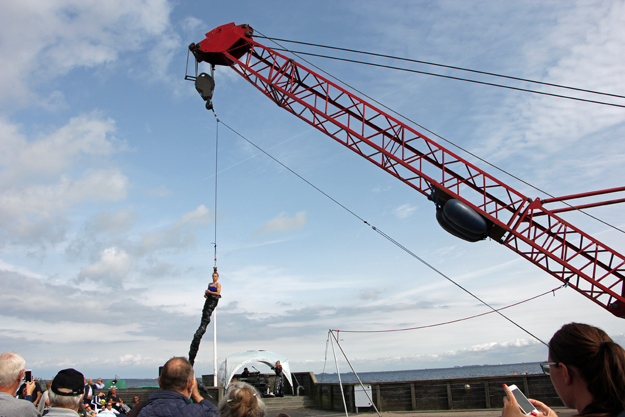 Now a new artist comes across railing behind the crane and makes a nice, but not sensational, act on the slack wire.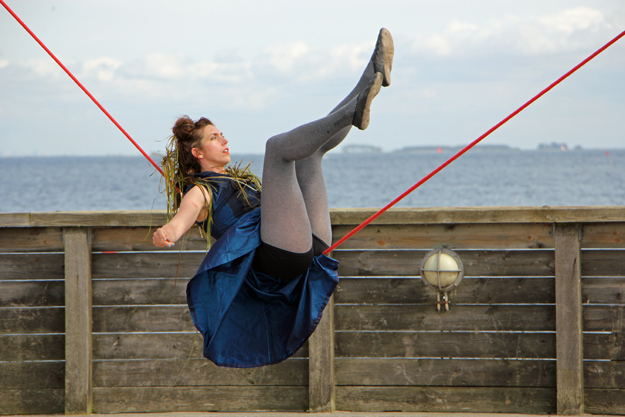 When the act is over, she draws the tail of the mermaid, who hurriedly catches a rope hanging from the hook on the crane.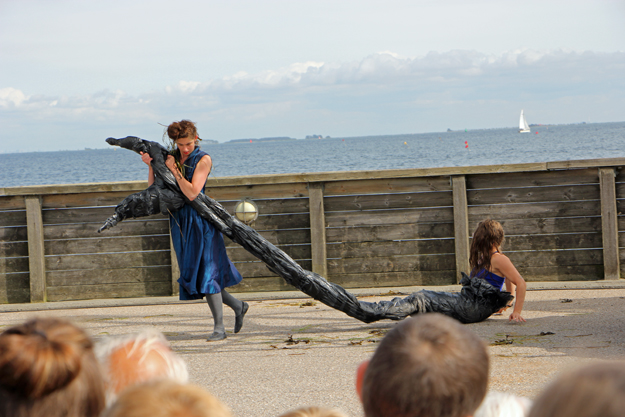 The now tailless mermaid then has a nice but not sensational entrée in the vertical rope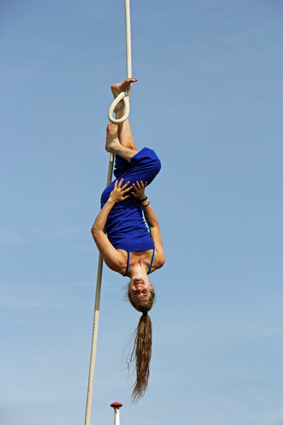 The crane driver then packs her into a bag and has an entrée in a cyr wheel while the singer in the performer turns on the drum.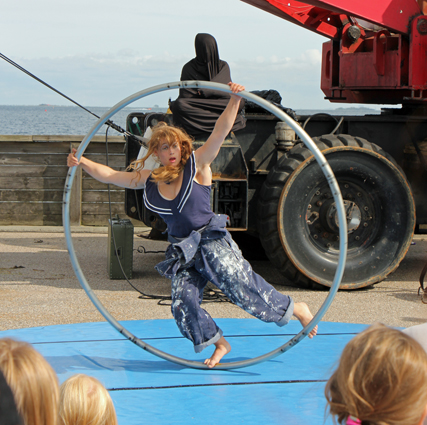 Eventually, the artists disappear in the sea behind the crane.
A little more than 200 children and adults watched the 45 minute long performance, which was rewarded with nice applause. There was free access. The performance was repeated on Sunday, August 27th, at 14.

24 August 2017
Circus Fun and Benneweis exhibition in downtown Hvidovre (Copenhagen suburb). The circus museum in Hvidovre, Copenhagen, writes (my translation):
Saturday 9/9, the Circus Museum comes to downtown Hvidovre. More specifically the area at Risbjerggaard, Hvidovrevej 241. Here you can try artistry, you can see the local youth circus Circus Arcus and the museum's own amazing young artists, and above all you can see the juggler Anders Stehr. He is one of the first educated artists from Denmark's approved circus school AMoC, and will present his amazing skills,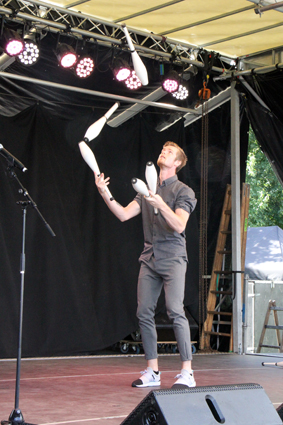 Anders Stehr
The museum has activities from kl. 10.30-13.30, but during the day you can also see other activities.
You can also see an exhibition in downtown Hvidovre about Circus Benneweis. It can be seen from 10 to 13.30 in the museum's tent. Here you can read about the unique circus, see movie clips from some of the performances and see one of Diana Benneweis beautiful costumes. There is a free entrance to the exhibition.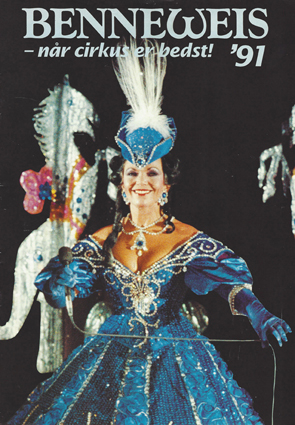 It is this beautiful blue dress you can see in the exhibition about Circus Benneweis. First Diana Benneweis and later Judy Glosted used it for several seasons.
The event is part Vestegnens Cultural Week.

19 August 2017
Classical circus and new wave circus, Benny Schumann called the performance which he presented on Saturday, August 19, in connection with Hirschholm Cultural Day 2017.
The classic part of the performance was some of the most beloved entrées from Benny Schumann's solo performance Hi Clown!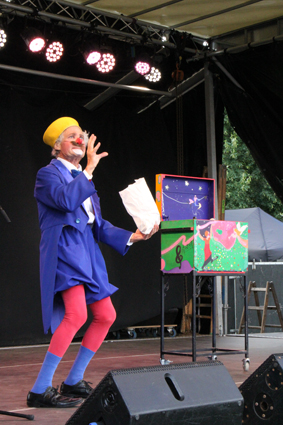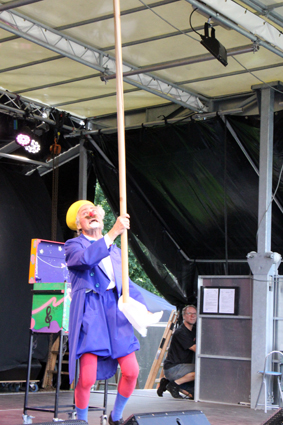 Benny Schumann's gag with the mast in the bag
The new wave circus part of the show was 3 of the newly-educated artists from the AMoC circus school: the juggler Anders Stehr and the acrobats Alfred Hall Kriegbaum and Sonia Matos. All three can be seen later in the week in the contemporary circus performance Circus on my mind. Alfred Hall Kriegbaum and Sonia Matos will later in the year be part of a new setup of GLiMT's contemporary circus performance Empty Steps.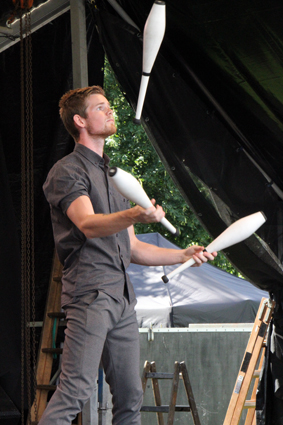 Anders Stehr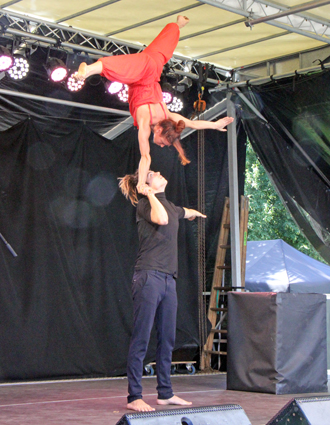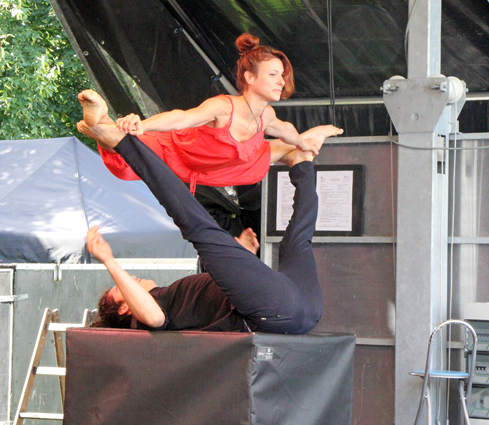 Alfred Hall Kriegbaum and Sonia Matos
After the show, there were workshops.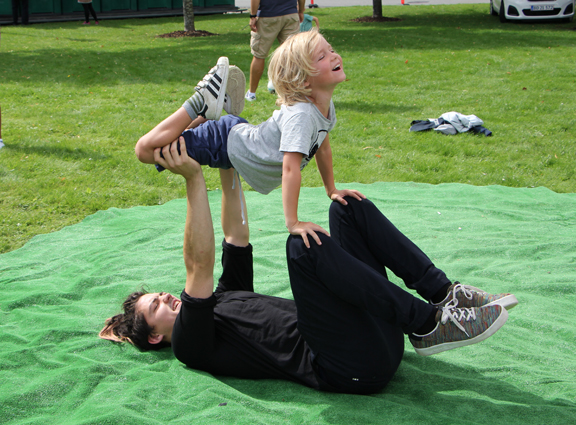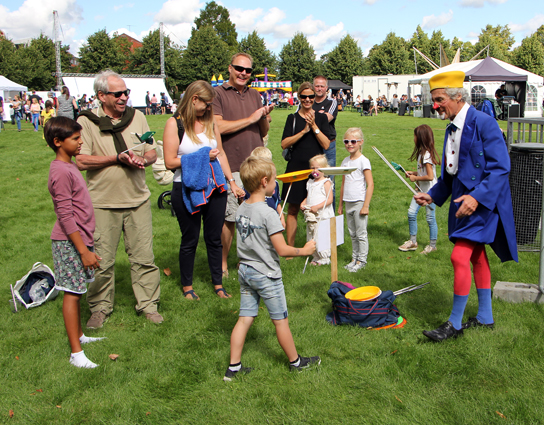 Alfred Hall Kriegbaum and Benny Schumann
From September 1st, every Thursday, Friday and Saturday, you can see Benny Schumann in the Wallmans show ENTOURAGE in the Circus building in Copenhagen. In week 42 (the schoolchildren's the autumn holidays) you can also meet him with his solo performance at the Circus Museum in Hvidovre, Copenhagen.

19 August 2017
Aarhus Festival International Night Cabaret: 20-year Jubilee show
Aarhus Festival is among the largest cultural events in Scandinavia and showcases both local, national and international artists. Aarhus Festival is highly esteemed and recognized both in Denmark and abroad.
The Night Cabaret which is one of the festivals recurring highlights celebrates this year its 20 years anniversary. It is celebrated with a magnificent anniversary performance, which from 25 August to 2 September present an impressive number of world class artists. It will be a performance that will both impress and surprise, and where you can meet:
CABARET DÉCADANCE
Human size dolls become alive on stage in this humorous performance of the Canadian group who has performed worldwide and won several international awards.
VICTOR KEE
It is a scoop for the festival to present one of the world's best jugglers when Ukrainian Victor Kee throws acrobatics, dance and classical juggling up in the air and uses both hands, head and feet to hold it together in a blazing show. He has performed in Cirque de Soleil, at The Mirage in Las Vegas and at Moulin Rouge in Paris - and now at Aarhus Festival!
THE MAIERS
Comic and acrobatics merge into this almost absurd number, where the trapeze swings end in the most embarrassing and grotesque situations. The German couple has surprised the audience around the world for the past 25 years.
DUO YINGLING
It requires concentration and body control of absolute highest quality to juggle 10 umbrellas at once, or perform handstand on one's head while juggling blankets ... with your feet! This and more is nevertheless what Duo Yingling from China does with ease and elegance on stage. They are educated at the famous circus school in Shanghai and Harbin and have participated in shows around the world. In 2004 they toured Denmark with Circus Dannebrog and in 2013 with Zirkus Nemo.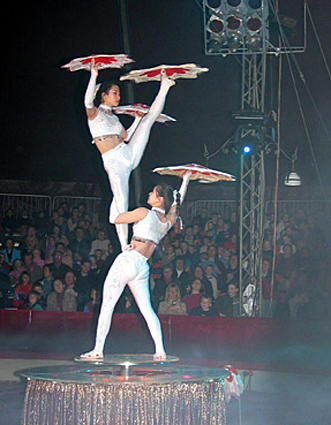 Duo Yingling in Circus Dannebrog 2004
MICHAEL DEUTSCH
Michael Deutsch is one of Europe's leading in the world of magic and a modern response to Harry Houdini.
DOMITIL AILLOT
The Frenchman is in Denmark for the first time and performs with his impressive Chinese Pole act. His skills are almost unprecedented in the industry, and after 12 years in the United States, the festival can proudly present him to this year's Night Cabaret.
LES FRÉRES TAQUINS
An appearance with the Belgian comedians is both touching for the heart and good for the laughter muscles. The act is nice and poetic, and when you are not touched by the good storytelling, you are busy laughing. The duo has among other things won a gold medal at the Circus Festival in Paris and performed in the Big Apple Circus in New York. They have also participated in Benny Schumann's Clown Festivals on the amusement park Bakken north of Copenhagen and in Aarhus Festival's Night Cabaret in 2012.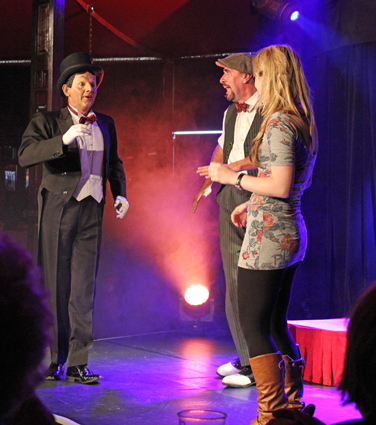 Les Fréres Taquins at the nightcabaret in 2012
JEFFREY WARD LITTLE
Directly from Las Vegas, Jeffrey Ward Little present his act which take place partly in a bath and partly under the dome and unites masculine strength, raw power and beauty in an impressive demonstration of the human body's ability.

18 August 2017
The Danish circus season 2016 is coming to an end. In the Scandinavian countries the circus season usually ends in August or September.
Circus Arli ends as the first of the Danish circus season on 22 August. The season started on 25 March in Fløng.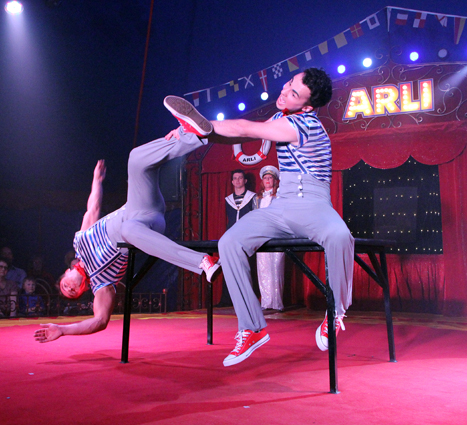 Among the performers in Circus Arli are Alexander Arli and Francesco Fratellini with a knock about table act. Alexander got the talent award from the Danish Circus Award in 2016. His partner Francesco was this year nominated for the same award. A clear hallmark of quality even though the award was given to another of the three nominees.
Circus Baldoni has the last tented show on 30th of August. The season started on March 18 in Lyngby. From 4 to 12 September, Circus Baldoni visits for the 10th year in row the Faroe Islands where they have performance in a number of arenas. The program is almost the same as during the tented tour. However, Mombasa Boys goes back to Kenya, and Fatime's cat act will not be presented at the Faroe Island. Instead Patrik Veres will present a magic act. Eddie and Maria Janacek's 10 year old son Kaya will do a rola bola act.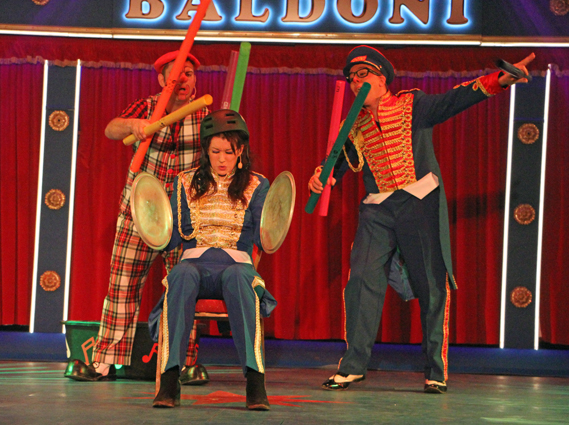 In Circus Baldoni the audience meets the clown trio Danilo, Cindy and Eddy
Danish Circus Krone ends the season on 3 September. The season started April 17th. It is Irene Thierry's last season as circus director. From next year her son Frank Thierry will take over. However, it is still the intention that Irene and her spouse Jan Allan aka the clown Allando will be part of the performances.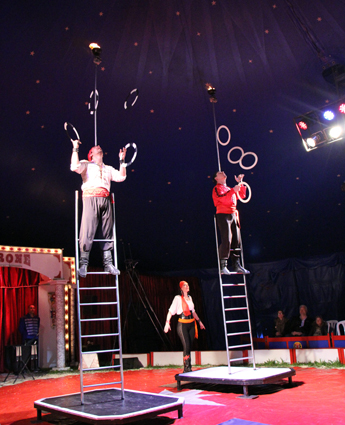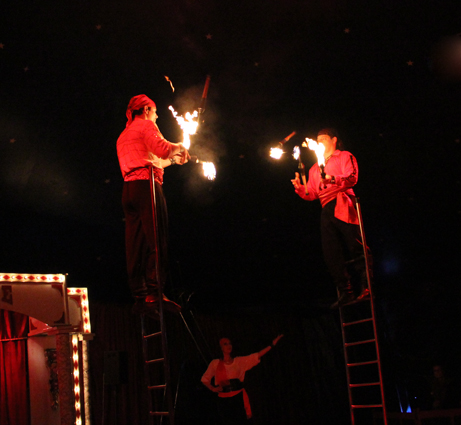 The Wolf family, which tour with Circus Krone, master both ladder balancing and juggling.
Cirkus Arena started the season on 17 March and has the last performance of the season on 4 September.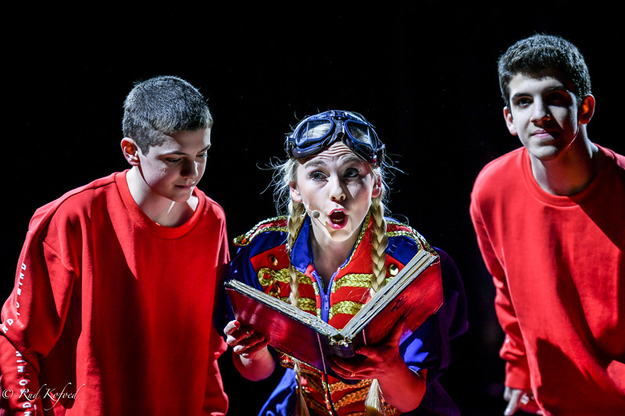 In Circus Arena the audience's favourite have been the ringmistress Motor Mille, extremely popular from DR' televisions children channel Ramasjang. In a period in the middle of the summer she was replaced another TV star: Bubber. Photo: Rud Kofoed / Ajour Press
Zirkus Nemo which is a combination of a circus and a comedy show opened the season on April 26th. The season ends in Odense on September 16th. Where the other circus has many one-day cities, Zirkus Nemo is never in a city for less than a week. And there are never performances Sunday and Monday.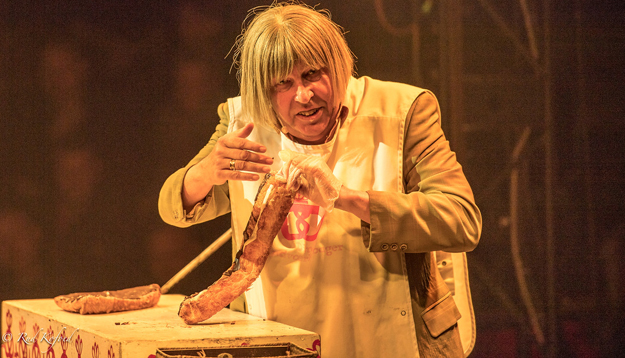 Although Zirkus Nemo has excellent artists the owner Soren Ostergaard himself is the very big drawcard. Baker Jorgen is one of Soren Ostergaard's most beloved characters. Photo: Rud Kofoed / Ajour Press
Circus Mascot opened the season on March 29th. The season ends on September 24th. As previous years, they have short performances in the shopping centre Bytorv Horsens during the schoolchildren's autumn holiday in week 42.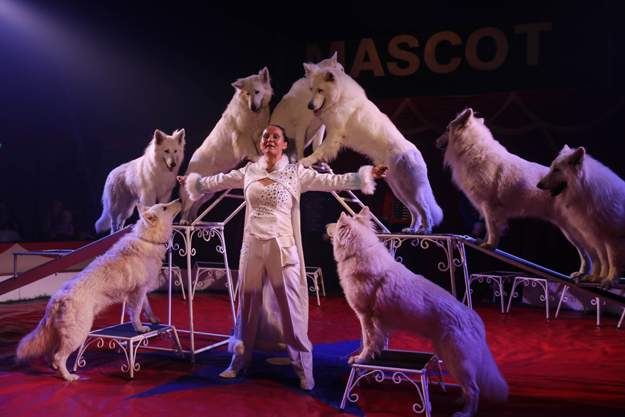 In Cirkus Mascot you will meet Rafaela Honden with her beautiful Swiss shepherd dogs. Recently she got the award as the best circus act of the year in Denmark. Photo: Jacob Boas Leitisstein.
Circus Trapez ends as the last Danish circus their season on September 29th. However, that also started a little later than most of their colleagues: April 12th.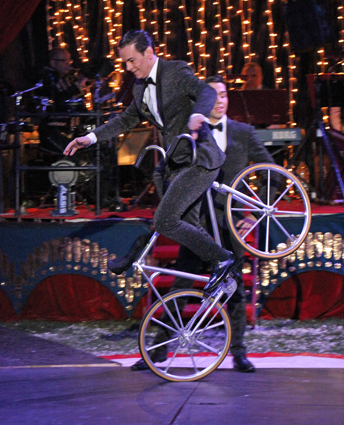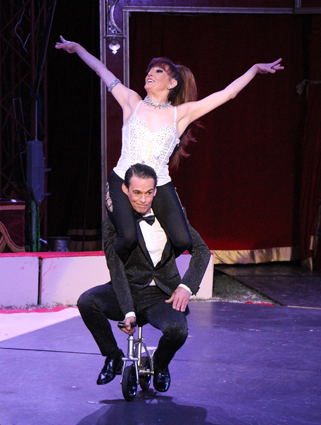 Amongst the stars in Circus Trapez is the Jackson family with their bike act.

15 August 2017
Swedish Circus Maximum takes a break. Last performance in the southern part of Sweden was Sunday, 13 August. Then they have decided to take a summer break until September 1, where they resume the tour in Svenljunga. The season ends probably September 10th in Arvika.

14 August 2017
"KRAN" - special performance at Kastrup Harbor, Copenhagen. The performing arts company GLiMT aim to combine contemporary circus, dance and physical theatre in order to create new and challenging performances. GLiMT writes:
KRAN is a performance for the entire family, created especially for Kastrup Harbour by GLiMT.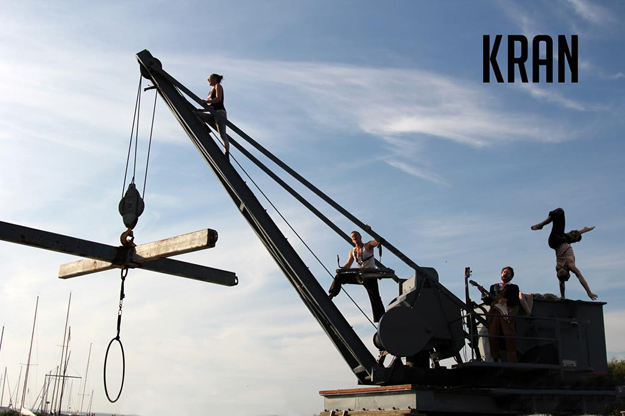 Press photo from GLiMT
On the 26th and 27th August, both days at 2pm, you can come experience contemporary circus, aerial acrobatics, physical theatre and live music, as acrobats, musicians and performers take over the harbour and its impressive, red mobile crane.
The performance is being created in a collaboration between GLiMT, Kastrup Harbour, Tårnby Main Library and the Tårnby Council.
The performance will take place on the South pier of Kastrup Lystbådehavn (Kastrup Marina), by Restaurant Kastrup Strandpark, and will be playing as follows:
Saturday 26th August, 2pm
Sunday 27th August, 2pm
It's not necessary to book a ticket – just come and experience the show!
The team behind the performance is:
Director: Camila Sarrazin
Performers: Kajsa Bohlin, Moa Asklöf Prescott, Karoline Aamås
Musician/composer: Henriette Groth
Assistant: Sara Simonsen
You can read more about GLiMT and their performances at http://glimt.info/

14 August 2017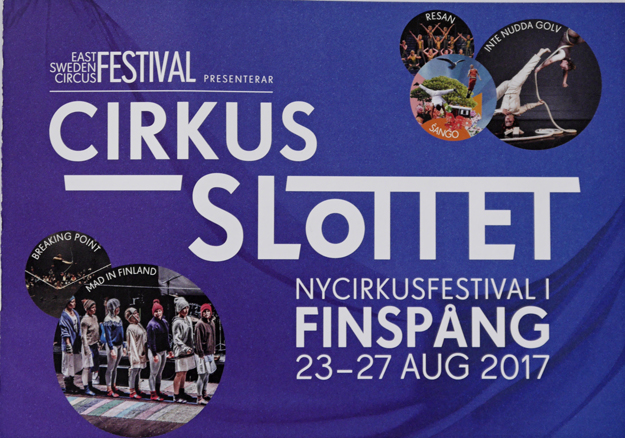 Swedish Contemporary Circus Festival. East Sweden Circus Festival presents THE CIRCUS CASTLE a contemporary circus festival in Finspaang 23-27 August 2017. They write:
Welcome to Sweden's first annual recurring international circus festival! This year's festival in Finspaang, the Circus castle, is a festival for the whole family on 23-27 August, with world class artists from Spain, France, Finland, Morocco, Denmark, Sweden and Argentina.
Read more at http://www.ostgotateatern.se/pa-scen/139

10 August 2017
The Danish Circus Award 2017
The award ceremony took place on Wednesday 9 August in the fencing hall at the Circus Museum in Hvidovre, Copenhagen, with participation of the Danish Minister of Culture Mette Bock.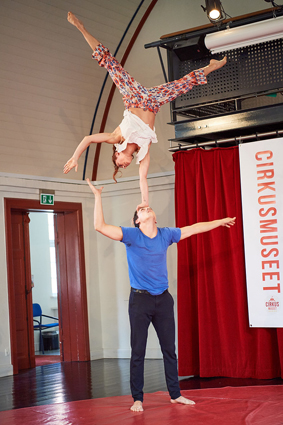 Before the award ceremony the young acrobats Alfred Hall Kriegbaum and Sonia Matos presented their excellent act. Photo: Rud Kofoed / Ajour Press
The honorary award ("The Danish Circus Award") was given to Soren Ostergaard of Danish Zirkus Nemo. The award was handed over to Soren Ostergaard by the Danish Minister of Culture Mette Bock. Soren Ostegaard is a popular and well-known Danish actor and comedian. Since 1999 he has run Zirkus Nemo which is a combination of a circus and a comedy show.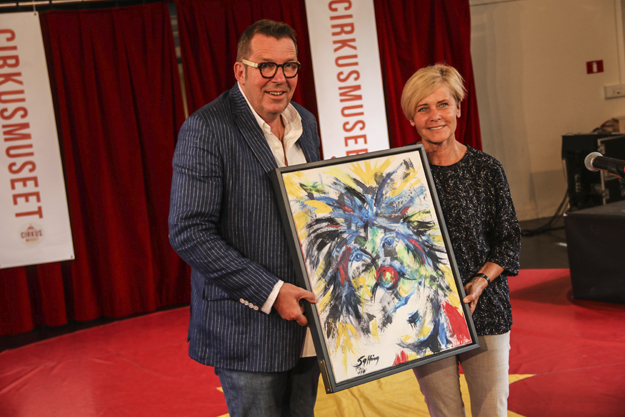 Soren Ostergaard and the Minister of Culture Mette Bock with the award: a painting by Viggo Salting. Photo: Jacob Boas Leitisstein
A talent award was given to the Danish Academy of Modern Circus in recognition of their talent for educating artists with skills that can be used both in contemporary circus and in the classical circus and at theatres.
An award for the best cicus act in Denmark in 2017 was given to the Belgium animal trainer Rafaela Honden for her beautiful act with 9 large Swiss sheepdogs. See tours in season 2017 with Circus Mascot.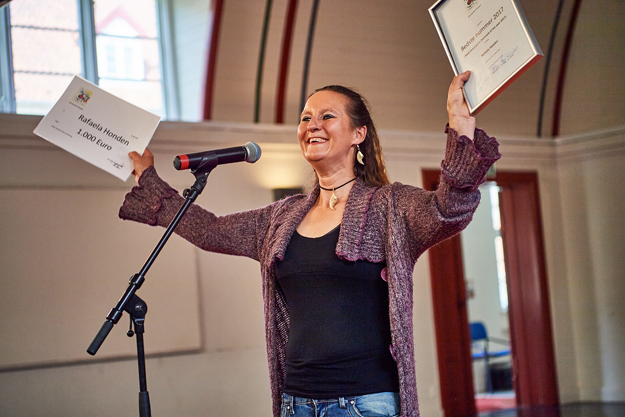 Rafaela Honden. Photo: Rud Kofoed / Ajour Press
The association of Danish circus owners' chairman Martin Arli presented a new special effort award to former Minister of Culture Bertel Haarder. The award goes to the politician or public person who has done the most for circus in the past year. For many years the responsible ministry for circuses was the Ministry of Justice. This was unsatisfactorily for the circuses which wanted to have the Ministry of Culture as responsible as circuses just as theatre, ballet, opera, film and literature is part of culture. Several ministers rejected a request from the circuses to get the minister of culture as responsible. But in the spring 2016 Bertel Haarder, who at that time was minister of culture, with approval from the Danish Prime minister accepted the request and made the ministry of culture the responsible ministry for circuses.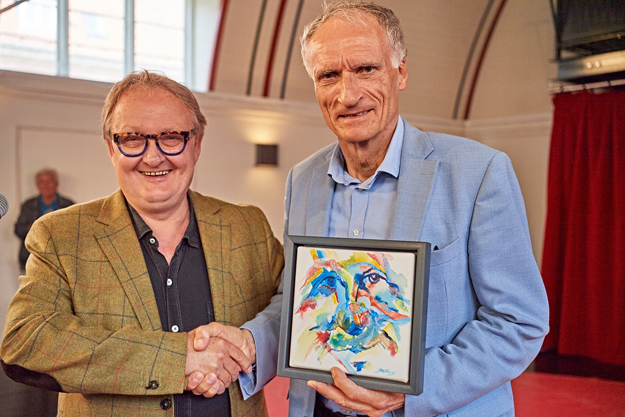 Martin Arli and Bertel Haarder with the award: a small painting by Viggo Salting. Photo: Rud Kofoed / Ajour Press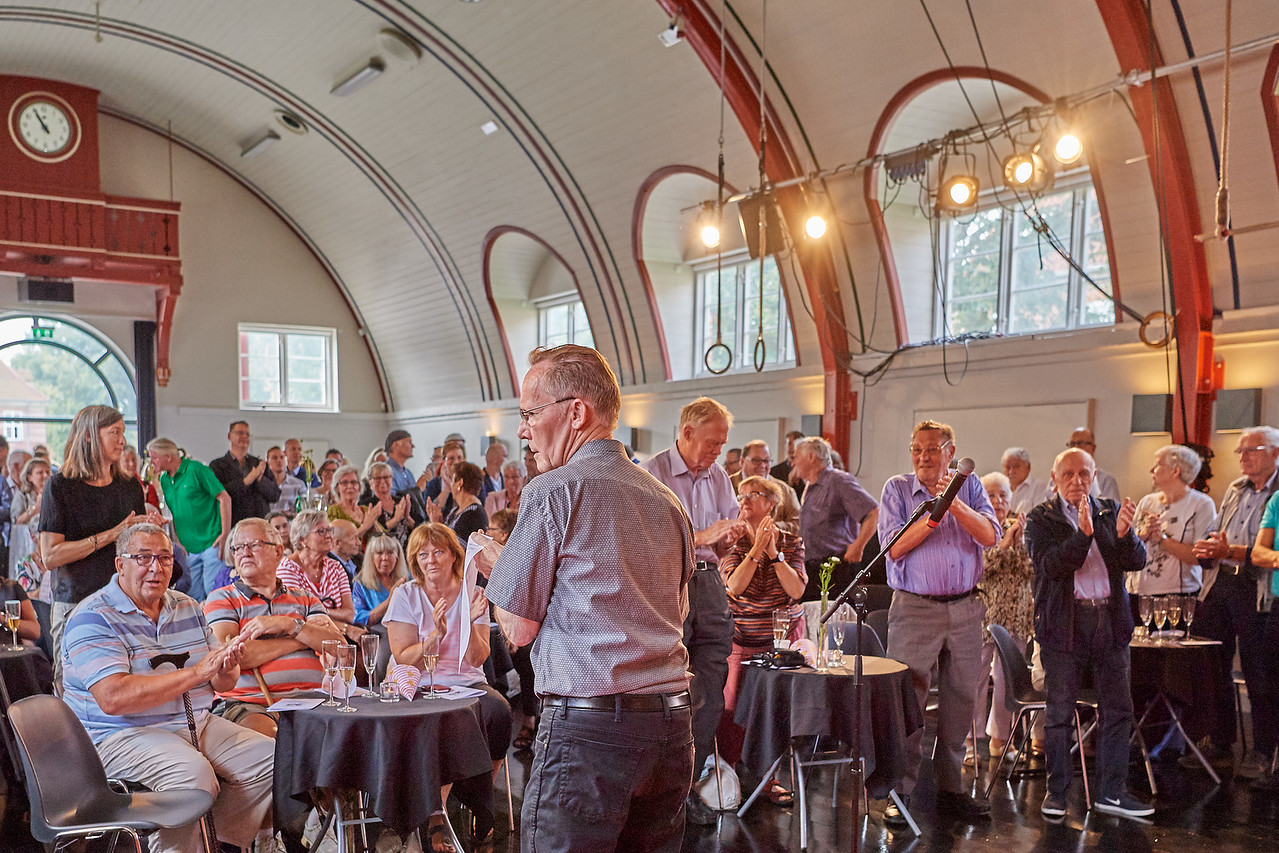 The chairman of the Danish Circus Award Jury Ole Simonsen completed the award ceremony by calling for three cheers for the Danish circuses. Photo: Rud Kofoed / Ajour Press
The Danish Circus Award 2017 consisted of a painting created by painter Viggo Salting, accompanied by an amount of 10,000 DKK (approximately 1,350 Euro).
The talent award consisted of a diploma and a sum of 10,000 DKK.
The award for the best number of the year consisted of a diploma and an amount of 1,000 Euro.
The effort award consisted of a small painting of Viggo Salting.
Click here to see Jacob Boas Leitisstein's photos from the award ceremony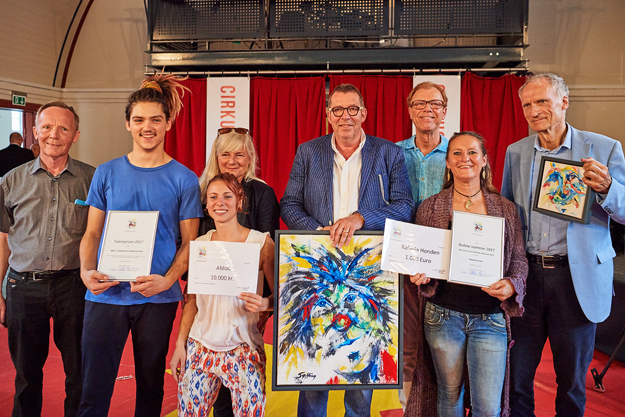 From the left: the chairman of the jury Ole Simonsen, AMoC as winners of the talent award, represented by Alfred Hall Kriegbaum & Sonia Matos. Behind Sonia the jury member Pia Jette Hansen. Then Soren Ostergaard, the compere and jury member Jan Hertz, Rafaela Honden and Bertel Haarder. Photo: Rud Kofoed / Ajour Press

6 August 2017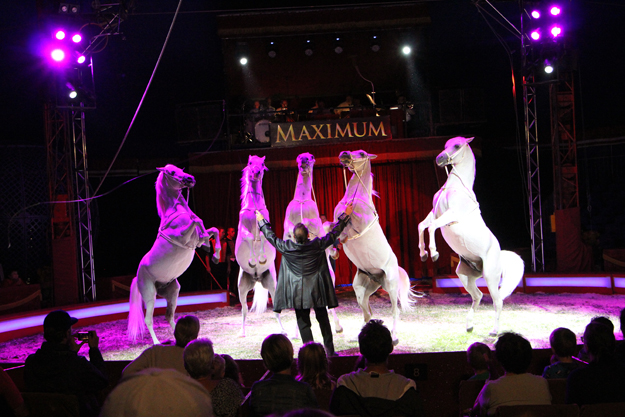 Circus Maximum 2017. In the last few weeks you have been able to see one of the best circus performances of the year, namely the performance of the Swedish Circus Maximum, in the southern part of Sweden. Above you can see Maximum's faithful, talented and sympathetic animal trainer Anton Frank with 5 beautiful white Arabs.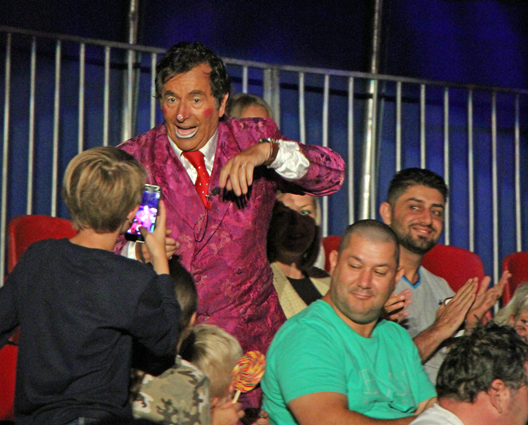 Maximum's clown is, as in 2016, the poetic clown Francesco (Francis Brunard), who, also along with director Bengt Källquist, has put the performance in stage. Francesco opens the year's performance with an entrée from the back rows. Danish circus friends met Francesco in Circus Benneweis in 1995, 1996, 2004 and 2005.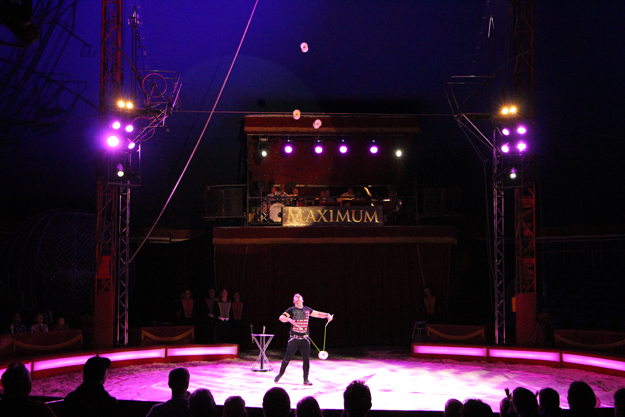 Not many diabolo jugglers manage to have 4 diabolos running. But such does Georgio Hromadko. The Danes saw him in the Circus Arena in 2012. His face painting with black-eyed eyes with devilish spikes is a bit strange! The act would be more elegant with a less distinctive makeup!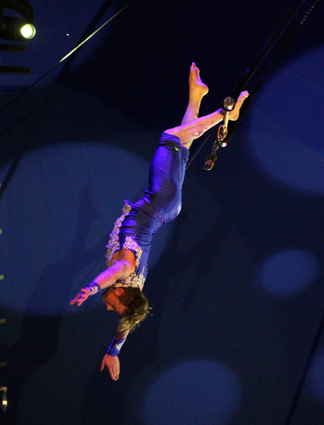 Alexander Lichner does an excellent act in the swing trapeze. On the photo he hangs in one heel. His entrée begins with a short trick where he balances on a mouthpiece in a Washingtontrapeze. Impressive, but completely unrelated to the rest of the entrée which isn't in Washington trapeze. I believe his act would look better if he skipped the Washington trapeze trick. Rumours say that the Danes can meet Alexander Lichner in Circus Arena next year.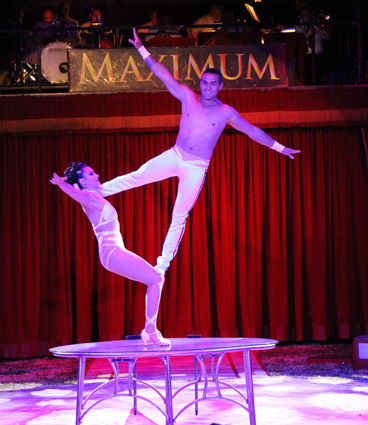 Danes probably remember Duo Soly's elegant act from Zirkus Nemo 2017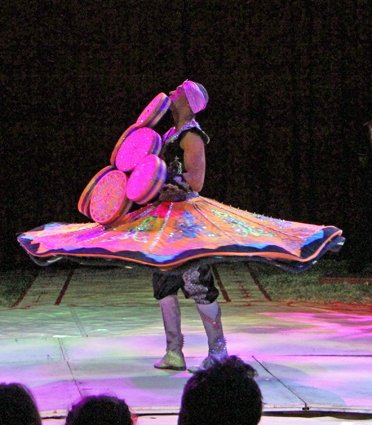 Kimo shows "Egyptian dance". It has nothing to do with belly dance. He is spinning for a long time while he after the principle of the Russian Babushka dolls finds one round dish after another. The entrée concludes with spinning while he is wearing different types of luminous robes. He also runs around among the audience while he "spins" such a robe on a finger. An unusual act in a circus. A bit long-lasting according to my taste. But the audience loved it! So Kimo's repeated calls for more applause were not necessary at all. By the way is it a bad habit that an artist again and again asks for applause!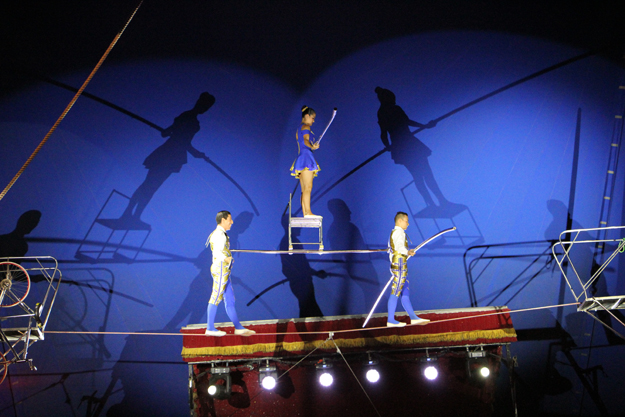 Trio Alambria shows a traditional but nice high wire act
In addition to the artists mentioned the audience in this year's performance meets Ramon Maatz with a dog act which is clearly inspired by Wolfgang Lauenburger, and Diorios in their death globe. At the start of the season with 4 riders, but at least when I saw the performance in Limhamn only with 3 riders. Apart from horses Anton Frank also presents donkeys.

5 August 2017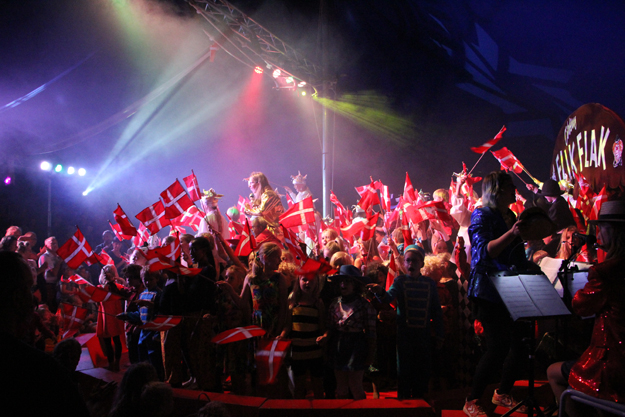 Festive 30th anniversary performance in Circus Flik-Flak. It was a beautiful and life-provoking performance, Odense's youth circus Flik-Flak presented Friday afternoon. As always at Flik-Flak, it was a varied and well-staged performance which the audience the packed tent rewarded with standing ovation. It is wonderful to see the enthusiasm of the young artists. As well as seeing that Flik-Flak maintains the principle that there must be room both for super talents as well for those are not that talented. The performance was accompanied by Flik-Flak's own big band, which by far is Denmark's best circus band.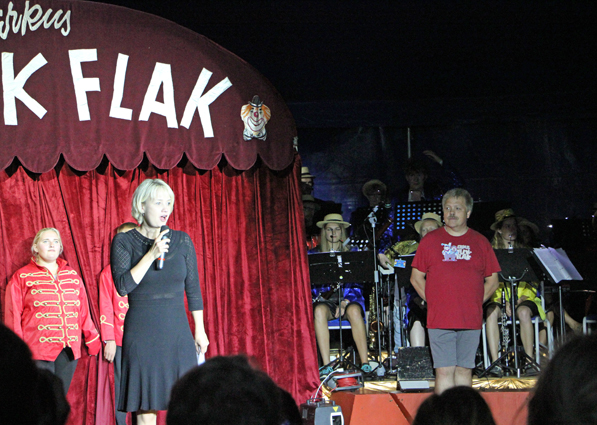 Alderman Jane Jegind of the City Council of Odense Municipality welcomed the audience. To the right circus manager Tommy Hardam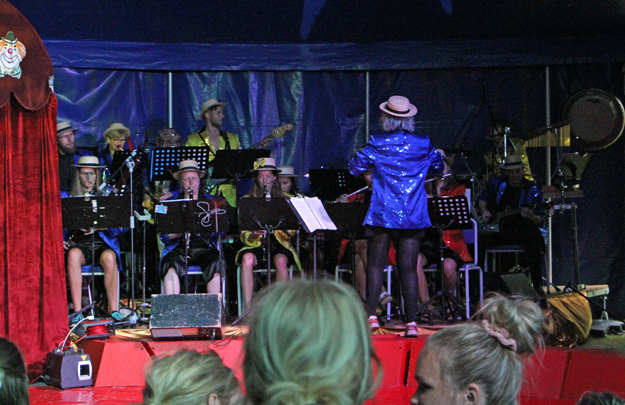 Denmark's largest and best circus band: the Flik-Flak bigband with bandmaster Mette Toftdal. The music was arranged by Elsebeth T. Cohrt
Below a few photos from the premiere show.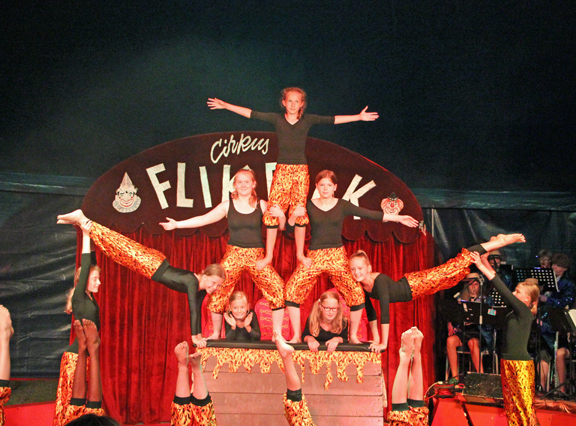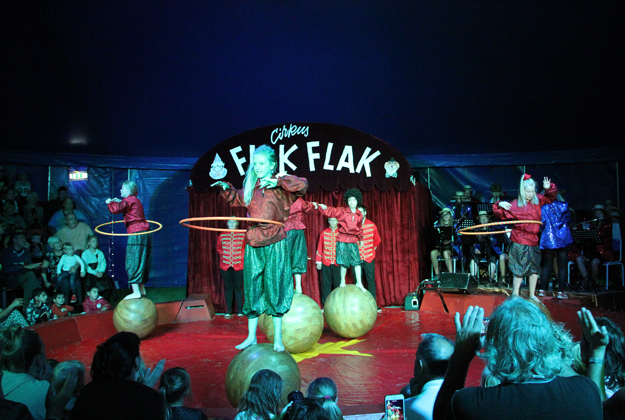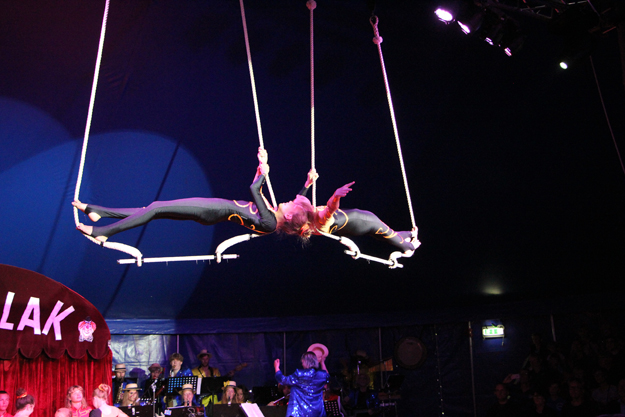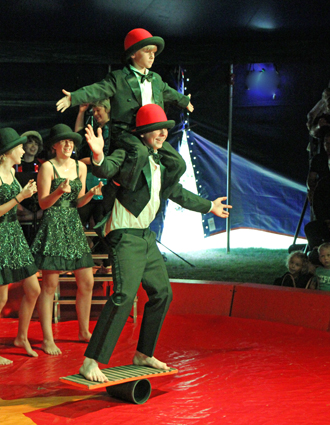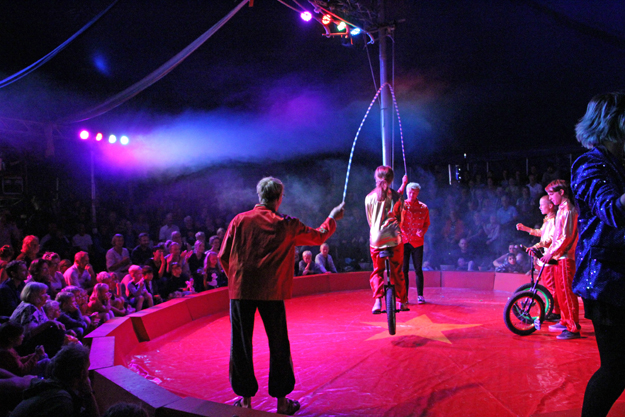 Link to news from 2007

Link to news from 2006