'
From Denmark
and other Scandinavian countries
Special feature: It all happens in Paris
A weekly updated internet magazine
Last updated : 21. April 2018
20 April 2018
Zirkus Nemo 2018. Zirkus Nemo is a combination of a circus and a comedy show owned by Danish actor and comedian Soren Ostergaard. In the later year's Zirkus Nemo have been very successful with their "circus for adults"-concept. Apart from the comedy part of the show, this year with Soren Ostergaard and Laura Kvist Poulsen, you will meet some very good artists in the show. I quote from a review by Rud Kofoed, who gave the performance 5 out of 6 possible stars (my translation):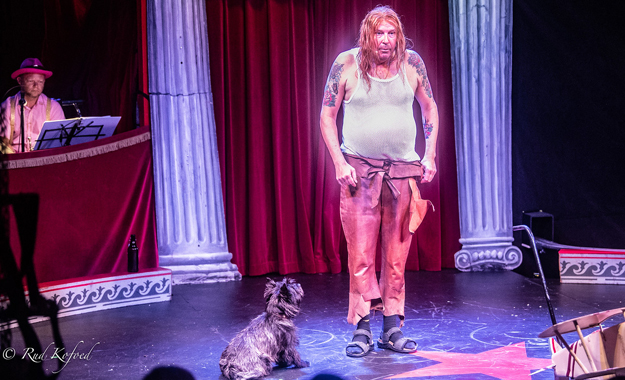 One of Soren Ostergaard's own comedy characters: the smash man with his new killer dog. Photo: Rud Kofoed / Ajour Press
In the midst of the presentation of all Soren Ostergaard's creepy characters, we are rewarded with some of the artists best ever seen in Zirkus Nemo. We have said something like this 19 times earlier, but have to do it again, for the aesthetic and quality is that high that you hardly find it possible in a zirkus with room for slightly less than 600 visitors. It's a Nemo specialty to have such a high artistic level. And this alone is a good reason for visiting them, even if you don't understand Soren Ostergaard's Danish spoken sketches.
After seeing the Russian podge Konstantin Mouraviev rolling around in the ring and holding 4,000 visitors in the palm of his hand at the Monte Carlo Circus Festival, one would foresee that the act couldn't be fit into a Nemo performance. But it is possible. The little 'Fat Man' Russians are exciting in his struggle to become fitness-trimmed with a waistline that most of us would not dare to dream about. Mouraviev's enthusiastic German wheel runs straight to the edge of the stage.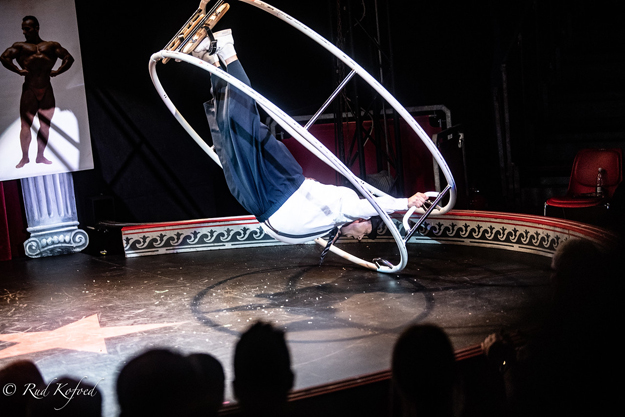 Konstantin Mouraviev has been in Denmark before, but never as present as here! Photo: Rud Kofoed / Ajour Press
Duo Solys proves that body and love can go up in a higher artistic whole. During a trip to New Caledonia, Cuban Hector Yzquierdo, in the midst of his complicated handstand act caught eye contact with a beautiful girl from the audience. He was struggling to concentrate, but managed to complete the performance.
When he after his act looked for the girl she was gone - until he left the lot. She waited at the exit. Shortly after, Tatanias left her family and her office job and became a world-renowned circus artist. Today, the couple is married and has got a lot of awards at festivals etc. I'll bet! They are an acrobatic enjoyment.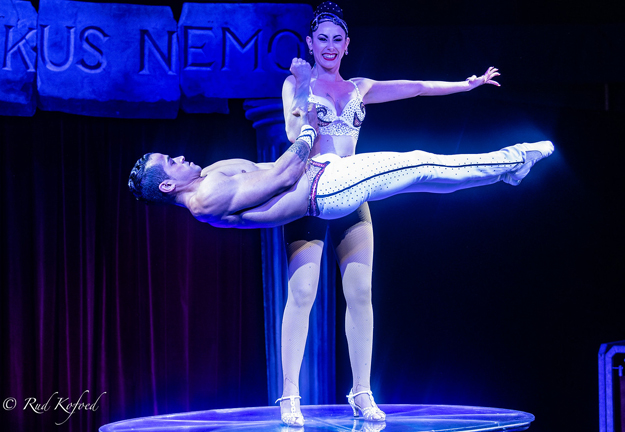 Love makes strong. Photo: Rud Kofoed / Ajour Press
Against all that 'slow' sensuality, Mario Berousek is the world's fastest juggler. He is double-listed in the Guinness record, but also at the Monte-Carlo Circus Festival, where he won the Bronze clown last year. Since 1756, his Czech circus family has allegedly lived as artists. Mario learned the speed juggling during his upbringing, where his father gave him four to five hours of instruction daily. There is only to say that it has worked. He's outstanding.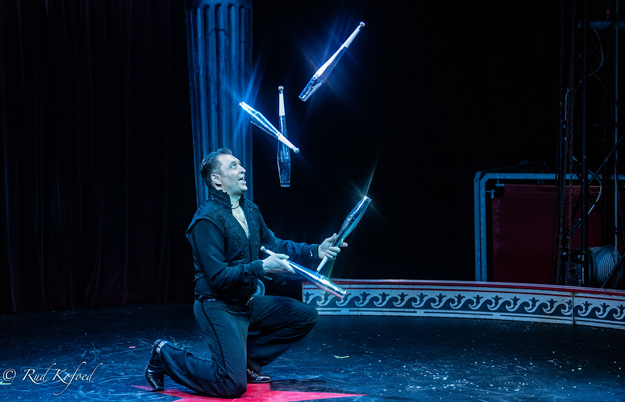 It's so fast that you cannot distinguish the clubs from each other. Photo: Rud Kofoed / Ajour Press
The thought of meeting yet another beautiful young hopeful hula hoop artist may well give one a little tired feeling. That's how I felt when I heard about Geraldine Philadelphia. But I was wrong. I have rarely - if ever - seen a more fast-paced and perfect hula hoop act. It is so amazingly beautiful and perfect that you clearly recognizes her upbringing as the German 10th generation circus child - and juggler. The now 22-year-old Geraldine is by far the youngest artist in Nemo to date. She has developed her very own style that fully justifies it.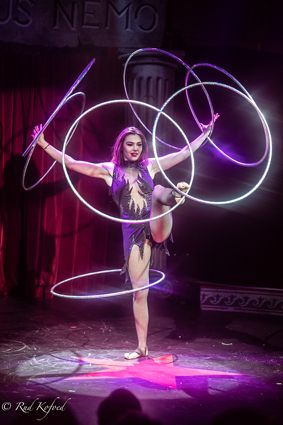 German Geraldine Philadelphia, 22, is the youngest artist ever in Zirkus Nemo. Photo: Rud Kofoed / Ajour Press
Well, and so a bit of puppet theater, one could think. Error again! Well, the Cabaret Décadanse is a matter of taste, but it's true to virtue not for kids. It is a volcanic eruption of a sense bombardment with masks and big bands music - a kind of spiritual savage dance.
Behind Cabaret Décadanse is the Canadian couple André-Anne Leblanc and Colin Cyr Duhamel who literally make their wildly entertaining performance served with a cocktail of decadence, humor and sex appeal. It started as a street theater in Montreal in 1999. Well it's here. It is overwhelming.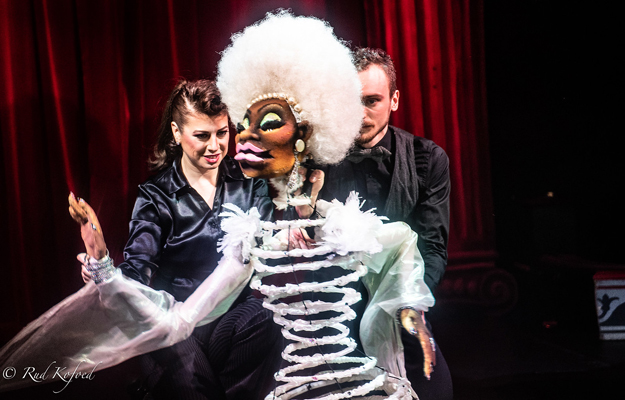 Cabaret Décadanse is a special and impressive experience in the best Tina Turner style. Photo: Rud Kofoed / Ajour Press. Click here to see more photos from the premiere show on 18 April.

16 April 2018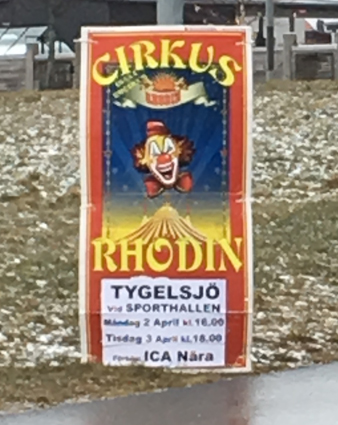 The small Swedish Circus Rhodin, who currently tours in Scania in the southern part of Sweden, has ponies, dogs and parrots in this year's performance. The parrots are presented by Benjamin and the dogs by Mr. Golfy, who Danes might remember from Danish Circus Krone 2012. Diana Rhodin calls her circus for "Sweden's most cheerful cicus – circus as when grandfather was young" and writes that "Circus Rhodin this year celebrates 5 years in the small format."

13 April 2018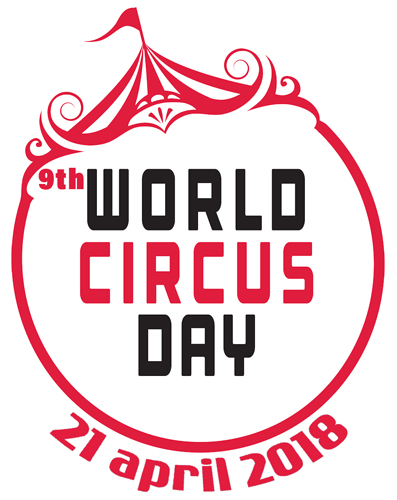 World Circus Day in Denmark and Sweden. Held on the third Saturday each April, World Circus Day is a special day to celebrate Circus Arts and Culture.
The 9th World Circus Day will be held on 21 April 2018.
This is the biggest common international feast of the circus communities around the Globe.
Celebration in Denmark
In Copenhagen
Organizers: Danish Circus Friends Association in cooperation with Circus Baldoni and the Circus Museum at Hvidovre, Copenhagen.
What?
Free admission to the Circus Museum, circus fun in Circus Baldoni's ring (free admission), children show at 1 p.m. (free admission) and gala performance at 2 p.m. in Circus Baldoni (reduced ticket price)
When?
21 April 2018 from 10 - 15
Where?
The Circus Museum at Hvidovre, Copenhagen, Hovedporten 6, Avedørelejren, Hvidovre. From central Copenhagen you can take Bus 1A to Avedørelejren right in front of the museum.
In Esbjerg
Organizer: Circus Trapez
What?
The day will be celebrated with free training for children the morning of World Circus Day. The children who learned some circus skills, will be invited to perform as special guest in that afternoon's show or in the performances Sunday. Before the performance Saturday at 15 there will be a lecture of the circus history by the circus connoisseur Finn Stenderup. Furthermore there will be competitions for circus tickets and merchandise. When?
21 April 2018 from 10 to 17
Where?
Gryden at Gl. Vardevej
Celebration in Sweden
Organizer: The Swedish Circus Academy
What?
Open house at Circus Museum, show in small circus tent, lecture, magic, acrobatics and music!
When?
21 April 2018 from 10.00 - 15.00
Where?
The Swedish Circus Museum, The Old School, Ingesträde (20 km north of Helsingborg)
Organizer: Circus Brazil Jack
What?
We celebrate 250 of circus in Karlstad with a mini show open air show, open doors for looking the practice and listen about circus history ,lottery where you can win tickets for the shows in Karlstad
When?
21 April 2018 - 22 April 2018 from 13:00 to18:00
Where?
Karlstad Norra Fältet

7 April 2018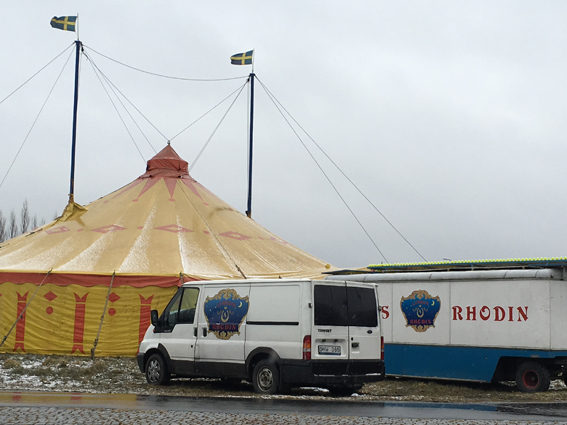 The small Swedish Circus Rhodin is currently playing in Scania in the southern part of Sweden. They use once again the tents they bought from Danish Circus Arli a few years ago. Circus Rhodin is owned by Diana Rhodin. She is the sister of Trolle Rhodin JR. from Circus Brazil Jack. In 2000 she worked for Danish Cirkus Dannebrog and in 2002 for Danish Cirkus Benneweis presenting high school riding, liberty horses and her two elephants. Both her elephants died a few years ago, and there are therefore no elephants in the performances in Circus Rhodin. - Photo: Martin Lasson Berglund.

4 April 2018
Long live Circus Arli. The visitors to the season opening performance on April 1 at the Mill Hill in the Copenhagen suburb Floeng agreed to this statement after having seen another wonderful Arli performance. By the way this year's performance is called "Long live the circus."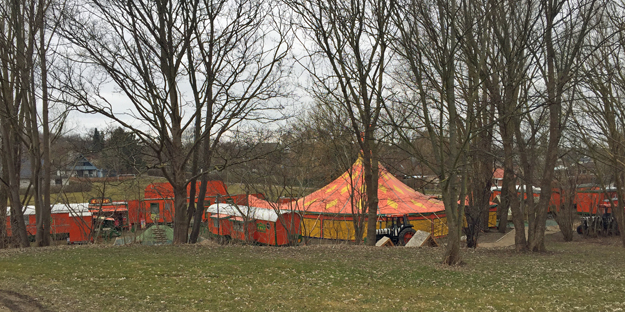 Circus Arli at the lot next to the Mill Hill. A playground has been established on the lot since last year, so it was not quite easy to make room for Circus Arli. Photos where nothing else is stated: Ole Simonsen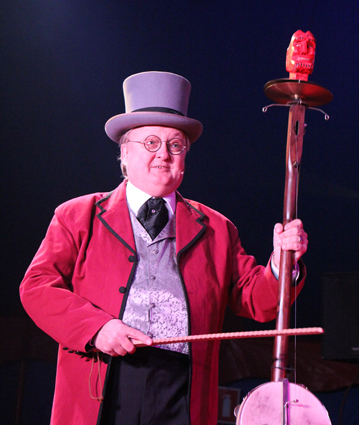 "Long live the circus" was just what Martin Arli was singing as he welcomed the audience after a short slide show about circuses for 250 years had been shown on the tent roof over the stage entrance.
It was biting cold on the premier day. When Alexander Arli welcomed me, he said he was looking forward to feeling his frozen fingers again. The cold fingers were probably the explanation for a few drops in the elegant and cheerful formation juggling entrée with The Arlinis, which opened the performance. Arlinis consists of Alexander Arli and his good friends Francesco Fratellini and Sarah Florees.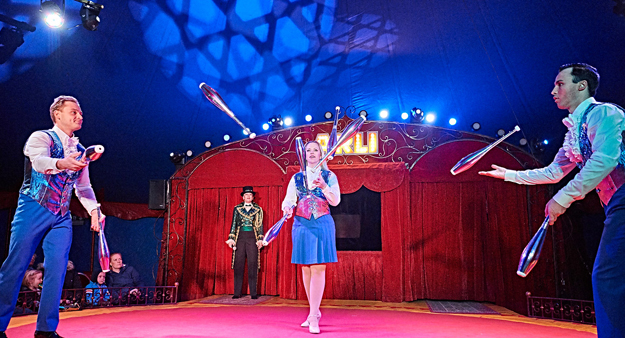 The Arlinis. Photo: Rud Kofoed / Ajour Press
It is the third season in row Francesco and his girlfriend are with Arli. Every year with brand new entrées. Circus owner Martin Arli has previously said that 2018 would be the last season for the couple at Arli as they wanted something new. However, when you see the charming couple and Francesco's excellent interaction with Alexander, it would be nice if the Arli family booked them again in 2019! Something Martin Arli has promised to consider.
The next act was a fine act in tissue with Jelena Vasiljeva from Latvia.
Cozy magic with Martin Arli is a "must" in an Arli performance. This year he conjured pigeons out of a saucepan, a painting and a changer bag. The pigeons were placed in a cage on a table. The cage was covered and thrown into the air. And then, both the cage and the pigeons were gone.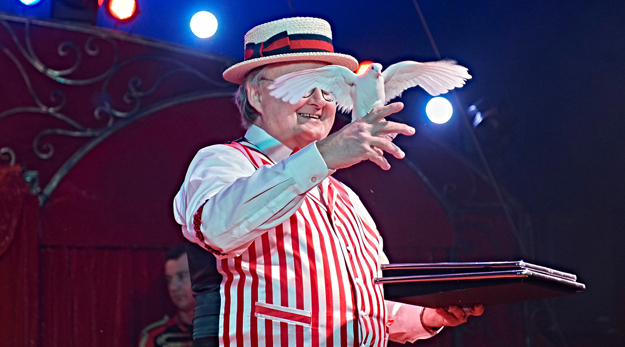 Martin and one of his pigeons. Photo: Rud Kofoed / Ajour Press
Next, the 'Snake charmer' Francesco had a charming entrance with a dangerous 'snake'.
It is not every year Circus Arli has animals in the performance. They demand high standards both of quality and of animal welfare. Both things are met with Vlad Olander's elegant number with angora cats. One of the circus world's best acts with cats. He has performed in leading circus worldwide, most recently in the Cirque d'Hiver Bouglione's tented circus. The Danes met him most recently in the Jimmy Enoch's Winter Circus in 2014 and at Circus Benneweis in 2013. He was also with Benneweis in 2009. Swedish circus friends know him from Circus Maximum 2008 and Circus Brazil Jack 2011. He makes regularly made minor changes in his act and you can clearly feel the close relationship between Vlad and his 6 cats.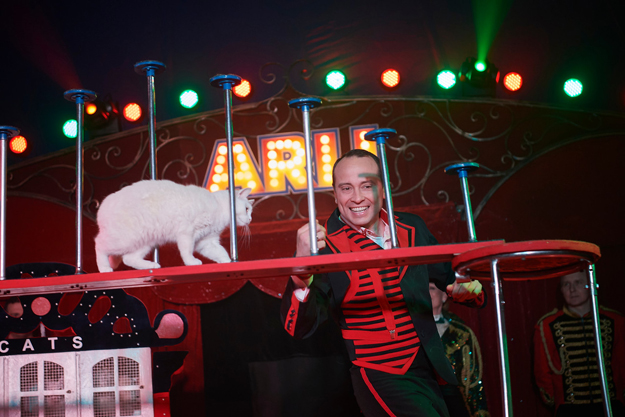 Vlad Olander and one of his cats. Photo: Rud Kofoed / Ajour Press
Last year, we met Alexander and Francesco in a magnificent knockabout table act. This year we meet the in an equally wonderful act in Chinese pole. Normally these kinds of acts are elegant but gave. Alexander and Francesco have chosen to put a lot of comedy into the act, including elements from their knockabout acrobat entrée. Bravo!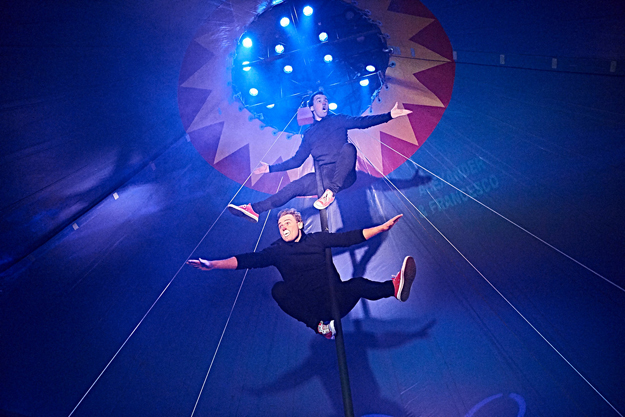 Alexander and Francesco. Photo: Rud Kofoed / Ajour Press
There are many hula-hoop acts. Maybe too many. But Jelena from Latvia presented an elegant version where she with the rings spinning round her arms, legs and waist was hoisted up under the circus dome. So she's definitely not "just" another hula-hoop artist. Her act was the first act after the break.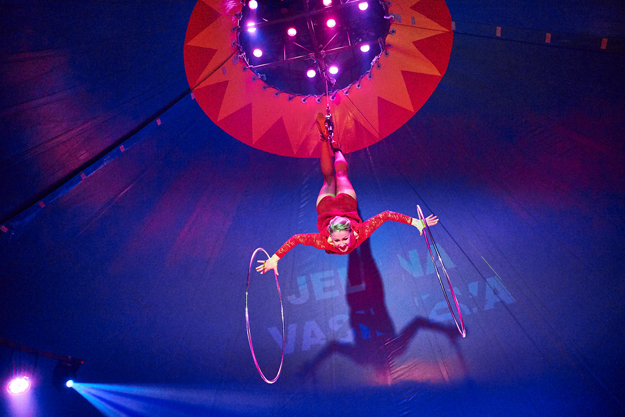 Jelena Vasiljeva. Photo: Rud Kofoed / Ajour Press
Then the charmer Francesco again entered the stage, this time with a baby carriage with a screaming baby. It was a lot of fun when the baby could also eat, burp and break a wind, Last but not least the baby - no, you have to visit Circus Arli to see what the baby did!.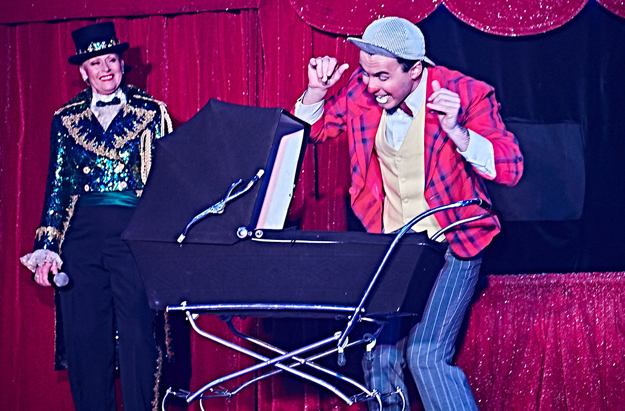 Francesco with his pram. Photo: Rud Kofoed / Ajour Press
A good bird in a net is always nice. And so it is in Circus Arli with Sarah Florees in a fishing net. She made elegant acrobatics and ended up using the net as a vertical rope.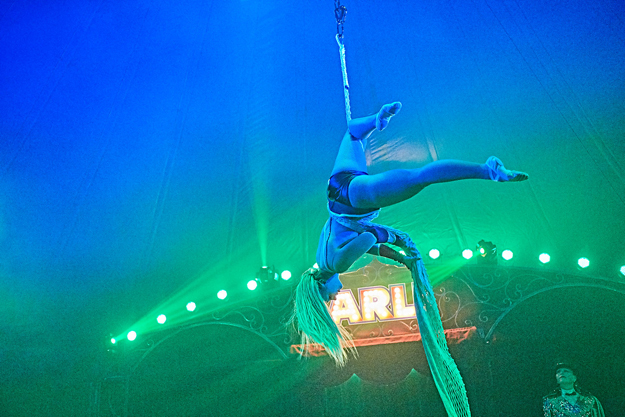 The bird Sarah Florees. Photo: Rud Kofoed / Ajour Press
"Do you want to see the clowns?" the elegant ringmistress Bettina Arli asked. And of course, both children and adults wanted to see clowns. This year's entrée was a wonderful mix of the shooting gag and the entrée with Martino and Alexander singing "Out in Charlottenlund ...". This year it was a ghost which disturbed them. Of course with Francesco under the sheet. The act ended with a music entrée. "Oh when the saints" should be renamed "Oh when the clowns" ...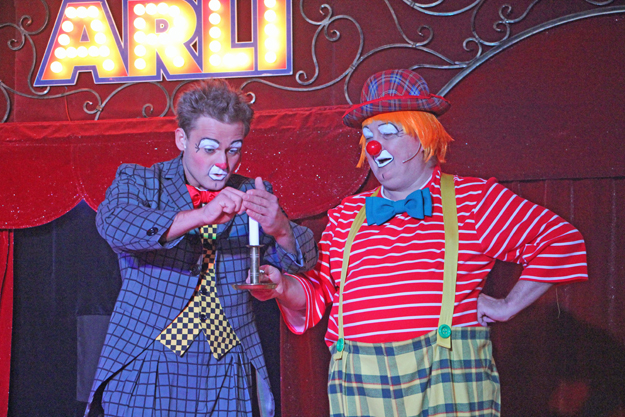 The light is turned on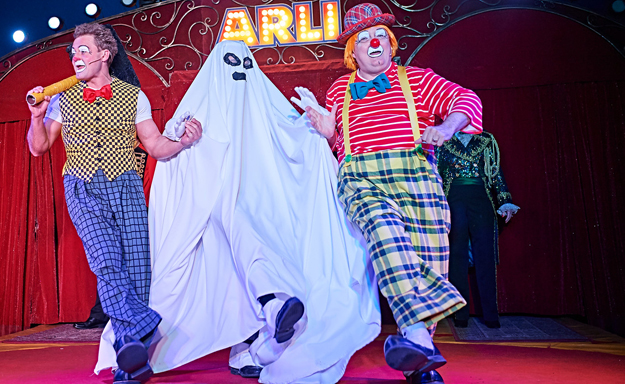 Dancing with a ghost. Photo: Rud Kofoed / Ajour Press
The last act in the performance was a handstand act with the strongly build Sergei Populans, who used a kind of giant penny-farthing as trinky and proved that he was a skilled handstand acrobat.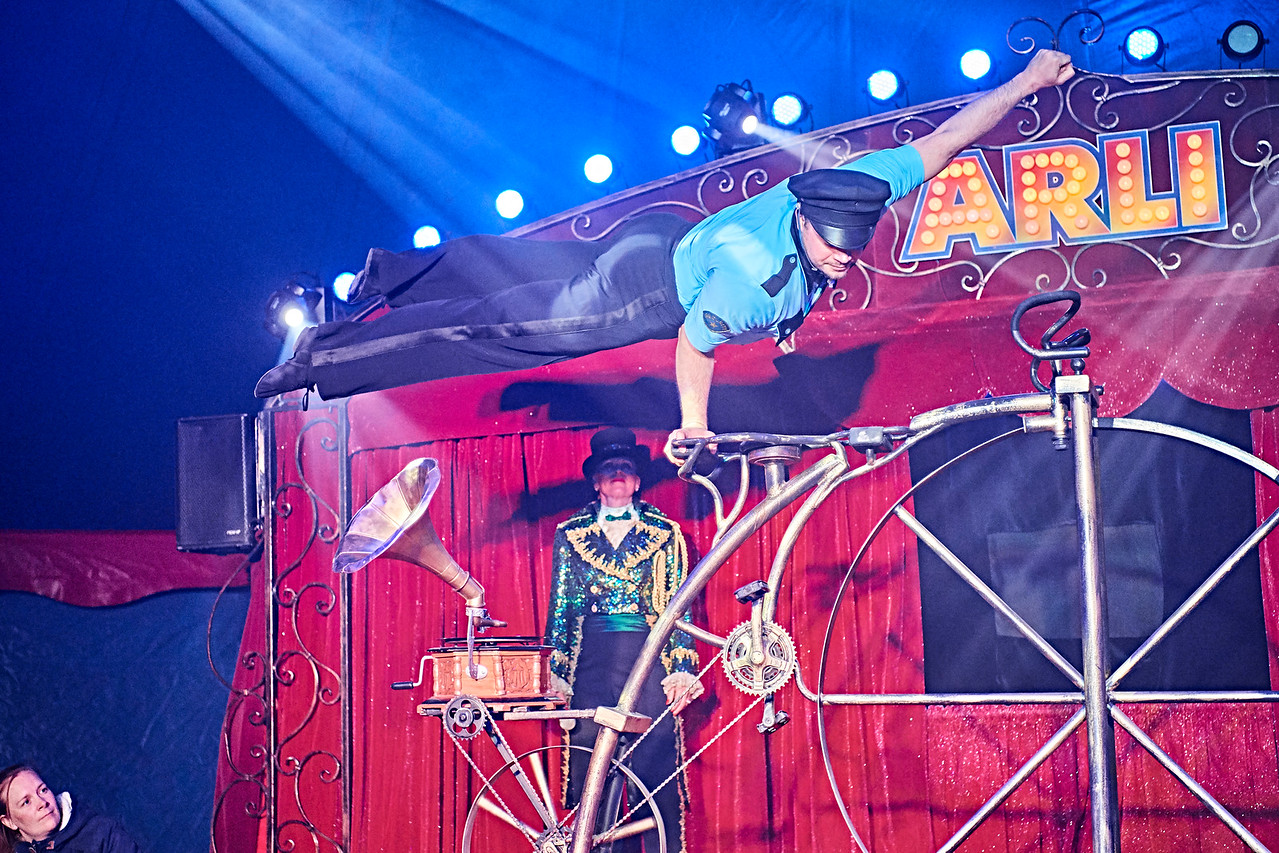 Sergei Populans. Photo: Rud Kofoed / Ajour Press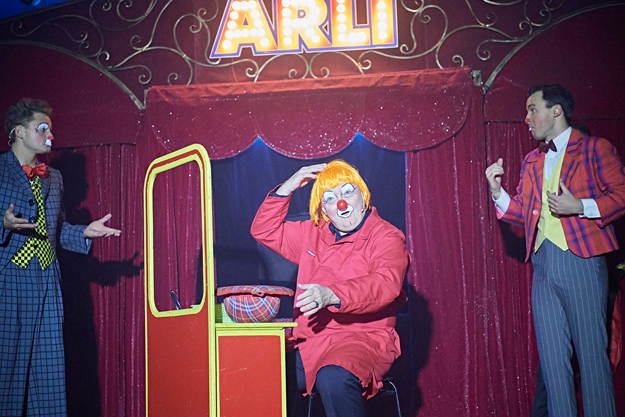 In the final, Martino took of the make-up from his face and returned to be Martin before presenting the artists of the year who received well-deserved standing ovation for the wonderful performance. Photo: Rud Kofoed / Ajour Press
Of course, Lotte Arli also entered the stage and was honored. In January she turned 80, and Martin and Bettina allowed her to retire. But only if she still take care of her job! Thus, we can still meet Lotte in ticket office. She had invited her half-brother Bille August (famous movie director) and his family to the circus. They looked certainly as they enjoyed the show.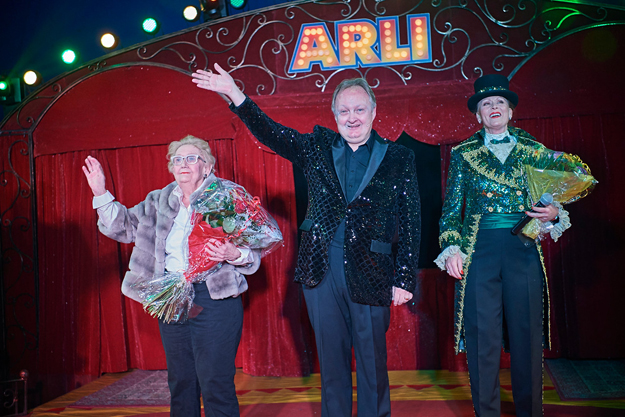 Lotte, Martin and Bettina Arli in the finale. Photo: Rud Kofoed / Ajour Press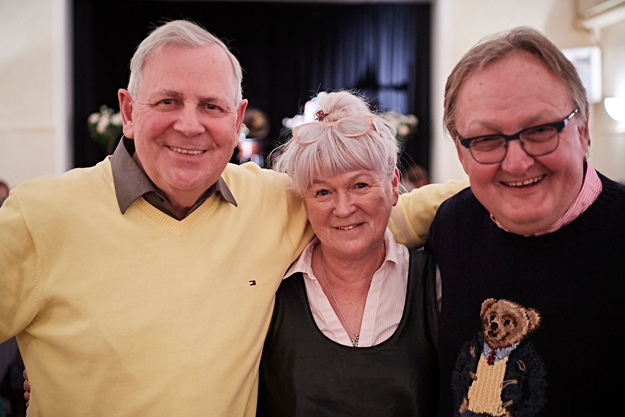 Former Chairman of the Danish Circus Directors Association Benny Berdino, former director of Danish Circus Krone, Irene Thierry, and current chairman of the Danish Circus Directors Association, Cirkus Arli Director Martin Arli. There was enthusiasm when Irene during the banquet after the premiere presented Martin with Circus Krone's award for his efforts for the Danish circuses. Very well deserved. Photo: Rud Kofoed / Ajour Press
Click here to see a lot of Rud Kofoed's photos from the show.

2 April 2018
The shark in the bath. There was a mistake in my mention February 23th of the Swiss clown André Broger, whom I honored to have invented the entrée with the shark in the bathtub. John Cooper has sent me a link to a 1971 video clip with the Russian clown Andrej Nicolajew ("Nico"), who makes an almost similar entrée with a crocodile. At least 10 years before André had his debut as a clown. Click here to see Nico's act.

1 April 2018
Photos from Circus Arena. Jacob Boas Leitisstein saw the show one of the Easter days and took a number of photos, which you can see by clicking here.

30 March 2018
The Clown and the Crown Prince – Circus Arena 2018. The performance is this year named The Clown and the Crown Prince – the search for the lost tear. Season opening took place at the Copenhagen circus lot 'Bellahoj' on 28 March.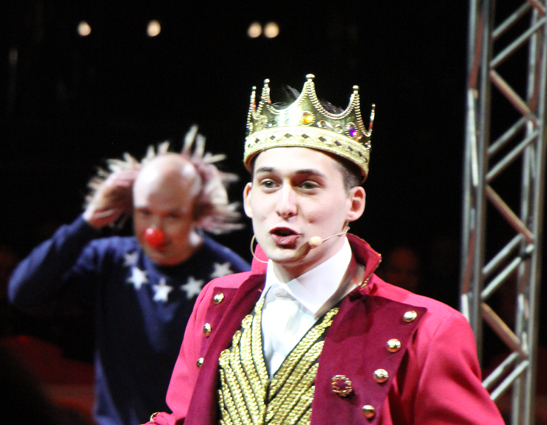 The Clown and the Crown Prince aka the rapper Clemens and Patrick Berdino who also in the real life is crown Prince in Circus Arena. Together they have the task as ringmasters in this year's performance.
Rud Kofoed saw the opening performance and writes (my translation)
"A man travels the world over in search of what he needs" 38 year old Clemens says. Good idea - and not as demanding as it sounds. It's just going to Circus Arena, because they offer a trip with Captain Clemens as debuting run-in clown in the midst of a stressful life, where nobody has time for taking a break!
Together with Patrick Berdino, 26, of course in the part as Crown Prince, to which he is born and raised, the adventure can start in all its fascination. The point is that we must learn to be ourselves - and be content with it.
Clemens trick is making Circus Arena's logo clown which now for the 63rd season appears on posters and other printed matter, but never have said a beep, living. He does it very good with his steady expression which against Patrick's hearty fellow-attitude is a great mix for a host couple - formerly known as ringmasters.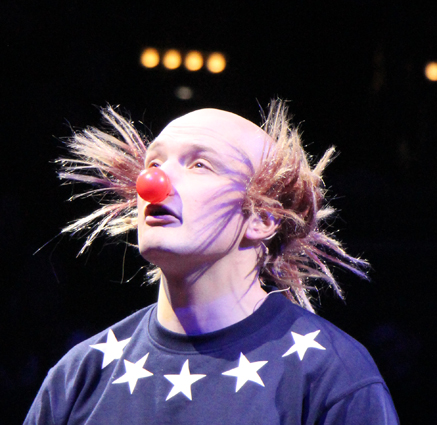 Clemens with red nose. Photo: Ole Simonsen
Clemens has theater and scenic experience to face Patrick's sawdust artist experience. They may not be the world's greatest actors, but they have the 'childlike' flair which means that you with pleasure want to join in.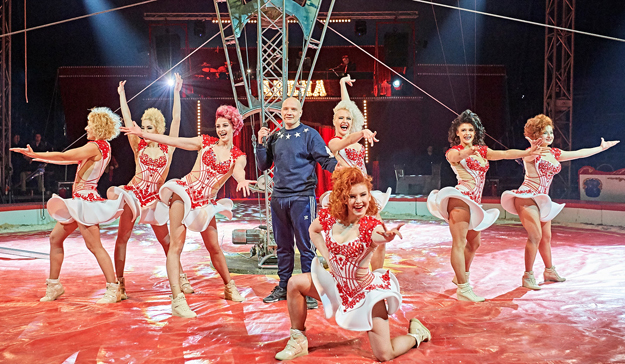 "Give me an A. Give me a R. Give me an E. Give me a N. Give me an A. Shall we go. To A-re-na. Yes we shall. It's 'Arenaday today," Clemens raps surrounded by the 8 girls from the Bingo Troup. Photo: Rud Kofoed / Ajour Press
Despite the earthly conclusion, the artistry begins with a moonwalk - with the Hungarian Lazlo Simet in a Neil Armstrong balance assisted by his two space women Fanni Cseh and Georgina Szotkó who also are ready for a bicycle ride in moonlight. The moon walkers come from this year's Monte-Carlo Circus Festival with several special prices in the bag for their silent stunts in the unsymmetrical spacecraft.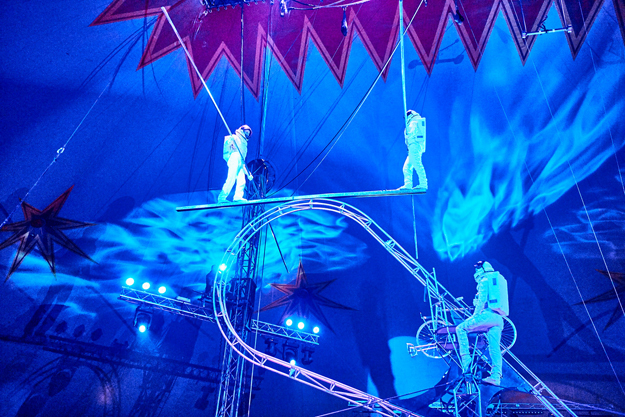 Laszlo Simet and his crew at their prop which Simet calls a Giant Semaphor. The act was first time presented by Koch Sisters in the 1940s, but was the forgotten until Laszlo a few years ago took it up. The 58-year-old Laszlo Simet is an old high wire and wheel of death artist. The Danes saw him the first time in 1998 at the Open Air Stage in Copenhagen's Tivoli Gardens and the following year at Circus Benneweis. In 2001 and 2003 he was back in Tivoli. Many people remember when he on a motorbike drove on a wire from the top of the concert hall to the Open Air Stage, while his wife at that time Olga did acrobatics on a trapeze under the motorcycle. The motorcycle + video clips from the number can be seen at the Circus Museum in Hvidovre, Copenhagen. Laszlos's current crew is quite new in the act. Photo: Rud Kofoed / Ajour Press
Also from the Monte-Carlo festival comes the Ukrainian Bingo Circus Theater, which this year got the jury's special award. In Arena they are sent back to the circus school - and they get the marks. The girls have such a surplus of breathtakingly energetic that at least this reviewer totally lost the breath. It's impressive what the girls can - both together and separately. And then they are as magnetic in the air as in the sawdust. For 22 years, the Bingo show has run for full blow - and there's a win every time!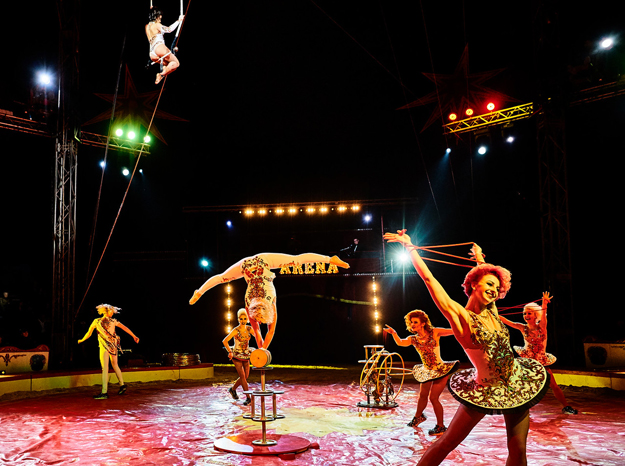 The Bingo Troupe is a large troupe which sometimes is divided into smaller units. In 2014, one of the units performed in Circus Dannebrog. This year, eight of the group's female members will thrill the audience in Circus Arena. Photo: Rud Kofoed / Ajour Press
Romanian Trio Angelis is sent out in Siberian cold to work themselves warm - and they did - with the woman at the center of the Russian bar on two men's shoulders. Twice, Mrs. Angelis failed in doing a triple summersault and landed on her back. Ouch, you said, but not the Mrs. Angelis. She tried once again and succeeded to thundering applause. As the Clemens adventure tells: When you find the heat itself, you can give it to others who freeze!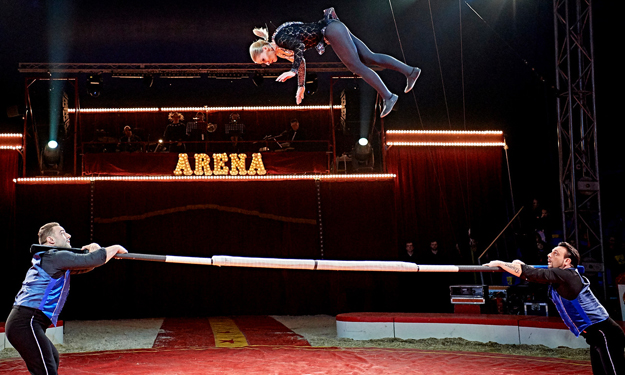 Trio Angelis. Photo: Rud Kofoed / Ajour Press
The spotlight on the world trip we meet in Mexico's volcanoes with the juggler Juan Pablo Martinez, who is an explosion of joy of life and uses every part of the ring in his dynamic number where it gets both hats, clubs and ping-pong balls to the closest possible a juggler can come to an volcanic eruption. As written in the program: When the ground burns under your feet, you must have more than one ball in the air.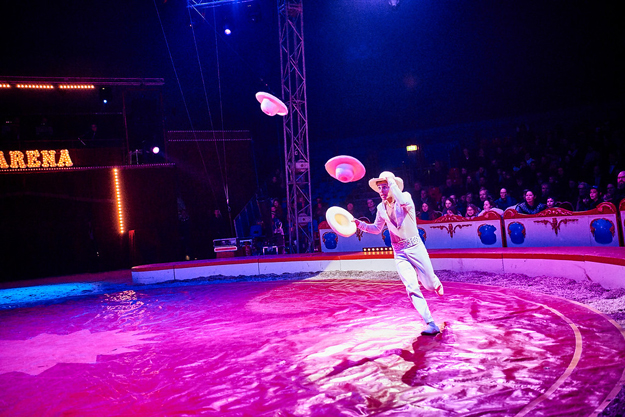 Juan Pablo Martinez ends his breathlessly entrée by juggling with hats while he is running between the seats in the seating. Photo: Rud Kofoed / Ajour Press
But most beautiful of all: The Crown Prince's fever hallucination: 24-year-old Charmaine Berdino. We have seen her in Circusland in Slagelse and, for that matter, at the Orion Theatre in Stockholm, but she belongs to the Arena ring! And that's flat! She is one of Suzanne Berdino's triplets. When she enters the ring with her 'naked' wild horse and 'talks' to it, she gets almost ready for delivery of the lost tears the whole show is all about. Namely the tear of joy. It's poetry - and so humble that it's breathtaking - while others are talking about the World Cup in dressage.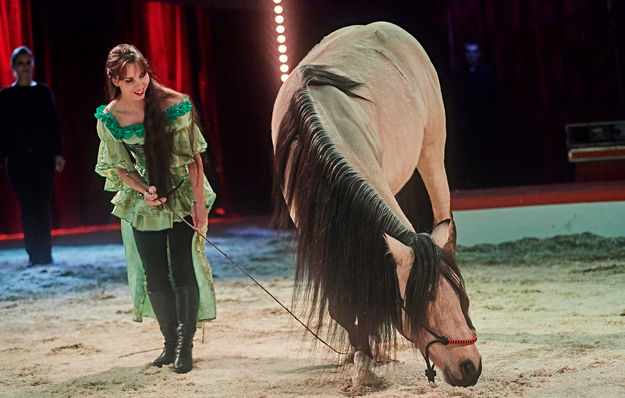 Last year Charmaine presented her act in Circusland at Slagelse. Since then, she has trained further and her beautiful entrée works perfect in Arena's ring. Photo: Rud Kofoed / Ajour Press
Charmaine had been injured during the morning exercise and was suffering from pain. But did anyone notice that? The undersigned did not. She's cool, the horse girl!
We also had a visit to the 'Casualty department" (that's the name of the entrée) with her brother Oliver Berdino, who together with his cousin the Crown Prince Patrick Berdino presented a breathlessly trampoline act.
The third family member in the ring is the 'desert circus princess' Laura Berdino, becoming more beautiful and more beautiful with her eight white thoroughbreds Arabian horses, this year beautifully 'dressed' with harnesses bought from Circus Benneweis. The dressage is a bit "loose" and "springy" but it is probably a matter of few performances until the act works perfect.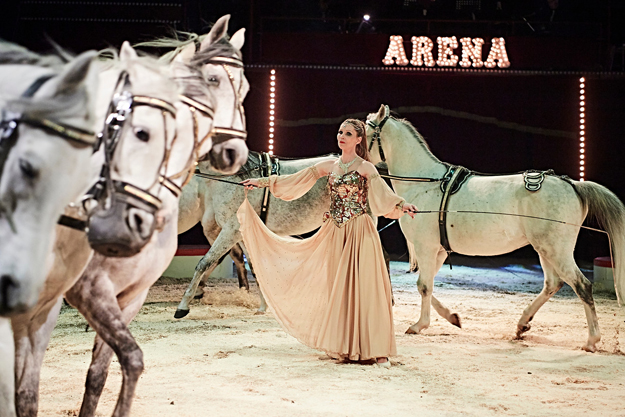 Laura Berdino presented 8 splendid white Arabian horses. Photo: Rud Kofoed / Ajour Press
If you sees everything upside down you see everything clearer, it sounds from India's tree top. So does the Spanish Alexander Lichner. He makes a trapeze act with difficulty levels which can give breathlessness. It is not every day for everyone to be able to hang in his heels up high up under the circus dome. He is dazzlingly skilled and a clear top number in the show.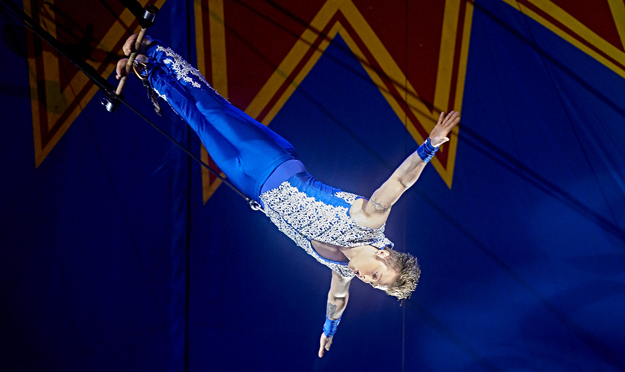 Alexander Lichner. The Spanish trapeze star was last year in Sweden at Circus Maximum. Fortunately, he uses safety lounge under his dangerous act. Photo: Rud Kofoed / Ajour Press
Down in the ring we find the Czech Jan Navratil, 43, who celebrates summer in Tyrol as foot juggler. Agile and entertaining like the animal trainer the English Patrick Clarrison, who are used to well-prepared Hot Dogs with his funny, "crooked bastards"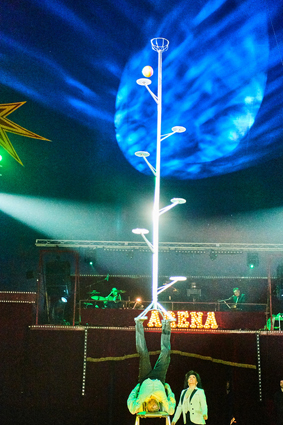 Jan Navratil's signature trick with the ball to end in the basket. The Danes met him first time with this trick in 2006 at Charley Kaye's Red Inn Theater at Amager. In 2009 he was with Circus Benneweis and last year in Circusland. The Navratil family was also with Circus Arena in 1992, but at that time Jan did no yet master the trick with the pole and the ball. - Those who have seen the act before knows that it's not a real accident when the pole overturns during the first attempt to get the ball to the top. Many artists use this kind of fake accident to make sure that the audience is aware of the severity of the act. Photo: Rud Kofoed / Ajour Press.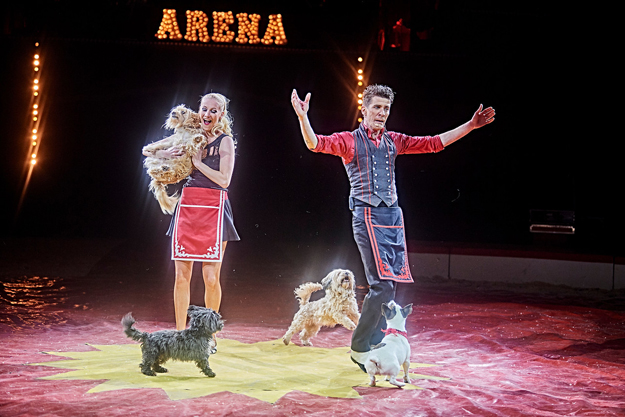 Patrick Clarrison with his hot dogs. A number he has taken over from his father Pete Harrison. In 2013, he presented the act in Circus Benneweis using his Christian surname Harrrison. He has also several time been part of Benny Schumann's performances. Photo: Rud Kofoed / Ajour Press
Arena's Italian House Clown Jimmy Folco, 47, is this season presented as a reporter who finds: Being a clown is not just fun. He has his manners, but also his successful entrées. This year, among other things, as the film photographer who directs selected volunteers from the audiences in bizarre roles. The female "volunteer" was probably his wife Claudia.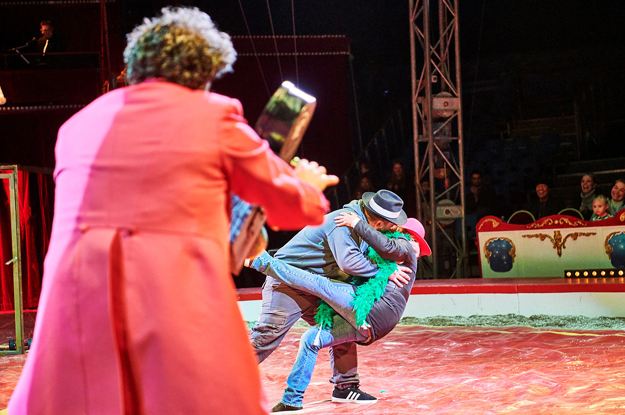 Jimmy Folco with the well-known western film routine with audience volunteers. Photo: Rud Kofoed / Ajour Press
It a matter of taste if you like Rudi Althoff as trainer, but it is a very nice act he presents this year with the African giants Jenny on 29, Lara and Djungla at 31. Elephants which are in top form, quick, sensitive, fast and very well-trimmed. Come on, don't tell me that these animals are suffering! They are a pleasure to follow. All the forces used to ban animals in circus were probably better used to prevent poaching on the African savannah or battery hens the Jutland region.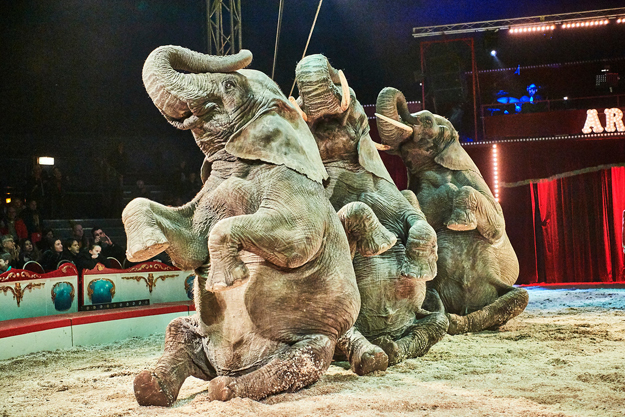 The 3 Arena elephants, which a majority in the Danish Parliament now want to ban from the circus. Photo: Rud Kofoed / Ajour Press
Click here to see more of Rud Kofoed's photos from the show.

28 March 2018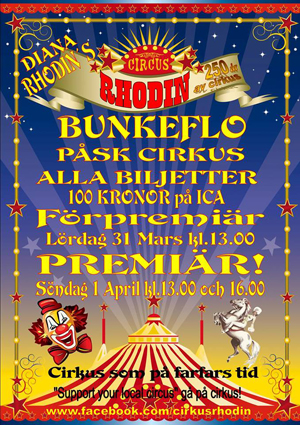 Diana Rhodin's small Swedish Circus Rhodin opens the season Easter in Bunkeflo, located in the Malmö area just south of the Øresund Bridge. There is dress rehearsal on Saturday 31 March at 13.00 and premiere Sunday, April 1 at 13.00 and 16.00. Earlier, years Diana Rhodin has used a tent that she bought by Circus Arli a few years ago. Most likely she will also use this tent in 2018,

27 March 2018
Circus Olympia 2018. Martin Lasson Berglund visited the opening performance in the Swedish Circus Olympia on March 24th. He writes (my translation):
On Saturday, the family Bengtsson opened a new circus season in a winter cold Oskarström.
This year's program is very varied and entertaining. Now Olympia is the circus in Sweden that has highest number of animals and circus friends need to take up the fight against all those people who affect municipalities and shops to stop supporting circuses with animals. Olympia has first-rate animal welfare with large pens, short haulage from circus lot to circus lot and good staff who care for the animals.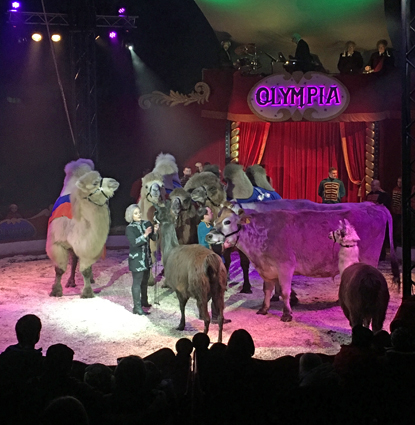 This year, Jessica Bengtsson presents an exotic tableau with camels, lamas and two Jersey oxen. All photos shot by Martin Lasson Berglund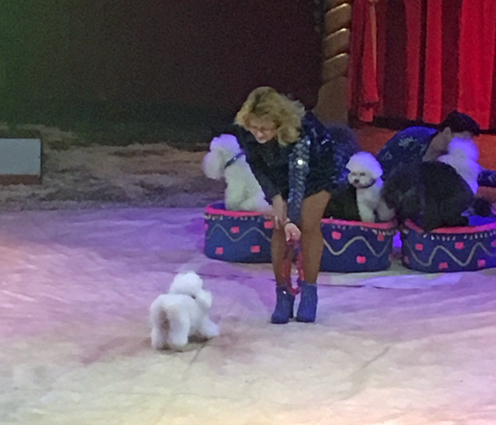 A funny and pleasant act in the ring! Henrika Bengtsson's dogs are as happy as ever. They jumps around the ring charming the visitors
Niklas Bengtsson presents both Irish tinker horses and ponies in a new dressage and is the same time the performance's ringmaster.
Natascha Jarz, her and Niklas' son Simon and David Hammarberg, in front of the circus's alpaca and goats dressed in farmhouse clothes and using western music.
David also preset his bungee-trapeze act wearing a nice glittery suit. Unfortunately recorded music is used during his act.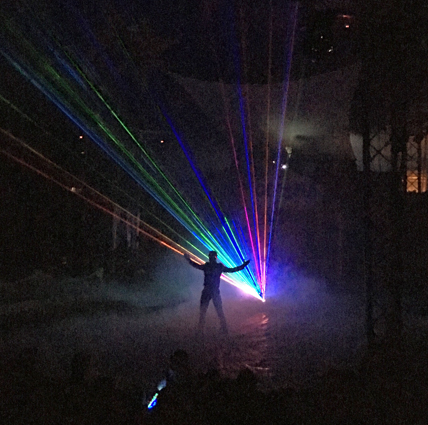 Something else is Robert Cawley who presents a cool laser show which is a hit for the lager children in the audience. I think it's quite right to have such an act in a modern performance.
Martii and Liina from Finland present an exciting crossbow act and vertical rope act, two acts which works perfectly together. (Martii with crossbow and his spouse Liina in vertical rope).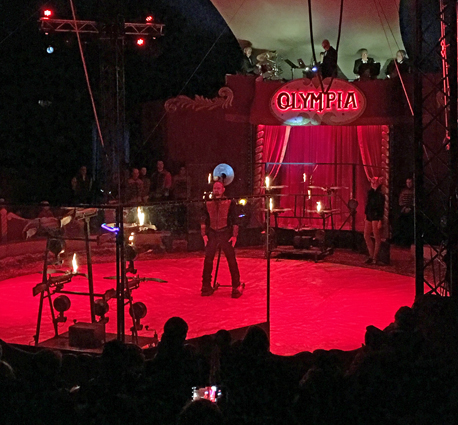 Martti Peltonen with his crossbows
It's great to see musical clowns again and Rivilinos offers good clowning and nice music without needing to drag "volunteers" into the ring. Stauberti starts hanging in her hair and ends with her partner with a perch act which has been in Monte Carlo proving that it is a world class act.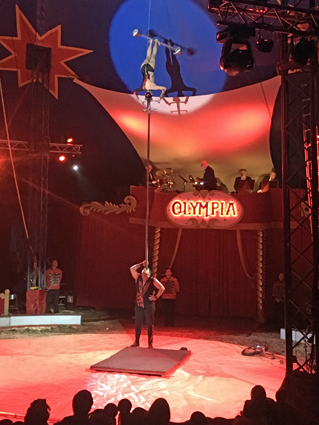 Duo Staubeti from the Czech Republic has since 2015 consisted of Dimitr and his niece Nancy. The duo got a silver clown at this year's circus festival in Monte Carlo.
Of course there is live music and I hope the family Bengtsson also in the future continues to have a live band. This year, bandmaster is as for many years Valentin Smirnov and the five musicians do a good job during the performance.

26 March 2018
Prohibition on use of elephants in Danish circuses. The government, the Danish People's Party and the Social Democracy which together form a majority in the Danish Parliament entered into an agreement on 23 March that when put into the Danish legislation prohibits wild animals in circuses. Specifically, it's about elephants, sea lions and zebras, since all other wild animals have been banned from Danish circuses since 1963.
The ban is expected to come into force on 1 January 2019. But there will be a transitional period making it possible for the three elephants owned by Circus Arena to continue for a while. It is unclear whether there will be ceiling over the number of years they can continue. It is also uncertain whether a transitional arrangement will apply to Circus Trapez's elephant Ramboline. Already today, the law says that elephants must be kept in socially harmonious groups. The Danish Veterinary and Food Administration may in exceptional cases grant exemptions from this requirement. Such exemption has been granted Circus Trapez regarding Ramoboline. However it is possible that after the forthcoming change in legislation such exemption cannot be granted any longer.
The liberal party's animal welfare spokesman has indicated that a transitional arrangement will last for a maximum of 3 to 5 years. Circus Arena hopes that politicians will allow a longer transitional regime.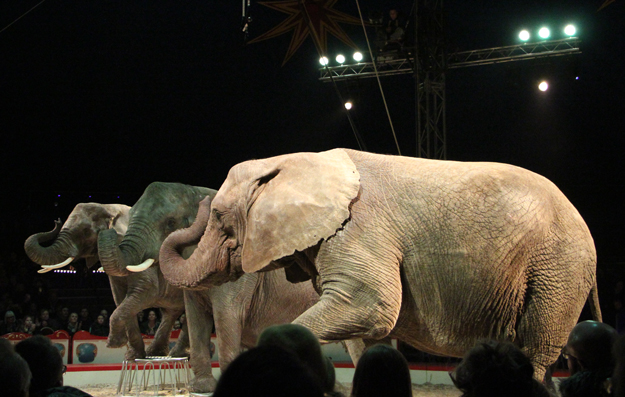 Circus Arena's 3 African Elephants Lara, Djungla and Jenny are the last act in this year's performance. Elephants, which a majority in the parliament now wants to get out of Danish circuses after a certain transitional period. It is unclear what fate the 3 elephants will have the day they not any longer are allowed to perform in Circus Arena.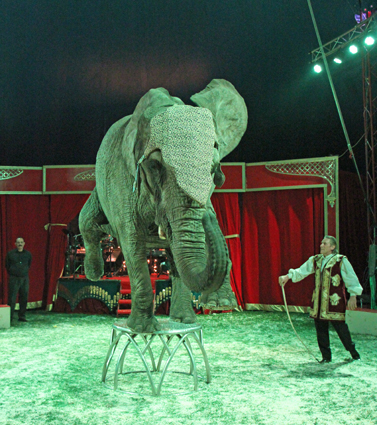 Bernhard Kaselovsky's elephant Ramboline in Circus Trapez. Uncertain if season 2018 will be the last season Ramboline is allowed to appear in a Danish circus. And what fate she gets when she not any longer are allowed to perform in Circus Trapez.
Circus Benneweis stopped having elephants in the performances in 2014. The Swedish and Norwegian circuses skipped elephants some years ago. Thus, in Scandinavia, itmis only Cirkus Arena and Circus Trapez which has still have elephants in the performances.
Today there are less than 50 circus elephants left in Europe. They are aged from about 30 to about 60 as a result of a worldwide ban on trade in elephants in the 1990s, with the effect that circus and trainers could no longer buy young elephants. Circus Arena states that the elephant Jenny is 29 years old and Lara and Djungla 31 years old. Circus Trapez states that Bernhard Kaselowsky's elephant Ramboline is 35 years old. Thus, the 4 circus elephants in Denmark are among the youngest circus elephants in Europe.
The number of circus elephants drops year after year as elephants passes away or retire. Thus, elephants will be phased out of circuses even without legal intervention.

22 March 2018
Circus Baldoni 2018 - magical elegance. This year's performance, which premiered in Lyngby on March 20, is the most elegant performance which Cicus Baldoni until now has presented.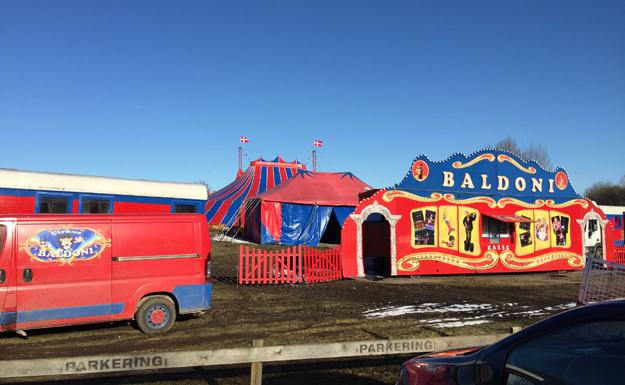 Circus Baldoni on the circus lot at Firskovvej in Lyngby. Photo: Ole Simonsen
Although the beautiful new Cannobio tent only has room for 70 more visitors than the old tent and only is 1½ meter more in diameter than the old tent it seems significantly larger because it does not like the old tent end up in a tip. The tent can seat 486 persons on 2 rows of ringside chairs and 5 rows of plastic bucket seats. Photo: Rud Kofoed / Ajour Press
The main team in a Baldoni show is usually René Mønster Baldoni, his lion Leonardo (a ventriloquist's doll) and Danilo the clown. This year, the illusionist Kim Kenneth has also joined the team and presents several great tricks, which he not before has presented in a Danish circus. Kim has also contributed to the staging the show and you can recognizes his fingerprints.
This year's performance is called Danish Dynamite, because there are more Danish star artists in the performance than in previous Baldoni performances. Of course the Lion Leonardo wore a Danish Dynamite Wiking Hat when he helped René Mønster Baldoni welcoming the audience.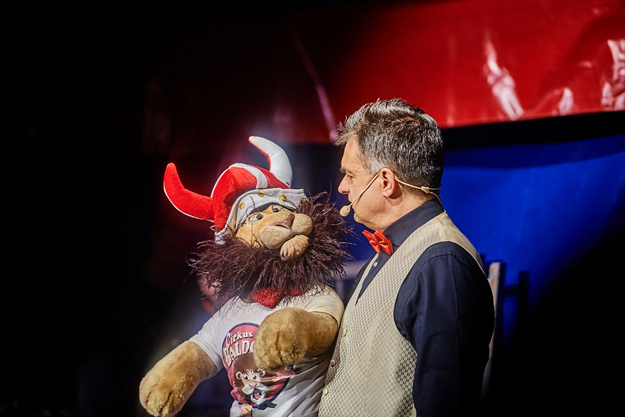 René and Leonardo. Who loves children - with sauce and potatoes! Photo: Rud Kofoed / Ajour Press
René then welcomed his old friend Kim Kenneth.
In their young days, they had a dream of becoming Denmark's answer to Siegfried & Roy, but only Kim got a successful career as magician.
Assisted by René, his girlfriend Jessica as well as the clowns Danilo and Eddie Kim juggled with cards and presented an illusion where Jessica and Leonardo were locked into a box, which was then opened as an accordion (see photo).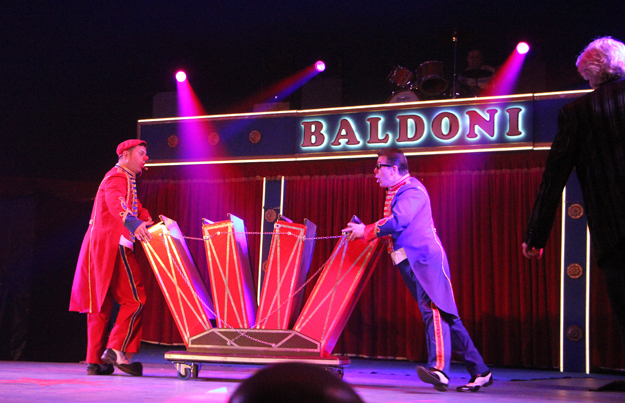 Danilo and Eddie with the box with Jessica and Leonardo
Then the house clown Danilo came on the stage and led everyone through Baldoni's welcome song "We shall be the best of friends, everyone come join us now."
Then there was a reunion with last year's Mombasa Boys. However, with a few adjustments: 2 of the 4 artists in the troupe were new. They did a funny act with a kind of formation juggling with hats.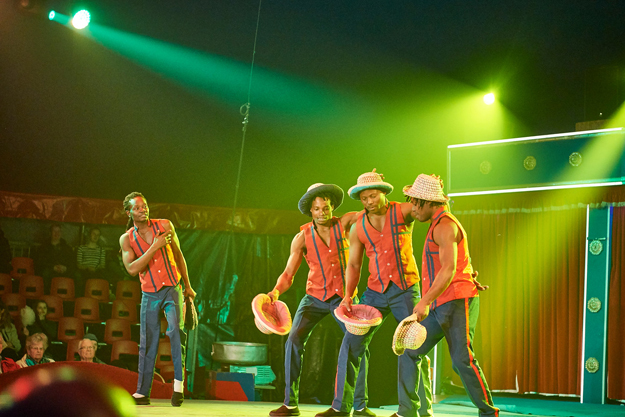 Mombasa Boys. Photo: Rud Kofoed / Ajour Press
René and Leonardo then presented a mermaid: Maria Janacek in aerial hoop.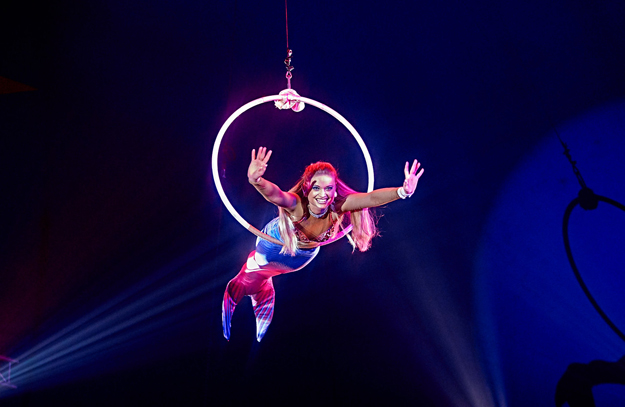 The mermaid Maria. Photo: Rud Kofoed / Ajour Press
A few years ago, the clown Danilo had great success with an entrée where he as "Little Danilo" mimed to a number of hit songs. This year he presented an updated version of this entrée with a potpourri with songs by Elvis, Michael Jackson and other celebrities.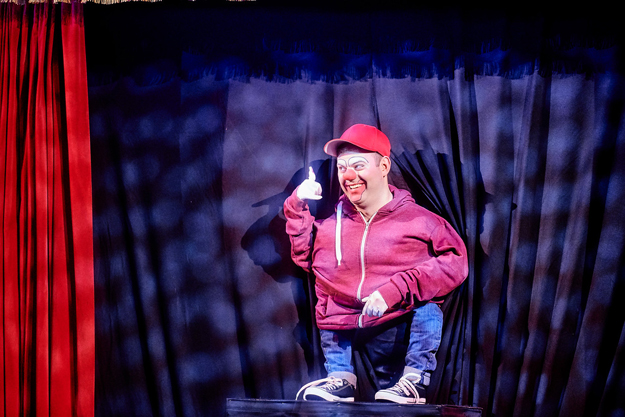 Little Danilo. Photo: Rud Kofoed / Ajour Press
We have previously seen Eddie Janacek in Circus Baldoni with a fine rola bola act. In last year's school performances as well as in Baldoni's Christmas circus in December we saw his 11-year-old son Karel, called Kaja, with rola bola. Now he present his act in the general for performance with a fine entrée where his father is presented as a world star and Karel comes in with a ghetto blaster and repeats his father's tricks, only in much greater severity. A nice way to present a good act.
Baldoni's wonderboy Kaja Janacek. Photo: Rud Kofoed / Ajour Press
Then followed Kim Kenneth's main entrée in which he was assisted by Jessica and Maria Janacek (married to the clown and the mother of Kaja). Kim conjured Jessica up from a prop in fire. He spirit her away in a box and then conjured both Jessica and then Maria up of the box. With the assistance of an approx. 10-year-old boy from the audience Jessica was crushed in a box but ended up unharmed. The last trick in the entrée was his signature trick, where he on a motorbike drove through a cabinet that contained the chained Jessica. Fortunately, she turned up to be unharmed.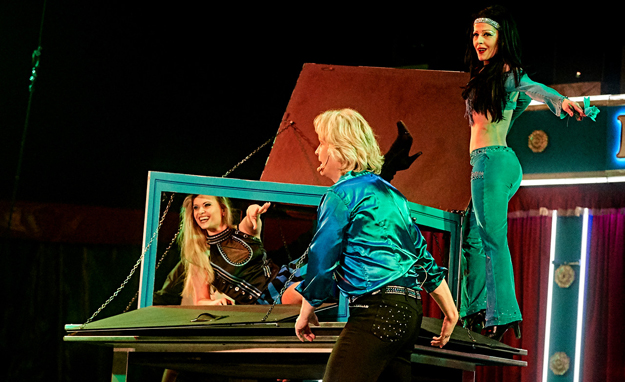 Kim Kenneth, Maria and Jessica. Photo: Rud Kofoed / Ajour Press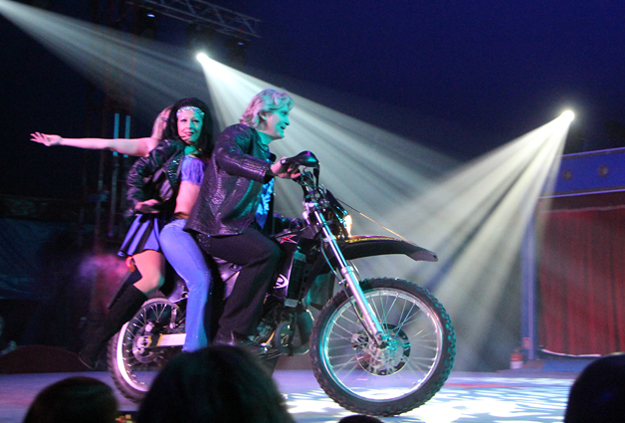 The Dane in the fast lane - Kim Kenneth & co. Photo: Ole Simonsen
After the interval Danilo, with the assistance of the girlfriend Cindy and a volunteer from the audience had an entrée where the self-timer on a camera had its own life when they tried to take a selfie.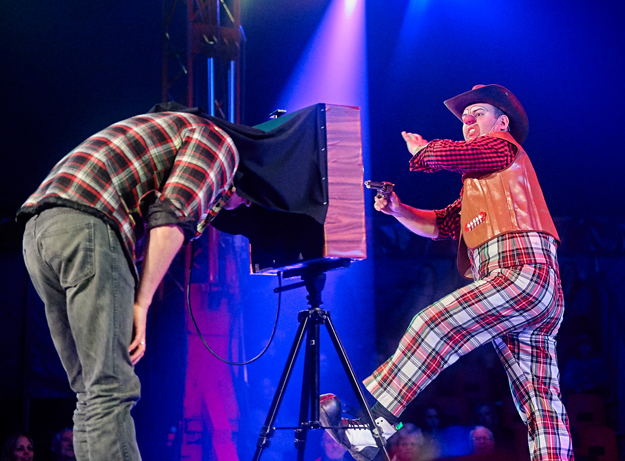 The teasing camera. Photo: Rud Kofoed / Ajour Press
Then there was a reunion with Kim Kenneth's girlfriend Jessica Caveagna. But this time with her solo act: spectacular sword balance, where she ended up walking up on a ladder in fire - see photos.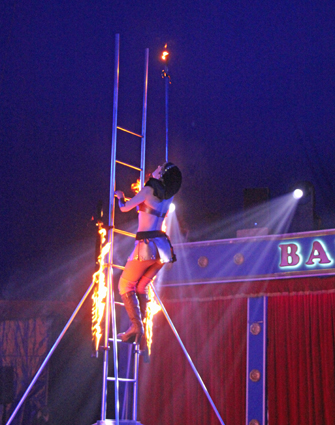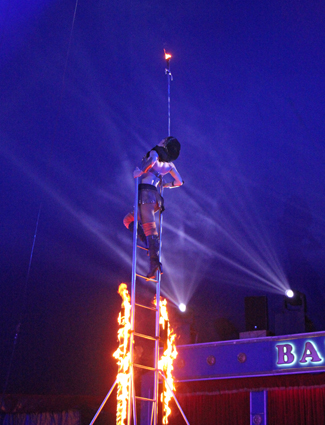 Jessica on the ladder. Photos: Ole Simonsen
Now it was time for the Baldoni Clowns' main entrée: Cindy, Danilo and Eddie with the classic "Busy Bee, Give Me Honey". The older generation of Danes may remember the version which Circus Arena's founder had with the clown Larno. Quite understandable the younger generation has not seen it as it is 42 years since Arne Berdino passed away. But the younger generation of circus friends knows the brothers Darix and Fumagalli's drunken version of the entrée. It has been this version which has inspired the Baldoni clowns. However, the bee Eddie does not like Fumagalli spit water in the face of the spectators who are closest to the ring (stage). Fine! It is not everyone who likes to have water in the face which has been in the mouth of another person.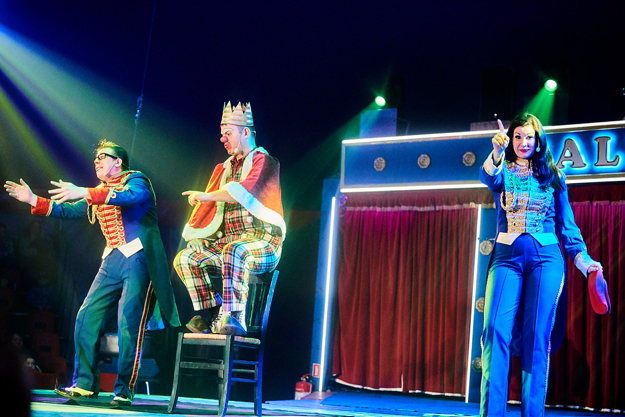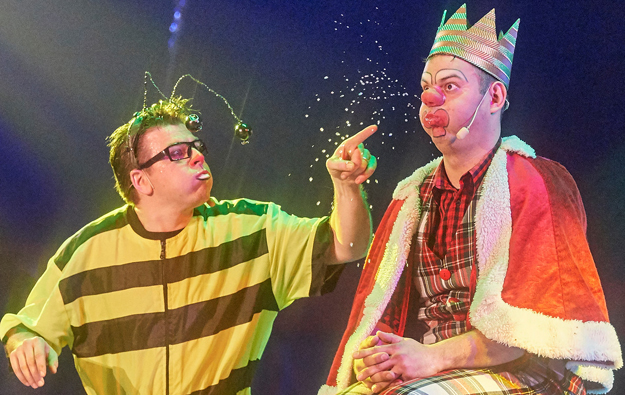 Photos: Rud Kofoed / Ajour Press
After the clowns, Kim Kenneth came again on the stage. Now with a trick he never before has presented in a Danish circus: A small locked chest is placed on the stage. Kim turned his back to the audience and threw a (rubber) brick over his shoulder. The catcher should name a city where he wanted to see circus, what the tickets would cost and what means of transport he would use. Kim wrote all 3 things up on a flip chart and then asked the catcher to throw the brick to another spectator who should tell what he would buy in the kiosk and what the first act of the show should be. Also, these answers were written on the flip chart. Then Kim unlocked the chest. It turned out to contain a paper roll with the words he had written on the flip chart!
Kim offered after the show to sell the predictions of the coming week's lotto numbers!
His entrée ended when he together with Jessica presented a nice and original version of the trick magicians call the substitution trunk.
When you see Kim Kenneth's elegant entrées and with what charm and talent for misdirection he presents them it is easy to understand that he has been successful throughout Europe. Great that René Mønster Baldoni has persuaded Kim to take a season in Denmark and also allowed him to show other tricks than those he presented at Benneweis a few years ago. (Kim Kenneth was with Cicus Benneweis in 2009, 2010 and 2015)
After Kim, Mombasa Boys was back on the stage. This time with a handstand and hand to hand entrée.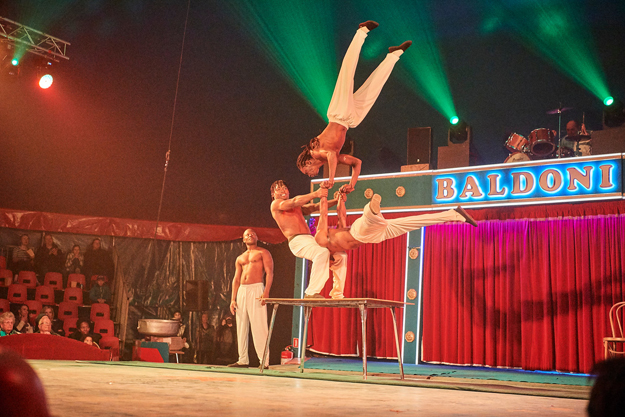 Mombasa Boys. Photo: Rud Kofoed / Ajour Press
Got talent popular is on TV. Thus, René asked if there was anyone in the audience who wanted to show their talents on the stage. An elderly gentleman volunteered and entered the stage after some discussion with his hysterical wife. The older generation remembers both Karl Kossmeyer and Calle Svensson, who started their entrées in that way. The old gentleman was like the two mentioned not a real circus visitor. It was the 68-year-old artist Freddi Steckel, who, with René Mønster Baldoni as a more or less volunteer partner, presented his comical knockabout table act. He proved that in a circus there is not just room for the young and pretty but also for the old and wise.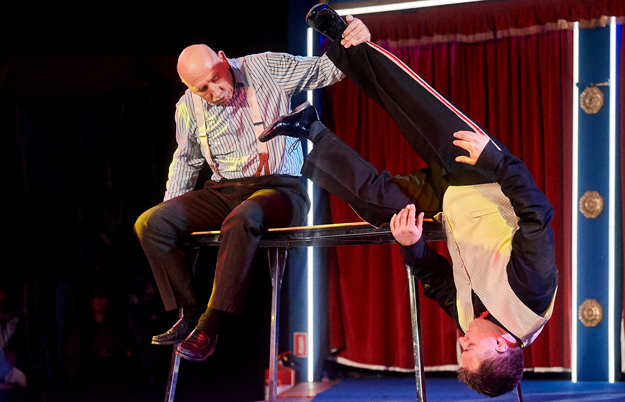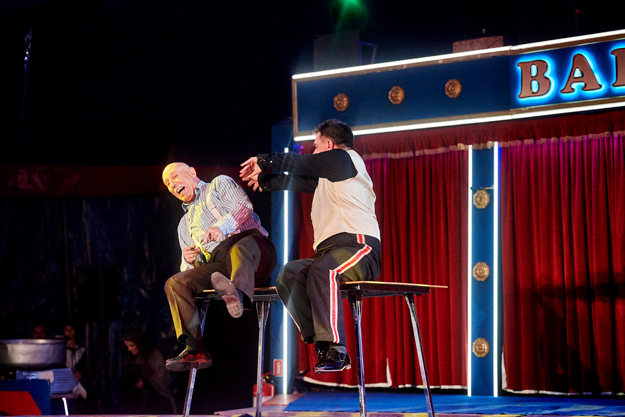 Freddi Steckel and René. Photos: Rud Kofoed / Ajour Press
This ended a very nice 2 hour long well-presented circus performance. The audience on Zealand and Lolland-Falster has something to look forward to when Baldoni visits around 100 cities in the next 5 months.
Click here to see Rud Kofoed review of the show with lots of photos.

17 March 2018
Zirkus Nemo's rubber man to present children's circus. In Aarhus Herald Tribune you could on March 16 read that Søren Østergaard, the owner of Zirkus Nemo, will visit Aarhus with a brand new children's circus. It will just visit two cities: Aarhus and Copenhagen. Østergaard will not be with the circus (he will be with Zirkus Nemo) but the contortionist Captain Frodo, who has been featured in some Nemo performances, will be responsible for the circus. The tent will be put up at the Officers Square next to Ridehuset in Aarhus in July and August. It will be a kind of summer vacation activity for children with a circus school where children can learn how to act and be active. There will also be a performance of 45-50 minutes, and the whole thing will take place twice a day, Søren Østergaard told Aarhus Herald Tribune.
Captain Frodo was with Zirkus Nemo in 2014 and 2016. The latter year he received The Danish Award's award for the best act of the year.
Captain Frodo at Nemo in 2016. Photo: Rud Kofoed / Ajour Press.

16 March 2018
Circus Brazil Jack (Sweden) 2018. There was icily cold at the Mill Square in Malmö, when Circus Brazil Jack opened their season on March 15th. But the tent was very well heated and the atmosphere of the audience at the top when Trolle Rhodin III welcomed to this year's performance.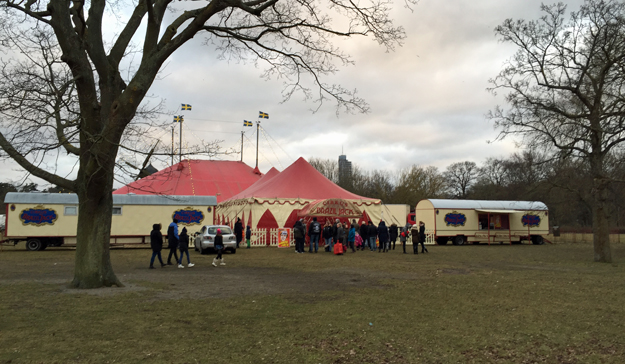 The season opening was at the same time a generational change, as Trolle Rhodin JR and Mrs. Carmen Lupasco Rhodin this year have handed over the responsibility for daily operation to their son, Trolle III. At the same time there was a change in concept as Trolle chose not to have animals in the performance this year. It's not because he thinks that animals in circus not are treated well but because he feels that audience's interest in seeing animals in circus is reduced. He has probably also been a bit tired of the so called "animal friends" who in recent years has been standing outside the Swedish circuses and attempted to make the visitors believe that circus is maltreating their animals. The "animal friends" have usually rejected dialogue with persons of another opinion, just as they have rejected by self-esteem to see how the animals are treated.
This year "animal friends" could not be seen. Neither as pickets nor as circus visitors. They are only AGAINST animals in circuses, not IN FAVOUR of circuses without animals.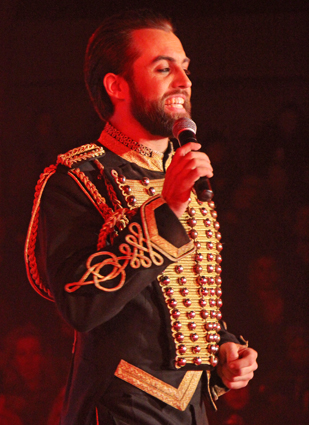 28-year-old circus director Trolle Rhodin welcomes the audience
The performance was opened by this year's run-in clown Emiliano who comes from Argentina and never before has performed in Europe. Several of his run-ins were original, such as one with a "horse" and one with an invisible ball. He held the audience's attention well and will probably get even better after he has learned the Swedish audience's reactions. From other clowns, I know that from country to country there is a big difference between the audience's reactions.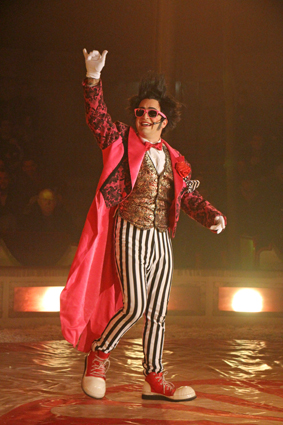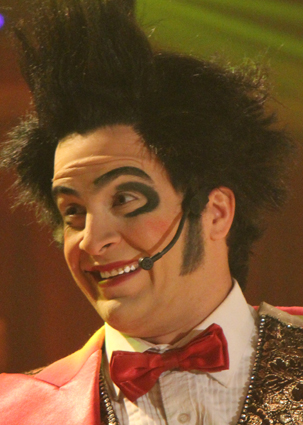 Emilano
After Trolle's welcome, two artists from Compania Havana entered the ring: Isabella and Aylin who, under the name of Duo Bella, did hair hanging i.e. an aerial act where they hang in their hair. Normally, these kinds of acts consist of the artist being raised in the hair and doing some juggling. But Duo Bella could do more than that: they made an exciting aerial act. For example, one headed down in a kind of aerial cradle and carried with her hair an aerial hoop in which the other made acrobatics in (see photo). In another trick, they hung "hair to hair", while the lady below rotating with high speed.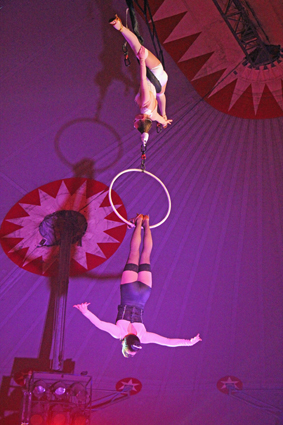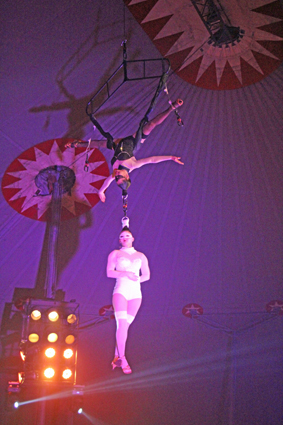 Then followed a comic juggler act with the Wolff brothers, who also were with Brazil Jack last year and who the Danes knows from Circus Arli. In this act big brother Richard constantly disturbed his little brother David, who is more than a head higher than his big brother!
After Emiliano's reprice with a "horse" - or was it another animal? - Compania Havana came in the ring with their main number, where the 6 female acrobats did spectacular acrobatics in 2 Chinese poles.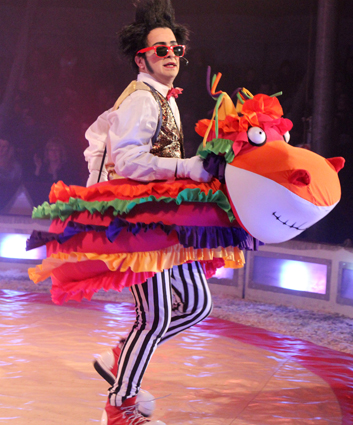 Emiliano on horseback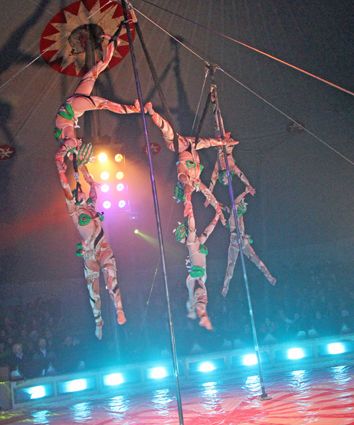 Compania Havana
Then David and Richard Wolff returned with a comic human cannonball entrée. Clearly inspired by one of the Danish Clown Bonbon's entrées.
Following this act followed a real human cannon ball: Italian Jody Bellucci who Trolle Rhodin discovered in a small Italian circus. From his cannon he is shot as a human cannonball over the ring and lands in an inflatable airbag at the audience entrance. An old fair act which has now found its way to Brazil Jack's ring. Children and adults among the audience cheered, although the preparation of the cannon took a long time in comparison with the few seconds the human cannon ball was in the air.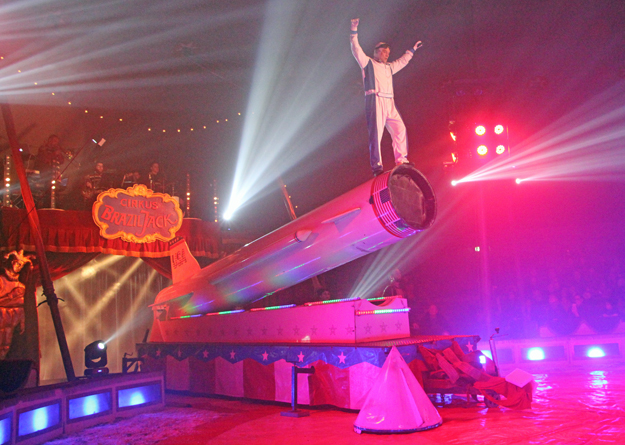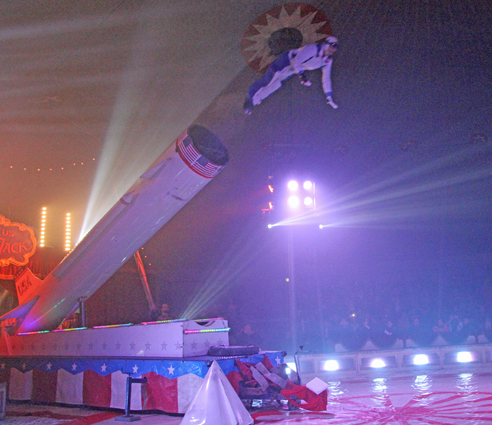 Jody Bellucci
After the break, Anaisi and Norely from Companie Havana (probably the same as Isabella and Aylin) under the name of Duo Capricorn did an act aerial hoop.
Emiliano then had a run-in with a fictional ball which he throwed to and from spectators.
In a comic magic number, the Wolf brothers were assisted by David's wife.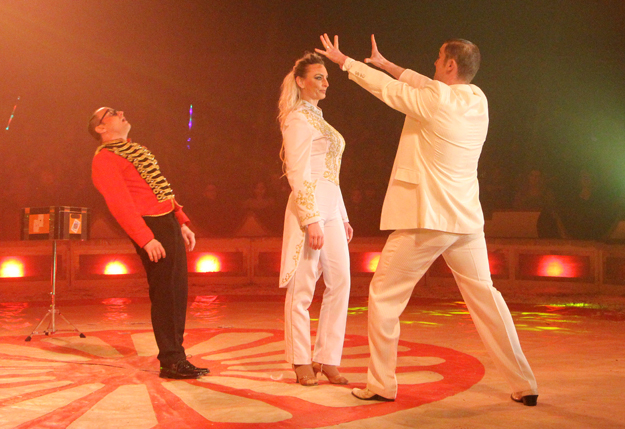 David tries to hypnotize his wife, but it is Richard who is being hypnotized and collapse
You have to save the best thing to the last. And according to the audience's reactions, the last two acts in the performance were the best of the year.
First Emiliano with the well-known camera routine.
"Oh no, not again", many circus freaks might think.
But Emiliano's version of the act is clearly one of the best versions of the act which I have seen. And when choosing volunteers he is working with tactfulness and accepted a "No". Some other clowns could learn from that! I know people who never again will visit a circus after reluctantly being dragged in the ring by an insisting clown. Something every circus director should forbid his clowns to do.
The last act in the performance was a reunion with the marvelous diabolo juggler Pierre Marchand. He was last time in Brazil Jack in 2015 and last year at Arena in Denmark. His talent and charm are amazing and he "sells the act" better than any other diabolo juggler.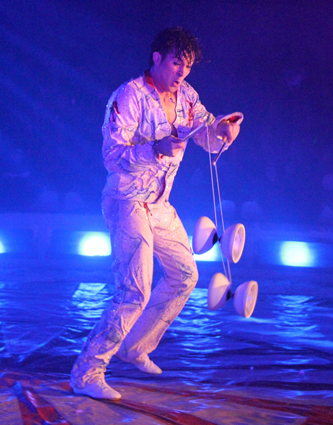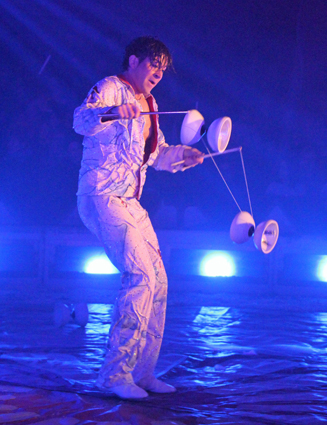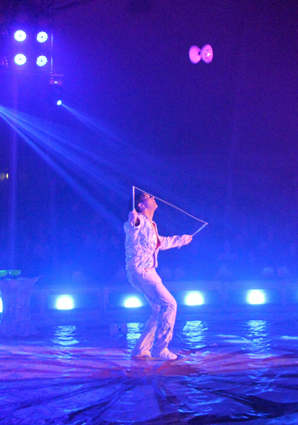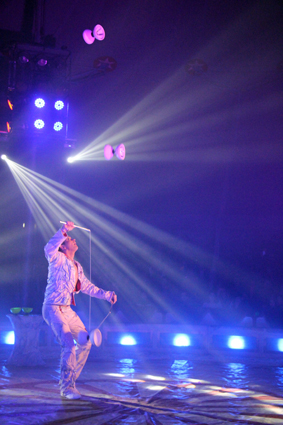 Pierre Marchand
Did you miss animals in this year's performance? The answer must be a clear no: Trolle has proved he easily can produce a good show without animals. When a couple of minor errors are corrected - there is always a premiere nervousness and some of the artists did not arrive until the day before the premiere - this year's performance will be remembered as another fine Brazil Jack performance.

15 March 2018
Circus Arnardo (Norway) 2018. Circus Arnardo had as the first Scandinavian circus premiere on 10 March in Arendal.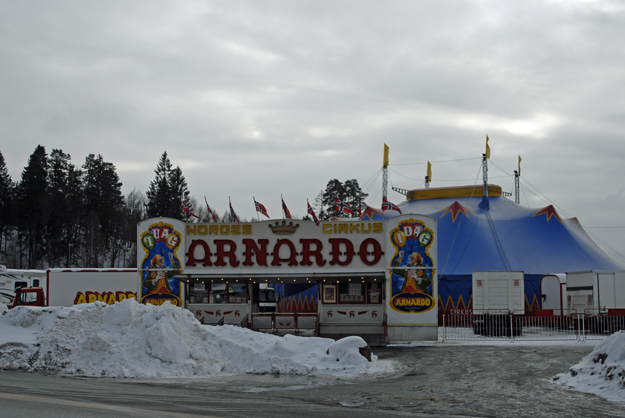 There was snow at the lot when Cirkus Arnardo opened the season on March 10th. All photos: Thorbjørn Klæbo Flo.
Thorbjørn Klæbo Flo saw the performance and writes (my translation):
A number of fine artists this year with Duo Costache with perch and an aerial act where they hang in their teeth. Great artists whom we have seen at Merano and Brazil Jack.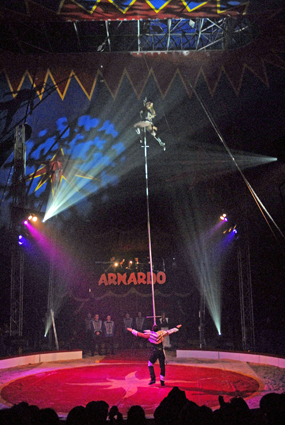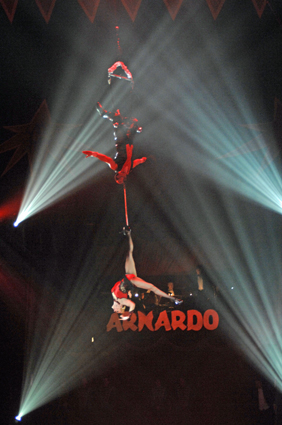 Duo Costache. The Danes saw their perch act in Circus Arena in 2017.
An excellent Siberian Husky and Samoyed dogs act. Earlier seen at Brazil Jack and Benneweis.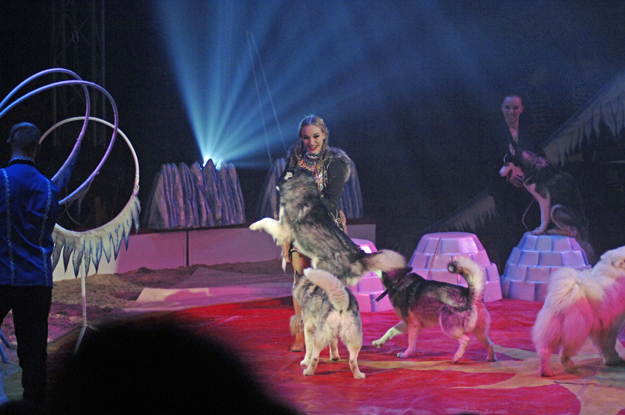 The Saabel family's great dog act could be seen by Danes in Circus Benneweis in 2011 and in Circus Dannebrog in 2013. In Circus Arnardo, it was the young generation, the sisters Jennifer & Kelly Saabel, who presented the act.
Nandor Varadi has become even better since I last time saw him a few years back at Arnardo. An amazingly good artist.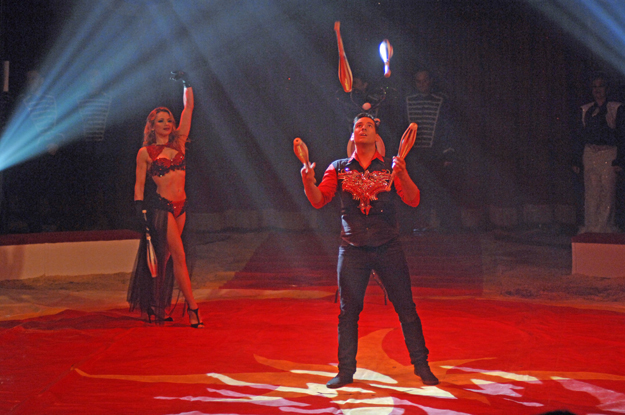 Nandor Varadi. The Danes have met him in Danish Circus Krone in 2007 and at Circus Baldoni in 2008 and 2010. Already at that time he was good, but today he is even better.
The clown André binds the performance together with original reprices reprices and a few classic run-ins. Pleasant appearances, for the first time in Norway. Seen early at Scott.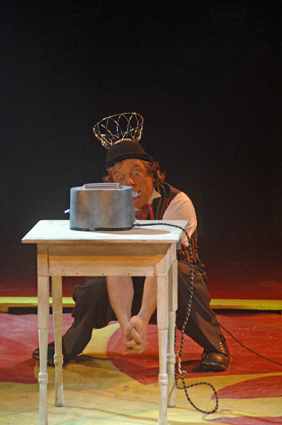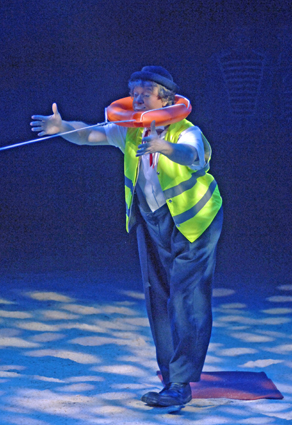 The talented Swiss clown André. His only performance in Denmark was in Jimmy Enoch's Winter Circus last year in the Rosengaard Shopping Center.
The Are and Poulina Arnardo Family work with their illusions and include a new variant of Houdini's mysterious box with a blanket. Smooth and fast performed at the premiere.
The ponies had opening night nervousness and were presented by Yvonne Lübben. The nervousness is definitely over in a few days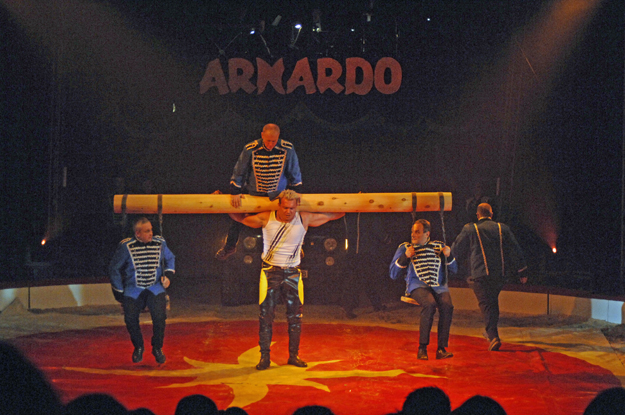 The strongman Denis Ilchenko was last year in Sweden at Brazil Jack. This year, it is the Norwegians who can meet him

9 March 2018
Circus Olympia 2018. The Swedish Circus Olympia is Sweden's second largest circus. Season opening takes place in Oskarström, Saturday, March 24th at 15.
Ever since Herbert Bentgsson (1947-2014) established his circus in 1985, animal acts have been an important part of the performance. Always Circus Olympia's own animals: horses, camels, bulls, goats, alpacas and dogs. Animals which the Bengtsson family has trained to ensure that the animals are raised and trained under good conditions and are treated well and careful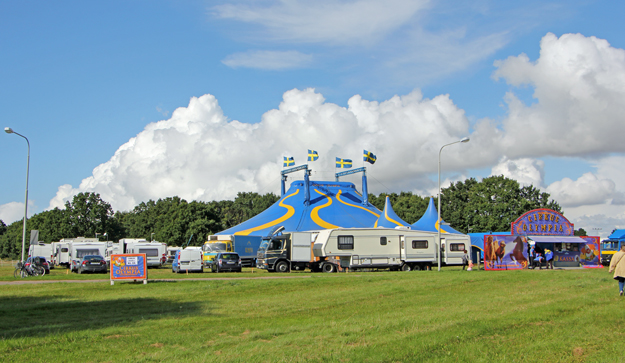 In this year's performance, the siblings Jessica & Niklas Bengtsson present an exotic mix of camels, llamas and bulls and liberty dressage with horses and ponies. Their mother Henrika Bengtsson presents her playful dogs. Niklas spouse Natascha Jarz presents alpacas and goats, assisted by David Hammarberg.
The other performers are:
Robert Cawley - Laser show from England.
Nancy Stauberti – aerial acrobat from the Czech Republic, hanging in her hair.
Duo Stauberti – Perch acrobats from the Czech Republic. They received 2 special prizes at this year's circus festival in Monte Carlo.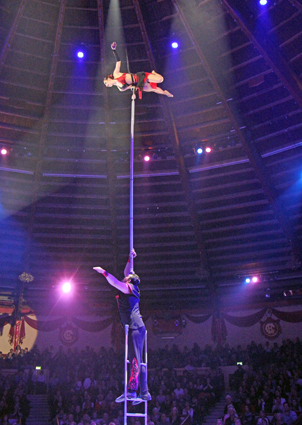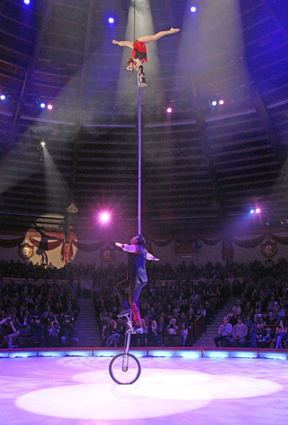 Duo Stauberti. Photos from performance in the German Circus Krone in Munich March 2017
David Hammarberg - Aerobatics in the bungee-trapeze. He was last time with Olympia in 2015. In season 2016/17 Danes saw him at Wallmans in the Circus Building in Copenhagen.
Martti Peltonen – crossbow marksman from Finland. He was also with Olympia in 2014
Liina Aunola - Vertical rope. She was with Olympia in 2003 and 2014
The Rivolinos clowns. The Danes met them in Circus Arena in 2002, 2003, 2005, 2007 and 2009 and the Swedes in Circus Maximum in 2000 and 2006. However, there may have been changes in the troupe. Another troupe from the Rivelino family, the Pedro Rivelono troupe, will spend season 2018 with the Norwegian Circus Agora. The Rivelino family is NOT the same as the famous Rivel family.

9 March 2018
Circus Agora 2018. Jan Ketil's circus, Norway's second largest, has season opening in Straume on March 14th.
The performers in this year's performance are presented as follows (my translation):
Jan Kjetil. Our beloved circus director is always ready to welcome the audience to Circus Agora, and this year, like any other year, he has surprises on the nap. Rejoice!
Bianca Renz. Hula hoop. Everyone knows the traditional hoop. This lady rocks a little more hoops than most people. Bianca Renz comes from one of the large circuses in Switzerland to Norway and Circus Agora. Hula hoop is grace, pace and grace at its best.
Tony Garcia. From Spain, Agora receives visits by the world-class high speed juggler Tony Garcia. He has impressed tens of thousands of people in some of Europe's largest and most renowned circus and has received honours after honours at festivals, among critics and from the audiences.
Brad Garcia. Comic trampoline. On the trampoline, Brad shows acrobatic masterpieces combined with a good dose of humour. He is shot in the air and returns ... with a lovely and comical twist.
Miss Sandra. The princess of the air. High under the dome, Sandra Quaiser from Germany takes us on tense turns in a chandelier and in tissue. Elegantly and graciously, she takes the breath of the audience with her risky twists. It is not without reason that she is referred to as the princess of the air.
Irena. Foot juggler. World-class balance art. The world is turned upside down for our young promising juggler, where she uses her legs instead of her hands to juggle. Her technical skills are probably second to none in the world in this exciting and demanding discipline. Only Irena knows how it's feasible!
The knockabout table acrobats Duo Lagroni. These two knockabout acrobats works with pace and humour, when they make jumps that gets the even the saddest of us to giggle and to pull on a big smile. You get in a good mood when seeing this act.
Sandra Quaiser with her ponies. Meet our four-legged charmers Felix and Alex, presented by Sandra Quaiser.
Los Rivelinos. Award winning clowns. Rivelino clowns are award winning clowns from Spain. With live music and a lot of humour, they create laughter and joy in our circus ring.
Pedro. Agora's funny run-in clown.
Peter Taylor's dog show. Peter's best friends are the dogs Leon, Sky, Sammy, Blue and Zorro. Peter is a postman and the dogs are his assistants. Whatever Peter is trying to do, the playful dogs interrupt him and show us who's really the boss. An act with a lot of humour and a lot of charm!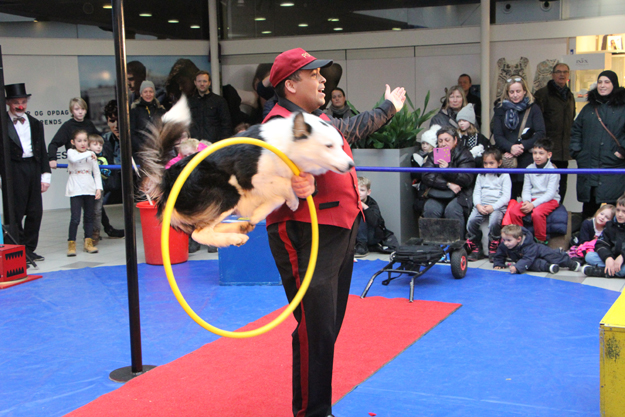 The Danes saw Peter Taylor's dog show in the performances which Benny Schumann presented during the winter holiday in Elsinore City Centre. However, Peter Taylor has more dogs in the Agora show than in Elsinore.

4 March 2018
Artist names at Circus Mascot. The 2 Polish artists, who participate in this year's performance, are Waldemar Solek and Pawel Dziki. They have two entrées: Trampoline and a comic acrobatics act.

3 March 2018
Bonbon & Co. in Munich. The ongoing artists in the German Circus Krone's February program in the circus building in Munich were the clowns Bonbon & Co. The Danes know Danish Bonbon (Lasse Nørager) and his Finnish wife Tiina from several seasons, first in Circus Benneweis and later in Circus Arena. But since 2009, you have not seen them in a Danish circus.
Thus, it was a great pleasure to see them at Krone in Munich. And now the couple's children, Julia at 20 and Joakim of 18, have joined their parents. They have run-ins with papa Lasse and mother Tiina and a number of fine run-ins of their own.
It is said that a photo says more than a thousand words. Therefore, you can below see a number of photos from Bonbon's, Tiina's, Julia's and Joakim's entrées.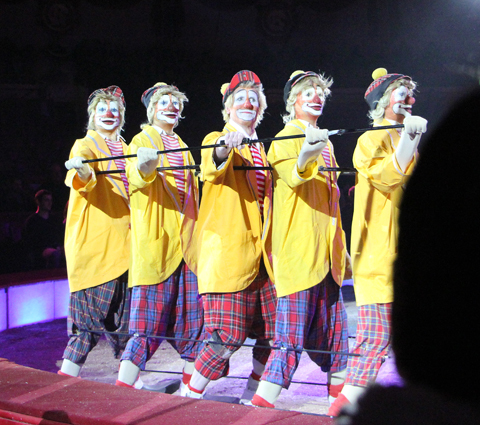 A happy reunion with 5 x Bonbon - it's the real Bonbon in the middle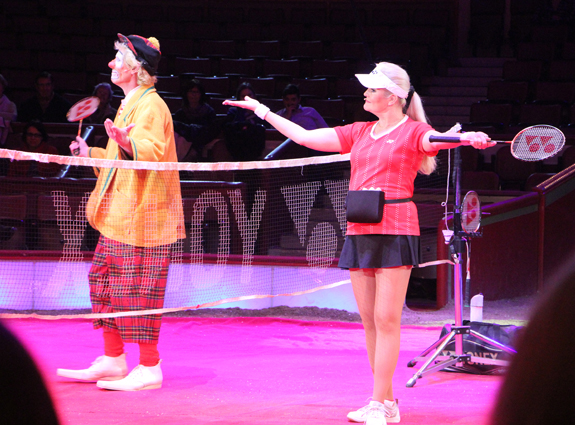 Of course, we saw Bonbon and Tiina with their signature act: the one with the badminton match. Bonbon has told me that actually he isn't a good badminton player...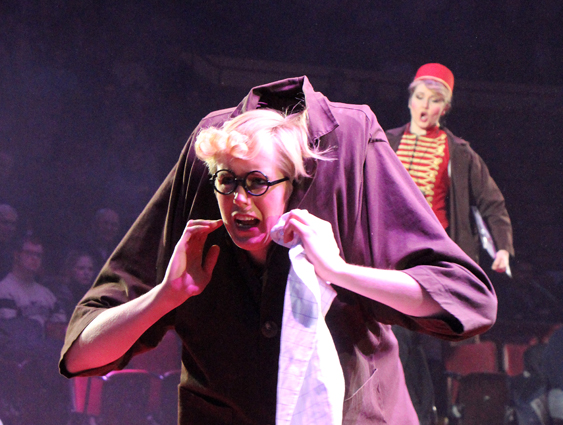 Julia has hit the head into the stomach of her younger brother Joakim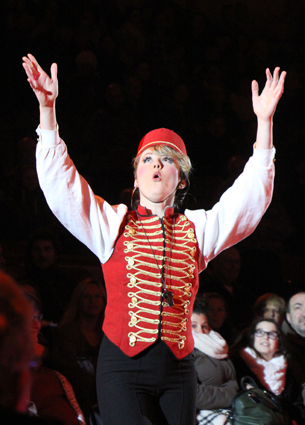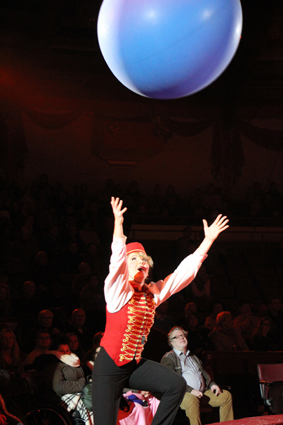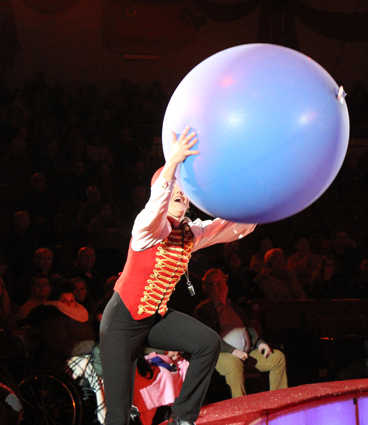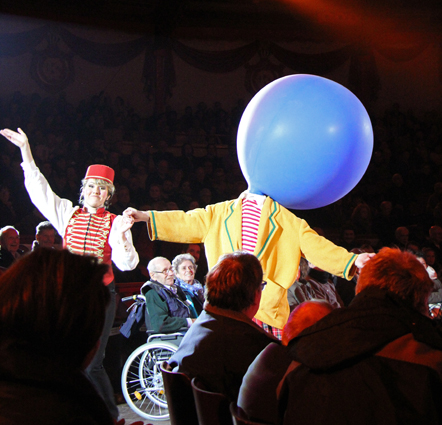 Julia and the big balloon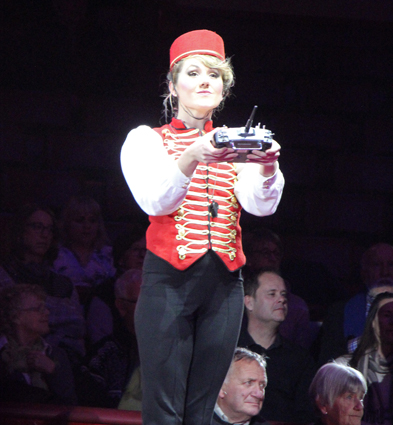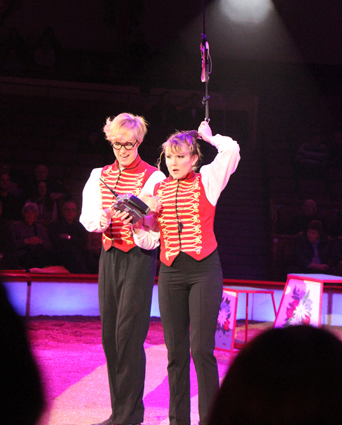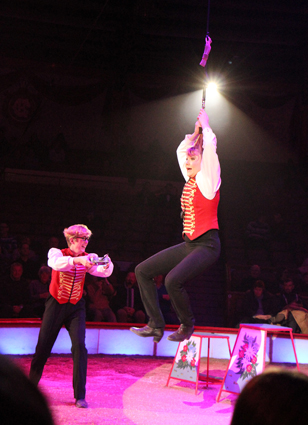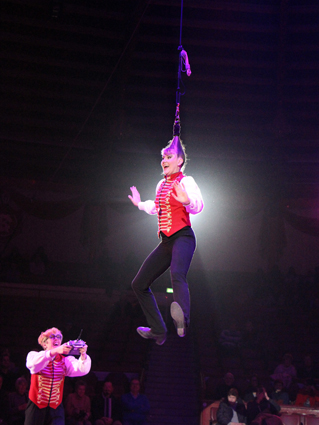 How to control a big sister...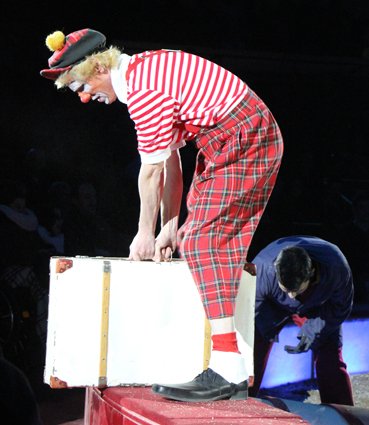 Bonbon and the heavy suitcase which a child can move …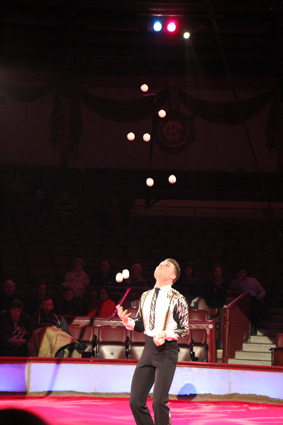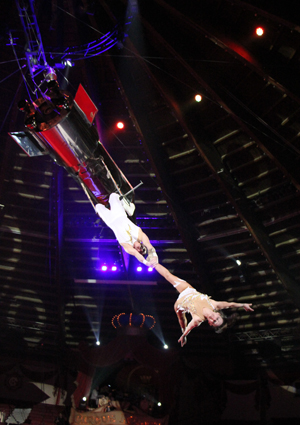 In Circus Krone's February program, Danes also met some other old acquaintances: the juggler Michael Ferreri, even better than when we saw him in Circus Arena in 2015 (he has just got a bronze clown in Monte Carlo) and Duo Garcia with their rocket, known by Danes from Circus Arena 2001 and Circus Dannebrog 2008 and 2014.

3 March 2018
A small change in Circus Arena's program. Due to an injury, the Chinese slack wire acrobat Zang Fan has been forced to terminate his contract with Circus Arena. The Swedes saw his impressive act which is a bit similar to his countryman Cong Tians act in Circus Maximum 2014. The Danes knows Cong Tian from Circus Benneweis 2010 and the first part of the season 2015.

3 March 2018
Circus Brazil Jack 2018. Circus Brazil Jack is today the largest circus in Sweden. There is season opening the Mill Square in Malmö, Sweden on Thursday, March 15th. The performers are:
Diabolo juggler Pierre Marchand
The Argentine clown Emiliano
The human cannonball Jody Bellucci
The Wolf brothers with brand new routines
Compania Havana from Cuba. Their main act is 6 artists in Chinese Pole.
Duo Bella - acrobatics hanging in the hair
Duo Capricorn from Cuba in aerial hoop
The performance is child-friendly and this year without animal acts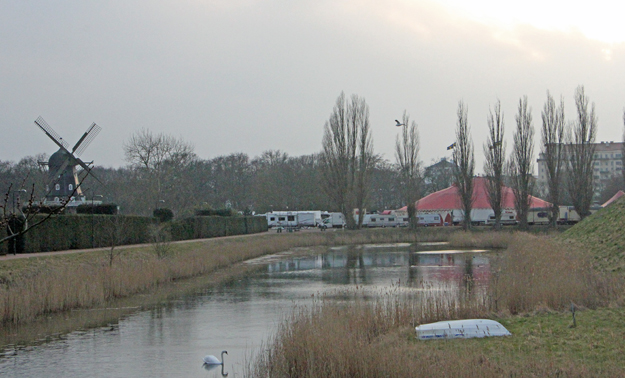 Circus Brazil Jack at the Mill Square in Malmö. Photo from 2016
Circus Brazil Jack presents the artists as follows (my translation):
Pierre Marchand: From the world famous Lido in Paris comes our diabolo artist. The diabolo originates from China, where it is considered as the world's second oldest toy, next to the ball. Pierre already fell in love with the art of circus when he was 7 years old. The following year he began at Anna Fratellini's circus school in Paris. Ten years later, he graduated and afterwards had an outstanding career all around the world.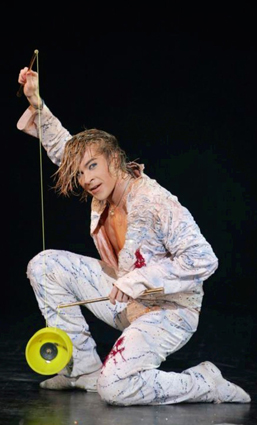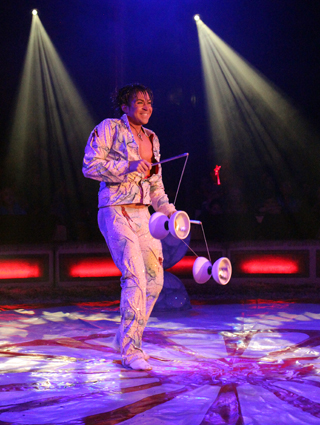 Pierre Marchand, who many consider as the world's best diabolo juggler, was also with Brazil Jack in 2015. Last year he toured Denmark with Circus Arena
Emiliano: In the circus world you value what we call generation artists. Our clown's family has been working in circuses for 4 generations. Born in Argentina but with the world as a workplace, he gained star status in South America's largest Circus Tihany with his innovative clown gags yet still respecting the classic tradition. Now for the first time in Europe, we welcome this merrymaker.
Jody Bellucci: On a trip in southern Italy, our director Trolle Rhodin met a family circus that caught his interest. The circus which was rather primitive had a human cannonball. The flight was limited by the modest size of the tent, but Trolle saw the potential of the act. He thought that in a tent of our size this number could have been a sensation. Now after mathematical calculations and corrections of material, this daredevil will fill the airspace over Brazil Jack's ring...
Wolf Brothers: With a solid background in the circus culture, 4 generations back bursting from the Wolf family's own great circus, our 2 comedians are back. What they do not master in classical circus disciplines is not worth mentioning. Juggling, acrobatics, tight wire and magic but the desire to make people laugh eventually took over and led to the two characters that we met last season. Now they are back with completely new routines ready to gym your laughing muscles.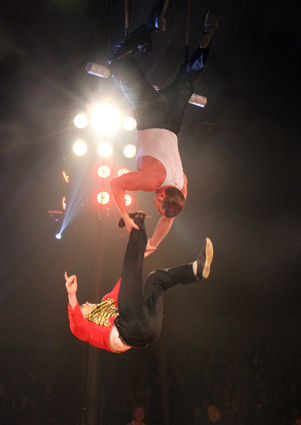 Wolff Brothers was also at Circus Brazil Jack in 2017. But this year they have brand new entrées. The Danes know them from Circus Arli 2011 and 2014
Compania Havana: This year, Circus Brazil Jack has chosen to extend their hands across the Atlantic and invite a cultural exchange with the Cuban Acrobatics Companion Havana. In their main act all 6 artists participate in an act with so-called Chinese poles. An ancient Chinese art form which has got a much more modern look. The artists who are aged from 21 to 26 come from the world of gymnastics, but this collective was formed due to a desire to appear for an audience.
Duo Bella: Isabella and Aylin do not belong to those who have pain in their hair. Even this act is taken from the ancient Chinese artistic culture, but is here turned to suit the taste of a modern audience. The secret lies in the method of binding one's hair. Properly trained and with the hair properly bound the artist can hanging in the hair carry much more than her own body weight and also perform acrobatics at a high level. This is certainly not something you should try at home!
Duo Capricorn: Beauty grace and elegance high under the circus dome. Here we will once again see some of our Cuban acrobats in a classic circus act. There are many sorts of aerial acts. There are Roman rings, the trapeze, the double trapeze and many other tools. Yanaisi and Norelys appear in a so-called aerial hoop which gives the artist more varied opportunities to do their arts.

2 March 2018
Circus Arli 2018. This year's performance is called "Long Live The Circus". Season opening will take place at Møllebakken ('the Mill Hill") in the Copenhagen suburb Floeng in the weekend 31 March / 1 April. From then and until the end of August Circus Arli will tour Zealand with Faxe Ladeplads as the southernmost point. The performers in the upcoming season are:
Sergei Populans, handstand on a special bike - from Latvia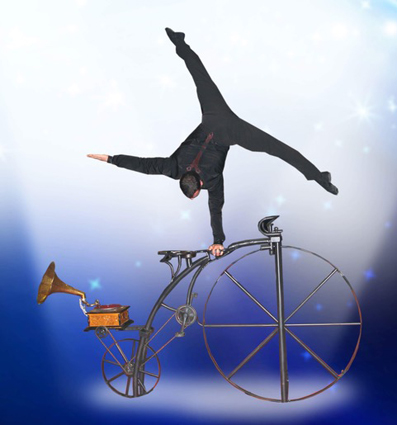 In 2018 we can celebrate the 250th anniversary of the modern circus. For Circus Arli it is 48th season they are on the road. In their brand new 2018 program you can see handstand acrobatics in top class on this very special prop. All photos by courtesy of Circus Arli.
Jelena Vasiljeva, hula hoop in the air as well as tissue.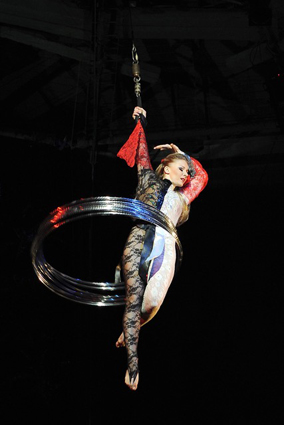 This year we will see hula hoop in a whole new way: in the air. From Latvia comes adorable Jelena Vasiljeva. She the wife of Sergei Populans
Vlad Olandar's trained cats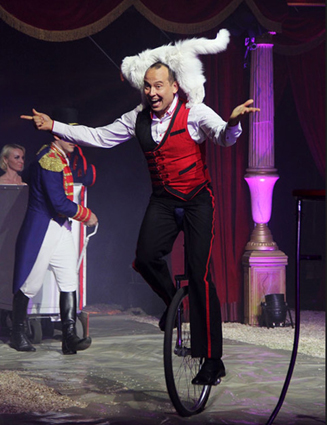 In Circus Arli they are very selective with the choice of animal acts. Animal welfare and the quality of the act must be on a high level. Therefore, they are proud to present Russian Vlad Olandar and his cats which is one of the best such act in the circus world. Vlad and the cats come directly from Cirque Bouglione in France. In 2009 and 2013 they toured Denmark with Cirkus Benneweis. In Sweden they have been with Circus Maximum (2008) and Circus Brazil Jack (2011).
Alexander and Francesco, - Chinese pole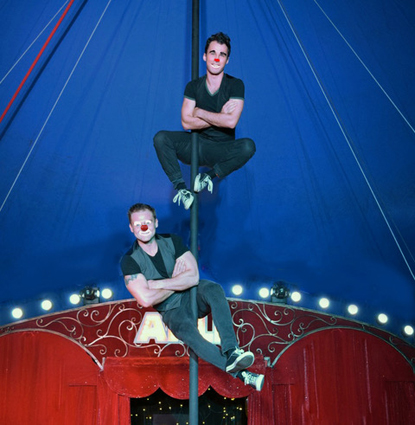 In this year's performance, you can see French Francesco Fratellini and Danish Alexander Arli in a brand new act in Chinese pole
Sarah Florees in the fishing net
The Arlinis club juggling - Sarah, Francesco & Alexander.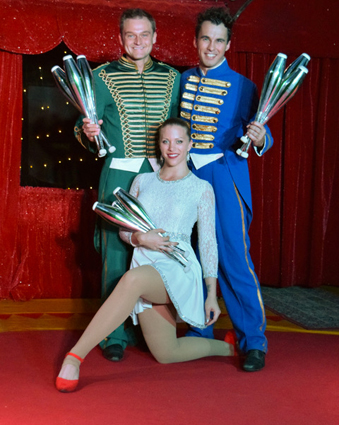 The Arlinis - the name is a combination of Arli and Fratellini
Martin Arli, the magic circus director (50 years anniversary as magician)
Francesco Fratellini with new reprices
The clowns Martino & Co.

2 March 2018
Circus Mascot 2018. The Deleuran family's small circus opens the season in its hometown Roslev on 28 March. This year's performance is called "High Mood". As in recent years, Daniel Deleuran is ringmaster. It is also him who presents Circus Mascot's ponies while his mother presents her lovely poodles as well as pigs and goats.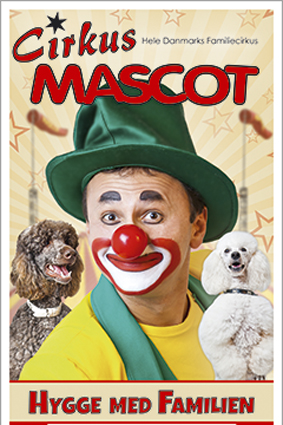 The versatile clown Gulio and his family are also an important part of the performance, just as they have been since 2003. Gulio himself is the overall figure of the performance. His son Husik performs with hoops and juggling and mom Tatyana does an aerial act. Two few male artists perform in trampolines and with comic acrobatics. Season 2018 lasts until September 23rd. During the 6 month season, Circus Mascot visits the whole country with the exception of Bornholm. The performance lasts 1 hour 45 hours incl. a break of approx. 15 min. In July, Circus Mascot will again this year be in Sommerland Zealand as free attractions for the visitors in the amusement park.

Link to news from 2007

Link to news from 2006