'
From Denmark
and other Scandinavian countries
Special feature: It all happens in Paris (when relevant)
A weekly updated internet magazine
Last updated : 15. June 2018
16 June 2018
The Circus Farm in Løkken. Again this summer you can see performances at Katja Schumann's Circus Farm in Løkken in the northern part of Jutland. As of 31/12 2014 Katja Schumann bought the 21,000 m2 large former farm which earlier the same year had been subject of a compulsory sale for 375,000 DKK (at little more than 50,000 Euro).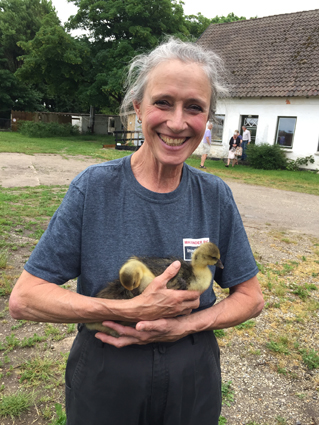 Katja Schumann in front of the farmhouse
At that time the property looked like it was waiting for a bulldozer. But since Katja and her friend Luffe Bøgh have worked hard to put the ramshackle property in order and to create a circus farm focusing on animals as well as a circus museum focusing on the Schumann family.
The last goal has not yet been completed, but Katja and Luffe have certainly created a circus farm and an environment worth a visit. And they are also working to get the museum established.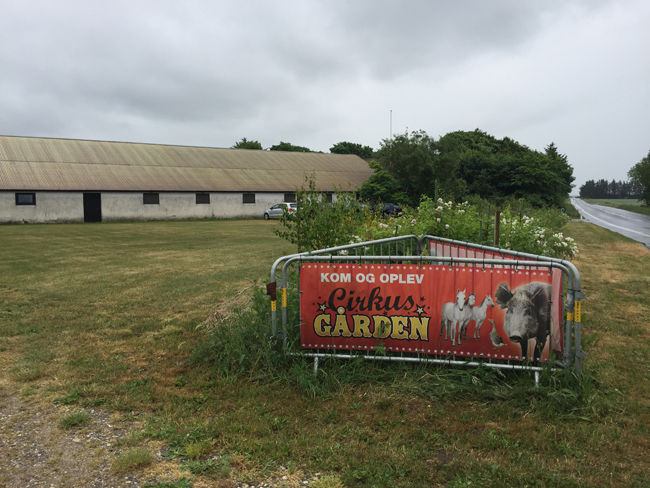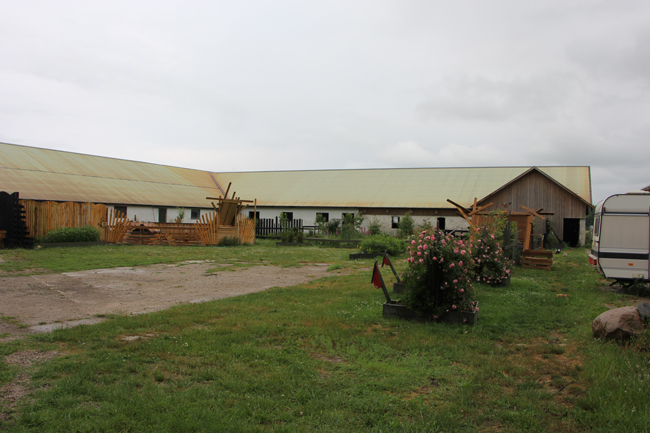 The Circus Farm is located on Vrenstedvej 287, just 3 kilometres outside the holiday resort Løkken. On the top photo the farm is seen from the road. At the bottom photo it is seen from the courtyard.
Two of the wings have been repaired and house now an indoor circus with ring, seating and stables. And it is primarily about the animals. Katja and Luffe themselves still live in the old caravans from the Schumann years!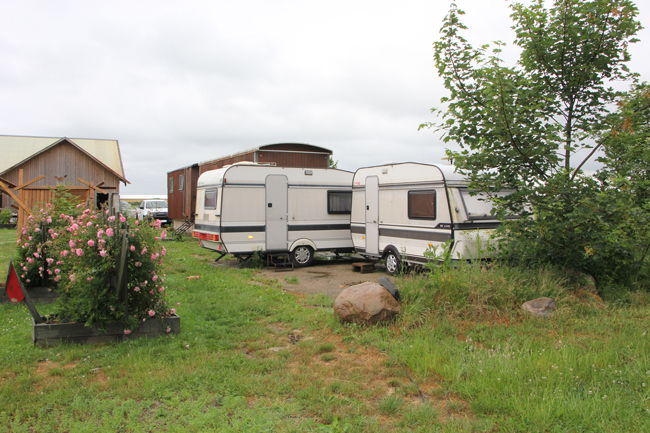 Katja Schumann and Luffe live in the old wagons. There are plans to arrange a residential apartment on the first floor of the farmhouse. But Katja does not really know if she wants it. When you open the door from your apartment you should be able to get out straight in the open, she believes! Click here to see more photos from the Circus Farm. The album is not yet completed but will be finalised 17 June.
"Dream - Play - Learn - Master," Katja Schumann wrote in her vision paper (my translation). "Everyone has dreams. Playing never stops. You can learn. And we will master. The site will be internationally recognized in order to develop and translate ideas for the benefit of circus as culture. And strengthen the interaction between animals and humans. - Katja Schumann's circus. A hippodrome. A place where the circus develops. A training centre. Sense the presence of history. The past must form a foundation for innovation. Create understanding for animals and their interaction with humans. There have to be performances where the audience can see horses in the ring. And experience the circus in a historical and modern light."
In Guide Michelin 1 Michelin star say: "A very good restaurant in its category". 2 Michelin stars say: "Excellent cooking, worth a detour". And 3 Michelin stars says: "Exceptional cuisine, worth a special journey".
If the Circus Farm's show is to be judged according to this scale, it will get 2 stars. Using the 6-star model of the daily magazines it will get 4 stars.
The main emphasis in the almost 2 hour long performance is the animals. Especially the horses. Besides the animals, there are only 3 performers: Luffe Bøgh, who also is ringmaster, Katja Schumann and the 16-year-old Victor Høegh Abrahamsen.
The show begins with a short video clip about the work creating the Circus Farm. Then Luffe welcomes. He has the gift of the gab and is a man with attitudes which he does not hide! And he talks a lot!
Now, an elderly lady is entering the ring wearing a dressing gown and using a rollator. It's the 69-year-old Katja Schumann who however soon throws her dressing gown and without the rollator does pole acrobatics on a level that is far above what her peers can handle.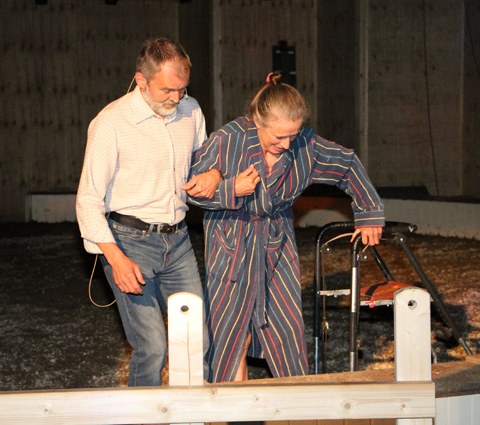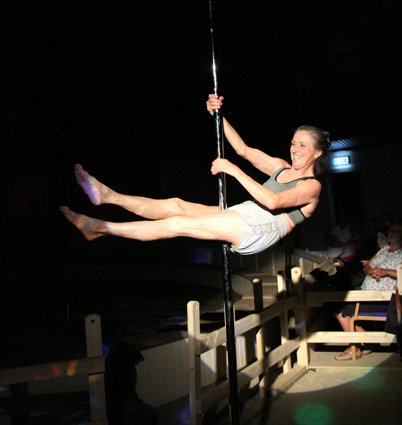 Katja with rollator and in pole
Then Luffe presents a puppy and tells you how to train it. It is a continuous feature of the performance that he both tells what he is doing and how to do it.
Next act are 3 beautiful white horses, probably American Saddlebreds. They are, of course, presented in liberty by Katja Schumann.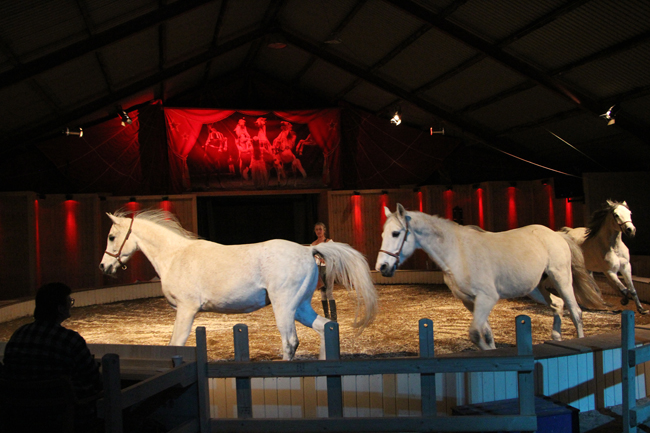 American Saddlebreds. Katja can be seen in the background
Victor then has a short run-in, riding an elephant (a doll, not a real elephant). He is replaced by Katja with 3 geese. Luffe is, however, is naughty enough to say that there are 4 geese in the ring J
Next, Luffe shows a pony potpourri, which also includes a donkey (I think) and a big black Frisian horse.
After another short clown run-in with Victor, there is a goat in the ring and Luffe shows Victor (and the spectators) how to train a goat.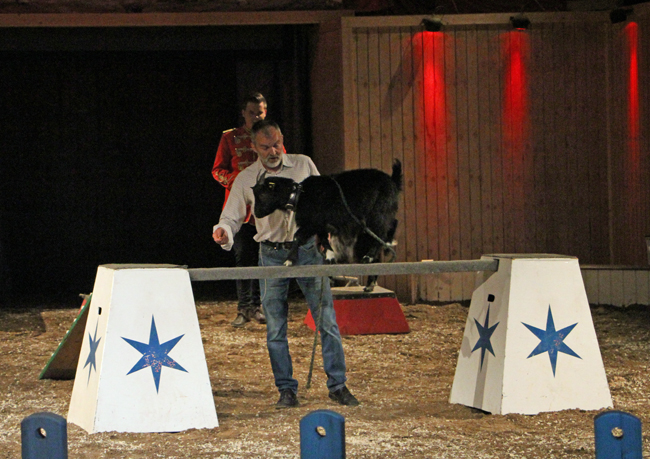 Luffe with the goat
Then Katja enters the ring a white and a brown horse. Probably Arabian horses. And like the other animals beautiful and well-groomed.
Luffe then teaches Victor (and the audience) how to train a pony.
Next come Victor's own entrance, where he turns out to be a good diabolo juggler.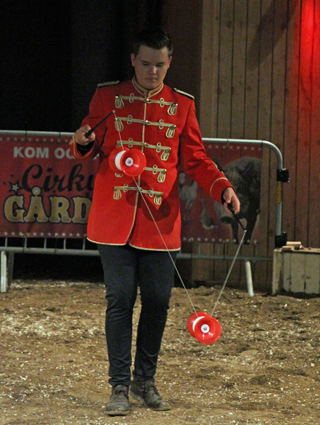 Victor Høegh Abrahamsen
Last act is Katja Schumann with a beautiful brown Arabian horse (forgive me if there is another race), which she present in liberty and ride.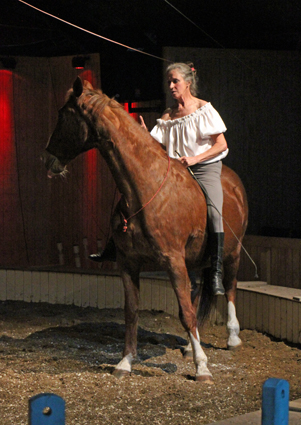 Katja Schumann on horseback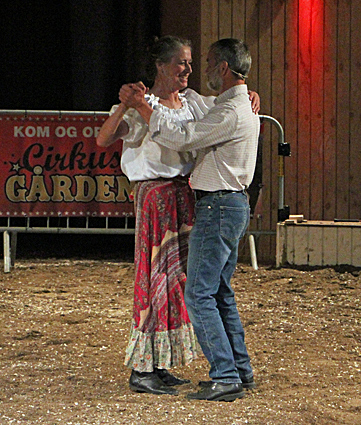 In the finale Luffe and Katja is dancing
It may not sound like much. Some will ask: how can it take almost 2 hours? But the 16 members of Danish Circus Friends Association who saw the performance on Sunday, June 10 agreed that it had been an exciting performance.
If you visiting Central or North part of Jutland the circus farm is definitely worth a visit. Katja and Luffe hope that in the long run the Circus Farm will be taken over by a foundation which can continue to run it when Katja and Luffe feel it is time to retire. I hope the will wait many years before they retire and that they will be able to fulfil their dreams.
Click here to see more photos from the show at the Circus Farm.

14 June 2016
Circus Friends in Rold.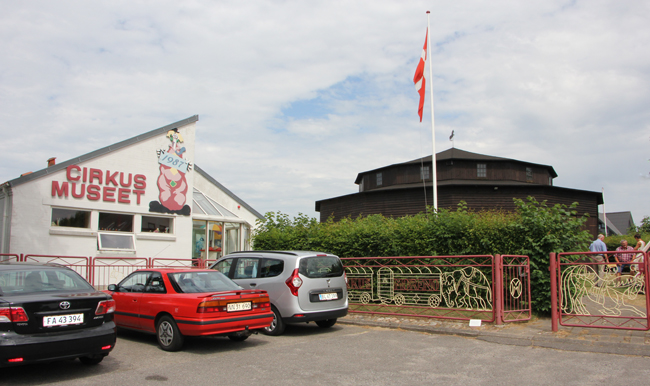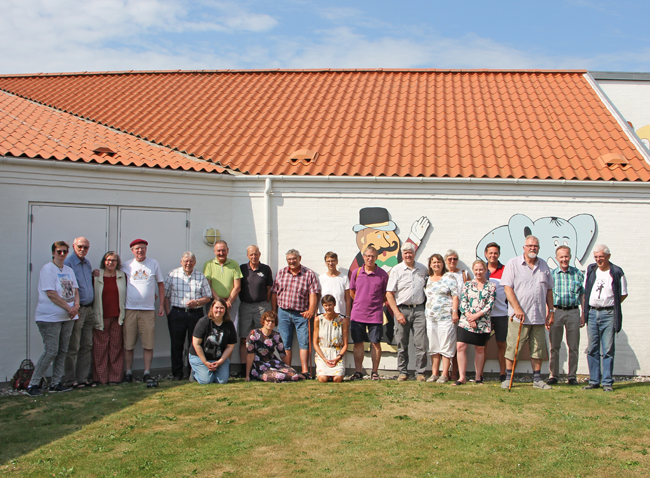 Saturday the 9th of June, Danish Circus Friends Association and the Rold Circus Museum's Friends Association organized a successful rally to the Circus Museum in Rold.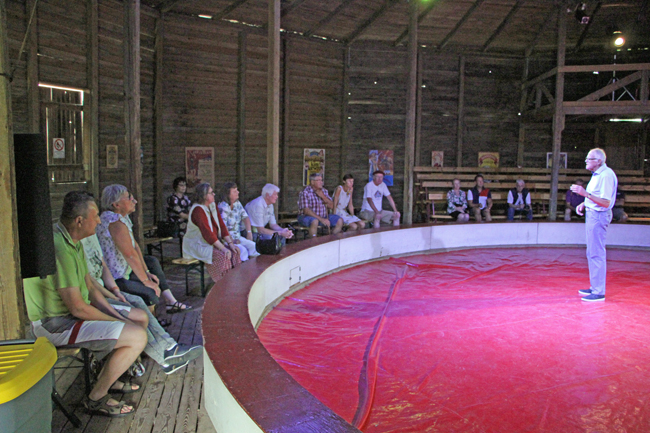 Inside the Circus Miehe's old wooden circus building the Rold Circus Museum's Friends Association chairman Jørn Rasmussen welcomed and told about the establishment of the museum.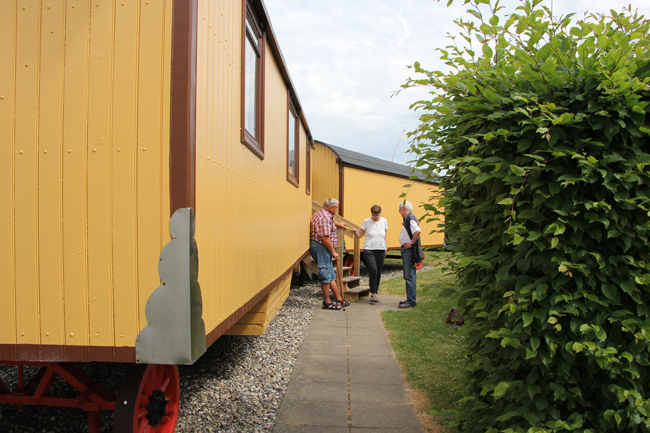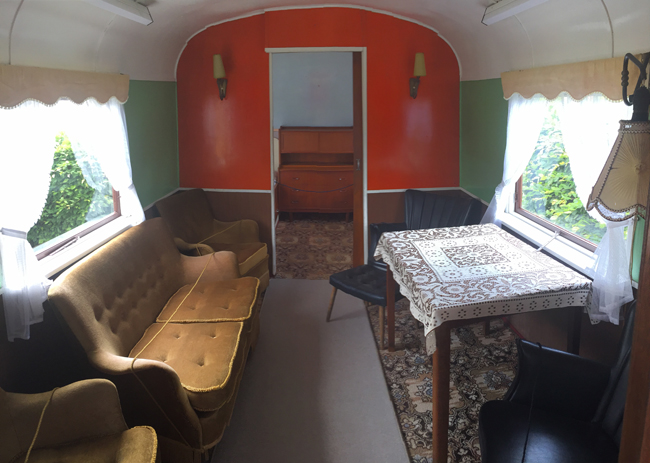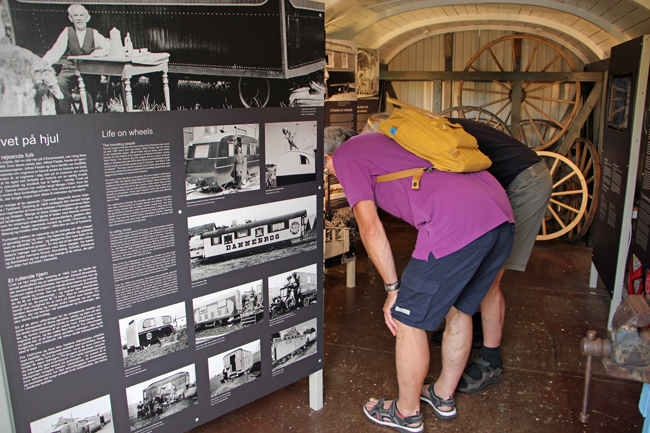 Later the visitors visited the museum, including the new exhibition "Life on wheels" in two restored caravans: a residential wagon and a baggage wagon.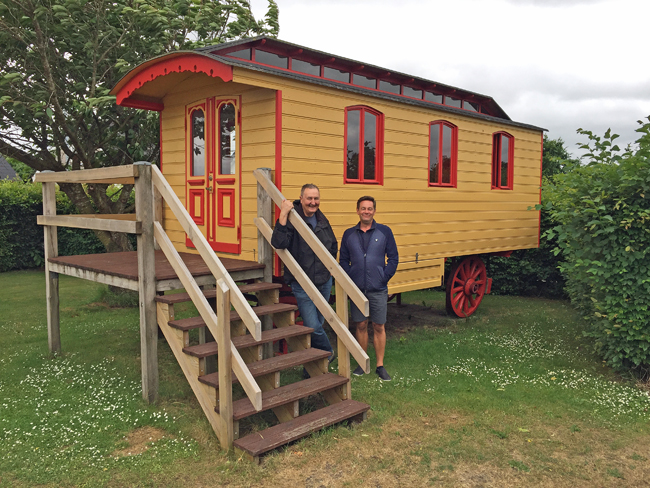 Danish Circus Friends chairman Kim Thanning Olsen and the cashier Søren Kastoft in front of one of the museum's wagons. Whether the carriage originates from Circus Miehe or not is not known for sure, but Cirkus Miehe used cars of the same type. Click here to see more photos from the visit at the Circus Museum. The album is not yet completed but will be finalised 17 June.

13 June 2018
Obituary. The Swedish circus owner Ketill Thordarson passed away on May 25th. He was 81 years old. Ketill worked at Swedish Circus Lillebil Rhodin in 1969 as a driver, ticket seller and groom. In the summer of 1972 Ketill started his own Circus Carneval. The first season was spent in the People's Park in Malmö. From 1973 to 1984, Circus Carneval toured calling itself "Sweden's nicest circus". Season 1984 was very bad and ended with a bankruptcy.
After that, Ketill worked for some seasons as an advertiser for Circus Brazil Jack, Circus Benneweis and Öland's Animal Park. However, he had not lost the desire to run a circus himself, and in 1990 he established Circus Cavalcad. In 1990 it was in Skara Summerland for a long time and the entire season 1991 was spent in Tomelilla Summerland. Circus Cavalcad toured in 1992 and 1993 and again from 1996 to 1998. After this season Ketill chosed for health reasons to stop and all the equipment was sold.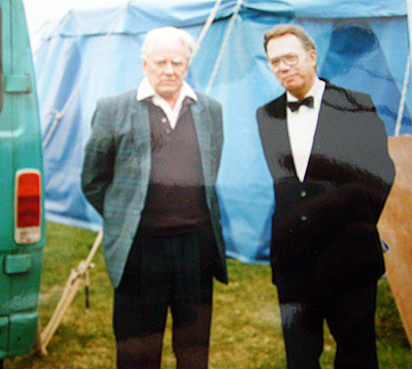 Ketill Thordarson wearing dinner jacket together with Trolle Rhodin. Photo from 1992

9 June 2018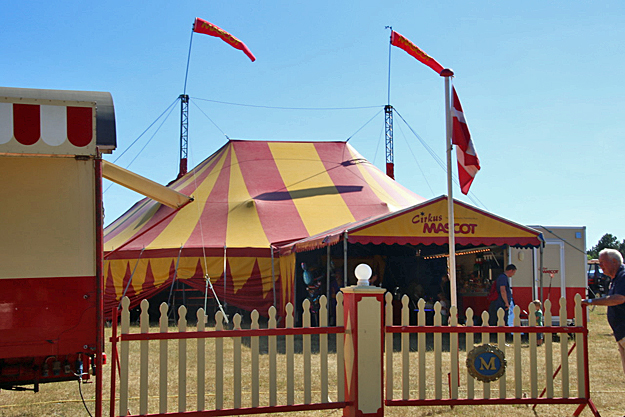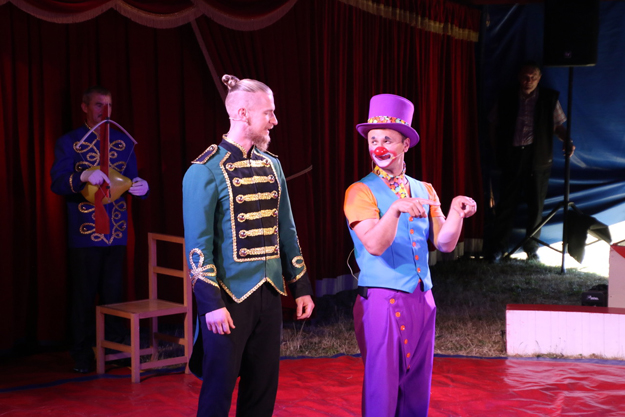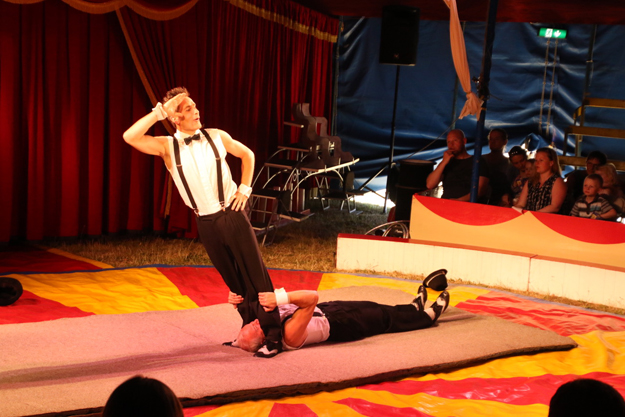 Photos from Circus Mascot. Mr. Sputnik alias Per Krogh Petersen visited Circus Mascot in Langeskov on June 7th. Click here to see Per's photos and video clips from the show.

7 June 2018
European Circus Camp. Again this year there is the European Circus Camp at the Circus Factory in Lindum at Skive. It takes place from July 1 to 7 when young circus artists from Europe meet and train circus for the entire week with the help of professional artists from all over the world. There is a lot of work in circus and artistry, making it possible to train with everything from showdance to juggling, one-wheeled bikes to clown, trapeze, acrobatics and much more.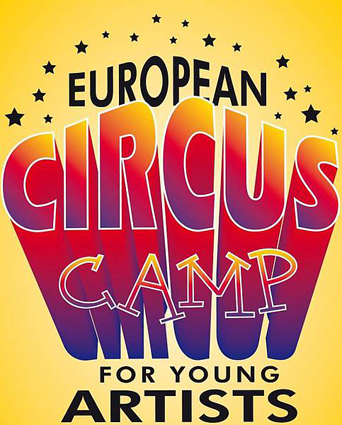 Among the instructors of the year are
From Belgium: the diabolo juggler Alexis Levillon. Click here to see clip from his act
From Hungary: Tommy Teibler.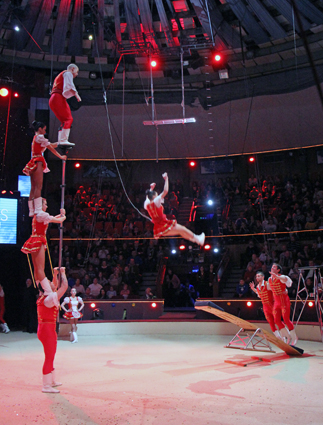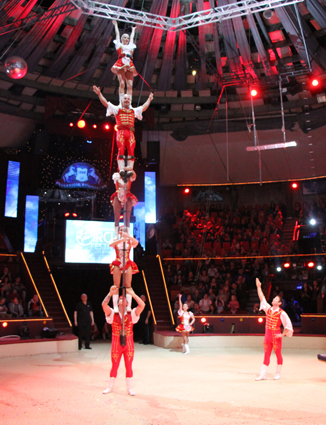 Tommy (Tamas) Teibler and his troupe were among the performers at the Hungarian show at the Circus Festival in Budapest in 2016. Click here to see a video clip with the troupe.
From Hungary: Márk Fábián, a specialist in jumping with a monocycle. Click here to see what he can manage.
From Kenya: the tumblers and builders of human pyramids Nafsi Acrobats. Click here to see a clip from their act.
The organizer of the big event is DUBAL (Danish Youth and Children's Artists' Association), which is an association for the Danish Children's and Youth Circuses. Currently, the association has 20 members, but with financial support from the Nordea Foundation several more children and youth circuses will be established.
At the same time as the European Circus Camp, there is the Danish Unicycle Trials Camp 2018.
In connection with the European Circus Camp and the Danish Unicycle Trials Camp, there are several shows open to the public. Tickets can be bought outside the circus tent. Price: 40 DKK per show or 100 DKK for all shows.
Monday July 2nd 2018 at 20:00: Opening show in the Circus tent: Professional international artists who teach at the European Circus Camp show their skills, along with some of the participating youth artists.
Friday July 6 2018 at 17:00: Performance with young artists in the Circus tent.
Some of the participants at the European Circus Camp present what they have learned during the week.
Friday July 6 2018 at 19:00: Unicycle show – at the trial course
Young artists on the one-wheeled bike show what they have been training throughout the week.
Friday July 6 2018 at 20:00: Gala show in the Circus tent
Saturday 7 July 2018 at 11:00 and 13:30: Performances with young artists in the Circus tent
Einar Trie from DUBAL especially emphasizes the Friday performances and writes: "UNBELIEVABLE: Three unique shows, with several world-class acts and a dinner during 4½-hour. That's Tempo-Tempo. So if circus friends are to experience something unique, they must visit us. Not many Danish circuses can show acts of such as high quality as we do at our Gala show Friday evening."
The Circus Factory is located in a converted former dairy in Lindum. The village of Lindum is far from the main road somewhere in Salling in the northern part of Jutland. But as you approach the village you can see that it has a landmark: it is the top of Circus Charlie's characteristic cone-shaped tent which towers over the small village. When you get closer you can see that the dairy has been turned into a circus town.
The address is Skivevej 84-90, 7870 Roslev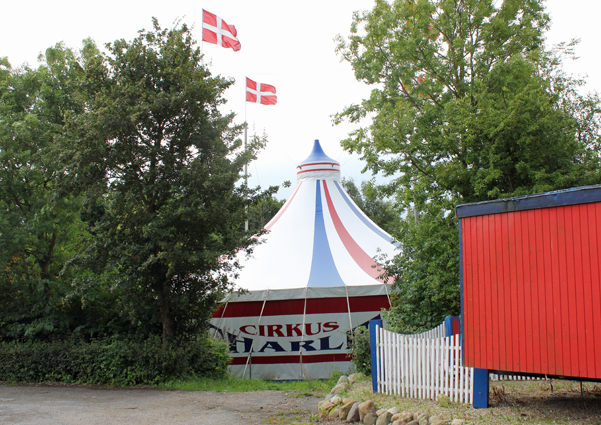 The Circus Factory's landmark: Circus Charlie's tent, which since Cirkus Charlie stopped touring in 2007 has been put up permanently outside the Circus Factory

3 June 2018
IT ALL HAPPENS IN PARIS --- conditions do change --- from cabarets featuring good, mainly visual programs , performing until late evening, and even nightly, to the STAND UP COMEDIANS and various theatres presenting theatre plays, including magic shows, for children and their parents.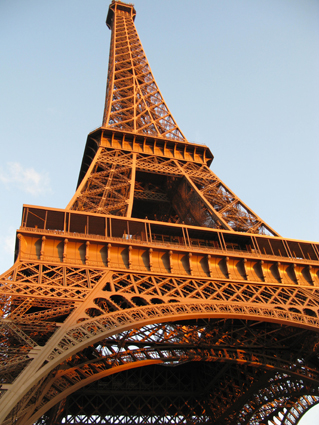 PARIS was known to have a number of small cabarets, proudly presenting singers and musicians, but even more so - visual performers, dancers, acrobats, jugglers, ventriloquists and magicians - it was for some people the highlight of PARIS BY NIGHT.
The patrons coming to these cabarets were basically tourist groups, a good audience that came to enjoy an evening that was joyful, hilarious and sympathetic.
Another kind of patrons were business people who were out for an evening that could end in an unexpected way ... some cabarets employed "hostesses" whose work was to push the clients to pay for expensive drinks, the patron got the real stuff, the hostesses were served -- tea ... same color, thus undetectable.
The managers of these cabarets wanted to earn more money, they refused the tourist groups who, of course paid a reduced fee - and welcomed the business people in order to cash in.
But this scheme didn't work out as expected, as eventually many noticed that they were being ripped off, paying for expensive Champaign, and the attractive hostesses ... were not enough...
There are now about 50 ancient cabaret venues that stage STAND UP COMEDIANS. There are many who want to try their luck - not easy as it takes a tremendous talent to keep an adult audience captivated for a little more than one hour.
In the afternoons , / Wednesday when French kids have half a day off from school and weekends as well as school holidays/, those converted cabarets feature theatre plays for the small fry and their parents, including several magic shows.
Recently I saw magic entertainer SEBASTIEN GAYOU with partner LÆTITIA, at the THEATRE AKTEON and, lo and behold - same SEBASTIEN, but now solo at the theatre LA CIBLE, where I performed during my active career, as I did at /nearly/ all of the cabarets of that time: LA PARISIENNE, FOLIES PIGALLE, CABANA RYTHM, CABARET MOUNE, CHEZ MOON , and others.
LA CIBLE was now entirely and newly refurbished, sporting an elegant and appealing interior, luckily the floor of colored glass has been kept, it is still lightened from below, giving a nice effect.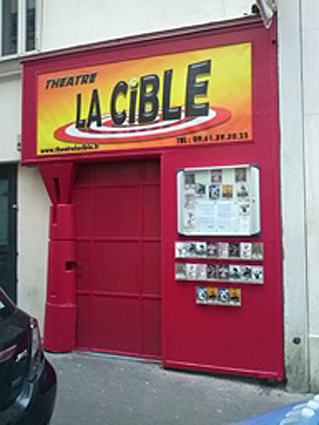 The entrance to La Cible
Thus these converted cabarets now cater for a family audience, including the small fry - they present plays and magic shows that are beautiful, hilarious, funny and interesting.
The young audience will understand, and hopefully appreciate that shows don't necessary have to be based on electronics, but on live performances.
This is a great and ancient tradition in France, particularly in Paris: we go to the theatre!!
It might be of interest to know that the BIG GAME is still alive and kicking:
The LIDO, MOULIN ROUGE do present splendid revues, including some specialty acts,
PARADIS LATIN (works exclusively with Dutch tourist cars), FOLIES BERGERE features various shows. CRAZY HORSE has first class dancers but no longer specialty acts. Formerly good magic entertainers could be seen there.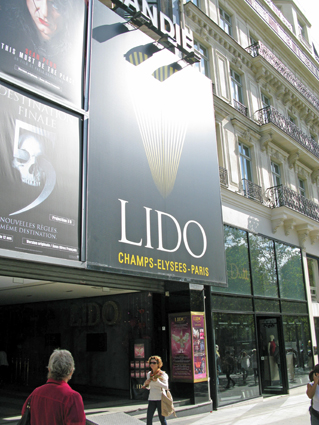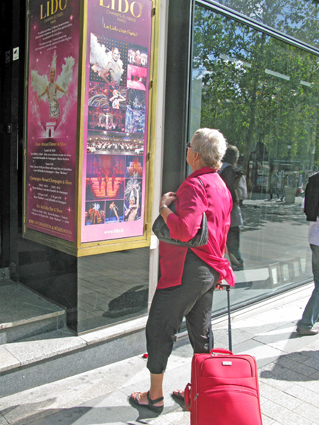 Le Lido is a cabaret and burlesque show located on the Champs-Élysées in Paris, France. It opened in 1946 at 78 Avenue des Champs-Élysée and moved to its current location in 1977. The entrance is not impressive and looks almost as an entrance to a cinema. But the auditorium inside is magnificent!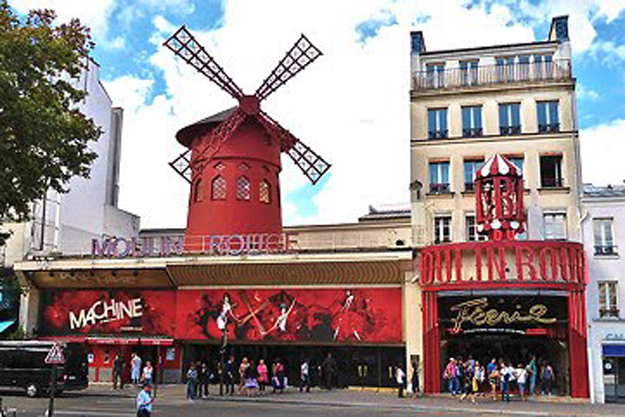 Moulin Rouge (French for "Red Mill") is a cabaret in Paris, France. The original house, which burned down in 1915, was co-founded in 1889 by Charles Zidler and Joseph Oller, who also owned the Paris Olympia. Close to Montmartre in the Paris district of Pigalle on Boulevard de Clichy in the 18th arrondissement, it is marked by the red windmill on its roof. The closest metro station is Blanche.
IT ALL HAPPENS IN PARIS!!!
............................... reported by ZARRO ZARRO.

29 May 2018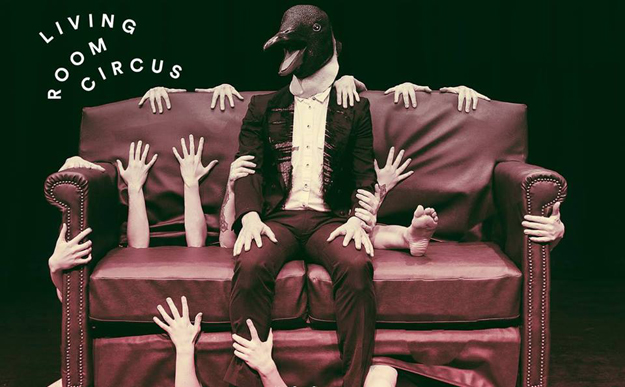 Living Room Circus. About 100 people attended the show, which The English circus company named Living Room Circus presented at the Circus Factory at Lindum in the northern part of Jutland. The show will have its first real performance in London by the 14th of July.
Maybe it was not a circus performance, but merely a theatre show with a touch of circus? There were genuine circus acts, e.g. a skillful artist in aerial straps and acrobatics and balance acts. But all was wrapped in a story, which took place in a dining room on, below and above a sofa. A penguin was part of the show – of course a man dressed like an animal. The actors were moving in slow movements, with empty glances and in addition there was a symbolism, which a professor in metaphysics and philosophy could hardly interpret.
There was applause to the real circus acts. But in the meantime there was silence – but a will to understand and make a try to understand. And the children? A child sitting behind me asked his father 10 minutes after the start: when will it be finished?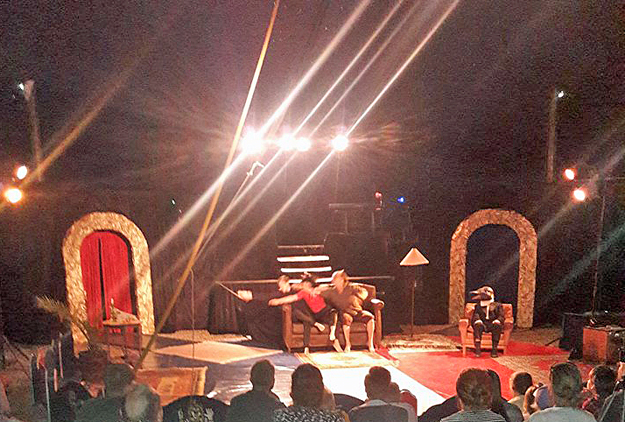 Living Room Circus with the penguin in the armchair. Smartphonephoto, shot by Jørgen Lorenzen
Living Room Circus is an experimental circus company, creating and performing intimate and immersive shows.

27 May 2018
Søren Østergaard establishes a new children's circus. In circus circles it has been known for a while: The Danish comedian Søren Østergaard, owner of Zirkus Nemo will establish a new circus for children. I quote from a press release, send out to day (my translation):
Denmark well be another circus richer in June, when Zirkus Nemo's owner Søren Østergaard open the tent for the brand new children's circus Zirkus Barnly, which this summer will be in Copenhagen and Aarhus respectively for a total season of seven weeks.
"I fell over an old canvas tent that I bought, and I thought, now I have challenged the way to make circus for adults , so why not try to make a circus for children in a different way?" the circus freak Østergaard says. He has persuaded the world star and his playmate Captain Frodo, who he knows from two previous seasons with Zirkus Nemo, to fly in from Las Vegas to be the key figure in the new cicus.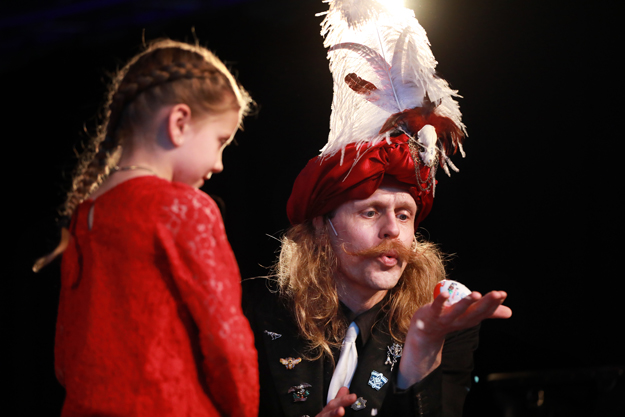 Captain Frodo appeared in Zirkus Nemo in 2014 and 2016. The latter year he got the award for the best act of the year from the Danish Circus Award. Photo: Grethe Nygaard
The high artistic level is matched by the music, which is placed in the hands of drummer and multimusician Henning Amstrup, known from among others the Danish show band Østjysk Music Supply and the Danish Comedian Trio De Nattergale. In addition, the circus hostesses Jennie Mikaelsson and Line Vittrup also contribute to a brand new circus school for the children in the daytime.
The director himself calls Zirkus Barnly for a "big experiment", where he who himself will put the first performance on stage will see if he can make it a hit as he did with Zirkus Nemo. The children's circus starts, just like Zirkus Nemo did in 1999, with six employees and a small tent which seats 240 people.
"And we hope we can expand the tour in the coming years. We are really looking forward to getting started and are very excited hoping for a success" Søren Østergaard says.
There is a season opening in Copenhagen on June 26th, where Zirkus Barnly will be until July 22th. The lot is situated at Raffinaderivej 20, Copenhagen S. Then Zirkus Barnly goes to Aarhus, where they will be at Officerspladsen next to the Concert Hall from 24 July to 12 August. Performances Tuesday-Friday at 17.30 and Saturday-Sunday at 11 and at 15 with the opportunity to have a third performance at 13. The performance lasts approx. 50 minutes.
At least in Aarhus and maybe in Copenhagen, there will be a 3-day Circus Camp for children between 8 and 16 years, where they can try out the various circus disciplines in the company of two professional artists under the leadership of Line Vittrup. Line's co-hostess at Zirkus Barnly Jennie Mikaelsson is Ingo Stiebner's girlfriend. Also Ingo is associated with Søren Østergaard's circus empire: The former sea lion trainer is currently responsible for the animals in Zirkus Nemo.

26 May 2018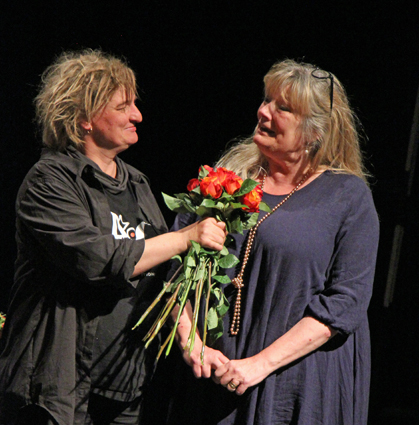 There was a great tribute to AMoC's headmaster AnneSophie Bergmann Steen after the premiere Friday evening at this year's graduation's performance. Here she is seen to the right together with one of AFUK's and AMoC's fiery souls Stine Pilmark
AMoC - The Academy of Modern Circus - was established in 2014 as a 4-year experimental higher education program, equivalent to the bachelor's degree at international circus schools. This year's graduates are the second and last team of students. The future of the education program is uncertain: It is AMoC's clear wish and ambition that a permanent education for contemporary circus artists shall be established. E.g. at the Danish National School of Performing Arts. The Danish Minister of Culture Mette Bock agrees that this is where the education belongs but does not have additional funds for the Danish National School of Performing Arts.
The graduation performance proved like the similar performance last year that AMoC is fully capable of giving artists an education that gives them the necessary skills, whether they are to perform in a contemporary circus, in a classical circus, in a theatre or elsewhere.
AMoC received in 2017 the Danish Circus Awards talent award in recognition of AMoC's talent for educating artists with skills that can be used both in contemporary circus and in the classical circus and at theatres.
Of the 13 graduates 4 was from Denmark, 4 from Sweden, 2 from England, 2 from the Czech Republic and 1 from Portugal.
Below you can find photos and short description of the 11 acts in the graduation performance. The captions and the selection of pictures cannot be considered as an expression of my assessment of the individual acts. I am the president of the Jury of the Danish Circus Award and a jury member never reviews its assessment before the jury has voted. But AMoC's graduates are certainly among the artist the jury will consider. This year's Circus Awards will be handed out on August 22 and the names of the nominated artists will be published mid-July.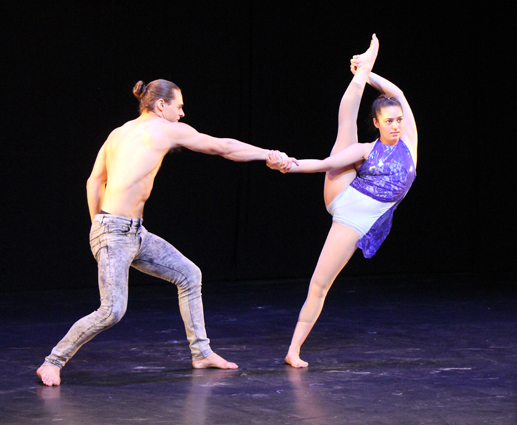 English Duo Aassay (Maya Peters and Liam Jones) did great partner acrobatics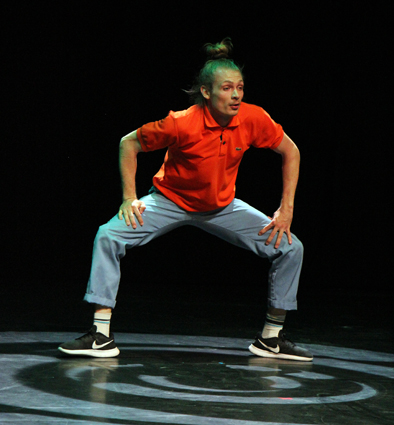 Danske Villads Bugge Bang calls himself a musical performer. With musicality, timing and humour, he makes a comic act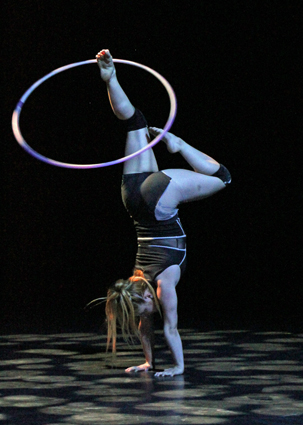 Swedish Erika Hansson did acrobatics with a hula hoop. She initially focused on a career as a parterre acrobat, but had hip problems. Great that despite the problems completed her education.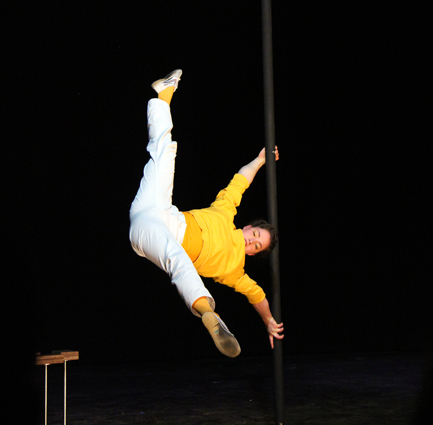 As a general rule you see male artists appear in Chinese Pole. But Danish Ida Langkilde demonstrated that girls also can master the discipline. She also elegantly used the straps that kept the pole upright, just as she had a hand stand tricks in her entrée.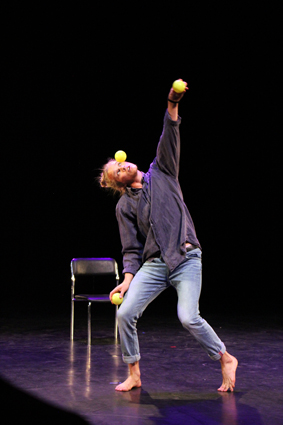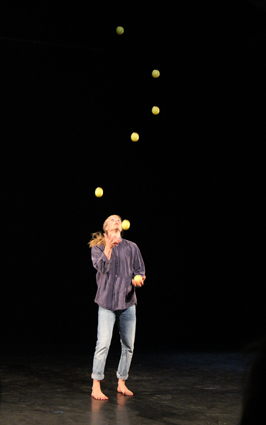 Love Dahlin, who comes from Sweden, presented an innovative juggler number with balls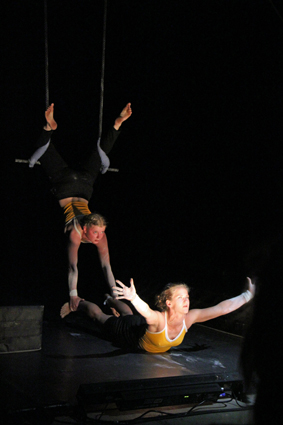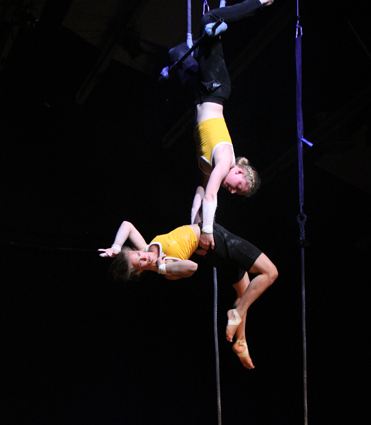 Duo Olivia (Olivia Englund & Olivia Bjurling) comes from Sweden and presented a nice and slightly different number in trapeze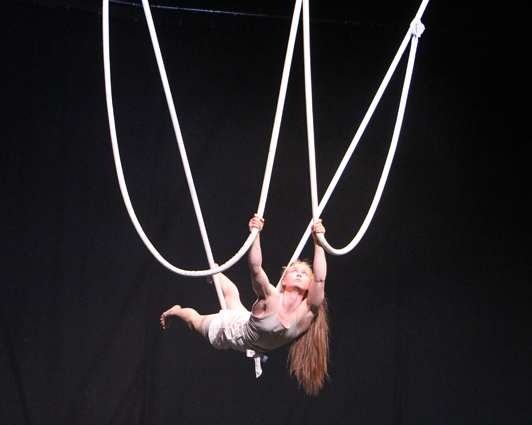 There was a lot of new thinking in Danish Martha Errboe's entrée in rope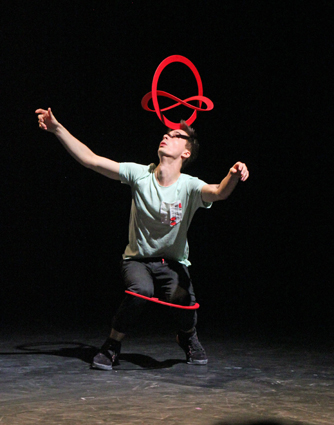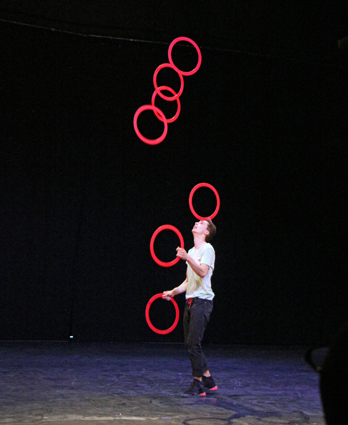 Filip Zahradnický uses his rings for much more than juggling. He comes from the Czech Republic.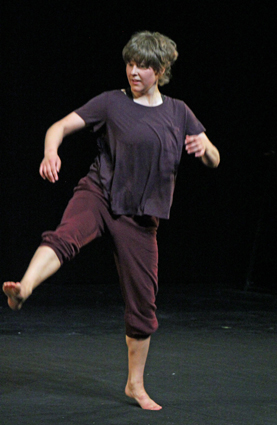 Danish Line Helweg's number included dance and acrobatics.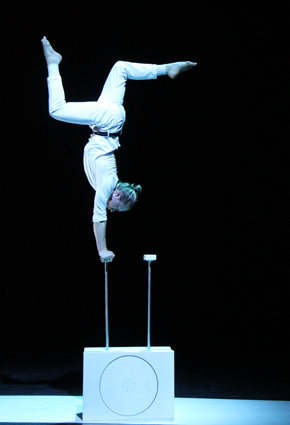 The second last act in the show was the Czech handstand acrobat Jan Jirak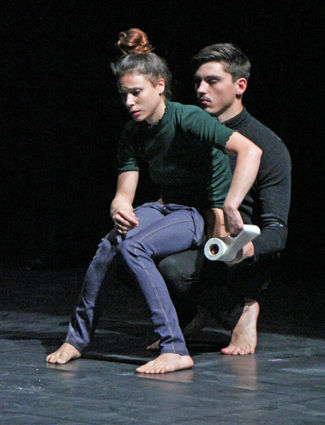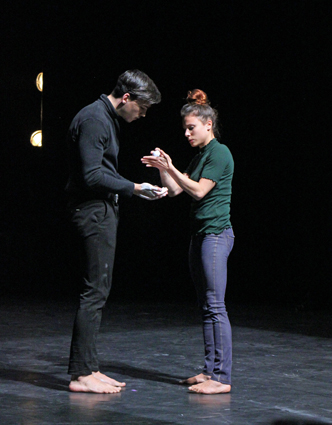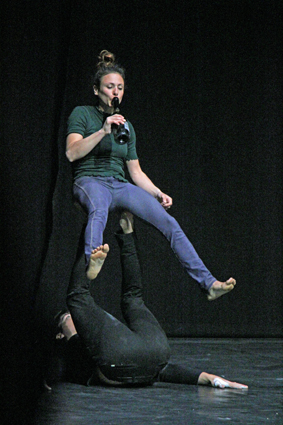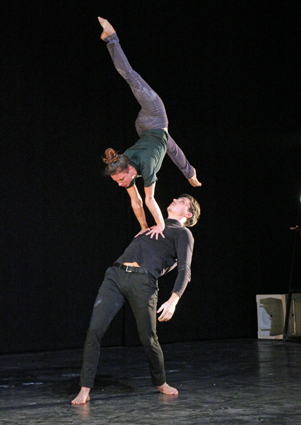 At last year's graduation show Danish Alfred Hall von Kriegbaum was assisted by the Portuguese 2-year-student Sonia Matos. This year, Alfred's assisted Sonia with her act, which began with Sonia peeling and Alfred acting as toilet and washbasin. Later he became both a bar chair and a sofa before the act ended with acrobatics.

26 May 2017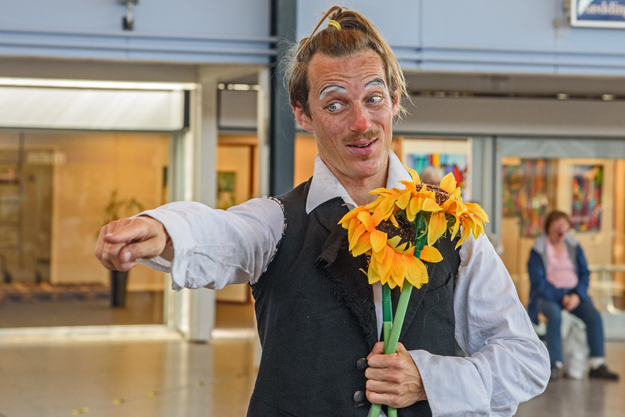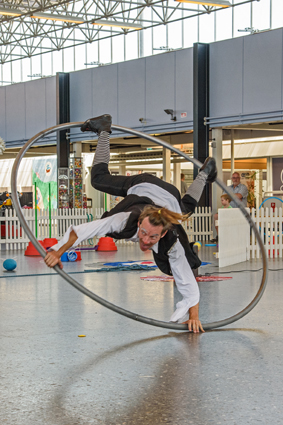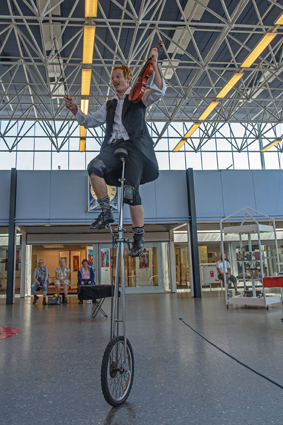 The Argentine artist Martin Denda performed on Saturday from 11-11.45 in the Sædding Shopping Center, Esbjerg, and could actually do a lot, including monocycle and tricks with a cyr wheel. He had good contact with the audience. Photos are all shot by Claus Brinch-Danielsen, Volunteer Point in the Sædding Center.

25 May 2018
Clowns by turn in Circus Krone. The small Danish circus writes (my translation):
We are fortunate enough to have 2 clowns who will work by turn with us this season!
It is a pleasure to be able to present the legendary Tonny Trifolikom, who with his quiet understated clown character captivates both children and adults. Tonny is actually trained in Circus Krone by the 1st generation owner Regner. Regner quickly discovered Tonny's talent and great ability as a clown. It was in connection with the Aarhus Festival in "Den gamle by". Tonny has since travelled all over Denmark as a clown and with his own tiny Circus Mongo.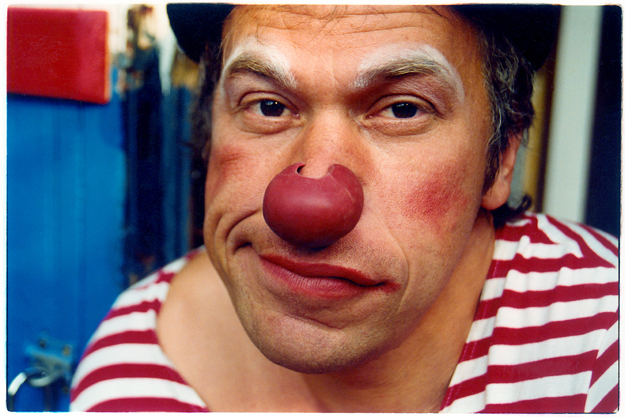 Tonny Trifolikom. Press photo from Circus Mongo. Photographer Ulla Trædmark Jensen
It is also a pleasure that the clown Don Carlos's will be with us part of the season. Don Carlos aka Mogens Koolmeyer also had his debut in Circus Krone under the 2nd generation Irene Thierry's supervision. Mogens arrived in the morning and Irene liked his figure and not least the bouncing chair. As the years have gone and with several tours, both in Denmark and abroad, Mogens has developed Don Carlos as the classic clown to whom the kids shout and hide because he simply cannot figure out anything.
We are proud to have Mogens and Tonny back as part of Circus Krone in 2018.

24 May 2018
Circus with the heart.
Danish Circus Krone – season opening - Silkeborg, May 18th, 17. Jørgen Lorenzen was among the guests and wrote (my translation):
Many friends and acquaintances met to celebrate the "new" Circus Krone after the change of ownership from Irene Thierry to her son Frank Thierry. Among the visitors were - mentioned in random order - Jenny Abelgren, Laura Schumann with family, Ulla and Jacki Steckel, Mogens Koelmeyer, Johan Plesner, Jörgen Börsch, Einar Trie, Søren Stockmar and probably others who should also have been mentioned.
Circus Krone's house clown for more than 20 years Jan "Allando" Allan decided shortly before the season opening not to tour with Circus Krone this year. Thus, Tonny Trifolikom was called in with short notice. Krone's tent is somewhat smaller than last year. It can seat only 200 guests. The big top comes from the youth circus Flik Flak. And by keeping the tent's size down you don't need tent workers. The seating is quiet new.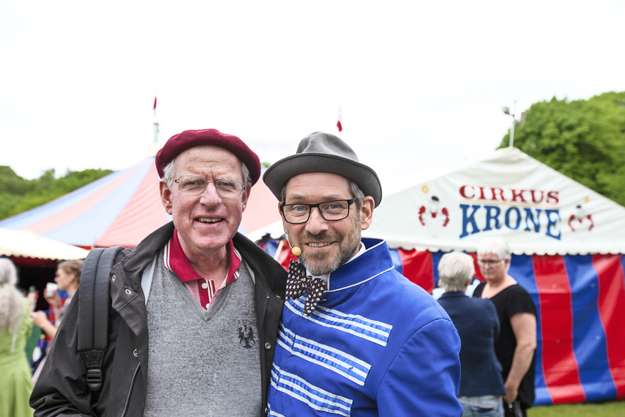 Jorgen Lorenzen and Frank Thierry in front of Circus Krone. Photo: Lise Kokholm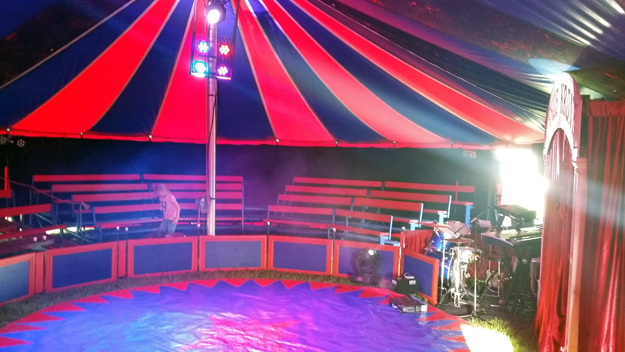 Interior in the tent with the ring, fence around the ring (no track) and seating. To the left drum set and keyboard. The "old" entrance tent is used as artist backstage and to the left of this is the audience entrance right next to the artist entrance! Hereby the entire middle section of the seating is unbroken. Photo and information: Jörgen Börsch
The performance sparkled in many directions: true circus with the craziness and madness of which Frank Thierry is a master.
Professor Trifolikom will only be with Krone part of the season. His warm, naive and faithful clown is loved by adults and children. His interaction with Frank has been built through years of friendship and cooperation. Tonny present "the best acts I can't do ". He "puts his hat as the hat like it". He confuses children with the questions as: "How old do you live in first name". He fills his big mouth with tomatoes, so it sprays with tomato juice in all directions and his tongue falls down on his chest. And he gives the role of dismissed rocker, which is a confused version of the Phantom and Batman.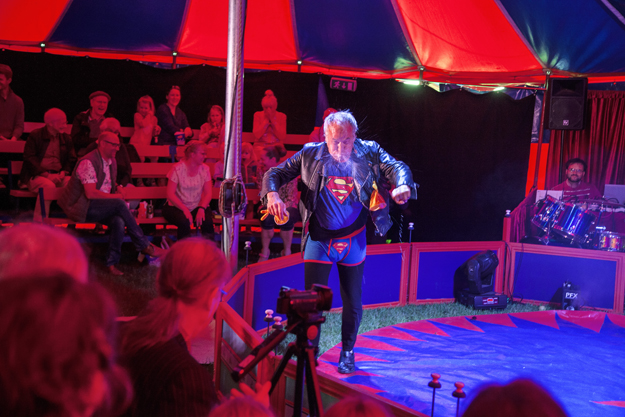 Tonny Trifolikom. Photo: Lise Kokholm
But it's not just hot air and gags. There are great artists. The juggler Kasparas Bujanauskas present a nice act with cigar boxes. He can keep 20 boxes together and the last one collected from the floor. Sofia Speratti is a handstand acrobat. She balances on her hand with big balls that almost adhere to her body and seem to disregard the nature laws. It is an aesthetic number with a high degree of difficulty. Balance, power, grace and beauty in a total concentration.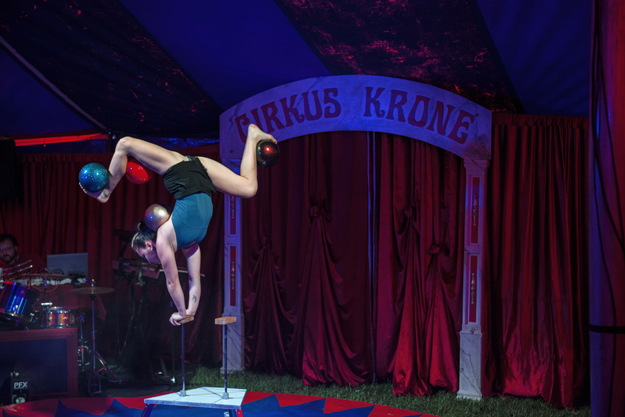 Sofia Speratti. Photo: Lise Kokholm
Frank presents his rola bola act, where he climbs through a ring, assisted by a female from the audience. And while he does the act he has a lot of comments, jokes, comments and profound philosophical comments. To the female assistant: "You must look dangerous - and now you should let go unless you want to come with me home."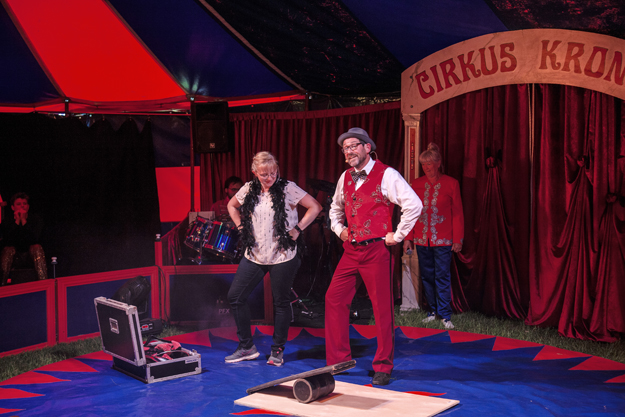 Frank Thierry and the volunteer. Photo: Lise Kokholm
Irene shows up and presents a part of the show, just like in her time as owner of Circus Krone. And we get the familiar story about grandfather's pole.
And there are several classic, stylish artist numbers. Alex and Vlad are acrobats who master both handstand and head stand.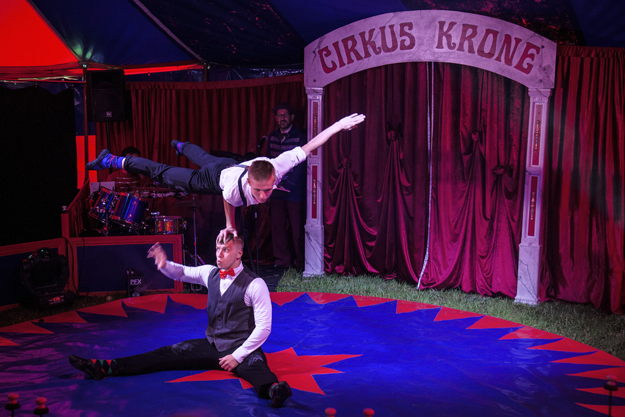 Alex og Vlad. Photo: Lise Kokholm
Kasper juggles with balls, rings and clubs.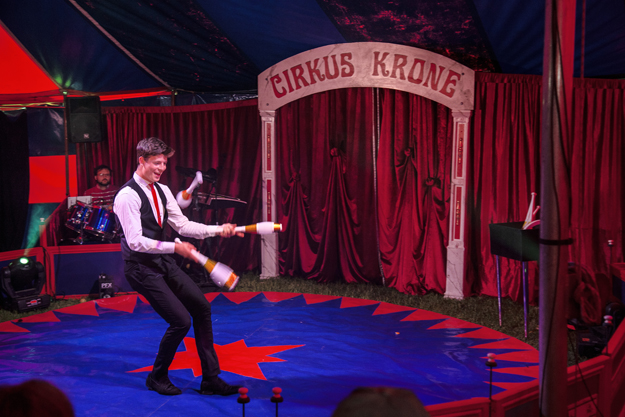 Kasparas Bujanauskas. Photo: Lise Kokholm
And Sofia Speratti dances with hula hoops. But in a humorous way.
The "new" Circus Krone has found a niche where there is room for it. Not too big, but big enough. Old but at the same time youthful. With the CEO's words: "We want to go back to grandfather's time, where everything was small and good." Denmark's smallest but nicest circus. This is how Krone presents itself. Circus with the heart. Yes, and with warm-heartedness.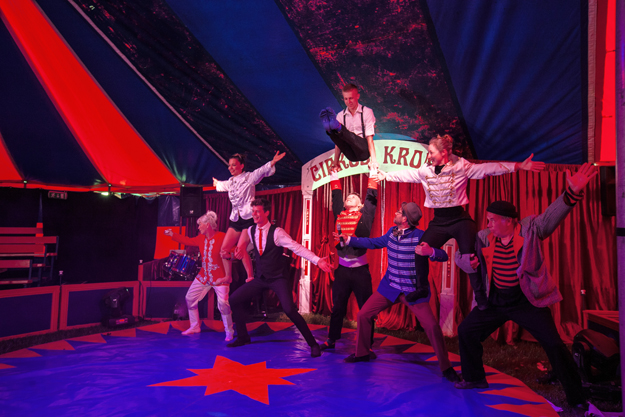 Team Krone 2018. Photo: Lise Kokholm

20 May 2018
CIRKUS TRAPEZ on SHOW tour 2018. Per "Mr. Sputnik "Krogh Petersen has sent me a link to photos and video clips from this year's performance.

20 May 2018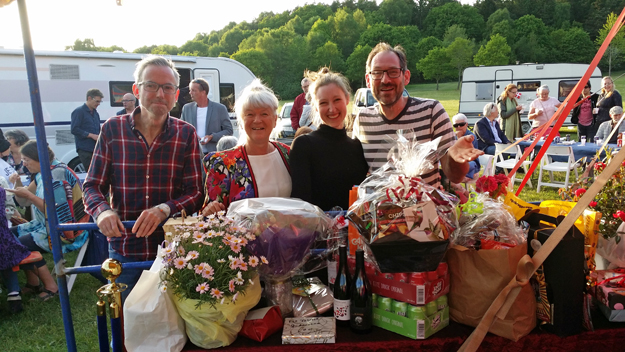 Denmark's smallest circus, the Thierry family's Circus Krone, opened the season in Silkeborg on May 18th. Jörgen Börsch has sent me this photo of the 4 Krone's: Marc Thierry, his mother Irene Thierry and director Frank Thierry (Irene's oldest son) with his girlfriend Kate.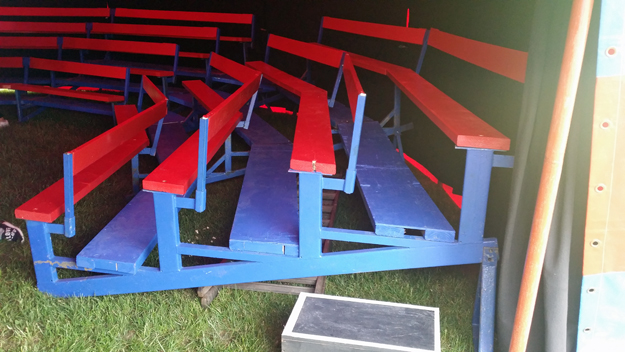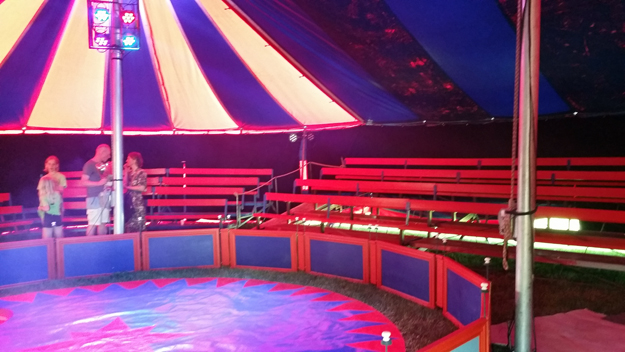 In the new smaller Krone tent is no ringside chairs but a set up with 4 rows of benches. The tent itself was previously used by Circus Flik-Flak from Odense. Photo: Jörgen Börsch

20 May 2018
IT ALL HAPPENS IN PARIS --- the French and particularly Parisian tradition of going to the theater is still very much alive and kicking - inclusive theater plays for the small fry, and I include magic shows which also and indeed are a kind of theater!
The theater AKTEON proudly presents a very worthwhile MAGIC SHOW, created particularly for the younger children, by SEBASTIEN GAYOU, the running theme is "when I grow up, I will be a magician". This show will play now in springtime and during part of the summer season.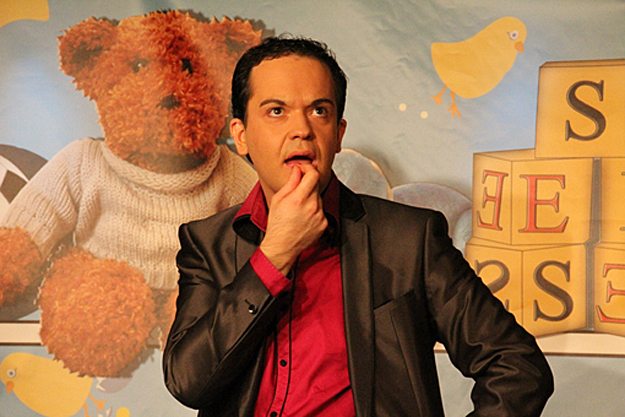 Sebastien Gayou. All photos by courtesy if the artist
A most successful show that captivates the kids, some of them are allowed to participate on stage, which is called "interaction", to the great joy of both kids and parents as this gives the show life and meaning.
This theater is one of the numerous small ones in Paris, it is completely refurbished, everything elegantly conceived, including a good sound-and-lighting device.
SEBASTIEN GAYOU together with his dynamic partner LAETITIA PINCOT feature a MAGIC SHOW, entirely adapted to the children's taste and preferences, at a brisk pace, but adapted to the kids' attention span.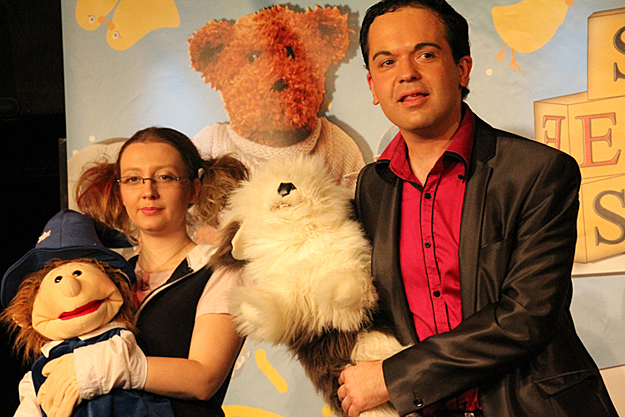 This is important as this moment may be the children's first contact with live theater, hopefully they then realize that everything is not electronically based - but here they watch living stories , produced by ­­ magic!
The Grand finale is elegantly conceived: red light spots appear everywhere and - from nowhere - a smashing and esthetical hit!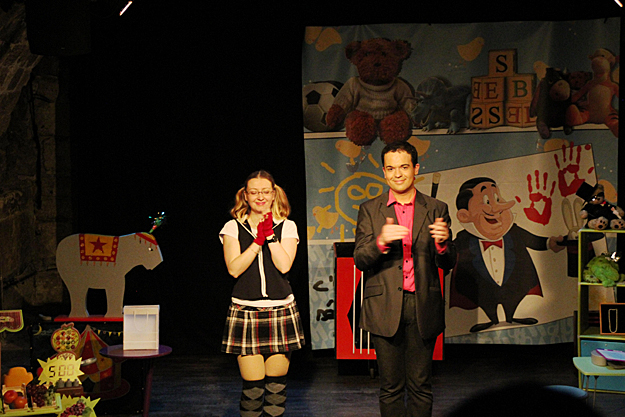 IT ALL HAPPENS IN PARIS!!!
Venue: Theater AKTEON, 11 rue du General Blaise, 75011 Paris. Metro: St. AMBROISE.
See more: http://votrespectacledemagie.com/
………………............... reported by ZARRO ZARRO.

18 May 2018
Argentinian artist in Esbjerg. Saturday, May 26 is a market day at the Sædding Shopping Center in Esbjerg. In addition to good deals to the customers, the center has provided a poetic street performance at the Center Square with the Argentine artist Martin Denda who performs, and he attaches great importance to get children and adults laughing together.
Martin Denda is also responsible for the Mission of Smile activity - where he performs free of charge for poor children in Asia, South America and Africa. According to Martin Denda, there is a special value in creating amusement without material things and in offering laughter against pain and hatred.
On May 26 at 19 you can see Martin Denda at the Circus Square, next to Circus and the Theater Group Phoenix Bird's Theater and Culture House at Amagervej 10-12 in Jerne, Esbjerg.

18 May 2018
Walmanns dinner show Entourage can be seen in the Circus building in Copenhagen until 23 June. In show you will amongst others meet Benny Schumann and Duo Creative, who last year were among the nominees for the award for the best act of the year in Denmark.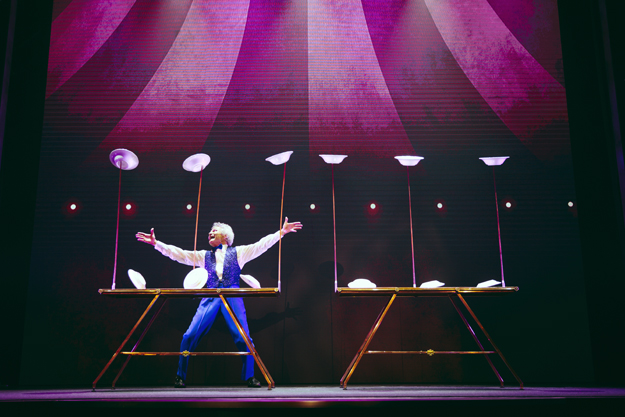 Benny Schumann and his spinning plates. Photo by courtesy of Wallmans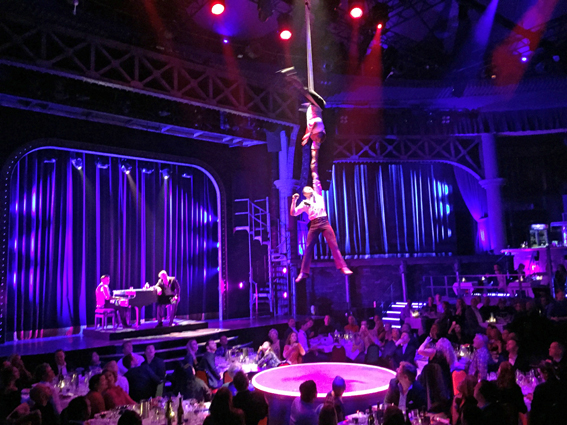 Duo Creative. Smartphone Photo. Before their time with Wallmans the two talented artists have worked at Great Yarmouth Hippodrome Circus in England and at the Caesar Palace in Las Vegas.
From June 24th there is summer break until August 24th, where there is a premiere at Wallmanns' new show Urban Nights. Wallmans writes: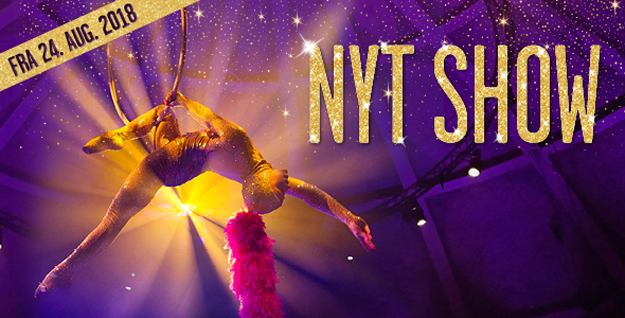 NEW SHOW FROM THE 24TH OF AUGUST 2018
Prepare yourself for an irresistible journey in Wallmans at the Circus Building along with your friends, colleagues or family. The show URBAN NIGHTS will transport you through a fantastic universe of lavish music, stunning artistry and impressive, top-notch acrobatics.
FROM ADELE TO ACDC
Hold tight as we wow you with an incredible show, glittering costumes and interpretations of numbers by some of today's greatest stars such as ACDC and Adele, and legendary songs from the Great American Songbook.
You can also look forward to a magnificent, effervescent opening number to get the party going, and a moving musical and visual journey featuring the classic musical West Side Story.
AMAZING ACROBATICS
Nor is there any shortage of spectacular acrobatics and artistry this season. But when it comes to the amazing circus acts we have up our sleeve, we're keeping them to ourselves for now!
FINAL WITH POWERFUL WOMEN
URBAN NIGHTS culminates in a colorful, pinball pop finale, in which great female artistes such as Christina Aguilera and Pink join forces – a terrific kick-off for the party in the nightclub!
URBAN NIGHTS RUNS UNTIL JUNE 2019.

16 May 2018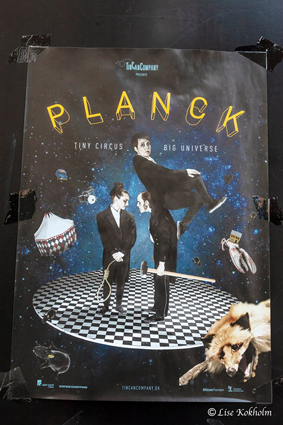 Planck. Lise Kokholm saw the contemporary circus performance Planck at the harbor in Odense in a brand new circus tent located within a large old harbor building. Lise writes (my translation):
Rune welcomes the audience and sends us down on knees to get into this little intimate tent.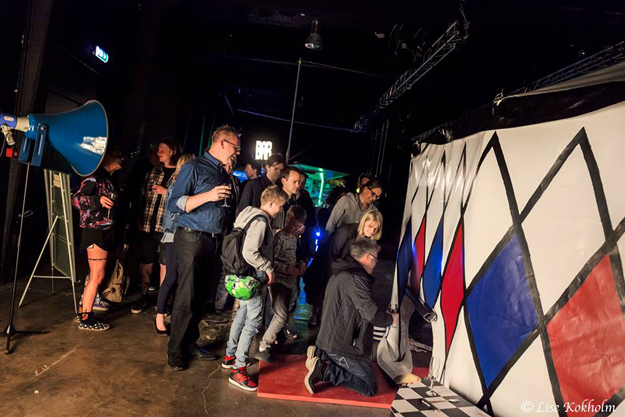 On the way into the tent. All photos: Lise Kokholm
In the tents there was quite dark and magical, and Gry puts the show in motion. A performance blend of classical circus acts, from the run inn clown, the magician, the horse, the acrobat, the aerial act ... all just put together for a fun comic, sour and amazing little theater performance. Only great praise for the 3 artists Rune Vadstrøm Andersen, Gry Lambertsen, who generally runs TinCanCompany, and Camilla Bang, who were hired specifically for this performance.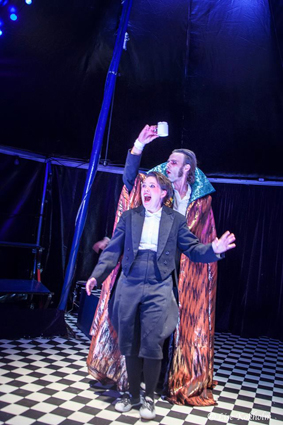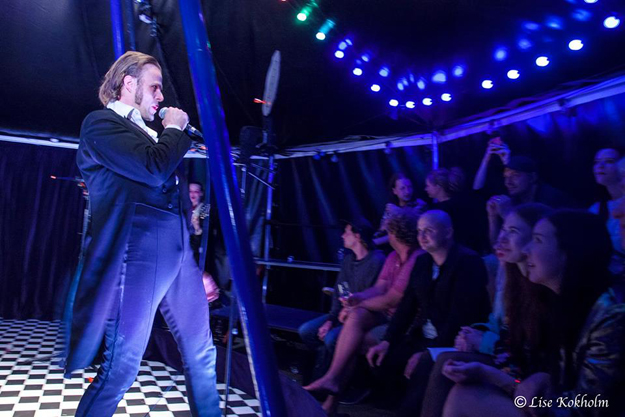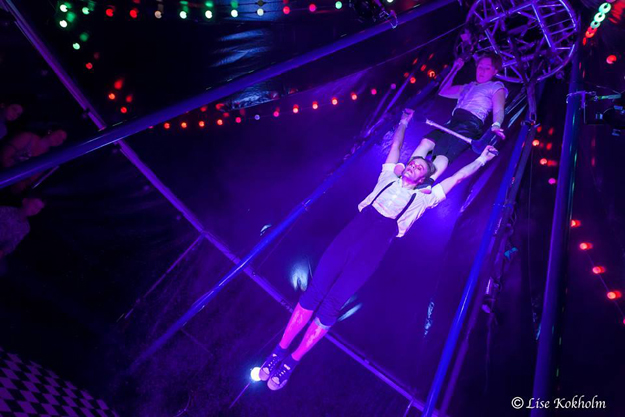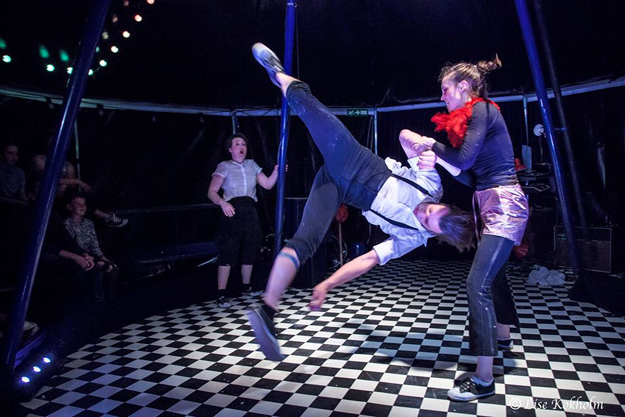 From the show. You can see more of Lise's photos on her facebook page.
Planck can be seen in Copenhagen 31 May to 2 June at Cphstage.dk, Nørrebrogade 37, Copenhagen.

15 May 2018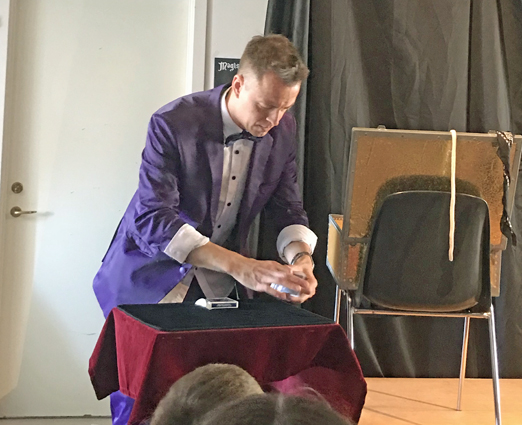 Magical Michael at the Circus Museum. About 40 spectators being 8-10 adults (mostly grandparents) and 25-30 children had found their way to the Circus Museum in Hvidovre when they on Sunday, May 13th, offered a magical Sunday with one of Denmark's funniest and most talented magicians: Michael Frederiksen. Michael presented a good and entertaining show of approx. 45 minutes duration. Two of my grandchildren saw it together with their father and enjoyed themselves.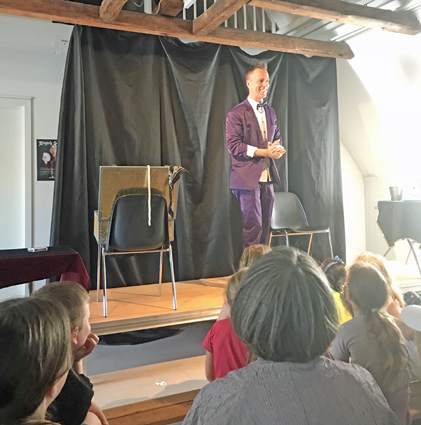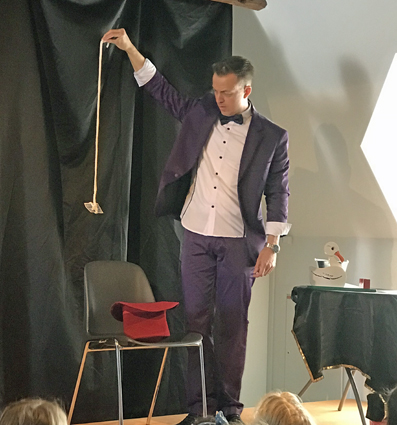 Smartphone photos taken by Lars Simonsen

13 May 2018
IT ALL HAPPENS IN PARIS -- Theatre COMEDIE NATION proudly presents a MAGIC SHOW, called ZYGOMAGIQUE / the name refers to the hilarious and funny character of the show/, it is performed by CLEMENT THE MAGICIAN - a young, very clever magic entertainer.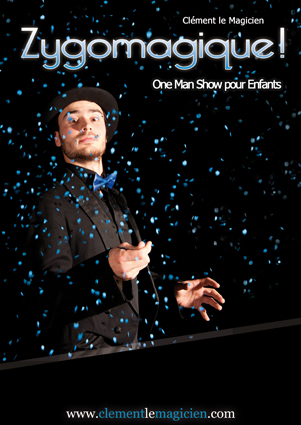 Photo: Olivier Pendu. Al photos by courtesy of Clement
CLEMENT is dynamic, enthusiastic and has plenty of patience with the small fry - and their parents -- he keeps a good contact with the audience through the entire show and he is wearing an elegant suit - and we all say: THANK YOU!!
He plays a lot on interaction, both with the kids seated in the saloon, and with those - necessarily few - who are invited up on stage.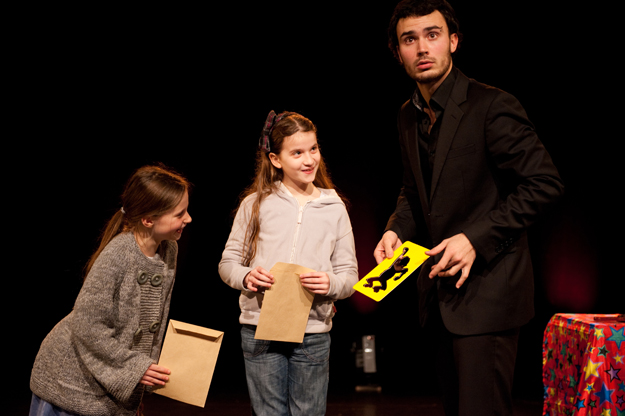 Excellent interaction with kids. Photo: Olivier Pendu.
I noted particularly: his funny entrance, good stage presence, excellent use of facial- and mime-expressions, and plenty of effects that could interest the young audience, for example THE UMBRELLA ILLUSION, having added a moment of rain, i.e. water from a small bottle in top of the umbrella / the milk that a girl from the audience just had swallowed - is retrieved from one elbow, for sure a classical effect, but it always receives a great reaction.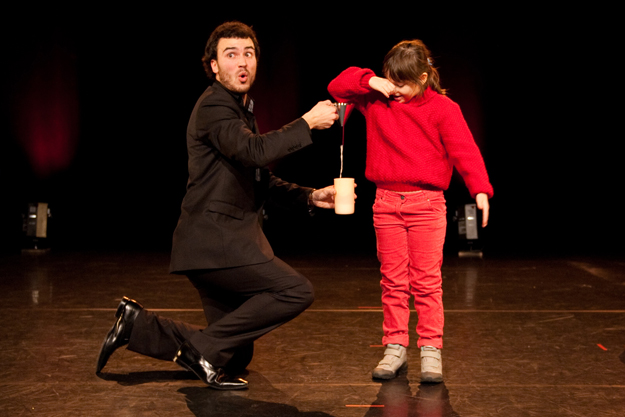 Milk from the elbow. Photo: Olivier Pendu
Grand finale, after having invited a lady up on stage, red lights twinkle, come and go, apparently from nowhere and - everywhere!
Well worth seeing, and the entire family can together enjoy - a nice and pleasant afternoon, watching a healthy entertainment.
IT ALL HAPPENS IN PARIS!!!
Venue: COMEDIE NATION, 77 rue de Montreuil, 75011 Paris. Metro: NATION.
See more: www.clementlemagicien.fr
............................... reported by ZARRO ZARRO.

10 May 2018
This summer's artists at the circus stage at the tropical holiday centre Lalandia Rodby come from Bulgaria: Veselka, Nedyalko and their daughter Yana. In Denmark, they are known from Circus Baldoni 2013 and Circus Krone 2015, 2016 and 2017. They can be seen from 29/6 to 12/8 at the Circus stage where also Lalandia's children's entertainer Mr. Plys can be seen.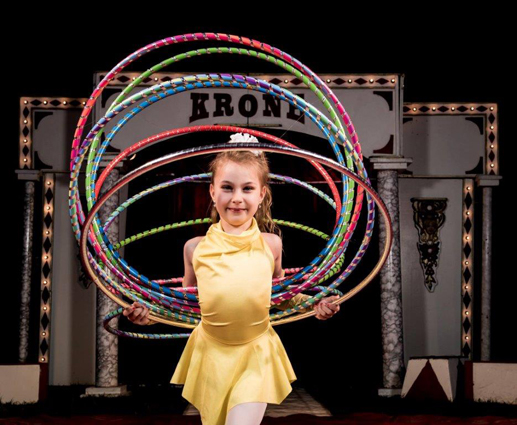 Yana in Danish Circus Krone 2017.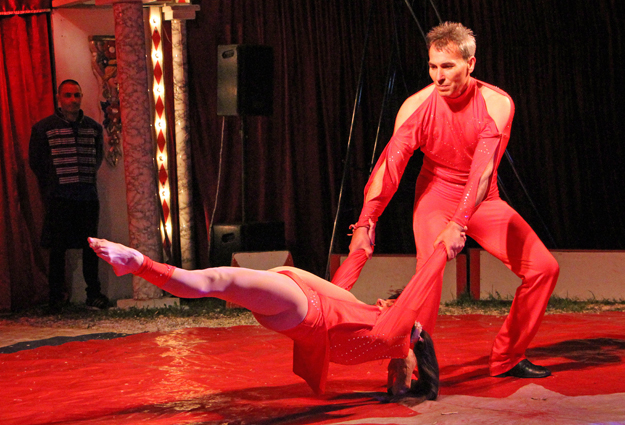 Veselka and Nedyalko in Danish Circus Krone 2017

9 May 2018
Memorial to Trio Hoganas. Trio Hoganas (Danish-born Bente and her Swedish spouse Egon Larsson together with Swedish Gert Karlsson) was a Swedish artist number of world class. They had their grandeur in the late 1950s and until 1975, when they chose to retreat.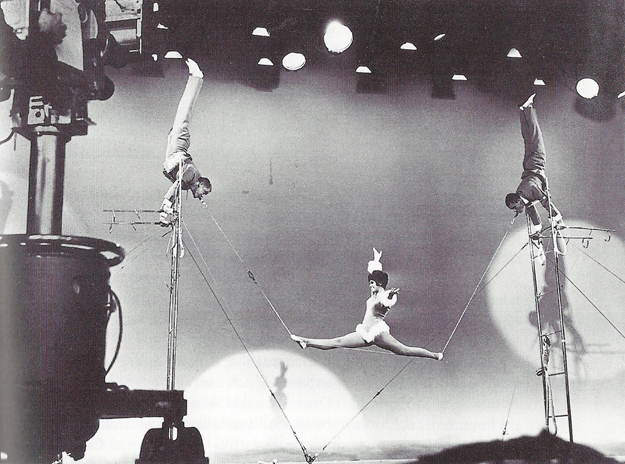 Trio Hoganas. From the collections of Per Arne Wåhlberg
The municipality of Höganäs now set up a monument in memorial of Trio Hoganas. The Swedish Circus Academy writes (my translation);
Welcome to Höganäs Saturday the 26th of May 2018!
Finally, the official unveiling of Höganäs municipality's photographic memorial of Trio Hoganas will be held at. 11:00.
This solemn moment will take place in front of the sports centre Höganäs Sportcenter at Lerberget. The memorial consists of three enormously enlarged black and white photographs of Trio Hoganas, which are mounted with polyurethane lacquer, that is to say glued on a plate of aluminium. The work measures about 40 sqm and is signed by the artist Thommy Svensson and the engineer Henrik Rasmusson.
After the ceremony, a new documentary about Trio Hoganas can be seen in the hall. It is a documentary made by Torbjörn Dencker.

8 May 2018
New exhibition at the Circus Museum at Rold, Jutland. Jørgen Lorenzen writes (my translation):
On May 3rd at 14 the Circus Museum in Rold had inauguration of two newly restored caravans. The wagons have been Olga and Alfred Fiedel's home. They have barely put their wheels in a traveling circus, but they are a fine example of how "cheapjack's other travellers lived and resided.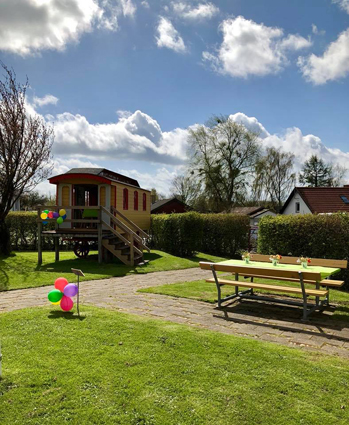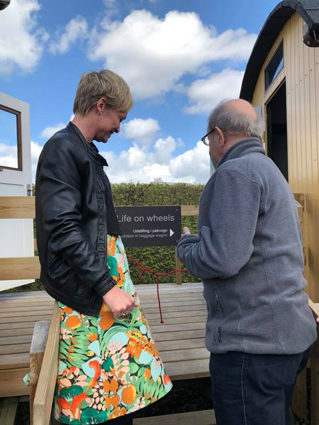 All photos by courtesy of the Circus Museum in Rold
Museum director Lars Chr. Nørbach welcomes the approx. 70 guests welcomed before the conservator Per Hadsund explained the caravan's restoration and decor and described the caravan as "an ordinary apartment in an uncommon home."
Museum inspector Dorte Kook Lyngholm thanked the Fiedel family, who had readily provided information about the family. Special thanks went to Olga and Alfred's grandson Reno Fiedel, who was present - along with other members of the family.
The chairman of the museum friend's association Jørn Rasmussen told how the two wagons had come from Aarhus to Rold.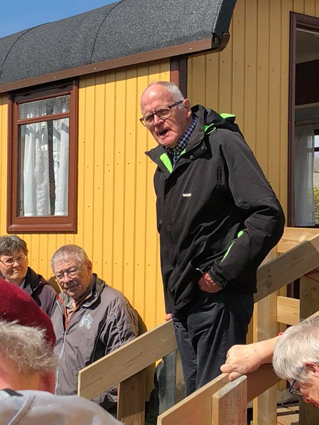 Jørn Rasmussen
Then there was access to the two wagons, and in the luggage van there is a small but very instructive wall sheet exhibition about the traveling people's lives and work on the roads.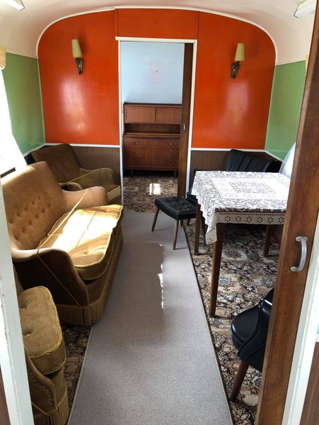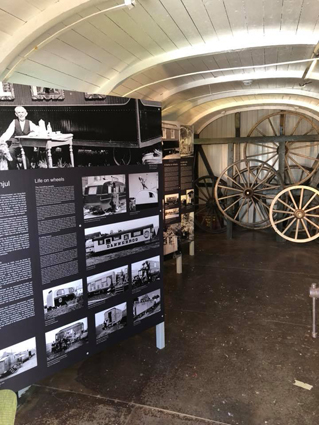 The Circus Museum in Rold is situated in Rold in the northern part of Jutland. The museum was established in 1982 in connection with the riding-school builded in 1912 to Circus Miehe. The museum has a nice but not very large collection and is a part of The Historical Museum of Northern Jutland. The museum is from 1 May to 30 September open daily from 10 to 16. Monday closed. Address: Østerled, Rold, 9510 Arden.

7 May 2018
IT ALL HAPPENS IN PARIS -- shows that are interesting, funny, and worthwhile seeing --
Now - COMEDIE SAINT MICHEL proudly presents OPERA MAGIQUE, where magic entertainer ALFREDO, also being a famous singer, performs an act, where he blends songs and music from VERDI'S opera LA TRAVIATA together with stunning magical effects , and with an excellent result. This show is colorful, amazing and esthetic and utterly original, as a journalist, I take it that it is about the only one of the kind.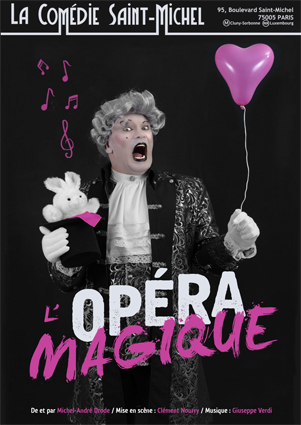 Photo: Michel-André Drode. Al photos by courtesy of La Comédie Saint-Michel
The positive impression is strengthened by the fact that ALFREDO is wearing a costume from Verdi's epoch, complete with a suitable wig. The effects are seldom seen, i.e. the color changing gloves, it fits into the scenario as colors play a large part in this show.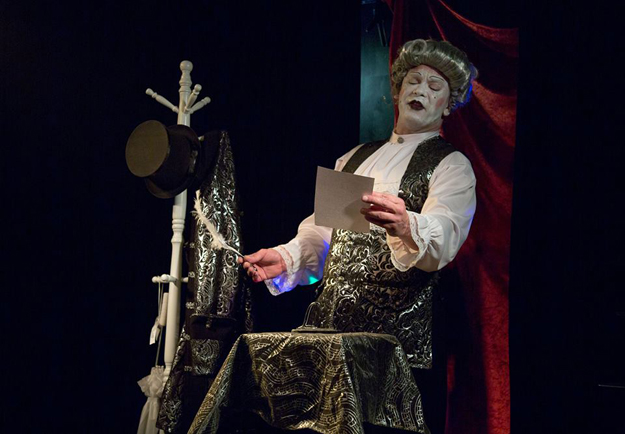 Alfredo. Photo: Michel-André Drode
When shows for a family audience are featured, it is common that some kids, or even adults, are invited to come on stage - to participate.
Not so here, and to my mind, it is a good way of performing as the artists thus avoid the unforeseen behavior of these individuals - difficult sometimes to control.
An excellent performance, original, funny and pleasing!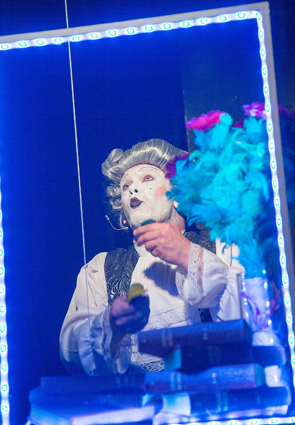 Alfredo. Photo: Michel-André Drode
The show can be seen on selected dates until 27 June. Click here for link to ticket order
IT ALL HAPPENS IN PARIS!!!
Venue: COMEDIE SAINT MICHEL, 95 Boulevard SAINT MICHEL, 75005 PARIS.
RER /local train/ station Luxembourg.
See more: http://www.comediesaintmichel.fr/?q=node/439
............................. reported by ZARRO ZARRO.

4 May 2018
Circus Mascot 2018. Jørgen Lorenzen saw the performance in Stevnstrup on May 1 at 18 and writes (my translation):
The show has two "foreign" artists - the Polish couple Waldemar and Pawel. In the first part of the performance they do parterre acrobatics on mat combined with knockabout acrobatics. In the second part of the performance they are trampoline jumpers. Trampoline acts are festive acts - a "fireworks" of jumps and gags which brings high spirits and joy. It's a good number to have as the last act in the performance. And it confirms that a performance last act shall be a strong act - like a climax.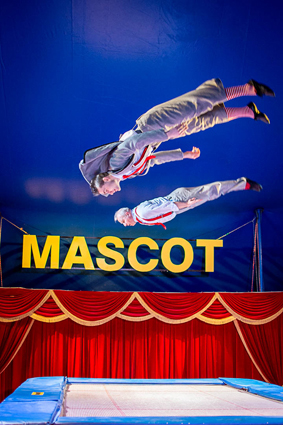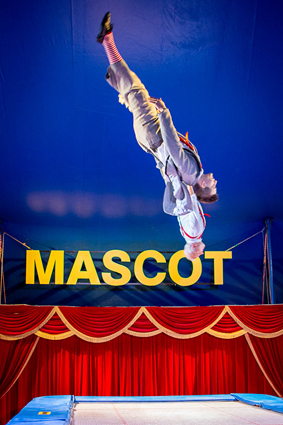 Waldemar & Pawel. All photos by courtesy of by Circus Masco
And then the families Deleuran (the owner family) and Primachenko / Gulyamov do the rest of the performance. The Clown Gulio has for many years been the house clown in Circus Mascot. But he always tries something new. His entrées are original and presented with charm. He seems to mingle with his audience. And he reaches out to the children, but also others with a childish mind smile when he shares out of his crooked clown universe. This year, it is especially an entrée where he persuade a man to enter the ring and with his voice imitates a lot of sounds as you hear them when drinking from a bottle. And after the two players have drunk, it ends in a hearty boxing match. Gulio's tools are simple - but that's exactly what characterizes a good clown.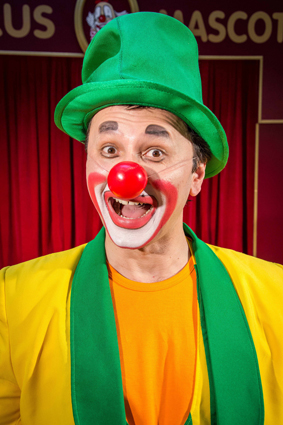 Gulio aka Ulmas Gylyamov and his wife Tetyana Primachenko have been with Circus Mascot since 2003. The later years also their children Husik and Julia have been part of the performance.
The beautiful Tetyana is aerial acrobat - in an aesthetic act with silks (tissue). Husik further develops his juggling entrée as we also saw last year, and his sister Julia, together with his father Gulio, makes a magic number.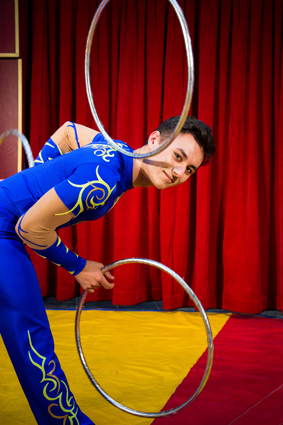 Husik
And then there are the animals! There were many who saw Marianne Deleuran in the Danish version of Got talent! Her involvement in several broadcasts was a good publicity for circus - and proof that animals in circus are treated well. Nobody was in doubt that the animals were Marianne's pets. The dog number is - again this year - versatile, and with an innovation: two dogs drive round in a self-propelled mini-car. And there was a reunion with the reckon dog Bobby, who has not forgotten what it learned as a puppy. And of course, the pig Yrsa, who not always want to move in the right direction. But that's funny, especially when it finally finds the goal. Circus Mascot ponies were included - 4 pieces. And the goats were there. You can make a circus without animals. But the animal acts give a performance a lift and remind you of the fairy tales where animals act as if they had humanity and own will. And if can't be large animals due to the diameter of the ring then at least as at Mascot smaller animals.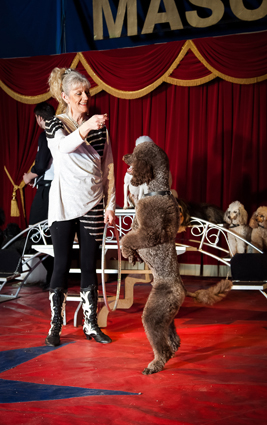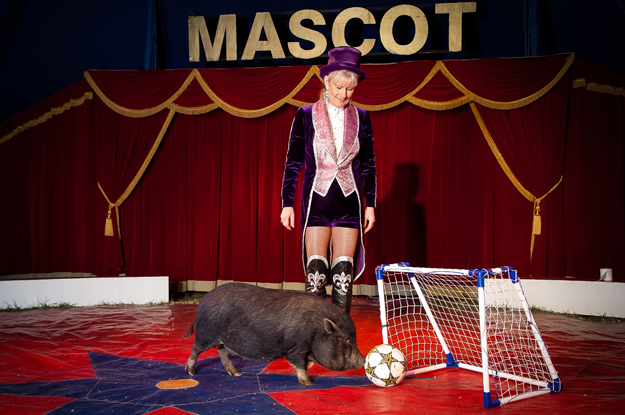 Marianne Deleuran with dogs and pigs

3 May 2018
German Zirkus Charles Knie 2018. When Charles Knie after a couple of seasons with the German circuses Barum and Cirkus Fliegenpilz in 1995 established his own German circus it was a nice medium-sized business. In 2006, he sold his circus to Sascha Melnjak, who in 1999 had started the Heilbronner Weichnactscircus which quickly became Germany's leading Christmas circus. Sascha invested significant funds in new equipment for Circus Charles Knie and quickly made it one of the three leading circuses in Germany. The other two are Krone and Roncalli.
28 April to 2 May Zirkus Charles Knie visited Flensburg close to the border between Denmark and Germany and several Danes paid a visit to the circus.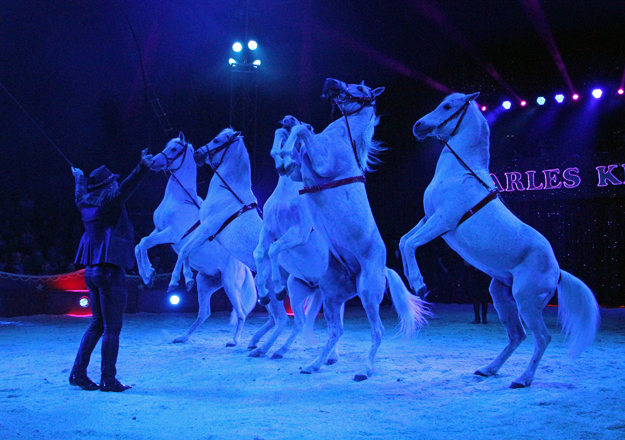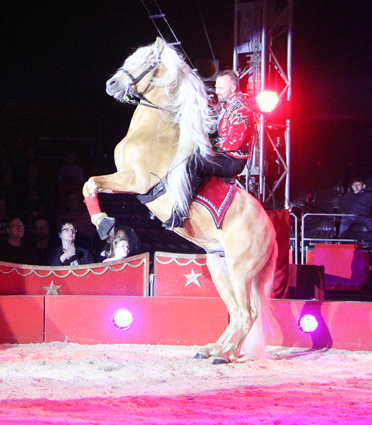 Animal acts with beautiful and well-groomed animals are essential elements of Zirkus Charles Knie's performances. The chief animal trainer in Charles Knie is Marek Jama. At the photo at top, he is seen with 5 white Arabs, who originally belonged to Danish Circus Arena. They sold them to Swedish Circus Maximum, which again sold them to Circus Charles Knie. Also some exotic animals were bought from Circus Maximum. The photo at the bottom shows Marek Jama riding high school.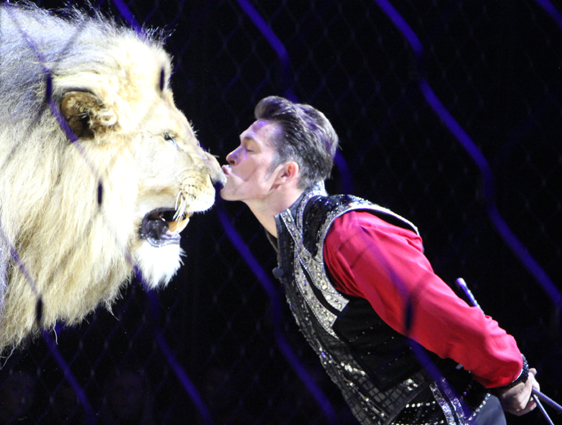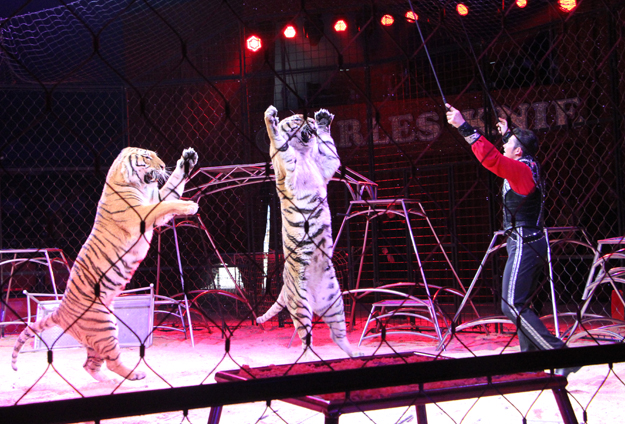 In the hope of getting rid of the animal welfare activists who always stand outside the large German circuses, Zirkus Charles Knie tried last year with a season without big cats. But the protesters still came because they believe that there also should be a ban against presenting horses, dogs etc. in a circus. And at the same time a large part of the audience skipped the circus visit as Germans love seeing a lot of beautiful lion and tigers in the ring. This year, Circus Charles Knie has booked Alexander Lacey, who was with them for several seasons before going to the United States where he for six seasons was the main star in the Ringling performance Legends. After Ringling closed last year, Alexander Lacey returned to Europe and Zirkus Charles Knie, where he now presents an outstanding act with 11 lions and tigers. You could clearly feel the close and loving relationship between Alexander and his big cats.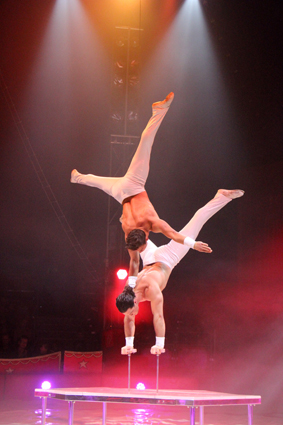 Many Danes remember Messoudis, who was with Circus Dannebrog in 2008 and 2014. The Swedes know them from Circus Maximum 2010 and Circus Brazil Jack 2015. And the Finns from Circus Finlandia 2013. Normally they are 3 brothers in the acts, sometimes assisted by their father. One brother has recently been injured. Thus, at the performances in Flensburg they did not present their juggling act and only 2 of the brothers took part of the handstand entrée. The 2-person edition was rehearsed just 5 minutes before the show on Saturday afternoon. But the 2 brothers did it excellent. Those who did not know the original entrée could not see that there was a missing artist in the act.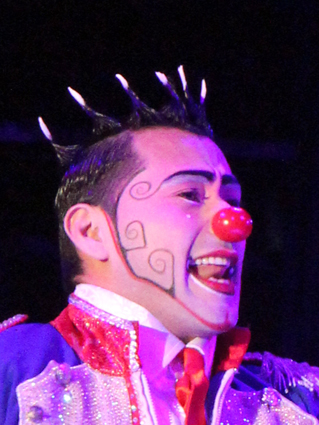 The clown in the performance is Henry. He is presented as The Prince of Clowns. He is from Venezuela. In Flensburg he had (too) many run ins, including a not too impressive version of the orchestra entrée. The explanation was that Messoudi's juggler number had been taken out and Henry required making an extra entrée. Most successful was his version of the well-known spaghetti entrée to which he had added a couple of original elements: there was a spaghetti fight between him and the audience, and he used a gag going down to a basement which I have only seen a single time before.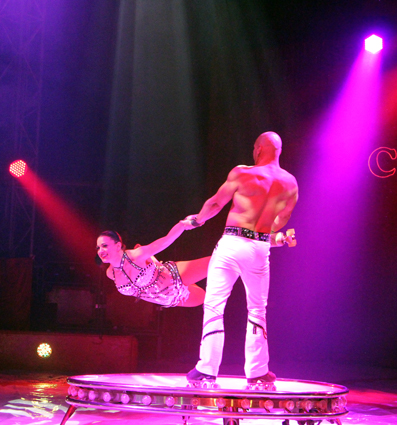 Duo Medini did a nice and fast-paced roller skating number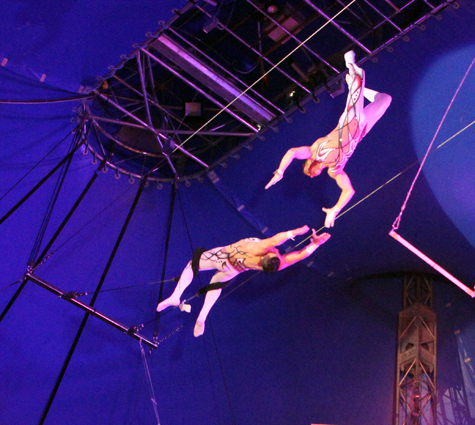 Flying Wulber had a great act in flying trapeze. The act included both a perfect triple with a backward jump, double passage and a dead leap where an artist hangs in a trapeze with his feet and drops down into the net. The male members of the troupe also did a number in trampoline.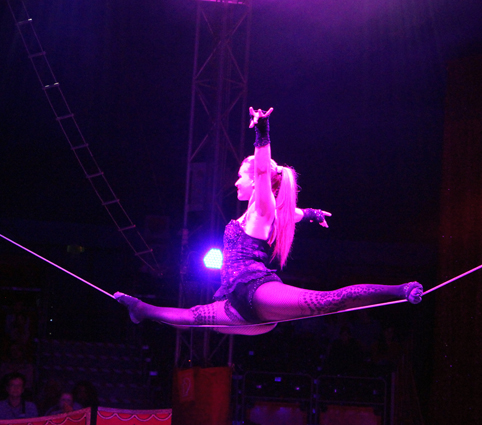 Tatiana appeared on the slack wire.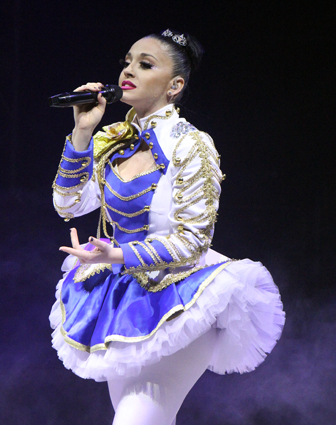 Can you recognise her? Katie Azzario-Lacey was one half of the famous Azzario Sisters, daughters of the clown José Michel and his wife. Azzario sisters dissolved when Katie a couple of years married Alexander Lacey. At Charles Knie she turned out to be a good singer. She is pregnant. That's why she not like her sister Quincy did a handstand act. Click here to see more photos from the show.

Link to news from 2007

Link to news from 2006